Outroduction
"The skier should never forget that his skis are after all only an instrument, a means through which he can enjoy the winter in all its glory and ruggedness. can breathe clean fresh air, can meet human beings in their true character, and can forget all the petty troubles which beset our so-called civilization." —Otto Schniebs
Today is November 23, and I finished putting my new flooring in (thanks for helping Rick!), I've completed all the repainting, and I'm done—at least until the spring. There's still baseboard to do, and some other small fix here and there, but that can wait. I need to get outta here. After painting the laundry room bifold doors this morning, I loaded up my daypack and slung my skis over my shoulders.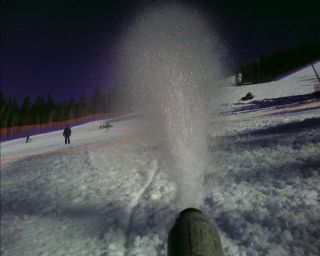 I walked across highway 6 and hopped on the Beaver Creek Parking Lot Shuttle. Ten minutes later, I stood at the top of the escalators looking at the white ribbon of death on the ski resort's opening day above me. There was a narrow strip of snow crowded with skiers eager to get their first turns of the season. As much as I wanted to climb and conquer the entire mountain (and burn off last night's gigantic turkey dinner I devoured) there's no snow down here. I have no desire to don hiking boots and climb through a few inches of snow. That swelling under my ankle on my right foot turns out to be the navicular bone that has shifted over and grown in size (a Prominent Navicular—and a mild case of Adult Acquired Flatfoot, or PTTD). Unfortunately it will never go back to its original position, but it's something that shouldn't bother me to any great extent. I cheated and hopped on the lift, enjoying the effortless climb to eleven thousand feet. For the next two weekends, I'll be volunteering for the Beaver Creek Birds of Prey Men's World Cup Race. Skiers from around the globe will converge here to zip down one of the toughest courses in the world, at over 70 miles an hour. Seeing the race on TV is amazing. Experiencing it from the finish line or sidelines is an adrenaline rush. Feeling the fine shards of ice pummel me as I stand by to slip the course line or rake the ruts out of the turns—now that's just awesome. It's nice to be involved with a sport that doesn't involve its participants making millions of dollars a year, well, at least not as much as other pro sports. I got off the chair, put my alpine touring gear into climb mode, and slowly worked my way above the ski area. The fresh snow crackles underfoot as I snake my way around the downed trees to timberline. I dodge rocks scattered about like shards of broken glass as I travel over the thin snow in many areas, blown clean down to the dirt from the relentless winds that pound the area on a regular basis. The skies are overcast, and a light snow is starting to fall. I reach the top of the Bald Spot at 12,100 feet and dug out a shelf behind a small, stunted spruce tree. The dull roar of the wind is slowly growing louder, swirling around the falling snow into a wild frenzy. I set up my GoLite shelter—yes, the same one I used on the CDT—sheltering me from the snow and wind.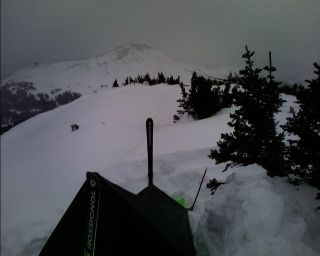 As I write this, the twinkling lights of West Vail four thousand feet below disappear as a cloud unleashes its white gold onto the Holy Cross Wilderness. The skies soon clear, and the winds slowly fade away. I unzip my tent and stow it off to the side for the night. I see the brilliant orange glow of the sun disappearing to the west, and the near full moon staring me down to my left. The clouds have disappeared, and I peer through the twisted spruce trees to the town of Eagle thirty miles away. I can see the skyglow from Silverthorne over the Gore Range, and the bright white scar of the city lights above Breckenridge behind the distant Tenmile Range. The moon is casting its bright luminance over the hundreds of peaks that surround me, and I can see forever. Mount of the Holy Cross—the fourteen thousand foot peak I climbed back in July—is standing sentinel a few miles to my south. For the first time since Fifty Mountain campsite in Glacier, I'm freed from everything. No reading about the brooding state of the economy, no stories about some soldier in Iraq who will spend the rest of his life in a wheelchair. Up here, I'm experiencing pure bliss. My mind isn't muddied by the unremitting freeway noise that drifts throughout the busy valley below.
As I was unpacking clothing over the last few days, I came across my down suit I wore on the final climb to the top of Denali. I haven't worn it since, but my several year old 25° Kelty down bag I used on my hike has lost a bit of its loft. I've used it down to -3° with a vapor barrier (how would we live without those ubiquitous plastic trash bags?). I threw the suit in my pack this morning, and now at 8:45pm with a temperature of -1°F I feel toasty. Putting my ski boot liners in the frozen boot shells tomorrow morning is another story.
Not a day goes by where I don't reminisce about the last five months of my life. Right after college I decided to "take some time off" and hike the AT. Well, I'm still taking that time off from the real world—even with a full time job in the way—living where I do, knowing I'll never live in a big city. There's one thing for sure. I'm going with my dreams in life. Everyone has dreams, desires, and goals in life. Go with those dreams. To some it means raising a family, starting a business, getting that dream job, or climbing the corporate ladder. I'm fascinated with how well we have it in this country. I cringe when I turn on the news and listen to some lady complain about the fact her plane flight was cancelled, and now she needs to share clothing with her daughter. Am I ever going to find that lady in my life any time soon? I don't know. But I'm 34 already, and I won't be able to do the active pursuits I enjoy so much forever. I'm just the type of person that likes to see those dreams become a reality. I'm always telling myself, you only live once.
Now getting back to the hike...
After more than twenty-five hundred miles, five states, twenty-five National Forests, eight BLM resource areas, three National Parks, and a National Monument—I was done. I was relieved. I was incredibly proud with what I had just accomplished. It was an experience that will be strongly engrained in my mind forever—the places I've been, the wildlife I've seen, the acts of nature I have witnessed. The people I have met over the last five months have thrown a splash of brilliant color into the lives of mortals like me. In several days, I'll be back at home, returning to friends and family, co-workers, and those little things we take for granted, like running water and a roof over our heads. I'll also return to that incessant white noise of society, and the cut-and-dry pace of day to day life. At least I know I don't need to go far to return to the quiet places that cure the little problems that city life bring with it. This winter I'll be skinning up a mountain under the bright moon where the silence will roar in my ears like the sea in a shell. The backcountry invigorates the mind and soul, and is always knocking in the back of my mind. What will my next big adventure be? The Pacific Crest Trail? Sea kayaking the Inside Passage from Seattle to Juneau? Exploring the Patagonia region? I don't know, only time will tell.
After finishing the CDT, we weren't done yet. Now we were unofficially on the Great Divide Trail, which also winds its way along the jagged Divide through glaciated valleys teeming with grizzly bears and snowcapped peaks—somewhere between seven or nine hundred miles north from the Border. It's a trail in its infancy, only attempted by a handful of hearty souls from end to end. The trail now zigzags up and down and around the cliffs that line the lakeshore.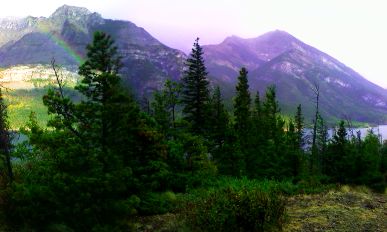 We stopped at an overlook in a light rain and could see the town of Waterton Park not much more than a mile away. The constant ups and downs are starting to get a little tiring. The light rain has turned into a downpour we're now slogging through, but before we knew it, the weather let up as we reached the small Canadian town of Waterton Park, where we met Mark's family waiting at the trailhead. We piled into their camper van and enjoyed some beer, wine, and of course the champagne.
Waterton Park, Alberta
The six of us drove through the town of Waterton Park, where mule deer were lazily grazing throughout the town limits—in the parks, on the side of the roads, and around the parking lots. We continued on, traveling into Cardston, picking up some groceries, and headed back to the USA. Later, we found out we committed a major federal crime—we drove into the U.S. with a Canadian pepperoni pizza. Yep, you heard me right, a pizza. Bringing Canadian beef into the U.S. is strictly prohibited (yeah, more politics and special interests than mad cow), and of course we all felt devastated when we realized what kind of despicable thing we had just done. We all piled into a cabin in Babb, enjoying some homemade dinner and finished the evening sharing our many unique stories that has enveloped our lives over the last five months.
The next day early in the afternoon, I hitched a ride back to East Glacier. With my thoughts on heading to my next adventure, I walked around town asking if anyone was traveling towards Yellowstone. Surprisingly, several headed to Yellowstone and the Tetons over the last week, but not today, or any time soon. As I was debating which hostel to spend the night in if I didn't make it out of town, I saw someone with a backpack headed towards me. The glasses looked familiar, and I heard the familiar klank of the trekking poles. This wasn't your typical backpacking visitor to the Park, this was hiker trash.
Jim?! Is that you? Well how about that! I finished the trail with Mark, and today I see Jim—the ones that started the Trail on the same day I did. We shared our stories of dodging fire closures through the Bob, and I talked of my experiences traveling through Glacier. On the way back to the motel room from dinner, a light rain began to fall, and soon transformed into a wet snow. I threw my sleeping bag in the corner of the room as the wind and snow noisily pelted the window above me. I peered out the window this morning, staring at
several inches of snow covering the nearby hills. The three of us left the motel room for some breakfast, reminisced about the last amazing five months, and we parted ways. I never did end up using a stove, and fortunately, the down booties in my Montana box never made it out of the closet. The skies are still dark and uninviting as I crossed the street, and there is a bone chilling breeze blowing through the small town. I stood out on the highway in East Glacier Park with my thumb out, snow falling, and a cold wind blowing across my face. My fingers were getting numb with my 75 cent convenience store gloves. I was picked up a good half hour later and got a mini history lesson of the area—how Kalispell came into existence and life near Marias Pass in the early days. After another ride, I made it to Missoula. Getting rides near Interstate Highways can either be easy, take forever, or downright scary. I wonder how many drivers think I'm a vagrant; some rootless wanderer looking for an easy ride across the country. At 10:30pm I finally gave up and camped on the banks of the Blackfoot River (the headwaters are atop the Divide at Rogers Pass I crossed two weeks ago). My first ride took me back to Missoula, then to Avon, Mt. I eventually made it From Livingston to West Yellowstone from a family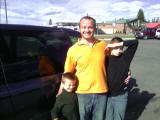 on their cross country adventure. I checked into a motel room and heard a late night knock at the door. It was my parents. Eager to see me, and relieved to find me still in one piece after all those miles.

Alright, this is going to be great—seeing the park from the comfort of an automobile. No three mile-an-hour pace, no dining on a bag of chips for dinner anymore, no more wondering if-I-can-make-it-over-a-treeless-summit-with-an-approching-thunderstorm-barreling-towards-me. This is going to be fun. There are two loops through the park, a northern one and southern one, encompassing about 90 miles all together. Every several miles there is a boardwalk that heads into a geyser basin or geothermal feature. Some with hot water pools, others with geysers. During the several day adventure, we saw a Bald Eagle, several moose, and plenty of boiling water. I also heard more elk bugling in one day in Yellowstone then I've heard on the entire Trail. During a brief stop at the information center, I noticed a crunched up page from one of several free tourist guides for Wyoming and read it: On their arduous journey, the pioneers experienced incessant dust, violent thunderstorms, bad water, poor forage, sickness and death as they traveled west on what are now famous historic trails—the Oregon, Mormon, Pony Express, and California Trails. This sounds like the perfect description of a CDT thru-hike, minus the death of course.
---
On their arduous journey, the pioneers experienced incessant dust, violent thunderstorms, bad water, poor forage, sickness and death as they traveled west on what are now famous historic trails—the Oregon, Mormon, Pony Express, and California Trails.

—Sounds like the perfect description of a CDT thru-hike, minus the death.
---
Every night as I typed my journals, I'd also compile my daily mileage, and here's the Stats:
Mileage: 2582.7
Number of days: 148
Number of Zero (usually town days) days: 20
Number of Nero days (hiking less than 5 miles): 6
Number of days I used my Tent (due to bad weather): 27
Number of days didn't see anyone all day: 15
Number of days didn't see anyone all day (except other thruhikers): 6
Pair of shoes used on the trail: 3
As for wildlife I don't see very often, I saw:
Moose: 15
Black Bears: 2
Grizzlies: 3
Rattlesnakes: 3

During the early days of researching this trip, I came across some websites that made this whole adventure planning process doable, including Jonathan Ley's page for maps, and Jim and Ginny Owen for their updates on the trail and invaluable water information for southern New Mexico. Of course, there's also the people and organizations that have worked so hard at making this Trail a reality, especially the CDTA and CDTS, and, yes, the Federal agencies including BLM, NPS, and USFS.