Back to Southern Alaska
Juneau, AK to Glacier Bay to Skagway / Chilkoot Trail
I take my third zero day, or day off, this summer—and it feels good. I'm not sore, nothing hurts, but it's nice to do something besides swing the arms and torso around. A few of us head across the bridge from Douglas Island to Juneau proper to tour the town and hang around for the nightlife. On the final day, I decide to resupply at Costco again. Where else am I going to find a four pound bag of M&Ms, GORP, or cereal, five pounds of carrots, or a box of sixty candy/energy bars? The quarter gallon of hummus sounds really good too. As I wait for a ride back to Douglas Island, I decide to exercise the brain a little. I count the calories from the oversized boxes of stuff I purchased, and come up with 94,160 calories—and I still have a few items from the last Costco run in town almost two months ago. Altogether, I have over 100,000 calories stuffed in the three bear bags, a grocery sack, and a small backpack. As I ready myself for departure, five come down to the shore and help me carry the over one hundred thousand calories worth of food—probably seventy pounds worth—almost three gallons of water, and thirty six pounds of gear across the street and down to the shore. I don't really know where I'm going to resupply next: Gustavus, Juneau, Haines, Skagway? The boat easily inhales everything I throw at it.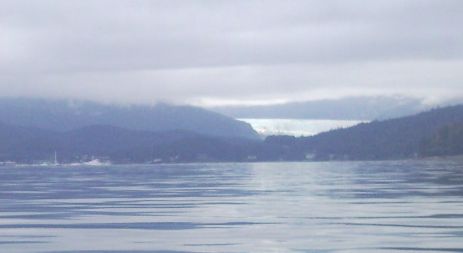 The Mendenhall Glacier

The waters turn green as I near the Mendenhall River Delta after high tide. The channel narrows even more, and I hurry along before the thin sliver of water becomes a mud flat—exactly what it was when I saw it camping nearby during the mid June MRA Conference. My fears of lying stranded in the mud miles from the nearest water ease as leave the Mendenhall Glacier's alluvial deposits. I reach the deeper waters of Fritz Cove, and put my tent up for the night.

I tune to the weather on my VHF radio for the several miles of crossing the Favorite and Saginaw Channels, and Lynn Canal. The report blurts out the record highs for the Southeastern Alaska towns—unusual, but so is the weather. The record highs of upper 70s for Juneau, upper 80s for Haines, and low 90s for Skagway may be broken come August 3rd and 4th as abundant sun and record heat are expected to bake the area. Winds blowing from the south have also been very rare this summer. They're usually associated with unstable weather and low pressure systems passing through. This is also the only time I've ever paddled south for over ten miles. My dreams of paddling with a south wind at my back disappear as I pass Shelter Island, and eventually slide around the lighthouse at Point Retreat. The usual northwest winds subside this morning to a quiet whisper, and the southerlies roar to life.


Humpback whale

There's a few porpoises cavorting several feet away, and a humpback whale dining on lunch. As I follow Lynn Canal, the south winds steadily grow into a yell. Waves grow and scream, and I give up plans to make the three miles across Lynn Canal. Like almost any other day, I battle the headwinds and several foot chop pounding my boat around like a cork. If I stop paddling for more than several seconds, I quickly drift backwards. I spot a gap between a granite shelf and end the day on a somewhat flat rock a few feet above the high tide line. For the first time in half a month, I arrive at camp and leave camp at high tide. I don't need to guess how far the waters will creep up, or carry the boat over slippery, snotty bubble kelp. I take shade on a flat spot in the trees as the relentless sun beats down on the sea, and hike a game trail that slithers through the rainforest along the shore.

There's a good breeze blowing as I leave my exposed camp behind. The tides are in neap, meaning minimal, with the half moon brightly agaze directly above as the sun rises forty five degrees away. In a week, the seas will rise and fall faster and farther as a new moon and sun closely together sprout spring tides. I cross the two thousand foot deep waters of Lynn Canal and skirt the edge of the Endicott River Wilderness on my way to the Couverden Islands. Several mist plumes erupt as humpbacks feed nearby. The route that saves several miles of paddling, and protects me from the wind and chop of Lynn Canal can dry at low tide—and I don't want to get stuck out here. The waters continue to recede as the sun and moon draw them thousands of miles out to sea. I squeeze through a narrow opening into the lagoon surrounded by the pencil thin Couverden Islands.

The waves drain away to nothing, and dead calm is in the air. The temperatures seem to double instantly. I feel like an oven door has been opened and placed on the bow of my boat. I eye the shade behind an island to peel off layers while I traverse the lagoon. I spot ripples on the water that grow larger as I near, and a blast of wind howls through my hair and chills me like walking into a refrigerator. Ahead lies a menacing wall of land that seemingly dead ends. There are tall pilings growing out of the ground like a dead forest. Is this a channel through here, I ask myself. A narrow twenty or so foot opening suddenly appears sneaking out from behind the wall of tidelands in front of me. I sneak my way through the channel, feeling like I'm paddling along a flooded street after a damaging rainstorm.


Navigating Swanson Channel

I stop for lunch after passing through the last menacingly shallow channel as low tide approaches. The nearby treetops twirl around as winds rush up Icy Strait, and the loud roar of the sea crashing against the rocky shore fills the air. The weather forecast I listened to a while back didn't report anything out of the ordinary, but I don't trust it much anyway if it's more than several hours old. Every channel has its own weather pattern out here. Gale force winds can rip through Stephens Passage, while Lynn Canal bathes in relative calm. I creep out into Swanson Harbor, a series of natural reefs jetting into Icy Strait like an outstretched arm. Whitecaps rush towards me like a freight trains. I head straight into the action as my bow heaves up and down like an out of control oil drilling rig. The tops of the waves spray saltwater into my face like rapid gunfire as the wind continues to blow stronger with each passing minute. Bereft of hope, I duck past the the north end of Ansley Island and pull the kayak up the shallow beach. The ghostly remains of old wooden pilings from a long-gone cannery eerily pierce skyward.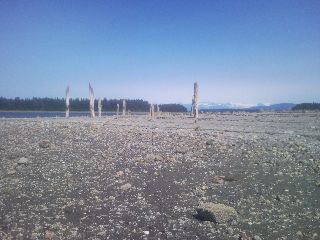 The channel markers I followed over an hour ago are right over the small bight less than a half mile away. As I write this a few hours later, the beach I'm on quickly disappears as the rising tide sweeps in and surrounds me. I stand on a small island that grows smaller with each passing second until it's inundated by the sea. I check the weather forecast again to see if I'm going anywhere today. I guess not. Calm winds abound—everywhere but here. Every channel I've been in the last week reports calm to moderate winds. Icy Strait has a small craft advisory. As I sit here in the windiest place for miles around, six foot seas and winds fifteen to twenty five knots kick and scream like a frustrated child. Across from Ansley Island, I pick an exposed camp on a narrow bump covered with shell middens. Tall grasses keep the strong winds off me, and the end of the long shoal I'm camped on slowly succumbs to the incoming tide's encroaching waters. A quarter mile length vanishes in a few hours.

The seas noisily crash against the nearby rocks all night long as a string of three small floating cities in a row slowly steam by. The cruise ships have been a common sight as they head back from Glacier Bay. My stolid mind is not ready for more headwinds and chop, but I manage to hit the water before 6am with four foot waves pounding me as I head away from shore. The weather forecast calls for fifteen knots today (a headwind, of course) with gusts to thirty five this morning. Great, I guess I'll be blown back to Juneau by the end of the day. The sky is overcast, keeping the relentless hot sun from frying me, although the winds have done a good job of that too. The incredulously rough seas grow steadily until just before noon as I pass over a dozen fishing boats trolling the waters. The pace is slow as vicious whitecaps bounce and break under my bow between Porpoise and Pleasant Islands. There is another small craft advisory in effect this evening as I skirt around to the north side of Pleasant Island. A family of sea otters inquisitively stare at me before disappearing toward the ocean depths. A narrow ledge above the high water line on a small point is off to my left, and my day ends with the high peaks of Glacier Bay staring directly at me. I enjoyed another high salt diet forced into me as I involuntary inhaled saltwater pounding my face. An olympic-sized swimming pool sloshes around in my cockpit as water oozes through my sprayskirt worn with swiss cheese sized holes. The night sky fills with clouds as I sleep under the stars again. At two in the morning a light mist soaks my face and wakes me. I throw up the tent fly and drift back to sleep.

Glacier Bay National Park


An impenetrable blanket of fog shrouds the calm seas today as I blindly cross Icy Passage and slip past the long dock from Gustavus appearing from nowhere.

I turn the corner a few miles later paddling along the shallow mud flats as they're slowly gobbled up by the flooding tide. I follow around the shoals that jet into the seas and head up into Glacier Bay. There's the slap and whoosh of a humpback out there somewhere, more sea otters lazily swimming around on their backs, an hundreds of seagulls and black-legged kittiwakes eyeing me closely as near. I get a general idea of where I am by glancing up at the bright sky and aiming the loud roar of my sneeze across the bay. I hear the well tuned ghostly echo bounce off the opposite shore; ok, it's nearby. As early afternoon yawns, I stare at the barely discernable outline of a dock as I squint through the fog and reach Park headquarters. I tie off my boat and stagger up to The Vis. The Visitor Center/Ranger Station has a informational video I need to watch at for my required permit, and I take a shower and do laundry near the lodge while I wait for the video showing. I give couchsurfing contact Noel a call, and take the airport bus to meet her at work.

Gustavus, AK
There's an old rickety scale sitting outside, and I throw all my gear on and see what she reads: 36 pounds, which excludes the repair kit, spare paddle, and bilge pump still sitting in the boat, and the drysuit flung over a line drying out. We head over to her place and enjoy halibut for dinner with a couple of her friends. Gustavus is a town of several hundred, most of which are Park Service employees. It's a mile from the water, making it a not-so-easy place to explore or resupply from the water.

Downtown Gustavus
I arrive back in the Park on this sixth of August as the sky spits out bits of drizzle. I attend the next video orientation required for my backcountry permit mid afternoon, and get back on the water as low tide approaches. The water's over eight feet too low to make a sneak around the east side of Lester Island, so I head southwest, straight into the steady headwind heaving four foot chop onto my boat. My relatively dry cockpit—and everything in it including me—is now sloshing around in a puddle growing larger with every towering wave. I pass close to shore avoiding the tide rips churning around to my left as water rushes in to fill Glacier Bay through the tight confines of Sitakaday Narrows. The funny water is teeming with boils and wakes piling in from every direction this evening. As hard as I try to avoid the boiling, bubbling concoction, it's everywhere. The seas have calmed some this evening, with the roar of the several foot high rips surrounding me like an attacking army. I power through and ride the rough waters to the calmer seas just ahead. There's a large boil of smooth water surrounded by small, choppy pyramid shaped waves as I bash through on my way to Netland Island.
I didn't get into camp until well after nine last night, so I sleep in this morning. I tear down my tent, used for the first time in over a week, and glance out at Whidbey Passage, and the small tide rips stretching across the bay from the point I'm camped near. a thick shroud of fog drops in from the heavens and coats me in a fine mist. There are no old growth forests around here, no thick canopy, no endless sea of green. Thick alders guard the forest entrance on land that was buried in ice two hundred years ago. In a few days, there will be walls of ice towering above me like city skyscrapers. The deafening roar of glaciers calving into the sea will ring in my ears. Harbor seals napping on icebergs will stare at me with their beady eyes.
The humpback whales and sea otters have slowly disappeared the last two days as I mosey my way into the upper reaches of Glacier Bay. I make a sharp left turn into Reid Inlet to a towering cathedral of ice getting closer with each paddle stroke.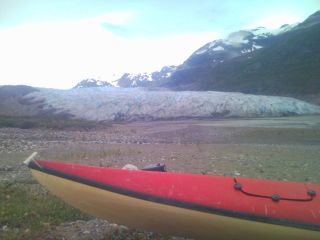 Reid Glacier

Katabatic winds blow in from above as I enter the chocolate milk waters near the glacier's outlet creek. I haul my gear and boat through slick mud to a pebble ledge overlooking the cold world above me. I hike up a short distance to the frighteningly loud outlet creek coming from deep inside the glacier's bowels. Large boulders crackle and pop in its murky depths as they're heaved forward by the rushing waters.

I leave the bottomless mud of Reid Inlet and head out to Glacier Bay.

Reid Glacier

Around the corner, another small finger diving off the gigantic Brady Icefield looms above. I approach the base of Lamplugh Glacier as the rising tide floods in. There's the frequent plop of sand as banks built up by the outlet creek erode away from the rising tide.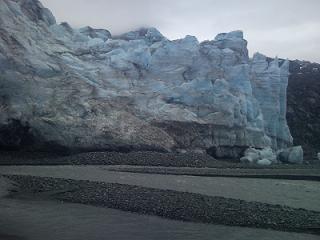 Lamplugh Glacier

I reach my first up close and personal iceberg this summer, slowly bobbing back and fourth in the calm seas. I know there will be more very soon. My heart beats faster as I inch closer to the valley teeming with over a half dozen named glaciers. Around Jaw Point is a completely different world than what I've witnessed these past three months. It's a cold world teeming with iceberg-choked seas, and glaciers and icefields draped over smooth granite close enough to touch. I stare at the Johns Hopkins Glacier stretching to the horizon as it snakes down over thirteen miles from the heavens. This Valley is the essence of this Park, and it roars to life with the thunderous crack of calving glaciers filling the still air with almost deafening echoes. There are small bands of icebergs stretching across the mile wide bay as the glacier's edge looms ever closer. I pass a couple expensive motor yachts unwilling to inch any closer to the sharp, menacing bergs as they grow tighter, teeming with harbor seals in the distance. An iceberg suddenly flips upside down as its base melts just enough. If there's a car sized berg, the base of it's underwater, the size of a two car garage. I hug the shore and pass the ice choked waters squawking with glaucous-winged gulls a thousand feet up on the bare summits. I watch the sea erupt with violence as the air fills with thunder, and a plume of mist thrusts into the skies. I make some pepperoni and cheese tortillas for lunch on the boat as another crash gushes from the sea like lava from a volcano.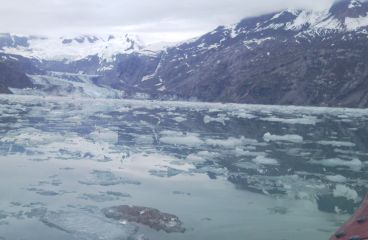 Johns Hopkins Glacier

The Johns Hopkins Glacier is a mile wide and almost five hundred feet high. Half of that is visible, the rest lies underwater. As of this year, it's the only glacier in the Park that's advancing. By the end of the day, it will flow another ten to fifteen feet into the sea, where it will suffer a violent death. Other than a cruise ship peeking around the corner five miles down the inlet, and a charter boat a half mile away, whose clients paid vast sums of money to to see this, I have the whole thing to myself. Every five to fifteen minutes, something crashes off the top. It might be a small block of ice, a few rocks that were part of a ten thousand foot peak two hundred years ago, or a hundred foot column of ice. There are no large surge waves ready to capsize me at a moments notice. They've been swallowed by the sea and dampened by the icebergs by the time they reach me. As the icebergs swarm around me like an army of ants, I decide it's time to go. The thunderous kabooms continues I battle my way through the small icebergs to the end of the inlet.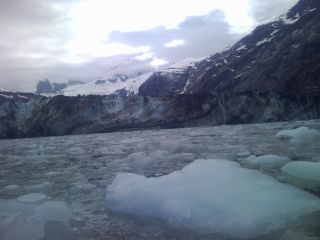 The Johns Hopkins Glacier looming 250 feet above

Ok, now where am I going? Oh yeah, Tarr Inlet. I bend around the steep cliffs and follow the darkening shoreline as a dense fog wraps itself around me. Tides will be almost twenty feet higher well after midnight, and finding any sort of postage stamp sized campsite hasn't been easy this evening. The crash of the creeks dropping down the hanging valleys across the inlet buzz to life as my eyes struggle to peer through the fog. A small sliver of land next to me is all I can see. The rest of the world has disappeared behind an endless white wall. I glance at the next campsite circled on my chart and soon find the small beach tucked into the side of a narrow tombolo. There's a short break in the rain as I set up my tent on the sharp shell middens.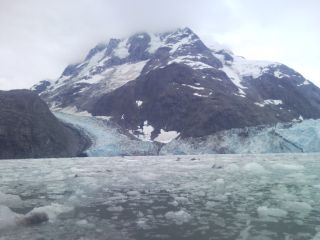 Gilman & Johns Hopkins Glacier

The world out here is devoid of trees. Maybe a small cottonwood, but there is only a forest of small alders choking the ground.

There's a two mile wide block of dirty ice that lies in front of me. On my way to the Johns Hopkins yesterday, I glanced at it thinking it might be a ridge of land. The Grand Pacific Glacier is around one hundred feet high, piled thick with rocks and dirt constantly plunging off its edge. As I approach closer, Margerie Glacier looms to my left. The source of the occasional crash I've heard over the last hour or so, the mile wide face over two hundred feet high (and 50-100 below the waterline) jets into the sea. I park myself away from the edge and see what it has to offer. A Coast Guard vessel is nearby, along with a gigantic private yacht. The Marge moves about half as much as Johns Hopkins, about six to eight feet a day. There's an occasional crash and boom, and after an hour, I head on, following along the filthy toe of the Grand Pacific Glacier. A frequent crackle of rockfall is the only quiet roar coming from the two mile wide monster. It's a little after noon as I hop out of my boat and climb a small outwash moraine on the east end of the Grand Pacific. There's the fast moving silty creek churning its way alongside the glacier's toe, and lots of mud; mud carried here from the high peaks over the eons. I turn around dumbfounded with what I'm surrounded by, and decide to push no more today. I find a nearby beach and set up camp.


Margerie and Grand Pacific Glaciers

I'm landlocked by high tide, and mud at low tide, and never make it up the creek onto the hillside overlooking the Grand, where Canada is only a mile away. A second giant cruise ship parks itself near the Margerie Glacier, and I overhear some of the area history over its loudspeaker. As cloudbase lowers and the sky fills with a monotone grey, I feel like I'm in a thunderstorm as the nearby crack and roar drowns out the symphony of sounds I've listened to today.

I leave camp well before 6am and just beat the receding waters. Less than fifteen minutes later, the shallow mud flat adjacent to camp is now exposed with bottomless suck mud. Carrying the boat over quicksand as slick as a slip'n'slide wouldn't have been fun. I turn around a few times later in the day as I leave Tarr Inlet, and gaze at the Grand Pacific Glacier that seems to snake up to the heavens forever.

The sun has come out under partly cloudy skies this afternoon, and I find a creek and dive in. I rinse off the salt covered clothing and dip my head in the chilled waters. It's a different world in here protected from the weather by ten thousand peaks and calm seas. As I work my way down Glacier Bay, the world changes before my eyes, Evergreens and cottonwoods sprout from the ground as I leave the ice covered vertical world behind, Sea otters stare at me again, and an orca startles me as it makes a brief appearance nearby.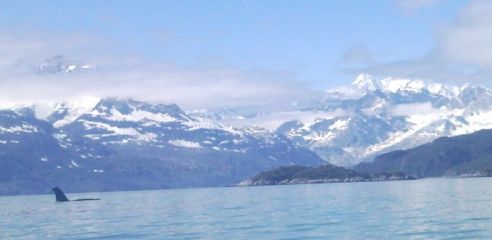 Orca combing the waters

A territory fight between two gulls breaks out nearby, and the flukes of a humpback disappear into the water a mile away. I've been a bit run down the last two or so days as I near the fifteen hundred mile mark closing in. It seems to be the point at which my body screams for an end. On the CDT I developed a not too serious case of posterior tibial tendon dysfunction (PTTD) around the fifteen hundred mile mark after thirty five plus mile days on flat jeep roads in the Great Divide Basin. On the PCT, my feet looked like they were attacked by electric sanders each evening no matter how well I cleaned them or changed socks. In the book Sea Kayaking the Inside Passage, the author congratulates paddlers on the completion of their journey at either the Grand Pacific Glacier, or the Muir. Well, despite being at the northern edge of the Inside Passage, I still don't see light at the end of the tunnel. It's still pitch black, and drizzle fills the air as the roar of a brown bear echoes around in there. I managed to limp another thousand miles on the two long distance hikes, what's another two hundred seventy miles of paddling to Skagway? Maybe it's sensory overload, or my not so scrumptious diet of dry foods (that's starting to taste like dog food) I've gorged on. Maybe I shouldn't have purchased a few of those large items at Costco.
---
"Congratulations, whichever fork you choose to complete the Inside Passage. Take a picture, take a pee, never forget this moment and have a safe journey home."

—Kayaking the Inside Passage
---
I'm awakened at three in the morning from the creek bank crashing into the sea at high tide. I glance at the nearby waters nipping just above the old high tide mark at nineteen feet, which is the highest it's been this month. I'm on the water in a few hours, avoiding what would be a steep descent down the rocky bank to the rushing creek at low tide. The day is rather uneventful after what I've seen in the last week. I see bull kelp wavering at the surface again, sea otters bobbing their heads out of the water, and the familiar humpbacks rising to the surface now that I've left the ice choked waters. Small patches of snow linger in the supratidal zone (just above high tide line) in a few places, and there's the usual two giant cruise ships on their way to get a quick glimpse of the Johns Hopkins and Margerie Glaciers. I wonder what it would be like to visit via cruise ship? Play a quick round of blackjack on a foggy morning while steaming towards Jaw Point? Go to the buffet lunch after taking a nice hot shower as wind and rain pelt the sliding glass doors of the private room (the hot shower's after a rough morning of leaning over the balcony to see the views). To many, that's a trip of a lifetime. I feel quite lucky to do it my way in my cruise ship—it's a bit smaller, easier to maneuver, and no luxurious amenities other than a two person tent. The fuel bill is less too. It would be nice if I could find an AC power outlet somewhere on my kayak though. Having to deal with charging over a half dozen phone/camera batteries when I get into towns can be unsettling. I wonder how many passengers have taken pictures of me along the way; that insignificant looking dot well over a hundred feet down—sea lice, or a speed bump as some like to refer to us sea kayakers. I wish I contacted the ship's bridge with my VHF radio to see if they could make an announcement over the intercom for those with good photos of me. They'd probably get a kick out of that. Alright, I had a goal of fifteen miles, and I've done almost ten too many. Time to find a place to camp. My camping habits have changed some with the ravenous black flies ready to pick me up and carry me away. I sneak down the beach several yards to take off the drysuit as a black cloud of bugs (and maybe odors wafting out of the suit too) builds in front of my face. I run back to my tent and dive in just as the cloud erupts all around the no-seeum netting. After a few long distance trails of suffering with lightweight shelters, it feels good to have the real thing.

Yesterday I spotted a couple paddlers camped off along the distant shore, and a double kayak following along the opposite shoreline a ways off. That's it for kayakers, which I find quite surprising. This is a hotspot for the activity, but mid August might be considered late season around here. I pass a few icebergs as I paddle up Muir Inlet under warm, blue skies.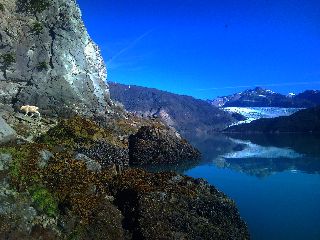 Mountain Goat and Muir Glacier

I wake up briefly well after midnight, and unzip the tent to a brilliant sky painted with the Milky Way and a satellite dancing by. The Summer Triangle sits boldly above, and I spot a couple shooting stars with the Persiuds meteor shower in full swing. With my zapped energy level the last few days, I sleep in. I wait until I'm cooked out of my tent from the strong sun glaring down from nine million miles away. I try tuning into the weather on my VHF radio before I lose it completely in the narrow confines of upper Muir Inlet. There's the crackle of static, and as I walk around, a faint automated voice hums to life. Sunny, 60s, and light winds on this Friday the 13th of August. Tomorrow, 80s. Eighty degrees in Glacier Bay? As noon rolls around, I hear the rush of a nearby creek and investigate. I strip naked and dive in to the chilly, clear waters—that was the coldest I've been all summer. After a few tense seconds, it feels really good, but not for long. I waterboard everything I'm wearing and put it all back on. The damp clothing is dry in a few hours, and I'm even starting to get a bit warm as late afternoon arrives. The Casement Glacier looms high above to my right as the bright orange beaks of black oystercatchers fly by. Just above the beach, the land is thick with willows and alders. There's a small cottonwood here and there, and a couple large stumps. I get a closer look at the three thousand year old interstadial stumps poking through the eroded bluff near Stump Cove. What a sight to see after staring at only two hundred year old ice for the last week. I finish my lazy day on a narrow shelf just past Wolf Point. It's shady, while everything else out there still bakes in the sun. I sit here silently laughing to myself surrounded by endless walls of rock and ice, the noisy sounds of silence, and an infrequent crash of a distant glacier. McBride Glacier is just around the corner, and Riggs is a few hours away as their newly calved icebergs slowly float by. The constant twitter and cry of tufted puffins, kitzlitz, or marbled murrellets is interrupted by a harbor seal noisily splashing around ten yards away. It even blows bubbles and makes farting noises as it bobs below the surface looking for fish. I spotted my first seal my fourth day out of Olympia, and seen them almost every day since. Every evening it's something new out here.

The earth inhales and exhales every six hours with one enormous, slow breath as the seas rise and fall. A new world comes to life in the intertidal zone as an infinite number of creatures and plants make a living out here. Across Muir Inlet in the narrow confines at McBride Glacier, the crash of calving ice roars into the open and rings along the bare rock walls that rise to impossible heights all around me. I make a left turn around White Thunder Ridge to the dry leeward expanse of bare rock and waterfalls dropping down from the heavens. I fill up my waterbags at a spring oozing out of the rock and get a blank stare from a nearby mountain goat. A wide smile stretches across my face as I near the last turn to Muir Glacier. This is it, the last hurrah in Glacier Bay National Park. I could paddle out to a pick up location tomorrow and then get whisked away by plane to Seattle, but I have better ways to spend many hundreds of dollars—this adventure isn't over yet.

That turn around the last corner grows ever closer. The nearby peaks grow drier as the Fairweather Range sucks all the available moisture away to churn out its snow choked peaks. A glimpse of the Muir comes into view, and a vertical wall of granite is now all that stands in my way. Part of the lofty peaks that once stood high above me now slosh around in the waters as silt. A world of ice exposes itself as I stare ahead. There she stands—the famous Muir Glacier. It's not quite as impressive as I thought it would be as large mounds of dirt and rock covered ice lie between me and the glacier, which melted rapidly and probably very recently.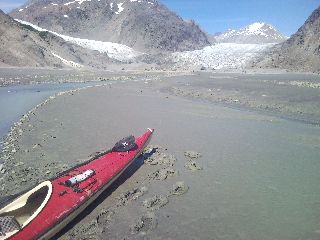 The Muir Glacier

Its days as a tidewater glacier are over—it doesn't calve blocks of ice into the sea, it doesn't even reach the sea. I'm sure today's sunny weather in the 70s and 80s doesn't help. It's now near low tide, and there's a half mile of exposed mud flats. I drag the boat up a small outflow creek and debate whether to wait for high tide to get a closer peek. I don't feel like trudging through several inches of soft mud and swimming back to the boat in a few hours. After an hour of lunch and walking up the creek, I turn around. I glance back over my shoulder several times before I make the sharp left turn and leave her behind. The cool, comfortable temperatures end abruptly, and the wind suddenly dies. I look at my watch reading in the 80s under the bright sun, stop at a creekbed and remove my windbreaker. I look up the creek and see two stumps jetting from the eroded hillside; more three thousand year old interstadial tree stumps unearthed. I reach Riggs Glacier, and stare at its dying toe. Fifty years ago, the Muir reached to this great length. My camp I just found would be buried under a hundred feet of its ice; now Riggs is melting quickly too. I hike up the outwash a short distance, staring at the silty brown outflow creek overflowing its banks on this warm August day. I trudge back to camp as the sun dips behind behind the tall peaks. Today, I didn't see any signs of man—no people, no boats, no engine noise. That's a first on this trip. In the three and a half months, I've always seen something, which might be as few as one or two boats off in the distance.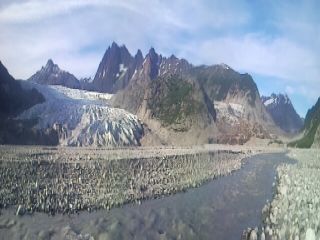 Riggs Glacier

I doze off to sleep as the nearby creek is quietly swallowed by the flooding tide.

I'm up early to catch high tide before the bottomless mudflats surround my camp. A couple miles later, I squeeze through the narrow iceberg choked entrance past the terminal moraine, opening up into a half mile wide inlet as the infrequent crash of ice echoes along the steep walls thrusting into the sky. Squirming through the iceberg choked waters, I stare at the full grandeur of the McBride Glacier. As soon as I stop, a hundred foot high column of brown ice crashes into the frigid waters. Water shoots skyward like a geyser, and a surge wave crashes against the shore and heaves towards me like a freight train. By the time it reaches me, it's like an open ocean swell noisily slipping underneath my boat as the bergy ice bits chatter and crack as they collide with each other. Large distant bergs pull sudden U-turns as their bases melt making them top heavy.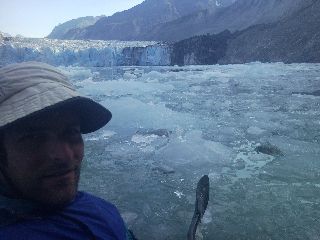 McBride Glacier

Ice flows crowd and uncrowd my boat as the light breeze and currents send them careening in every direction. A plunk of bowling ball sized warning signs give notice just before another giant calving crashes into the calm waters. The echo noisily reverberates all around me after several seconds tick by. After witnessing three one to two hundred foot high calvings send surge waves large enough to rock cruise ships, I decide I've had enough fun in the forty degree temperatures this morning and follow the ice choked waters out. The icebergs I pass are by far the largest I've yet seen, and most lie near the shallows of the narrow channel exiting into Muir Inlet. The car to house sized bergs crackle with energy and drip furiously during the last few days of their two hundred year life spans. I pass the eerie beasts stuck to the seafloor and gaze at their girth. Some are clear and smooth with suncupped faces, while others are dingy brown, teeming with mud and rocks scoured from the slopes many miles away. One has a small stream pouring out from it's bowels, and another bubbles from within as water percolates the interior. There's the frequent splash as they tear apart and rapidly melt to their deaths. Surrounded by such a show, I decide to go no further and sleep under the stars on the outwash moraine. As sunset comes and goes, I gaze at the ever changing scene playing out less than a hundred feet away. The infrequent thunderous roar from the glacier two miles away erupts every hour or two, harbor seals come and go, and the crash of colliding ice is constant as they strike others stuck in the muddy bottom. As the waters recede from the six o'clock ebbing tide, the channel narrows and the steady flow of bergs collide with ever increasing force on their way out to Muir Inlet.


The iceberg graveyard


McBride is probably the most active tidewater glacier in the park. It towers over 200 feet high, while another 300 feet lie below water. It's a half mile wide, twelve miles long, and slides into the sea at a rate of over a mile a year—more than any other glacier in the Park. It's also disappearing faster than any other body of ice. It will likely be nothing more than another wall of white terminating far above the sea in the not so distant future.

The air last night was full of the snap, crackle, and pop of dying icebergs as they flowed out into Muir Inlet. The crash of a calving berg, and loud smack of a large swath of ice barreling down on another firmly anchored to the seafloor echoed onto the moraine I slept on without my tent. The ever changing iceberg graveyard that sits in front of me ceased to entertain. These sights will disappear one of these years as the last three tidewater glaciers in the Park slowly die. I had the entire McBride Glacier and Inlet to myself—I had the entire fifty mile long Muir Inlet to myself. For the second time this summer (the other being yesterday), I saw no one, no boats, no motor noise. I thought I might be paddling and sharing the experience here in the Park with others, which is usually teeming with kayakers, but this time of the year I guess boats are few and far between. I depart from the cold confines of this magical place and follow the busy highway of ice streaming out the inlet and around the corner just after slack tide. It's been almost twenty four hours since I arrived here, and my days of glacier exploration are done. This was the last hurrah, there are no more rivers of ice terminating into the sea as I exit the Park over the next few days. I reflect on the last ten days I've been in Glacier Bay, and it's been an experience that has nearly moved me to tears—so alive, so overwhelming, it seems to stir every passion as I think back. I pass my last small iceberg near Adams Inlet as Muir Inlet widens and straightens, and the winds howl back to life.

There is mist in the air, and fog growing thicker as the morning yawns to life. It looks like it's back to reality with the weather. I've used my tent for the first time in a week, and I need to think about where my rain gloves and cold weather skull cap are. A small rockslide plunges into the depths off in the distance as I tie up to some bull kelp and take a nap in the rain. A good half hour later, twenty knot winds roar across Beartrack Cove as I struggle to reach the Beardslee Islands. The winds subside as I duck into the protected confines of the shallow waters in the dense fog. I take compass bearings as nearby islands come and go like ghosts. Gone are the rock and ice plunging down from from the heavens. The sounds of wildlife spring back to life, until the dull scream of rain drowns everything else out. These islands will not be islands for long. As the glaciers melt, and their great weight from the land disappears, isostatic uplift heaves the ground upward over an inch a year. The rain and dense fog today gave the islands and steep shores a magical quality. I set up camp on a narrow spit in the Beardslee Islands as the sonorous sounds of wildlife ring in the still, rainy air.

I head along the narrow channel toward Lester Island as the tides slowly rise. Bartlett Cove, and the Park's dock, lie through a narrow slot only passable when tides reach above ten feet. I glance around the corner to exposed rock covered in bubble kelp (rockweed).

I'm a bit early, and wonder if I'll need to wait for the waters to rise. I reach the rock shelf and follow a thin ribbon of water as the dock appears in the distance. The slalom course through the tight waters soon end, and the dock and Park Headquarters inch closer. I tie up my boat, report in to the Visitor Center, and head to the breakfast buffet at the lodge after thirteen days of touring the East and west Arms of Glacier Bay. A hot meal has been very rare this summer, and I'm really going to enjoy this. I check emails on my phone and gorge into the early afternoon as the buffet closes. After the restaurant reopens for lunch, I waddle out to clean up and do laundry. I give couchsurfing contact Noel a call and meet her at work at the airport. Other than the one restaurant within the Park, the town has one—a pizza joint.

I leave the dock mid afternoon and head out towards Icy Strait. A humpback surprises me as it surfaces less than twenty yards away. As I reach Gustavus Point, I spot a black bear near the water combing the shore for clams and grubs. An hour later, a sea lion startles me as it surfaces for air and darts back into the water right behind me. The headwinds are blowing at me again as I pick a place to camp on the south side of Pleasant Island.

Today was a short day. I was on the water after 9am and as I reached Porpoise Island less than ten miles later, I was beat. I never get enough sleep during town stops, and the east wind is killing me—and I have over ten days to get to Skagway. There is partial clearing tonight, and I glance at the Big Dipper pointing brightly at the North Star—Alaska's State Flag.

As morning lets out a big yawn, the winds pick up, and the waves soon follow. But something's different. The wind isn't blasting me in the face, I don't even feel it, but I know it's there. It's at my back. Today was one of those extremely rare, I can count-the-number-on-one-hand days where I was pushed by winds. The tailwind gradually builds, and the chop soon follows. I buzz past several Sitka black tail deer as I briefly surf an odd wave here and there past the Couverden Islands, which I avoid this time. I don't feel like paddling in still air under bright sun through the calm, protected islands. It was calm and still earlier today, and my watch was reading 87°. There's a dark object on the beach starting to slowly move as a sow and her two cubs follow the shore while she looks for tasty grubs. I cross the twenty one hundred foot deep waters of Lynn Canal at over three knots as the tailwind continues. One of my waterbags has developed a pinhole leak, and I'm running short. I head toward Funter Bay and spot what might be a creek in the distance. I reach the narrow beach, call it a day, and set up camp. Heading over to the creek, the rustle of leaves. A sow stands on her hind legs as her cub runs behind her. There's dead fish parts shredded all over the rocky beach, and



I look over at the tiny creek as salmon struggle to climb its shallow waters. Many have chunks of skin and meat missing or obvious abrasions from their epic struggle upstream during the last week of their life. I could head on and camp somewhere else to avoid being looked at as another food source on the beach frequented by bears, or deal with it. I'll deal with it. My food is already locked away in bear bags on some rocks at the edge of the beach, and I crawl into my bag as the near full moon peeks from behind the clouds. I sleep under the stars for maybe the last time, as rainy skies dominate the forecast for the next several days. A marten dashes right by my groundcloth by as I write this, and it's time to call it a night.

The waters are busy with fishing boats everywhere. Some are commercial, trawling nets behind, but most are from Juneau on this drizzly Sunday. I follow close to shore as a large stellar sea lion curiously follows me from a distance. The sea erupts with bubbles rising to the surface nearby as a humpback rises to bubble-net feed. A steady stream of boats round Point Retreat and follow Saginaw Channel on their way back to the Borough of Juneau. The sky is busy with the buzz of aircraft coming from every direction. What has taken me three or four days to paddle through a wild myriad of conditions takes a plane from Gustavus less than ten minutes—although they probably don't see anything other than the dull white of cloud tops on a day like today. I follow Shelter Island and squeeze through North Pass as large tide rips throw me around. The Pass is busy with tour boats and private vessels gathered around a feeding humpback. There's a small craft advisory tomorrow as a front passes through, and I try to decide where I'm going to wait it out. Shelter Island is a bit cliffy, Gull Island is nearby, and the Eagle River, with Herbert Glacier staring at me from high above is listed in my guidebook. With a freshening south wind blowing, I'll continue on toward Benjamin Island. There's a narrow tombolo jetting off from the end of the island, and I reach the protected waters and take a look around. There's a firepit on the exposed bar, and in the trees, there's a soft, flat spot nestled in the pine duff. What a change after setting up camp on rocks for most of Alaska. I set up camp as winds howl through the treetops above, and the unsettled sky spits out rain. With my ultimate destination so close, today was probably the last twenty plus mile day.

My plan today is... nothing. The winds barely purr as light precipitation pelts the rainforest.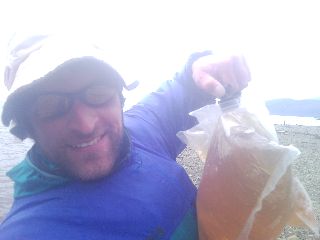 Today's Vitamin-rich tannin waters

I wait for the roar of the winds as the forecast calls for. I hike a game trail a couple miles along the edge of Benjamin Island until I reach the other end. The distant hum of a fishing vessel breaks the silence as I follow the uneven ground past moss covered rocks and old growth trees towering above the wet ground. I arrive back at camp to—calm winds. Where's this storm? With less than seventy miles left to this epic adventure, and over a week to paddle it, I'm in no hurry to race to Skagway. The winds were strong for maybe two hours early this afternoon, and then—silence.

Yesterday was rather uneventful, other than what I saw reaching the far end of Berners Bay. Water was wildly splashing from a half dozen different places just ahead as porpoises raced around like a game of tag. This morning I wait for the moderate rains to stop pelting my tent before I break camp at 8am here near Sherman Point. The winds purr from the north as low clouds tightly hug the steep mountains that surround me. I take an early afternoon break at the base of a near vertical creek cascading from the frozen icefields that lie above. A noisy red squirrel clinging to nearby spruce tree chatters loudly to announce its presence. The cold, penetrating fog lifts, and the winds dull to a gentle purr. I fill up my two plus gallons of waterbags and dine on some snacks. The strong winds Lynn Canal is famous for (along with every other inlet, canal, pass, passage, narrows, and strait I've been in) take a nap. The sea calms to a surface as smooth as a baby's behind.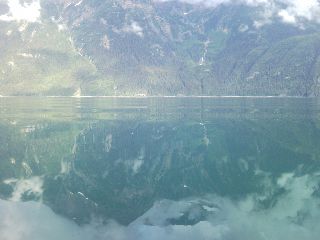 A rare occurrence—Calm winds in the far reaches of Lynn Canal

Off to my left, I turn to what might be the noisy backfire of the motor on a fishing boat. There's no boat, it's a humpback thrusting skyward as it breaches a quarter mile away. Off on the mainland, the faint beat of a blue grouse rings in the still air. My progress this afternoon has been agonizingly slow as I constantly stop to take in the sights and sounds of the world that surrounds me. I watch the dozens of bald eagles I pass by intently focused on their food sources bobbing just under the water's surface. There are over a half dozen humpback whales all around me as a world full of the cetaceans erupt mist into the air. I watch their tails rise above the surface and slowly dive back into the cold ocean depths several times. I hear the vocalization of one nearby, and struggle to stay out of its path. The ubiquitously rough waters of the last four months have made listening and watching wildlife a challenging endeavor as my ears ring with the crash of waves. Off in the distance next to Eldred Rock, another breaches and crashes back to the surface with a great thud. I pass Eldred Rock over an hour later, with the one hundred five year old octagonal lighthouse standing sentinel above. Kataguni Island lies near, and I find a rocky camp above the beach as two large cruise ships and an Alaska Ferry slip by under the rainy skies. There is a high pitched scream coming from the deep rainforest as I write this. It erupts from the base of the Kakuhan Range across Chilkoot Inlet. Is it a mountain lion? A wolf maybe? It's just before 9pm, and the pitter patter of rain pounds my tent with an increasingly fierce intensity.

I'm suddenly awakened by the whoosh of a pair of humpbacks twenty yards off the water's edge. I briefly ponder the idea of getting up, but with two days left, forget it. As ten o'clock rolls around, I take my boat down to within several feet of the water and return for some dry cereal for breakfast. I pack up the last of my gear, and load the boat as water nips at the bow. The whales have disappeared today, and the winds are still light, other than a gentle tailwind this afternoon. I reach Kalgaya Point this afternoon with Haines just around the corner.

I enjoy the last of my 56 ounce bag of soaking wet M&Ms, and cook up some dinner as a light rain falls, and a rainbow suddenly erupts over Lynn Canal. Soon after, I watch several seconds of of a movie from the giant jumbotron of a cruise ship as it passes nearby.

Haines, AK
It's another big day today—five miles. I reach the large cruise ship docks standing high above, and beach the boat on the sandy shore at low tide. I haul my kayak and gear across the street to an outfitters parking lot and meet Joey at the nearby hardware store. I help him load materials for the home he's helping his mom build, and we head to Jen's place near Mud Bay.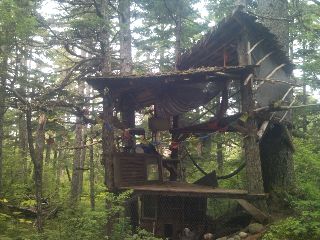 The treehouse

I take my gear to the treehouse and head into town this evening to shower and do laundry. Ok, now what? I'd like to see the town, so I walk around as the place falls to sleep. Restaurants are closed, streets are empty, except from the echo of music coming from a pub. I walk in and find myself talking to a few locals about the helicopter skiing made famous from popular ski videos filmed in the area. I know I'll find a ride back seven miles back to Mud Bay if I keep asking around. The annual golf invitational was today, and the place quickly fills. Many great stories, great people, and ten hours later, it's 5am, and I'm kicked out at closing time. Still no luck with a ride, now what? I make a lap thru town and find myself homeless, napping on a park bench wearing all my laundered clothes I have in my backpack. As the town wakes up two hours later, I find a ride back to couchsurfing contact Jen's. After a long nap, Joey gives me his bike, and I climb nearby Mt. Riley

Looking towards Skagway from Mt. Riley

. There's a barbecue at the fairgrounds tonight, and I throw my thumb out and hitch back into town. I see I'm early, and listen to the members and volunteers of the town fairgrounds go through their financials and past events. The locale is quite busy, drawing people from the Yukon and beyond for the popular venues that happen here year round. Herriott Hall quickly fills this evening as the Swing Set band plays, and smoke from the grills fill the sky. I meet a few I've contacted online over the last few months, and several from last night (I find out I was at the redneck bar, not the hippie bar, making a return to Mud Bay an impossibility). I really hope someone's headed the seven miles up Mud Bay tonight. As the event draws to a close, Emily gives me ride back, and I stumble out to the treehouse under inky black skies under the dense rainforest canopy.

The noisy pitter patter of heavy rain drowns out the twitter of waking birds this morning. I sleep in after last night's fazed sleep and soon reawake to patches of blue sky peeking through the trees. I say my goodbyes, Dan shows me the route a friend of his kayaked along Quebec's Labrador Coast, and I work my way back to the boat. Bright sun blazes above as I push off and paddle to the nearby marina. I fill up my waterbags as sweat pours down my face. I can't paddle in this, wearing only a polypropylene top. I find a park bench and furiously type away to catch up on these journals. I make phone calls, send and receive emails, and soon have a half dozen people to contact when I reach Skagway tomorrow. I hop in my boat and head out of the marina. There's a garden hose nearby, and I head over to fill up a waterbag. "So where are you headed?" blurts out a sailor just finished filleting fish. I tell my story, share some experiences along the way, and get ready to head on for my last night of camping nearby. "Do you want to sleep on our boat? I have some extra salmon?" Spend my last night on a sailboat? Enjoy fresh fish (the thought of eating the store bought salmon pouch around here kind of makes me sick). I give it a half-second of thought, and John and Sidney give me a tour of their boat. What an awesome way to end this trek. I've slept in quite a few cool places, including a cold night on a park bench, and now I find myself cooking up some salmon on a sailboat. I don't really know what to say other than, wow. This afternoon I just gave away a few beer tokens I earned the previous night, and I don't need to go anywhere.

I glance over the Marine Atlas on their boat, looking at some of the charts along my route. I page through to Griffin Passage in central BC, the uncharted narrow channel I followed through teeming with tidal rapids. I look at Grenville Channel, barely a half mile wide in places, where the BC Ferry makes regular runs up and down the narrow confines. I stare at Cape Caution north of Vancouver Island, where I spent four days exposed to open ocean and large swells hammering the rocky coast. As the last whispers of twilight sink below the horizon.

It's less than twenty miles to Skagway today (three hundred sixty by road), so I take a detour into Taiyasanka Harbor to the mouth of the Ferebee River. I inch my way to the entrance where the waters churn and gush as the ebbing sea squeezes through the narrow entrance. A sow and its cub waddle along the opposite shore a half mile away as I reach the mud flats rapidly exposing themselves as low tide approaches. I turn around and head out at slack tide and work my way north along the last stretch of Inside Passage. The shoreline is steep, and the mountains plunge into Lynn Canal. The strong winds that usually funnel their way through the narrow canal, along with its dangerous shearing chop is absent today. I can almost see my reflection in the calm waters as early afternoon arrives. The stern of a large cruise ship parked at the dock looms ever larger as I approach the end of of my voyage.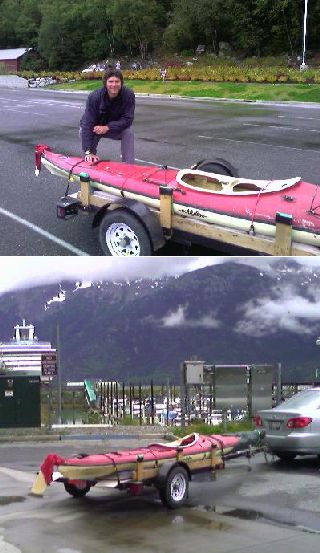 My last goodbyes to Big Red as she's carted off to her new home in the Yukon—sold after four days in town

The City of Skagway appears as I peer around the ship, busy with cleaning crews washing windows and repairmen busily welding away from the seas that have taken their toll on the vessel. I pull into the small harbor and tie up to the edge of the floatplane dock. I hop out of my boat for the last time and sit on the dock. I look at the kayak, and the dull, weathered gelcoat finish. It's endured small craft advisories, gale warnings, and seas large enough to swallow it if not pointed in the right direction. It has been tortured with sharp pointy rocks, soused with enough water to fill swimming pools, and rocked around enough to make most people seasick. I quietly sit on the dock for several minutes as my careworn mind and body sit at the waters edge for the last time. After 121 days and 1684.5 miles, I'm done. Am I glad to be done? I don't really know right now, although I don't think I could paddle anything much over twenty miles a day right now. I make several calls to some couchsurfing contacts and find a place to stay, and start my end of the trip to-do list.

Skagway, AK
I walk the short distance into town and explore the several blocks near the water. The place is bustling with tourists—and almost two dozen jewelry stores—from the three cruise ships docked today. I head to the Red Onion for some dinner with Janilyn's family and stay in their tiny 'cottage' in their backyard.

After a few days in town, I'm restless. I hike up to Upper Dewey Lake for the unofficial, Labor Day weekend 'music festival', complete with adult beverages donated by a local brewery and flown in by helicopter.
The beer run via airlift
Today is Labor Day, and after the steep twenty two hundred foot descent through thick mud from yesterday's all day rain, I'm ready for more. As 4pm approaches, I hitch a ride to Dyea Campground to start the next adventure.
Chilkoot Trail - Dyea, AK
After almost a week in town, my incessant desire to hike the Chilkoot Trail is about to become a reality. I first heard about it in the ALDHA-East Membership Directory in 1997 after my Appalachian Trail thru-hike. I looked up the long distance and famous trails listing in the back of the book and paged through to find CT.
---
One Ton of Gear - Hiking the Chilkoot Trail in 1898: What would you bring?

The Canadian government, the North West Mounted Police—now the Royal Canadian Mounted Police—required a year's supply of goods to every stampeder crossing the border. Moving the pile of goods forward was a problem. Stampeders who carried their own goods had the choice of carrying more weight or walking more miles. A light pack of 50 pounds meant more trips. A heavy pack of 80 pounds meant fewer trips, but a heavy burden and slow pace. Every mile walked with a load meant another mile back empty. Some stampeders walked nearly 1000 miles to carry their supplies the 33 miles from Dyea to Lake Bennett.

Supplies for one man for one year - Recommended by the Northern Pacific railroad company in the Chicago Record's Book for Gold Seekers, 1897
150 lbs. bacon
400 lbs. flour
25 lbs. rolled oats
125 lbs. beans
10 lbs. tea
10 lbs. coffee
25 lbs. sugar
25 lbs. dried potatoes
2 lbs. dried onions
15 lbs. salt 1 lb. pepper
75 lbs. dried fruits
8 lbs. baking powder
2 lbs. soda
1/2 lb. evaporated vinegar
12 oz. compressed soup
1 can mustard
1 tin matches (for four men)
Stove for four men
Gold pan for each
Set granite buckets
Large bucket
Knife, fork, spoon, cup, and plate
Frying pan
Coffee and teapot
Scythe stone
Two picks and one shovel
One whipsaw
Pack strap
Two axes for four men and one extra handle
Six 8 inch files and two taper files for the party
Draw knife, brace and bits, jack plane, and hammer for party 200 feet three-eights-inch rope
8 lbs. of pitch and 5 lbs. of oakum for four men
Nails, five lbs. each of 6,8,10 and 12 penny, for four men
Tent, 10 x 12 feet for four men
Canvas for wrapping
Two oil blankets to each boat
5 yards of mosquito netting for each man
3 suits of heavy underwear
1 heavy mackinaw coat
2 pairs heavy machinaw trousers
1 heavy rubber-lined coat
1 dozen heavy wool socks
1/2 dozen heavy wool mittens
2 heavy overshirts
2 pair heavy snagproof rubber boots
2 pair shoes
4 pairs blankets (for two men)
4 towels
2 pair overalls
1 suit oil clothing
Several changes of summer clothing
Small assortment of medicines
—NPS
---
CT isn't the abbreviation for the Colorado Trail? It's for the Chilkoot Trail? Where's that? I've been intrigued ever since, although I never thought I'd paddle sixteen hundred miles to reach the trailhead. Last week, when I approached a dock for the last time, the usual end-of-the-paddling-day fear streamed through my head. Ok, I've been sitting on my butt all day. Will I be able to stand up, will I ever be able to walk again? My flaccid legs have been stuffed tightly in the bowels of the kayak for four months, wizened to spaghetti like strength from over ten hours of inactivity each day. Have they suffered severe, chronic injury that will have me limping for the rest of my life? As camp is reached at the end of each day, I'd pull the skirt off the cockpit, swing my legs out, and wonder if I'll be able to stand up. Well, I've managed to walk around town, now it's time to find out what kind of damage has been done. I find a ride out to Dyea, and hop out of the pickup truck at the Taiya River around 4pm. It's eight o'clock as reach camp under darkening skies. The usually busy Canyon City campground is deserted, with a warming tent and cabin gracing the side of the trail. I look in the cabin, with its clean, uncluttered interior and firewood neatly lined up outside for the small interior stove. I've camped in a tent for the last four months, I'll try the cabin tonight.

I follow a side trail to the old townsite of Canyon City under crystal clear skies, looking for remnants of the city that once boasted over two dozen businesses and fifteen hundred people, . There's a few scattered pieces of old stoves, broken ceramic, and old cans, but other than the old boiler used to power the tram, the townsite's disappeared into the wet, moss covered rainforest.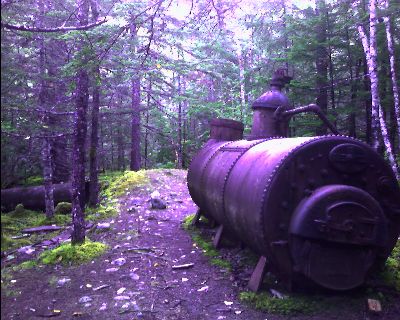 The old steam boiler

As noon rolls around, I finish my day at Sheep Camp. Today there's only a scattered piece of rusted metal here and there. The Camp once consisted of 16 hotels, 14 restaurants, 13 supply houses, 5 doctors or drug merchants, 3 saloons, 2 dance halls, 2 laundries, and a hospital, bath house, lumber yard, and post office. It's noon, now what do I do? I bushwhack into the woods, where old remnants come to life. I see a rock foundation of

are my feet as durable as Silly Putty of a small building, rusted out cans half buried in the moss, and old stoves nestled in the damp ground. The log structures that housed them are long gone. I meet a ranger and his wife when I return, taking down the orange markers used for foul weather navigation for the season.

The sky is mostly cloudy this morning as I start the long climb up to the Pass.

I dine on blueberries guarding each side of the trail up to timberline, passing the crumpled wooden remnants of an old tram tower to my left, which hauled stampeders' gear over the Pass. A steep forty five degree couloir stands sentinel directly ahead. I pass the remains of the old scales used to weigh rations, where many balked at the high toll fee, abandoning their ton of food and supplies, and turning around in disgust.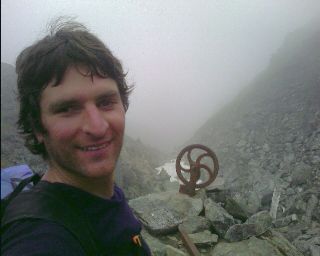 Atop Chilkoot Pass

Just ahead lies the 45° couloir up to Chilkoot Pass—the famous Golden Stairs. The fun scramble takes me up along the old rusted tram cables, a horse bone here and there, discarded shoes, and a steam motor near the top. Yesterday's clear skies have been replaced with thick fog that rolls in and out of the area as I near the top. A dim interpretive sign pokes through dingy, dark fog marking the Pass, and I find myself on the border with British Columba. I have a brief talk with the warden stationed at the nearby cabin, and begin the descent. A light rain starts as I near the bottom of the hand-over-fist downclimb, turning the rocks into a slick, wet mess—at least they're not covered in bubble kelp. The rain gradually grows in intensity, and I eventually put on raingear just as the sky opens up and souses me. A pair of ptarmigans sneak away as I pass the remains of an old sawmill. The heavy clouds hovering near the ground occasionally break enough for me to peek at the surrounding terrain as I reach the end of Crater Lake. As I work my way into the krummholz zone, the small stunted trees grow ever larger with each foot I lose in elevation. A tent platform sits nearby to my right, and a pair of buildings poke through the trees growing thicker with each step. I speak to the warden here at Happy Camp,

busily getting supplies ready to fly out for the helicopter coming tomorrowend of the season. We share our summer experiences, both eager for the onset of a cold, snowy winter. I eat a snack in the day use shelter, and decide to head on as the rains continue. Vertical walled Echo Canyon punches through the rocky terrain that lies below as I work my a half dozen miles to Lindeman City. waypass two grouse red squirrel
The other two depart early to reach the road and hitch a ride to Fraser to continue their journey south. I leave the cabin for
I need to be back in Colorado by the 16th. I find a bus that will take me to Denver, but two days late. I don't feel like spending $800 in ferry and plane tickets from Juneau, so I think I'll do what I'm accustomed to on long distance trips. Let me try hitching a ride. The 29th year of the Klondike Road Relay is tonight, where one hundred fifty teams of ten run the hundred miles to Whitehorse. Each runner gets a ten mile stretch--xxx. Tonight it's in the pouring rain. I ask around at the start 100 or so miles Three gigantic plates of pasta and salad after four months of looking up at the world, it feels good to be at the top The customs officer stared intently at my pack, kayak shafts poking into the air, stove fuel stuffed in a side pocket. "Can I have the person in the backseat step out of the car?". Oh great, this is going to take forever. Why are you carrying antifreeze?" ntifBob amd Karen chuckle howl of dogs Chilkoot with 1500 pounds of food 500 of gear dog mushing small blue car. Why is it turning around? You're going Ian Moe Fin Mable over seven hours of hitch a ride across from the airport I'm back there for a third time permit usually $50.80 strong, dangerous gusts of 2 knots The area was only active for four years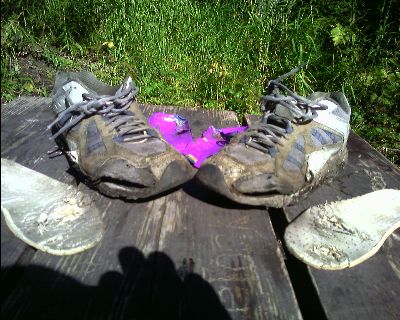 The Montrail Hardrock running shoes after 1000 miles on the Continental Divide Trail and a summer of town stops on the Inside Passage.