Back to Northern British Columbia
British Columbia / US Border to Juneau, AK


So many things come to mind when I think about the last seven hundred miles and almost forty days of paddling through British Columbia. The narrow, windy confines of Grenville Channel and its high stunning peaks, Vancouver Island's narrow confines, rapids, and high peaks on its northwest side, and Desolation Sound. I could go on and on. The next chapter of this adventure readies itself as I begin the trek past Kanagunuti Island. I'm now entering the Tongass National Forest, and soon cross the wide Nakat Bay with large several foot high swells, barely discernible until they crash against the rocky shore.
---
Tongass fun facts:
* Largest National Forest in the U.S. at nearly 17 million acres
* 45,000 miles of streams (11,000 of those produce salmon) plus 22,000 lakes
* More than 4,200 miles of shoreline, over 10,000 islands
* Tongass is 89% roadless
* Over 20,000 adult bald eagles reside here
* 3rd largest island in the U.S., Prince of Wales
—US Forest Service
---
There are several fish breaching from the sea today, one salmon almost crashing into my boat. The landscape is stark with black seas, milky white sky, and dark islands surrounding me as the winds grow increasingly stronger. I find a sandy campsite at Cape Fox as the seas grow more furious with each passing hour.

There is a brief downpour and heavy winds pelting my tent early this morning. The relentless winds continue as the sky grows brighter with each passing hour. I listen to the weather forecast on my VHF marine radio with strong winds predicted seemingly forever for Dixon Entrance.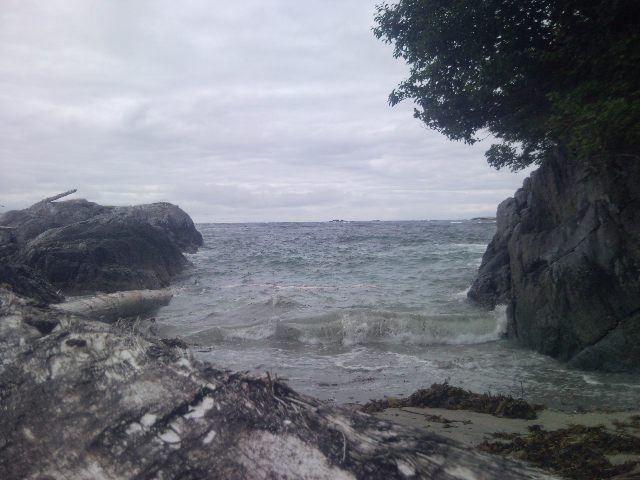 The open ocean crashes loudly into the shore many feet away, with seas large enough to swallow me. There's a small craft advisory, and I wonder when I'll be able to get out of here. This is the first time I've had to stay put, and my first zero mileage day other than one off in Port Townsend, WA (oh, and a the week side trip to Juneau). I walk through the old growth forest, with thick carpets of moss covering the forest floor. I head over to a nearby cove, reaching a small stream and fill up a couple waterbags. It feels good to do nothing active today. My tattered hands get a needed rest, I type journals dating back to Prince Rupert, repair a leaky drybag, dry out damp maps and clothing, and listen to the roar of the crashing seas and wind raging through the treetops. Sleeping in this morning, an taking an early afternoon nap was great. If tomorrow is better, it should be an exciting ride through twelve to twenty foot swells along the fifteen miles of exposed coast.

I wake up antsy with alacrity this morning, eager to move on. I'm on the water a little before 5am with overcast skies glaring down at the angry seas. Six to thirteen foot waves tumble me around like a washing machine as I round Cape Fox. The open waters of Dixon Entrance throw everything they have at me. The swells are topped with chop as a steady breeze builds from the Northwest. I never knew mold, rot, and mildew could apply to the human body, until this summer. The wild seas souse me from every direction, smacking me upside the head and slapping me across the face. My feet are fettered firmly to the foot pedals for bracing as I bounce my way north towards protected waters. I pass two dozen fishermen laying out nets as I enter Revillagigedo Channel, watching their boats rock wildly from side to side. Conditions slowly improve as I leave the open waters behind. The shoreline still erupts as waves explode over the smooth granite rocks lying sentinel above the water. I keep my distance entering the protected islands near Very Inlet and dock at a small island. Last night I listened to my phone's MP3 player for the first time well after midnight to drown out the deafening roar of the open ocean less than thirty feet from my tent.




Now I find it hard to stay awake. I take a nap, enjoy a ready-to-eat bag of rice as a snack, and trek on. I wriggle around the many reefs guarding the uneven shores, staring at the seafloor in the shallow waters. I start looking for campsites in Bullhead Cove tucked into the trees, well above the previous high tide mark. With a new moon above, there's a little extra gravitational tug on the earth, and the oceans waters are inched ever higher. The spring tides as they're called—spring as in more movement than regular tides—are in full swing for a few days. I find a relatively flat spot above the beach, perform a bit of landscaping, and build camp.


Spring tide camp

The skies are clear, and seas smooth as glass as I leave camp today. There's a pair of harbor porpoises twenty feet from my boat, and a group of birds disappearing from the surface as they dive below the water.

Today is one of those days I feel really slow. My energy level sinks minute by minute under the bright sun as I'm baked by its several septillion watts. My watch reads 92° in the sun, and paddling hard for any length of time isn't going to work. I don't feel like taking a dip in the 53° water either. I near Ketchikan and build camp in the trees below the towering Black Mountain.

There's the frequent plop of salmon leaping out of the water as I pass dozens of fishing and charter boats out with cruise ship passengers. It feels good to be able to paddle near shore again now that the heavy surf and reefs that denied access has disappeared.

Ketchikan, AK
I spend the morning paddling into town and reach Thomas Basin. I call Customs and soon an agent greets me at the dock and asks me the usual questions. A paddler himself, he's seen about eight others going the length of the Inside Passage this summer, and shares a little knowledge about the area. I give Seth, a Couchsurfing contact, a call and soon have a ride to his place. Seth does a little of everything—helicopter pilot, firefighter, and paramedic. Being on call, he's soon needed for a medical flight, and drops me off at his home and darts off. A French couple is also here, and I spend some time talking to them before they dash off at the end of the day for a ferry ride to Bellingham, WA. My evening is spent catching up all those little things I can't do on the water.

He drops me off early on the way to work, and I go down to load up my boat. There's four other kayaks stacked on the dock gently bobbing back and fourth from the coming and going boats. I know it's the group from Port Hardy I met in Prince Rupert, and I call a couple of hostels to see if I can track them down with no luck. I walk around town, along with a few thousand others from the four cruise ships docked nearby, for several hours checking out town.

As noon approaches, I head back to the dock and bid Ketchikan farewell. There's a constant drone coming from the overcast skies as dozens of floatplanes coming in from every direction fill the air. I pass the town airport, made famous for former Senator Ted Steven's plans for the federally funded Bridge to Nowhere which would have spanned Tongass Channel from the airport on Gravina Island to town. The only way in or out of this town is via air or water, and the airport is busy with commercial aircraft, and floatplanes line the skies like an army of ants. I make the five mile crossing of Behm Canal, and start my search for a place to camp as the sky erupts in dull shades of yellow and orange. I watch dorsal fins slowly rise and fall from the dark waters as a pod of orcas comb the nearby area for morsels of food. I set up camp tucked under the edge of old growth forest as the waters inch their way up sixteen and a half feet from low tide.

I leave the pebble beach this morning as the northwest winds start their daily assault along the six mile wide channel. I slow to a sluggish mile an hour pace through the wind and chop as my watch reads noon. It's time to take a break and I manage to fit a nap in after last night's less than seven hours of sleep. The winds have calmed by two o'clock, and I head north towards the small hamlet of Meyers Chuck. I run across a local on his fishing boat as two others approach from their boats. We have a good talk about my trek, and I continue in the calming conditions. Shawn and Daryl pull up alongside and point to town. "What are your plans tonight?" blurts Shawn.

Meyers Chuck, AK
I dock my boat at the base of a small island and find myself dicing jalapenos and throwing squash on the grill. Hours earlier, my lunch consisted of pouched tuna, a mayonnaise packet, and tortilla. I sit here at a table enjoying my first beer since... Juneau, and fresh caught king salmon. Looking out the window, we notice several small objects moving stealthily through the water. Getting a closer look reveals what it is—otters; a good half dozen or so headed to the nearby shore.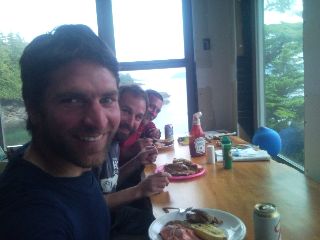 Trail Magic in Meyers Chuck

Not bad after several days of rough sea induced inadvertent seawater inhalation. Shawn gives me a quick tour of his cabin perched high above the water at the edge of Clarence Strait. His wife's in Ketchikan with their son, who will be out here with family in a week. I spend the night on the front porch as the sun creeps its way behind the distant horizon.

My plans to get an early start have been shelved as I paddle over to Dave and Maggie's for the weekly pancake breakfast. My plans to get a late morning start have again been shelved as I find myself at Vince's getting a tour of the property he's slowly been renovating over the last ten years. There's the old cabin with a floor added, the machine shop, wood fired hot tub, the dock and custom made aluminum ramp, and the four hundred square foot boat. I sit here on a comfortable chair at his kitchen counter charging my PDA and uploading my website, glancing out the window as a boat passes by every now and then. I patiently wait as brisk headwinds pick up the sea and hurtle it several miles across Ernest Sound as wave heights grow with each passing hour. I leave the small hamlet a little after 3pm with the northwest winds still noisily blowing around. The seas are a little rough, throwing me about as water crashes over the deck.


The entire town of about twenty at the weekly Myers Chuck pancake breakfast

As I reach a protected cove, a sea lion moseys about. I beach the boat at high tide and struggle to stand up as my legs are freed from the tight quarters of several hours in the cockpit. I turn around at the wild, boiling seas racing towards shore. It feels good to be on land again, and even better with high tide when I arrive at camp, and again when I depart. Unfortunately, like a full moon, that won't last for long. On another note, somewhere out there today, I reached the one thousand mile mark.

I hope I didn't make a wrong turn somewhere in the last month. If I have it correctly, I'm supposed to be in Alaska—and that means wet weather; rain, clouds, fog, you name it. Where is it? There's nary a cloud in the sky, and other than an hour of drizzle and a few clouds in Ketchikan, it's been like this since the Canadian Border. I was starting to think summer had been cancelled. I guess not. The winds are up bright and early today, and noisy whitecaps pound the rocky shores at 6am. This afternoon, I dive under a small waterfall for a good soaking of everything I'm wearing. Salt is smothered on from the recent rough weather like icing on a cake. I stick my head under the stream for a refreshing dip, which feels really good after paddling in the heat, and wind that's slowly waned to nil. I pass a dozen children out here for summer camp and forty three days of canoeing in the area.

I reach the Anan Creek Bear Observatory, and talk to the two US Forest Service Interpretive Rangers. I'm encouraged as they tell me there's a good chance of permit availability tomorrow.

I sleep under the stars on the float dock near the Forest Service cabin rented by a couple from Anchorage tonight. They're paddling for a few days in the area, and offer me the cabin tomorrow night, which they had for a weather day. We're starting to wonder if we'll ever see rain around here again.

I do a lap on the boardwalk between the cabin and the observatory trailhead as I wait for the 8am opening. I follow behind the ranger along a mile of wooden boardwalk that winds its way though the rainforest up to the falls on Anan Creek. I hear the noisy, tumbling waters as I approach the viewing platform, and look down the stairs to the photographer's area. I glance over the edge to spot several black bears wading in the creek, and more feasting on their catch behind rocks lining the shore. I look towards the lagoon downstream and spot Georgie, the resident brown bear. She dives her head under the churning waters and soon emerges with a pink salmon slithering around her clenched jaws. She pulls up to a flat rock and feasts on the head and eggs, leaving everything else behind.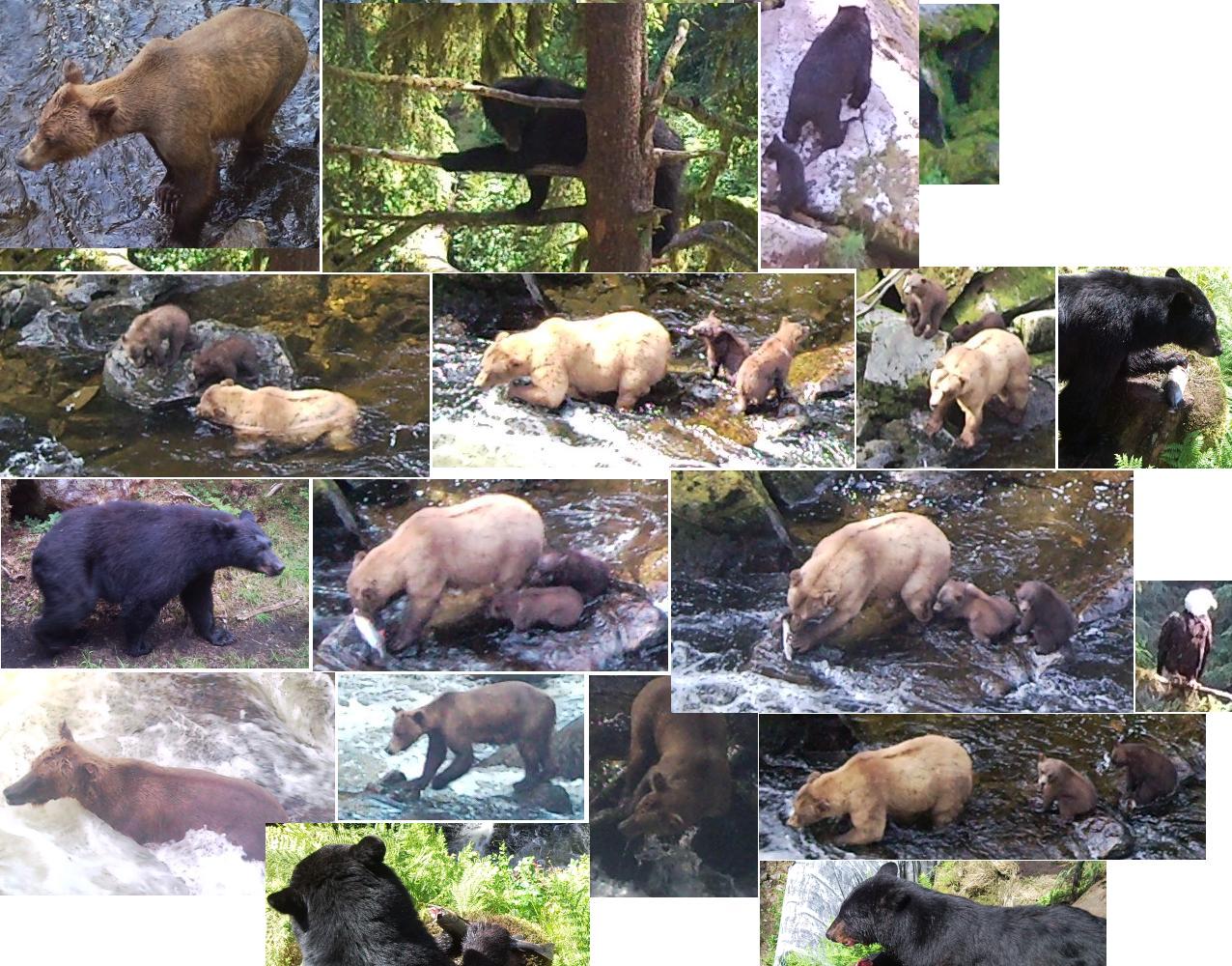 Anan Creek Bear Observatory

The rest is soon devoured as two eagles and a raven fight over the leftovers. A black bear, Hurcules, sits at the edge of the creek with eyes intently focused. She soon emerges with her meal and heads into the nearby trees. The process is repeated every several minutes all day by the thirty some bears I spotted. There's the raspy growl as one defends its turf from another less aggressive bear, or a sow training its cubs to swim. The black bears are fairly timid about swimming in the churning waters, and the brownies gleefully do so, scoring a meal in a fraction of the time it takes the blackies. Georgie's audacious eyes stare at me like I'm a small mammal as she nears the observation platform. There are bald eagles everywhere, perched on rocks and downed trees, sitting sentinel on treetops, and one even in the the calm waters above the falls splashing about taking a birdbath. I can see hundreds of pink salmon lining up in the middle of the creek to make the climb upstream, where they will spawn and soon die. After almost eight hours of watching the spectacle unfold all around me, over two dozen black bears, four brown bears, and too many bald eagles to count, I paddle on ten miles a little after four in the afternoon. I pass Bradfield Channel and reach Wrangell Island. I stare at the powerlines emerging from the seas that light up Wrangell, and the ursine extravaganza continues as I spot an object moving along the shore. Another brown bear. Other than the thirty bears at Anan Creek, I've now spotted two blackies, and my first brownie.

The skies are again blue for the tenth day in Alaska. A grey swag of cloud grows ever thicker above, and below, I watch the waters of Eastern Passage slowly turn green from the Stikine River many miles away. The usual northerlies kick up mid morning, and my one mile an hour through the strong breeze is a struggle. I take a couple breaks as the wins wane and sneakily build again. As I near Wrangell, the constant tug of four knot currents begin as I struggle upstream to Deadmans Island under cloudy skies.

There is light rain falling as I pack up and depart the small island near the airport, soon reaching petroglyph beach as the foggy skies sprinkle me with rain. High tide has arrived, and most of the ancient petroglyphs are buried under the grey green waters. I pass the ferry dock and tie up at the city pier.

Wrangell, AK
I head off to the hostel at the Presbyterian Church and decorate the basement with wet gear as it pours outside. I meet a couple from Glenwood Springs, CO making their way around Southeastern Alaska by ferry. I join Rob and Jen for a climb up the wet boardwalk to Mt. Dewey, and we stare down at the city of Wrangell several hundred feet below us. It's off to dinner at a cafe before the town shuts down at 8pm.

The Bear Festival is happening this weekend, with motel rooms (and the hostel) booked solid. I glance at the schedule to see what I'll miss. There's a couple photography workshops, bear movies showing all day long, a slideshow on the Anan Creek Bear Observatory, and a few other gun and home safety talks. I'd like to stay, but if I'm going to make it through the sand flats of Dry Strait near the mouth of the Stikine River, I need to be on the water before 10am. As 1pm rolls around, I hop in my boat and push off the dock. A seemingly very rare southwest wind puffs gently as I cross toward the sand flats near Rynda Island.

Incoming orcas

Unfortunately, I'm heading northwesterly, so that tailwind won't do me so much good. A jetboat driver I met at Anan Creek tells me Dry Strait is passable when the tides climb above eight feet. Low tide is five feet a little after 5pm. I'll be through most of the high tide passage route by 3pm, when it should be around seven feet. I run the numbers through my head, and I think I'm going to make it. I bump a couple sandbars in the middle of a mile wide channel, unable to see through the silt choked, murky green waters. I'm warned of some of the sandbars by small, shallow waves rising above the shoals. As low tide arrives, I reach a narrow sliver of water snaking its way through the buggy landscape. Sand is piled several feet high all around me like a towering skyline. Before I know it, I find myself in the deep waters of Frederick Sound. The rush of mist forcefully expelled through a blowhole near shore directly ahead tickles my eardrums. A dorsal fin pierces the murky waterline, and a white patch of blubber slides just above the cold waters. As I get closer, one in the pod of three orcas leaps completely out of the water, arcing back in with a thunderous roar. I'd seen a breaching orca back near Texada Island over two months ago, from two miles away. Today they're not more than two hundred feet off. I continue my route to Coney Island to call it a day. I circle the small body of land and look for the old fox farm supposedly with a flat area for camping. I never find it and head back to Mitkof Island. I peer across the six miles of Frederick Sound to car sized icebergs calved off from the LeConte Glacier. It's sixteen miles to the toe of North America's furthest south tidewater glacier. It consistently calves off shavings into the ten mile bay choked with ice scattered like puzzle pieces. I near shore as the rains grow heavier and spot a place to camp, well protected from the winds that might follow the growing light south breeze tomorrow. Off to my right the orcas slowly reappear as they bounce around the point, combing the shallow waters for their food scraps. I pull out my five megapixel camera phone, buried in a protective plastic case that doesn't help picture quality.

I'm awaken this morning by the loud snorts of a large animal nearing the food in my bear bags securely tied to a downed tree trunk. I yell sharply into the windy, rainy skies, and the stomp, snort, and crash darts off into the deep forest. I pack camp as the sky hurtles its angry contents onto Frederick Sound blanketed in heavy fog. The seas grow with every mile, and I near the Wrangell Narrows as the waters turn white from the sullen skies unleashing their full potential. I forcefully throw my strokes harder and ride the crest of a wave. I scream by bull kelp at over ten miles an hour until I'm forcefully expelled from the churning trough. I turn the corner into the Narrow's calm waters and the shadows of Petersburg slowly appear, completing my five mile an hour pace to Petersburg.

Petersburg, AK
As tempted as I am to leave town later today, I meet a contact a couchsurfing host and paddle to his back door. After an evening of talking about outdoor adventures, Gulf oil spills, politics, and an interview with the local newspaper, I meet several of Orin's friends that night, and find myself home well after two in the morning.

Orin and his roommate are off with a friend to motor up the Stikine River for a camping trip. I lumber out the front door a bit later before high tide slowly ebbs away and hop in my boat in the backyard. The rain slowly disappears as I reach the Sukoi Islets, drenched in fog, on my way across Frederick Sound towards the Baird and Patterson Glaciers.

A thin blue line out on the horizon grows larger and larger as I near, and the wind line blasts me with a northwest flow. There's a discernable drop in temperature as I cross Thomas Bay, and the waters turn a dull murky green from the melting glaciers oozing their sediment loaded ice into the seas. A pod of three orcas bounce through the waters nearby, and a thick blanket of fog slowly squeezes itself around me. I take a compass bearing to Point Vandeput as hundreds of birds loudly splash against the water as they take to the sky.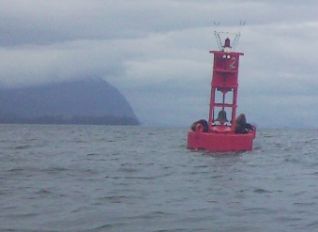 Sea lions resting on the bell buoy

A bald eagle snatches a fish out of the water, and a few sea lions lazily nap on a nearby bell buoy as the distant drone of fishing boats invisible through the dense fog churn on. I find a relatively flat camp in the trees in an area a group of Tlingit Indians camped with John Muir one hundred thirty one years ago.

Yesterday was rather uneventful, munching on some fresh sea asparagus during a break on a foggy day, and ending my night to the yodel of loons. I'm awaken after midnight as the sea waves inch their way ever closer to my camp. They close in to less than twenty feet as planned as I gaze at the full moon casting its bright glow onto the razor sharp peaks that surround me. Halfway across the eight mile wide Frederick Sound, a city of lights float from a cruise ship silently steaming away. Blindingly bright lights slowly inch by in the far distance from fishing boats.

I reach Cape Fanshaw this morning and start out on the seventeen mile crossing of Stephens Passage. I reach the nearby Storm Islands and check my VHF marine radio for the latest weather. The twenty knot northwest winds have been downgraded to fifteen knots, and I near Five Finger Islands four and a half miles away. A large yacht cruising down from the north is nearby, and the large deafening roar of a Coast Guard helicopter nears as it lands at the Five Finger Lighthouse. The noisy blades continue to twirl violently as a crew member offloads and heads up to the light. Maybe it was a five thousand dollar operation to change the lighthouse bulb? I continue on my way the eight miles across to East Brother Island. The hiss of exhaling humpback whales abound as I spot several plumes of mist, and large flukes silently dive into the water. I reach the north end of East Brother Island and land in a protected cove as choppy waters bang an crash against the rocky shore.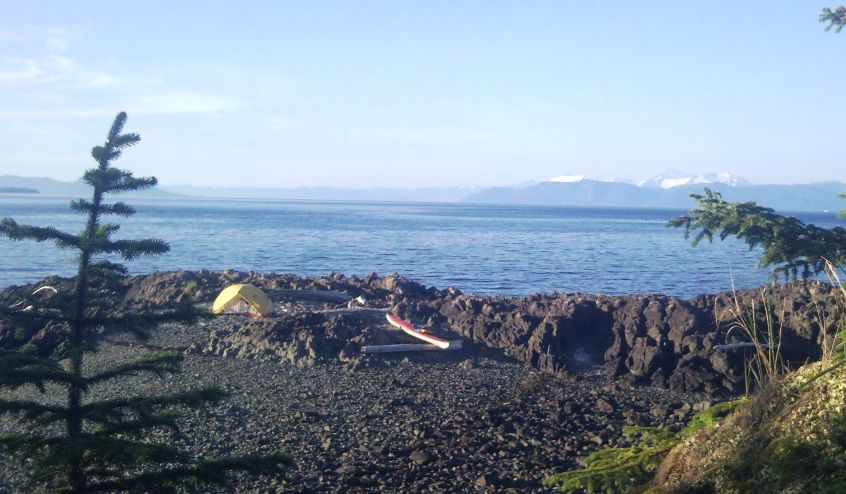 Camp on East Brother Island
The sky is again bright blue as I crawl out of the confines of my tent. A whale is nearby as I spot its mist rising from the water, and listen to its throaty groans. I pack up and carry everything down to the water nearing low tide. There are rip tides encircling my camp like a moat around a castle, and short steep waves appearing from nowhere. I pound and crash as I leave the rocky beach and the rip tides of East Brother Island behind. After seventeen miles across Stephens Passage over the last day, I reach Admiralty Island, home of seventeen hundred brown bears, or about one for each square mile of land. There are tide rips and strong currents bubbling up the deep waters as I hug the island to avoid the even more aggressive waters offshore. It's one wild ride to the next as I sneak around prominent points where the sea constricts and tightly wraps itself around sharp, granite corners. I pass near the mouth of Gambier Bay where the waves steepen into chop. I glance at my chart and peer at the depths in fathoms (six feet). Translated to feet, there's a sudden change from two hundred feet deep to over six hundred feet. An underwater shelf is constricting the waters and sending them to the surface like an upside down waterfall.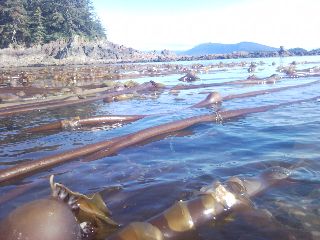 Bull Kelp

I power my way a short distance into calmer waters and, to keep myself from drifting, wrap my bowline around some bull kelp pneumatocyst bulbs bobbing at the water's surface. I make a couple tortillas and stare at the steep shoreline. The reefs deter landings like tire spikes at a city parking garage. I have the nearby sea to myself as I gaze at cruise ships, a barge, and private vessels churning north on the other side of Stephens Passage thirteen miles away. I turn into Seymour Canal and watch the shores narrow to two miles wide. Two humpback whales work the far shore for dinner. Their quavering high pitched vocalizations, the deep hiss of their blowholes, and the sharp, loud snap of their tail slapping the calm waters make me feel like they're only a few yards away. Sounds travel easily around the waters. The distant drone of a powerboat several miles away still hums loudly. I look for a place to camp and spot a pebble beach with a flat enough spot in the supratidal zone. As I type this, the two humpbacks continue to noisily enjoy their feast two miles away as three porpoises jet rooster tails into the air as they sprint through the nearby shallow waters. I'm suddenly startled as a loud whoosh erupts not far from the waters edge. Another humpback makes a brief appearance a hundred feet from me as the sky continues to slowly fall asleep.

I hop in my boat at 5am after sleeping under the stars, gazing at the near full moon rise above the sleepy Glass Peninsula last night. The islands wake up with a loud yawn today as the raspy groans of the humpbacks ring up and down Seymour Canal like thunder in a wicked electrical storm. Today seems different, abnormality is in the air. For the first time in days—no, make that weeks, the sea is calm. There's no pounding surf, no steep, breaking waves, no boat or ship wakes, no nothing. The little world I sit in sings with energy. The waters sprout a full spectrum of creatures ready for another day. Another humpback sounds off across the canal two miles away as quavering ravens and hawks scream their raspy cries. Pink and Coho salmon continue to plop around as they frequently leap clear out of the water.

An occasional strange noise yells from the rainforests, and several porpoises hiss as they dart back and fourth across the waters. I had to stop every several minutes just to listen to all the sounds mother nature makes in these confines. A loon yodels (recorded on my phone) nearby, and sea lions and harbor seals sneak by trying to get a closer look at me. Deer stare at me vigilantly as I pass nearby, and the ineffable experience of this journey continues to grow with each mile. Juneau looms ever closer, and the symphony of sights at Glacier Bay can almost be touched. I reach Windfall Island near the the Pack Creek Bear Observatory and see the distant outline of a paddler inch closer. Jane's out paddling around the island at the end of her shift as an interpretive ranger for the Forest Service. She informs me of the strict guidelines for obtaining permits for the Observatory. I've been to Anan Creek, and don't feel like plunking down fifty bucks to see a handful of more bears. We talk a bit, and she shares stories about Lynn Canal up near Haines, and the exciting weather that can wickedly howl through the area—but after what I've been through this summer, big deal. I follow her advice and camp on Windfall Island less than a tenth of a mile away. What's the hurry? I don't need to do any more miles today.

I pass the Pack Creek delta and spot a sow and its cub moseying around the tidelands off in the distance looking for clams and grubs. I stop at a creek a quarter mile later to fill up on water and startle a deer as I walk up to the bubbling waters. The sea continues to erupt with salmon noisily breaching the nearby waters. I hop back in my boat and look off to my left. There's another (or maybe the same) sow and cub out near the water's edge enjoying breakfast as mom feeds her cub.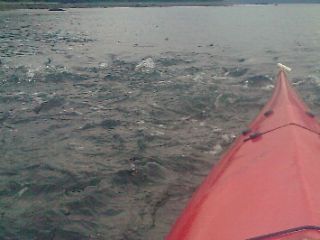 Dozens of salmon rocking my boat

There's a school of dozens, maybe hundreds, of salmon swimming with the tips of their tails emerging from the dark waters. As I pass nearby, the seas bubble and boil with energy as they scurry away. I feel my boat shake as they stir the waters. I head into Swan Cove to see what else I can spot this morning. With low tide near, there's a wall of land towering a couple feet above me as I look for a way to sneak in. I follow deeper waters and head to the shallow sea slowly inching its way up the shore. I spot a few bald eagles off in the distance, and just behind is a brown bear lumbering away through the mud. I put myself a little behind schedule as I try to reach the portage to Oliver Inlet and out to Stephens Passage. I've paddled without the drysuit the last two days, baked to oblivion from the sunny skies and yesterday's still air in the protected waters of Seymour Canal. The winds have picked up today as they try to heave me in the wrong direction. Without the suit, it's easier to exert more energy without worrying about overheating. Sweating in these conditions can chill one quite quickly if the weather decides to pull a fast one, which happens all the time out here. If I had it on right now, I'd be making a Mayday call for heatstroke. With wide open waters wildly churning about, and glaciers crashing into the seas ahead, the luxury of paddling in what little clothing I have on now won't last for long. Two hours after high tide, I reach the tip of Fools Inlet, and the tram leading over the mile wide isthmus into Stephens Passage is out there somewhere. But where is it? All I see over here is fifty feet of mud I need to trudge through, and fields of dense grass. I have to carry my boat and gear through this stuff? I bushwhack the good quarter to half mile to Seymour Cabin, part of the Oliver Inlet State Marine Park.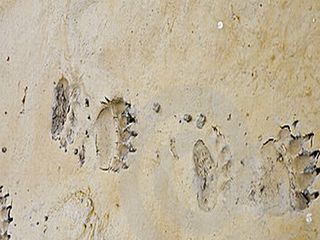 Brown bear tracks

I glance back at my boat on the distant horizon dumbfounded. My indomitable spirit has been ready for the next challenge, and it looks like this is it. I empty the boat and carry the pile of stuff to the creek oozing with salmon headed upstream. I drop everything, head back and carry the boat to the creek. I toss everything back in the boat and pull it upstream. I feel like I'm walking a fifteen year old three legged dog, nearly blind, with bad hips that doesn't want to cooperate. As the creek narrows and grows deeper, I jump onto shore and pull the bowline along until the boat jams into the tall grasses lining the shore. Oh great, what's next, a swarm of killer mosquitoes coming out to eat me alive? I toss my stuff into a pile on the creek bank and pull the boat up. I drag it through the tall, soft grasses to another creek a few hundred feet away. I thought it would have been a little easier than this, but there's no discernable trail, and the creeks might be a bit low from the recent dry weather and a below average snowfall this past winter. I repeat the process until I make my way to the tram—the rail lined boardwalk and aluminum cart that rides the rails like an old wooden roller coaster. Ok, where is it? I tightrope walk the old wooden boards snaking their way a mile to Stephens Passage over creeks, up a small hill, and through the wet bogs and stunted trees. There's a caution sign warning users of the steep descent ahead and I let out a wide grin. I reach the other side after the pleasant hike through the muskeg and along the tiaga forest. I stare at the contraption I'll use to portage my boat and gear over the sliver of land connecting Admiralty Island to the Glass Peninsula. I test out the hand levers controlling the brakes with a laugh, and pull the tram up to the top of the hill. Alright, now for the fun part. I hop on and start the descent with my hands firmly pulling the brake levers. Not very exciting, but I feel like a little kid on a junior sized roller coaster. Not bad for what seems like the middle of nowhere, Alaska. Today was another phenomenal adventure with only a few fishing boats around, and tomorrow I'll be in Juneau. I toss my boat on the tram and poach the deck of the Seymour Cabin. It's a quarter to midnight as I type this, and the isolation of Fool Inlet will give to the hustle and bustle of Juneau.

Yesterday was a long day, with more plodding along boardwalks and bushwhacking through mud and five foot high grasses than I expected.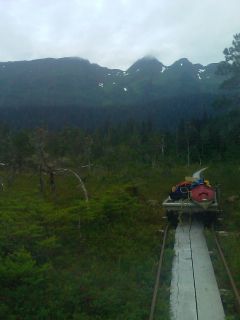 The tram

I thought this whole portage thing was going to be easy, with Juneau in reach later this morning. Well, like most things out here this summer, it's been a bit tougher than expected—it's been great. I've been looking for places to 'stretch the legs' as my lower body sits comatose in a boat for twelve hours each and every day. I sleep in after yesterday's long day, and get a late enough start to find myself at the narrow mouth of Oliver inlet at low tide.

I hear the rush of ebbing water ahead as the current slides downhill.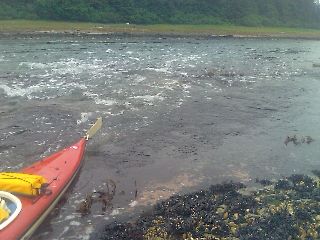 The rapids of Oliver Inlet at low tide

I walk the boat around the class II waters and shallow constriction and hop back in. I push off from shore into the fast moving waters and watch Stephens Passage loom ever closer as I race toward the open water. I arrive at Stephens Passage in dead calm conditions as I make the three mile crossing. It's another warm, sunny day and calm winds. I feel like I'm somewhere around the Baja Peninsula. I thought this is supposed to be Alaska. Is the bad weather going to barrel down on me in Lynn Canal? I make a few calls near town and pull ashore onto Douglas Island. I meet Laura, a couchsurfing contact, and have a place to stay for me and the boat.