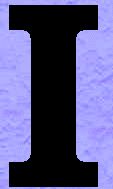 n less than month now, I will be embarking on another fantastic journey. Last summer, I finished the Pacific Crest Trail at the Canadian Border. In a month, I will continue northward—this time by sea kayak—to Glacier Bay, AK and beyond. In late June, I'll interrupt my trip with a stop in Juneau for a Mountain Rescue Conference.
---
"Twenty years from now you will be more disappointed by the things you didn't do than by the ones you did do. So throw off the bowlines. Sail away from the safe harbor. Catch the trade winds in your sails. Explore. Dream. Discover."

—
Mark Twain
---
Along this magical route, I'll see my first orca (since seeing Shamu at SeaWorld thirty years ago), spitting water at me through its blowhole as it tries to get a better look at me. More Bald Eagles than I've ever seen before will gaze down at me from their lofty perch. There are the sea urchins, seals, and starfish; a frequent sighting of a grizzly or black bear, and countless other creatures whose homes I will pass through.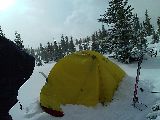 I write this Introduction from the summit of Chief Mountain near Silverthorne, in the comfort of my new MSR Hubba Hubba HP tent that arrived yesterday. Other than my Golite shelter I used on the CDT and PCT, this is the first new tent I've purchased in almost twelve years. It's about time. I have a titanium cookpot, with my 90s era stainless cookset now in storage, and collapsible Platypus bags have replaced the aging polyethylene Nalgene bottles. Outside the thin nylon walls, which are being constantly excited by the stormy weather, I listen to the noisy roar of the violent winds whipping about. I'm protected by a small row of densely packed trees just windward of me. The loud thud of spring graupel assaults my tent as the angry skies grow inky black, with a winter storm warning in effect until tomorrow. I turn my phone on, curious to see if I get a signal. I check a couple messages, and hear there's been a thirty car pileup on Vail Pass not long after I passed through. I'm over here because my $85 a month health plan includes dental, but not a single dentist in Eagle County. Welcome to the Vail Valley. I abandoned my old dentist, which I wish I didn't have to do; but at $160 a pop for a cleaning, $1200 to replace four old amalgam fillings, and remaining largely unemployed as the Great Recession drags on, I had no choice. When on a not-so-frequent trek out of the Eagle River Valley, turning around at the end and driving straight back home isn't an option. I need to do something along the way, either a quickie ski tour, or camp in a place I haven't been before.
A few hours ago, I hiked up the Meadow Creek Trail through the dirt, and then snow for a few miles until I started to posthole into the rotten snow. The sky starts to throw out a wild assortment of strong wind, heavy snow, and wet graupel as I tour along the gentle trail. My map blows around like a pinwheel as I check my progress in the whiteout conditions. After continuing through the tight trees and along a ridge to the top of Chief Mountain, I build camp behind a small protected island of dense spruce. The rainfly is a bit of a challenge to put up as pockets of gusty wind pummel my camp. This is great training for what lies ahead along the Inside Passage.
As night progresses, the soft whispers of snow quietly settle on my tent, a frequent blast of wind races down from the Gore Range, which stands as a gigantic island of rock thousands of feet above me. Alright, so what exactly am I getting myself into this summer? I've done a good amount of whitewater kayaking over the last twelve years, and paddled a sea kayak for the first time as a training run for sixty miles on Lake Michigan.
Yu ma ntice a lt f 'y' and 'o' letters missing frm this page to. I'm still using the same old HTC XV6700 PDA/Windows CE/Windows Mobile/Pocket PC/Windows Mobile Professional/Windows Phone (or whatever Microsoft calls it now) I found on Ebay four years ago. Most of the vowels on the small keyboard are worn out, requiring me to stack a bunch of trailing 'oooooo's via cut and paste. A friend recently gave me a couple dated smartphones (thanks Rhodes!), including this model, and tomorrow I'll try taking them apart and transplanting its seldom used keyboard.


Over the course of the winter, I've spent an inordinate amount of time collecting and printing over one hundred charts, plotting hundreds of campsite locations (much of the route is not suitable for camping, or unlandable), over twenty nine marinas or towns and zip codes for resupply, magnetic variance/declination, and of course gear. The only thing I still need is a boat and decent paddle. Like everything else, I'm going to find it at a reasonable price, and hopefully soon. If all else fails, I'll find something in Seattle. I'm sure there's a few boats floating around up there (no pun intended). I even found over a hundred contacts in towns along the way from Couchsurfing.org. I first tried that site a couple years ago after a sudden change of plans on my first trip to the Northwest. On another social networking site, I was looking for a way to find others embarking on an Inside Passage journey this summer, so I started a Facebook group. I received very few responses, and for those who did, this adventure is only an unrealistic dream of theirs. This system of typing my journals for anyone to see has been quite an exciting project, and a great learning experience; on everything from website design, to "hacking" the system registry" and "cooking roms" on this phone, allowing me remove unnecessary programs, and optimize the operating system for better battery life. I even figured out how to unlock the Qualcomm GPS chipset on my newer XV6900. Verizon restricted its use, forcing users to pay for its VZ Navigator service (have I confused you yet?). Unfortunately my HTC XV6900 doesn't have a keyboard, so I'll be lugging around two or three different phone models. However, it was the last of the smartphones that didn't require a data plan, so I save over $360 a year (or over a thousand dollars since hiking the CDT). I've never really used a GPS much before, and didn't bring one on any of the long distance trails, but if—actually when—the weather turns, and I find myself in the middle of a several mile wide channel crossing in pea soup fog, with a current of a few knots, my compass could use a little outside assistance. I even downloaded 1:250,000 topographic scale maps of the entire route onto my phone a few days ago. What happens if my large scale charts or small scale topo maps get wet? I want a backup system, and while not ideal, it's better than no redundant system at all. Then there's the issue of powering all these things—the digital camera (I'm going big this time; no more pics from this one megapixel camera phone). I have a Brunton 6 watt solar panel I tried on the CDT for a few days, but my guess is I never got more than half that voltage, which actually drained the battery on the HTC phones. I just purchased a cheap $6 universal DC li-ion charger from Ebay to try and solve this problem, and if it doesn't work, I don't know what else will. With several town stops two weeks apart, power outlets will be few and far between, although I have almost a dozen old li-ion batteries to power these things.
Thanks to a bit of peer pressure recently, and nothing in my way, I plan on finding a ride to San Diego County right after Vail Mountain closes, for the ADZPCTKO. It would be nice to have booked that $65 airfare, but with bear spray, emergency flares, a dozen or so various lithium-ion phone batteries, alcohol stove and fuel, magnesium firestarter, maybe some Esbit fuel tabs, and nine drybags for airport security to sort through, that's not really an option. The last thing I want to see happen is a maildrop with this stuff end up lost by the Postal Service, so it will remain with me. At the Kickoff, there will be many '09 hikers there, some from the 70s and 80s, and of course the most important ones: the current year crop. For the first time since teaching skiing over a decade ago, I'm actually looking forward to—I feel a little sick saying this—the end of winter. As much as I enjoy the cold and snow every year, the this season's precipitation has seemed quite dismal after the last several years of above average snowfall. The one last concern that has been constantly bothering me recently is about the two other bedrooms in my condo I haven't rented out for the summer yet. If it weren't to happen, well—let's just say it needs to happen, everything I've saved up for this trip would disappear in a couple months.
As I sit here, smug and warm in my tent, with snow and wind swirling wildly above me, I can't help but wonder what lies ahead. I haven't touched seawater in thirty years. Have I planned everything out well enough? What about if this happens, or that goes wrong? Do I really know what I'm getting myself into? How often will I be able to paddle at times other than slack tide? Is bad weather going to tear at my soul? Well, there's only one way to tackle the unknowns in life, and this summer, I going to be the quarterback.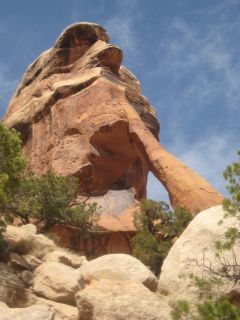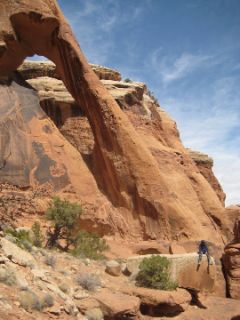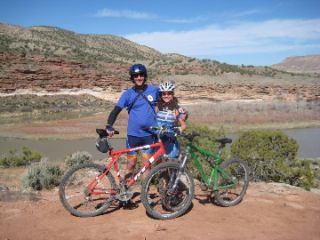 It's early April already, and I've just gotten an invite to head out to Utah for a week. I haven't mountain biked out there in almost a decade. With all the last minute planning I need to finish, I don't feel like I'm up to the task. On the other hand, I can take care of last minute details from my phone or the Internet at a library, and I know I'll look back at this trip and be glad I did it. Ok, I'm outta here.
One afternoon it's Porcupine Ridge, another it's the Amasa Back and Jackson Trail. The next day it's a ski tour in the La Salls. After more than a week of riding, my body started to feel the ill effects of sitting on a bike seat, which peaked on April 13th—exactly one year after the first signs of appendicitis appeared. The adventure was celebrated with three day hut trip to Eiseman Hut.
With so many hikers I met last year attending the ADZPCTKO, I've been sucked into going. I found a ride on Craigslist, which unfortunately was only a few hours after Vail Mountain closed for the season on Sunday.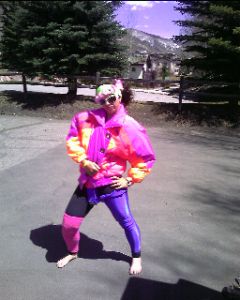 Liz dressed up for Vail's end of season party
ADZPCTKO
Bobby, the one I drove straight through the night with, dropped me off in San Diego fourteen hours after leaving Avon. I got on the bus, hopped on the trolley/train line, and—"Hey Bruiser!" I glance across the tracks to see Halfmile calling my name. He met Kyle here at the train station a few minutes ago, and takes us to Southwestern College on his lunch break. What great timing. I visit the computer lab, and continue the arduous process of finding a sea kayak, catching up on emails, and contacting my Couchsurfing.org connections. The afternoon races by, and at the end of the day, the three of us head off to Lake Morena County Park a little over an hour away.
We arrive at the almost empty campground and meet a few PCT thru-hikers passing by. Halfmile and Deb have a picnic table full of burgers and other tasty food items for the hungry hikers after their first twenty miles up the trail from the Mexican Border—and 2,700 more to go for those who make it all the way.
As Thursday nears, the campground slowly fills with hikers, some losing their PCT virginity, others back at the party again for the twelfth straight year. I work on replacing the damaged gaskets on my $800 Kokatat Gore-Tex drysuit I paid $50 for,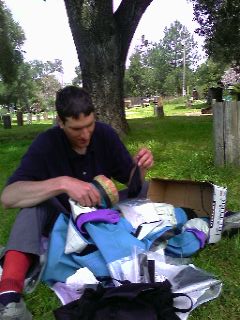 Drysuit gasket repair

before tomorrow's rains drape their dull clouds over the dry valley. Wednesday brings heavy rain and showers, and hikers gather at the pavilion to share or listen about what the next five months of life will bring. I walk around the campground looking at the diverse selection of tents and minimalist shelters that dot the soggy landscape. Some are less-than-one-pound rain poncho shelters, with the sleeping bags and extra clothing draped underneath thoroughly soaked from the blowing rains.

After more than two days of solid rain (am I in Seattle or San Diego?), and highs in the 40s, the weather clears as the campground fills with eight hundred hikers over the next day. Thursday evening's official start of the Kickoff starts with Trail Jeopardy, which I was a contestant for last year.

There's the barbecue, the presentations in the pavilion for desert water reports, trail wellness, flora and fauna, and a dozen other topics; most of which I missed. I visited the vendor booths, even spending twenty bucks on an old beat up Gossamer Gear backpack prototype, which I'll use to lug my gear up to campsites, and for town stops this summer. However, most of the weekend was spent with fellow hikers from last year—and what a reunion it was.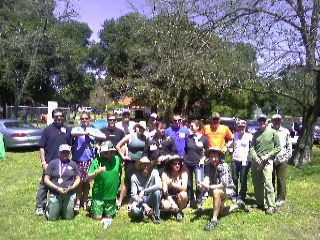 Us '09ers!

The world premiere of National Geographic's America's Wild Spaces on hiking the PCT was filmed last summer (and I was briefly filmed with that gigantic bruise on my abdomen) and shown tonight, and we eventually stumbled our way back to our tents sometime before dawn.

My goal of hiking the 23 miles from the Border back to Lake Morena never happened, with the rain shuttering those plans. I also wanted to hike up the Trail to Mt. Laguna, but the 12-18 inches of snow that fell up there made getting in or out by car (and foot) next to impossible. Regardless, it's now Sunday morning, and an epic week is drawing to a close. I'm up early to meet Firefly, Chipmunk, and Coyote for a ride to Eugene, OR. We make a couple laps around the campground at Lake Morena County Park, saying our goodbyes to remaining friends, and depart for Old Station, CA.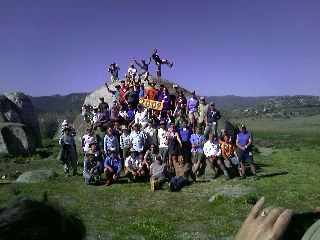 Class of 2009: The forty of us or so that returned to ADZPCTKO this year
It's time to enter a new mindset, a world full of water, wind, and rain—although I had plenty of that this past week. We're up at the crack of 11am on this bright, sunny morning as the calm air starts to purr. Unfortunately, we didn't sleep in the Trail renowned treehouse, like I did after the ALDHA West Gathering last fall. Chipmunk and I depart a while later, and begin yet another arduous several hour long driving expedition. I gaze at Mt. Shasta as it peers through the dull, grey skies growing overhead. Like the Trail, the peak seems to stay in view forever, until cloudbase lowers, and the sky disappears into a eerie white fog. We arrive at Chipmunk's in Eugene, and nearly collapse from two days of watching the world go by at seventy miles an hour.
I'm picked up at Chipmunk's by her mom this morning in a driving rain. I'm dropped off at the train station and board the Amtrak for Seattle. My last train adventure was back in 1986 on a ski trip to Winter Park, Colo. It was ten hours late in both directions.
My new Werner Cyprus: fresh from the factory!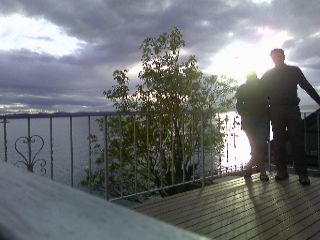 Bonanza Jellybean and I

Bonanza Jellybean—from the PCT last year—picks me up at the airport, and we head back to her place. Her grandparents live upstairs, and she's in the downstairs lockoff, with a large deck out the living room door. Puget Sound lies just beyond. Just across is Bainbridge Island, which I will follow north by boat. I spend the next few days responding to kayak for sale ads, think about other last minute items like a waterproof VHF radio bag, tide tables, and bilge pump. Finding a boat at the last minute is nerve wracking and frustrating. I know which models I want, but they're either sold by the time I call, or almost the price of a new boat.

I finally find a lead on a Eddyline brand, and head off to the other side of town to check it out. Kimmo and I head a block away to Green Lake and I put it on for a spin. With a cautious nod, I shake his hand, and head to Olympia.

Continue to Olympia, Washington