Back to Intro
Olympia, WA To Friday Harbor, WA / Canadian Border
I head south toward Olympia after buying an older Eddyline Wind Dancer kayak and a couple of Werner paddles earlier today. It's been another long, very productive day. Like most of last week, my mind is racing with thoughts: thoughts of excitement, anxiety and accomplishment; feelings of sadness, fear, and second thoughts. What am I getting myself into? I'm paddling more than 1,300 miles this summer, and until the day before starting my journey, didn't even have a boat (it's not easy trying on sea kayaks in Vail, CO). Oh, and I haven't been near the ocean in over thirty years. These feelings are just something a trip of this magnitude carries with it. At 10pm, traffic was near a standstill on I-5 from the large road construction project underway. I miss the 9pm dinner invite with Brittany (who I met on Couchsurfing.org) and her boyfriend, who hiked the CDT recently, but eventually find her. We head down to her family's home and bed & breakfast on the outskirts of town, and I call it a night well after midnight.
I meet her parents Dick & Barbra in the morning, and soon I head out for last minute errands before returning my rental car. Since I ended up with a fiberglass boat, not plastic (I'll refer to plastic [roto molded] boats as heavy rotocrap from now on), I pick up a fiberglass repair kit, some wet/dry sandpaper, contact cement, and new deck bungees and rudder lines. I throw the boat up on her kayak rack, and head down to the beach next door at Tolmie State Park. There's kelp beds stretching out to the open water, so I carry the boat instead. I follow along the beach to the bottom of the steep trail, which winds its way up to the house. Trying to wrestle a seventeen foot boat down it isn't an option. I set it on the concrete bulkhead, and climb up the hill. As late afternoon comes and goes, I join Dick and Barb for some appetizers, and give them a brief history of the last thirteen years of my life—starting with the Appalachian Trail in 1997. After working 9 to 5 for over ten of the last twelve years of my life, it's time to answer the calling; This trip has been bouncing around in the back of my mind for several years now—and it's about to happen. As six o'clock rolls around, the three of us gather at the water's edge as the late afternoon breeze blows.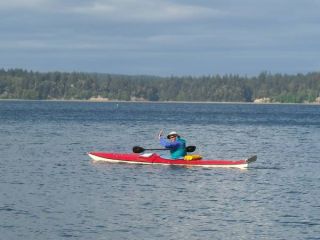 Touching seawater for the first time in 30 years

I head out into the swirling waters for the two mile crossing of Drayton Passage to Anderson Island. My jacket is thoroughly soaked from the whitecapped waves crashing over my port side, and sea spray is pelting my face. I reach shore, and hop out of the boat. There's a bald eagle soaring the small bluff above me as I head up to the narrow spit bordering the small tidal lagoon. The very popular, reservation only campsite for Washington Water Trails Association members is empty, and I haul my drybags ashore. There's a hiking trail I follow up the to the top of the island as the sun slowly dips behind the western horizon. I hear the crack and crash of a tree branch falling to the ground from the strong breezes still dancing around. I throw down my groundcloth back at camp and sleep under the stars. I gaze up at the brightly lit sky, tinted orange with skyglow from the surrounding cities casting their bright night skies into the heavens. The noisy crash of waves pummeling the nearby shore rings through my ears, and the occasional hoot of a snow owl fills the air. It's hard to believe I'm really out here; my trek on the Cascadia Marine Trail (CMT) National Recreation Trail has begun.

I'm on the water a little after 6am under dull, grey clouds almost close enough to touch. The water is smooth as I work my way towards Eagle Island, a small state park I pass as I approach Tacoma Narrows. The Eddyline Wind Dancer I'm paddling is like an old Chevy station wagon. It's not the fastest, nor sleekest out here, but for these conditions, it's near perfect. I cleared out most of the food from my condo, which now resides in my boat. It's over 25 pounds worth, and sitting beside it is another two and a half gallons of water. I weighed my gear back at ADZPCTKO, and it comes out to around 47 pounds. The boat is another 60 plus pounds, and when I'm added in, there's a grand total of about 325 pounds. The boat still has plenty of room for stuff. There's no gear fore of the rudder pegs, and astern of my seat still has plenty of space. My packing job is less than ideal, with gaps between the hull and drybags. The deck is clean, except for map, compass, and paddle float.

I arrive at Narrows Park well before I had planned, and spend slack tide talking to some locals. The skies remain overcast, and there's a stiff breeze coming ashore a little before 9am. I depart an hour later with ebb tide in full force. I rocket through the Narrows, passing under the Tacoma Narrows Bridge and around Point Defiance. The large shipping cranes in Tacoma loom on the horizon as I head thru Colvos Passage. I gaze off the side of my boat as a small tide rip comes and goes, swirling with seaweed and small sticks. There's the occasional wave crashing over the bow, but the overall stability—initial and secondary—and a heavily packed kayak make this rig feel like a barge. The old windbreaker I use to keep the UV rays and saltwater (and it has plenty of pockets—unlike my PFD) off my drysuit and PFD is coated with a heavy dusting of salt. I gaze at a few deer lazily walking along the beach, and soon stop at Lisabuela Park on Vashon Island at one o'clock for some lunch. I've developed a wicked case of acute tendonitis this morning from taking apart my paddle and feathering the blades to 45 degrees. I tried this to keep the out-of-the-water blade from getting whipped around by the wind. The constant rotation of my right wrist has caused some problems, and if I paddle any farther, they'll just get worse. The temperature never climbed above the 50s today, and the chilly air and wind kept me comfortable for the twenty one miles.

There was a steady rain all night that's given way to sunny skies and strong winds blowing the treetops around like pinwheels. I decide to give it a go a little before 11am and head into the choppy waters. Colvos Passage is a mile or so wide, and the waves and current propel me a steady four knots. I round a small point, and angle towards the heavily populated shore. The waves are coming in from directly behind, and I surf some of the several foot high waves. The bow dives underwater as the boat rockets forward and soon I reach the end of Vashon Island. Blake Island is a little more than a mile away, and I ease up and let a barge pass by as I cross the busy shipping lane. My sun weathered face is constantly assaulted with wind whipped waves and spray as I head toward the protected leeward side of Blake Island. I approach the east shore and enter the small harbor into the State Park. A sailor from nearby Gig Harbor tells me there's a gale warning in effect through tonight with 30-45 knots. Despite the strong winds, the windward shore was never more than a mile or so away, and the seas were predictable. It's good training for what can pop up at a moments notice anywhere north of Port Townsend. Like many state parks in the area, May 1st is the opening day of the season. I walk up to the grassy lawn and watch employees bring furniture and tables into the lodge, soon to be teeming with people for their popular salmon bakes. I start my way to the Cascadia Marine Trail (CMT) campsite directly upwind and barrel through the waves. My pace has slowed to almost nothing in the strong headwinds, but I eventually arrive around the island to another empty camp. My right wrist still bothers me after today's eleven miles, made considerably worse by carrying my boat up to the high tide line in the strong winds pelting me. The boat gets blown around like a windsock, and I struggle to maintain control as it tosses, turns, and darts around in every which direction. Carrying the empty kayak up above the beach each day is a struggle. Even stopping for short breaks is an ordeal. I don't even try to pull the fully loaded boat up the few feet out of the water. If I don't, the waves will rock it up and down and damage the gelcoat and fiberglass hull. If I do, ditto. After the break, tides have changed the water level, and I need to move it again. As I write this, I hear the stomp of four legged creatures nearby, and the crunch of nearby wildlife. The lights of Seattle twinkle across the Sound as dusk comes and goes, and the winds still scream thru the night.

It's in the 40s this morning as I launch in the relative calm seas at 6am.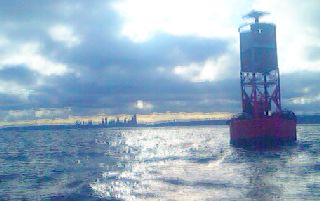 Sea lions resting on the bell buoy.

I've gotten a little lazy over the last day or so. I can stretch my legs all I want in the roomy cockpit when the water's smooth in the early hours of the day. With a rudder, I don't need to edge the boat. Bracing in rough water? Not often. My wrist still bothers me, despite a bent shaft paddle and loose grip. My wrist stays neutral when I paddle, and it never bothered me on the sixty miles along Lake Michigan's shoreline a couple years ago. Maybe I'll try placing my thumbs in front of the shaft to reduce the angles even more. There's rain pounding Possession Sound off on the grey horizon, and at a quarter after ten in the morning, I call it a day after thirteen miles. I spend the remainder of today catching up on this journaling, talking to locals, and making calls. I hear the echo of rocks banging against metal fences and picnic tables as the Bainbridge State Park ranger mows the lawn this morning, throwing gravel dozens of feet in every direction. I've killed my second phone battery already, and find a power outlet in the picnic shelter. Seattle is now a small speck on the horizon as I gaze across Puget Sound this evening. There's a large container ship here, and the occasional pleasure or fishing boat there. I listen to the dull roar of thunder many miles away and retreat to my tent at dark as the rains grow in strength.

I'm out on the water by seven this morning, with a northwest wind already building. By mid morning, there is a moderate, probably fifteen knot, headwind blowing in my face. It's a 25 mile stretch to the next campsite, with private land everywhere in between. I cross Hood Canal and manage to take my only brief rest stop before the long crossing to Kinney Point. I don't have an exact reference for the CMT campsite, with my Washington Water Trails Association campsite info tucked away in a drybag. I didn't even try to put that in my waterproof map case in the humid, rainy conditions last night. Keeping anything dry out here takes effort. I beach the boat and notice a small carsonite post. There's a Cascadia Marine Trail (CMT) and National Recreation Trail logos on it! Great, I'm there. I haul my gear and boat up to a wooden rack, and head up to a tent space, overgrown with grass and downed branches, and a privy door sealed with cobwebs.

Port Townsend, WA It's a short day to Port Townsend, passing a Naval ammunition depot, with a patrol boat keeping a keen eye on me as I stay two hundred yards from land. I eye a Navy submarine escorted by two Coast Guard boats working its way up the Juan de Fuca Strait. I call Bethany (of 'Team F-Yeah' on the Continental Divide Trail), and end up at their little hideaway on the edge of town. I met her near Silverthorne, Colo on the Trail in 2007, and the half dozen of us hiked most of the way to Yellowstone National Park together. I join her and Dean for dinner in their newly constructed one bedroom home they built themselves. There's no running water yet, but that's in the works. They also paddled the Inside Passage in '08 to Ketchikan. We share stories, look at each other's equipment, and realize how lucky we are. Most Americans never experience what five months in the backcountry will do to the mind and soul.

Bethany, Dean, and I

I call 'Captain Redbeard' at a local hangout, who I met on the Couchsurfing website a while back. He's a passenger ferry pilot in the summer, and facetiously refers to us kayakers crossing shipping lanes as 'speed bumps'.

The often challenging crossing of Juan de Fuca Strait is uneventful this morning with calm seas, light winds, and no hustle and bustle of shipping traffic. What could have been a game of Frogger—trying to cross the busy traffic lane without getting run over—never happened. I make the four mile crossing and follow the monotony of Whidbey Island's (the second largest island in the US) developed shoreline. Fort Ebey State Park is off to my right, and take a small break. I climb up the hill to stretch the legs and cross the newest of the National Scenic Trails—the Pacific Northwest Trail (PNT) which stretches from the Continental Divide Trail at Glacier National Park, to the Pacific Crest Trail, thru Olympic National Park, and out to the sea. Maybe some day. There are large cumulonimbus thunderheads building above shore on the distant horizon again today, and I finish this afternoon at Joseph Whidbey State Park.

Mt. Baker looms in the distance as I inch closer to Deception Pass. Gentle swells from the open ocean calmly roll under me, and above, a few jets practice touch-and-go's at the air base to my right. The once distant Deception Pass is now just in front of me. I pull ashore at the State Park, and wait a few hours for flood tide to ease. Much of the waters east of Whidbey Island drain through the small constriction.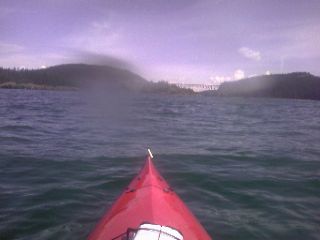 Deception Pass

When the tides are flowing in or out, these narrow constrictions can be full of whirlpools, tide rips, standing waves, and other hazardous obstacles ready to swallow a small boat. When I think of a Pass, a generally think of something around ten or twelve thousand feet in elevation—like Vail Pass on Interstate 70, or Loveland Pass on Highway 6. I don't generally think of something that climbs from zero feet to zero feet mean sea level as a Pass. I get a kick out of that. I struggle to take a few pictures of the area with my camera phone. The one megapixel camera on this ancient (I think it's four years old now) PDA is encased in an almost-impossible-to-use waterproof camera bag. Pressing the shutter button, even the power button, with the device in a dry bag is not an easy thing.
---
Number of strokes required to paddle the Inside Passage: 1,536,000
—Kayaking the Inside Passage
---
My hands are never dry on the water, no matter how calm the seas, so taking it out of its protective case isn't an option. Unfortunately, there's no such thing as waterproof in the backcountry. If that's not bad enough, I'm in the Pacific Northwest—and I'm sea kayaking—in the ocean. If the rain doesn't destroy this thing, or the spare batteries, then residual saltwater that's found its way onto everything will. The landscape has taken on a dramatic change. What was once a developed shoreline with sandy or rocky beach is now a jagged, rocky shoreline. The terrain is uneven, more hilly; and much drier. Brown hillsides jet from the sea. I near the town of Anacortes, and make camp at a nearby CMT campsite on Burrows Island.

I paddle around the town of Anacortes at 10am, and find myself in the infamous San Juan Islands. It's one of the nation's most popular sea kayaking destinations, with over four hundred islands scattered about the large archipelago, and almost twice that at low tide. There are dull clouds hanging above, but the seas are calm. I cross over to Cypress Island during a flood tide, and something is happening—I'm being sucked backward by the current wrapping around the island's south shore. I paddle a bit harder, and don't seem to make any progress. There are whitecaps over the pyramid shaped waves upwelling straight to the surface appearing from nowhere. I stay clear of the larger rip tides—but I'm still not moving forward. I aim a bit south, and head out towards open water. I lengthen my strokes, and use more of my upper body to increase power. Every stroke seems to get me nowhere. I glance off to shore, and see the same set of rocks staring at me from five minutes earlier. I continue paddling forcefully, and I watch myself slowly inch away from the current bouncing off the shore. The process continues, and the whitecapped riptides don't seem to be very far away. I feel like I'm on a treadmill; no matter how fast I try to outrun it, I go nowhere. After what seems like eternity, I make it around a small, rocky point. I hug the shore, and give the next small point a wide berth and repeat the process again. I turn a corner and head towards Strawberry Island. There is a large, frothing line of white extending out from the southern end of the island into Rosario Strait. I reach shore, climb the hill, and gaze at the large boils bouncing off the seafloor and spilling to the surface. The strong eddyline is surrounded by small whitecaps coming from all directions. I have lunch as slack tide slowly approaches. I hike off along a seldom used trail to the north end of the island. There is Indian Paintbrush everywhere. At least a half dozen other varieties of wildflower dot the carpet of green on the small body of land. I return to the rocky promontory standing sentinel above the corner of the island and type journals as I wait an hour for slack tide. I witness the waves grow ever smaller, and currents ease as six o'clock approaches.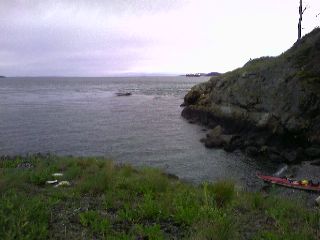 Strong tide rips in the background - waiting for slack tide

I reach Spencer Spit State Park late in the day, with the sun staring me down right in the face for the last couple hours. I climb up the hill and set up camp. I stare off towards Anacortes at sunset to watch the horizon glow gold. There's an occasional ferry rumbling by, and the whoosh of waves at the bottom of the hill as darkness comes. I watch the flickering lights on the horizon grow brighter as the sky turns inky black. What a trip it's been—and in a couple days, I'll be in Canada.

I'm on the water by 7am, leaving Spencer Spit State Park behind as the sun slowly bumps its way into the sky. Orcas Island, the largest island in the San Juans, looms off to my right, with 2,400ft Mt. Constitution peering down at me. An engine on a small ferry growls as it passes by, carrying a propane truck out to one of the bodies of land that surround me. The Wasp Islands lie directly ahead as I paddle through the heart of the San Juans. The small handful of islands is inviting, and I stop to dry out at Little McConnell Island under bright, sunny skies. Now I need to figure out what to do. I have a maildrop with maps for the next section waiting for me in Friday Harbor—which hasn't arrived yet. Do I head several miles off course and beeline it to town, or head to Roche Harbor and try to hitch a ride? It's early in the season, and things are slow in town. Finding a ride from Roche Harbor might be tough. I head to Friday Harbor.

Friday Harbor, WA
There's a seaplane taking off, and a ferry docked at the terminal. I turn my phone on and check messages. Ruth, a Couchsurfing contact, owns a local art gallery, and has invited me to stay in her home. I let out a sigh of relief, knowing I don't need to struggle with trying to find a place, or paddle several miles out to a designated camp. I meet her at the gallery after work, and we head across the island to her home. Colleen, a roommate moving in for the summer today, grew up on Decatur Island a bit east of here. She's lived all over the country, and now resides near her hometown. She starts training for her summer job as a kayak guide in a few days, and we talk about the local area.

I'm off to town again with Ruth, and we say our goodbyes and I pick up my maps from the post office, and resupply at the local grocery store. There are some low clouds draped over the archipelago as I head out to sea. The Olympic Mountains loom large to my west, and the North Cascades fill the horizon to the south. I cruise around Spieden Island, spot a couple porpoises, and reach my last island before Canada—Stuart Island. I travel along the north shore and spot a postage stamp sized area of flat ground jetting out towards the sea. For the first time, I feel free, free from the confines of camping at a state park or CMT campsite.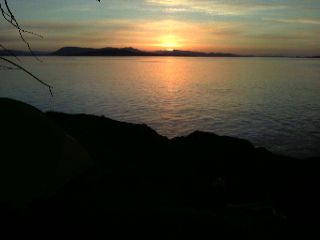 Looking off into Canada

I check the weather forecast on my VHF marine radio that's been collecting dust for the last couple weeks, and set up camp on the exposed coast as the sun slides behind the foreign country close enough to touch.

Continue to Southern British Columbia