o, the big question: Why am I doing this? Why am I parting from the security of my job, leaving friends and family behind, and tramping across three thousand miles of wilderness? What exactly will I accomplish from this? Who will take care of my dog while Iím gone? Will I have a tough time renting out my condo to pay my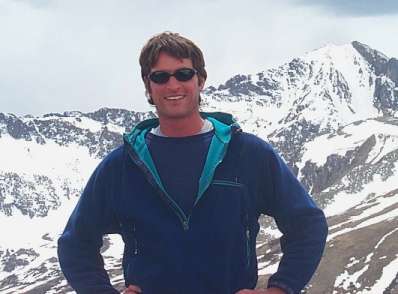 mortgage? I could sit here from the comfort of my couch and think of reason after reason not to do this hike—or I can tell myself I'm gonna do it. I'm going to stomp my feet down six million times through six states. I'm gonna do it through heavy snow, endless mud, drenching downpours, and every type of weather imaginable swirling down from the heavens. I'm gonna get lost at unmapped road and trail junctions (the trail is famous for this), hike on muddy roads, jumbly, twisted trails and foot mashing pavement. I can't wait!

I live in Avon, Colorado, which lies in the Eagle River Valley—better known to the outside world as the Vail Valley. My father's family is from Colorado, and owned and operated the Medano Zapata Ranches during the first half of the 20th century. Our family came out every summer from Milwaukee, WI to visit relatives, and I knew I was coming back out for good, although never thought I'd be living in a resort town like Avon.
After college, I was in no hurry for the marriage/mortgage/family/new car/debt/same-job-for-the-next-thirty-years routine. I was going to take my time using my degree in Occupational Safety. I needed something different, something fresh: I'm going to teach skiing at Vail, and then I'm going to hike the Appalachian Trail from Georgia to Maine in 1997. Yeah, that's it. Gee, that was fun! The following summer, I purchased my condo, and got the safety job for a local roofing company. Four years later, after the September 11th attacks, I was laid off. Oh boy, now what am I going to do? Ugh, what about all those mounting bills? My mortgage? What about... Well, I don't have any mounting bills, I wasn't paralyzed with fear, not even the tiniest bit depressed. I have two roommates that work across the street at Beaver Creek and Bachelor Gulch that help me pay for the place. You know what, this is going to be great! Next week I'm going to hike the Colorado Trail to Durango. Next year I'm going to climb to the top of Denali—North America's highest peak. Wow!
Ok... Time to settle down again, ease into the Mon-Fri, 9-5 routine. Back to reality. For almost the last three years, I've been working for Prudential Colorado Properties (short term rentals is the biz; some people want to vacation in Vail and stay in something a little more exciting than a hotel room) inspecting half million dollar condos, to several million dollar homes. I look for electrical, mechanical, or other damage that needs to be repaired in house or contracted out, take care of guest service issues, you name it. I enjoy what I do, and work with great people, but now it's time again for another epic adventure. I need to be surrounded by something a little more primitive than hot tubs, grand pianos, in-home elevators, and heated driveways during my daily routine. I need something a little more basic. No copper, tile, or slate roofs. Something more like a tarp. Nothing between me and the sky except for a piece of nylon no thicker than a plastic bag—and that's only if it's raining. This is pure simplicity. This is how I will live for six months.

As much as I dread the
increasing traffic and sprawling development that seems to be spreading over this once sleepy Vail Valley like a tumor inching its way through the body, I still feel so incredibly lucky to live where I do, in a nation that values the protections it has on its limited, irreplaceable natural resources (well, until the Bush Administration). And, I take full advantage of these values. How many people can skin up to timberline, snowcave camp at twelve thousand feet, ski down in 1-2 feet of new snow the next morning, and be at work by 9am? I enjoy the fact that I can do that, and do it as often as I can! In the summer, along with the normal myriad of activities I participate in, I also like to give back a little. I volunteer for the CDTA and other trail crews each year, and adopted a section of the CDT near Lake Ann in the Collegiate Peaks Wilderness several years ago. It feels great to be surrounded by Wilderness.
In order to assure that an increasing population, accompanied by expanding settlement and growing mechanization, does not occupy and modify all areas within the United States and its possessions, leaving no lands designated for preservation and protection in their natural condition, it is hereby declared to be the policy of the Congress to secure for the American people of present and future generations the benefits of an enduring resource of wilderness...
—National Wilderness Preservation System 16USC1131
The Continental Divide Trail remains a work in progress. Although it was designated in 1978 as a National Scenic Trail, no monies came with it. Only over the last decade has the trail started to come together through organizations such as the Continental Divide Trail Alliance, and the Continental Divide Trail Society. Since thru-hiking the Appalachian Trail, I have always had a desire to hike the CDT.
Being an adventure junkie—not an adrenaline junkie—I don't feel the need to be barreling down a steep, twisty trail on a downhill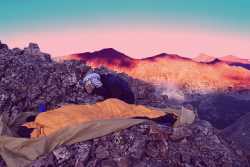 mountain bike, with my body only inches away from disaster with the trunk of an Aspen; or paddling class V rapids wondering if the next drop will kill me. I enjoy hiking. The solitude. The spiritual experience. The adventure. It's well within my comfort level, and it costs me virtually nothing. This summer, I'm going to continue this favorite passion of mine. It's just going to last a little longer, and go a little farther. I will sleep under the stars on top of thirteen thousand foot mountains and hear the sounds of silence roaring through my head. I will be completely inebriated as I look over my right shoulder to the red splash of alpenglow draped across the horizon, and see the inky blackness of the night sky to my left.
The call of the backcountry is always knocking around in the back of my mind, like an intoxicated individual craving a drink. City life has never been for me. Being caged up in the indoors day after day with the same mundane routine in life just does not work for me. I had trouble sitting still when I was a child, and I guess I still do. I don't have a lady in my life yet (the guy to girl ratio here is awful), and always find it difficult to explain—on one of the few dates I do go on—to the sit-at-home-Sallys or Samantha Shopoholics why I enjoy the things I do. It's one of those things one needs to experience to understand. The outdoors isn't about bringing our creature comforts with us, it's about leaving them behind. It's about living the dreams we carry within us.
This summer, there will be days where I will get lost. With much of the trail unmapped, there will be times when I'll need to take an unknown route ahead because of bad weather, or no trail. These difficulties are part of the reason why the CDT is rewarding. Part of the allure is not knowing what lies ahead. What's on the other side of that mountain? What's around the corner? Only time will answer this intriguing question.