Back to Intro/ADZPCTKO
Mexican Border to Agua Dulce, CA
Wow, so here I am! I wondered if I was ever going to heal up from that appendectomy. Although it was a little less than three weeks ago, it felt like an eternity. Like hiking a long distance trail, it was a mind game. On the trail out here, days can get repetitive, weather will turn unexpectedly (sometimes for days), and thinking about the miles required to make it to Canada can tear apart the soul. I try to look at each week as a separate backpacking trip. When the trip ends, I resupply, and start another.
Blah, blah, blah, let me talk about my first day. The four of us got a ride to the border around 11am, and it started to hit me—I'm here, I'm really doing this! Another wonderful Trail Angel, Girlscout, drove us the sixty three or so miles to the southern terminus of the 2,650 mile Pacific Crest trail. Shawn, Rain Dog, Kelly, and I excitedly hopped out and took several pictures at the Monument.

At the Mexican Border!

The weather was in the low eighties, with a moderate breeze swirling around the dry grasses at our feet. The other three busily went through their packs, applying sunscreen, putting food items near the top, and wondering how far they'll make with a forty to forty seven pound pack. I checked my pack weight this morning with Scout and Frodo's scale, a comfortable 10lbs, 1oz, excluding the three days of food, over a gallon of water, and what I'm wearing (a base weight excludes these items—they're constantly changing and too variable to include). I decided to head on, going at my own pace and seeing how my abdomen treats me. Two days ago, I headed out with Galit to do some last minute shopping and returns, and I felt awful. Walking was labor intensive, and I felt like I had a ten pound weight strapped to my navel. Yesterday, I took a common blood test, and, at the Border, checked my voicemail. Less than ten minutes ago my surgeon left a message with the results—negative. No abdominal infection, no iron deficiency from the hematoma/internal bleeding, and a normal count of everything else. Was there a likely chance a complication from surgery? Not really, it probably would have been evident by now, but the peace of mind of knowing the results as I venture out into the dry, dusty landscape miles from water and civilization really raised my spirits. After I had my blood drawn yesterday, I felt like a different person; more relaxed, more comfortable about my body, and... I'm ready to go hikin'!

I don't know how far I'll make it today, but my goal is Lake Morena Campground, where I was almost two weeks ago for the ADZPCTKO. It's a twenty mile waterless stretch from the Border to the campground (only six by car) that wraps around drainages, climbs over rocky hillsides, and descends into canyons. The almost full moon will gaze down from the heavens tonight, and it will be a good opportunity to night hike in the cool, crisp air.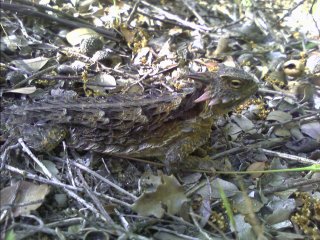 Great Horned Lizard

I started hiking at 11:30 in the morning, and at 9:30 under the almost full moon, finally made it to Lake Morena Campground—and I feel great, considering I just did twenty miles on the first day, with feet that could have given me issues (just a small pressure point on my bone spur on the right foot; I'll tend to that tomorrow morning), and a abdomen that could have literally stopped me in my tracks. The last climb was out of Hauser Canyon, with several low flying helicopters (probably a combination of military, Border Patrol, and DEA) flying low to the ground. It's been pretty noisy around here, with the choppers and commercial aircraft buzzing above as they head for the busy cities to the west. I downed the last of my water at the top of the canyon and the sun slid below the horizon and used nothing more than the bright moon staring at me from a quarter million miles away. What a great day, I lost my PCT virginity (never even stepped on the Trail before), and I'll see how I feel tomorrow morning.

My ab area is still a bit sore, and it will be a good idea to take it easy again.
---
Our intrepid PCT hero, Grizzly, is sitting at home and is in between football games on the tube. So, he starts to watch the CSI TV program.

He turns to his trail partner/wife, Trail Dust, and says, "I never want to live in a vegetative state and dependent on some machine and fluids from a bottle to keep me alive. That would be no quality of life at all. If that ever happens to me, just pull the plug."

So Trail Dust got up, unplugged the TV and threw out his beer.

—Switchback the Trail Pirate
---
I'll take an afternoon nap at the Boulder Oaks Campground, and hike into the night again. It's only a five mile stretch here, and ten mile stretch there between water sources, and will feel good not carrying around ten pounds of the stuff. I still smirk when I share my trailname Bruiser with other hikers. I've had several others chime in on new potential trail names, including Hematoma Man, Mr. Appendicitis, and Wounded Guts. The surgeon that performed my appendectomy even recommended Echmo, short for Ecchymosis—which is the Latin term for bruise. I still like the ring of bruiser, not to mention I didn't give myself the name, and dozens of people that passed through the last several days were already calling me that. Skygod was the trailname I chose in 1997 when I was selected to have my AT journals transcribed to Wingfoot's popular website the first year it was offered. That gave me a reason to come up with my own trailname. I started a hang gliding club my second year in college, and Skygod was both unique and different.

I passed a couple horsepackers from the area this morning, and they mentioned a military helicopter going down last night. Around midnight, after arriving at camp at 930, setting up camp, eating dinner, and using the shower at the campground, I was still up, and heard a gigantic boom off on the horizon somewhere. I glanced over in the direction, not knowing what happened. a tanker truck on the interstate? The horse riders go on to tell me that unfortunately two pilots were killed in that crash. When I reached Kitchen Creek Road, I was greeted by two Forest Service trucks redirecting hikers off the trail. They were a couple seasonal workers, new to the area, and not quite sure themselves how far the closure extended. I detoured up the long, winding road into the night. The road was closed by several gates, apparently done to thwart human and drug smuggling along the road, and because of the crash. I was greeted by sheriff's vehicles, Forest Service trucks, a bomb disposal team, and Border Patrol. The chopper went down very near the Trail, spilling its classified contents of rockets and other weapons all over the trail corridor. The road turned into a narrow, one and a half lane path, and the night sky splashed above my head. The deep shadows cast by the bright moon made the hike very pleasant. I came across an SUV stopped to close the gate. He was the "owl guy", conducting surveys of the Spotted Owls in the area. Hours later, a little before 10pm, I set up camp at the end of the road next to the Sunrise Highway.

It was difficult to sleep last night, with mosquitoes buzzing around my head and landing on my face all night long. I headed down the Sunrise Highway and met up with Rain Dog, Kelly, and Julian. I've hiked with them individually on and off the last few days, and we were looking forward to reaching the small town (actually, the town isn't much more than the general store) for food and water.

Mt. Laguna, CA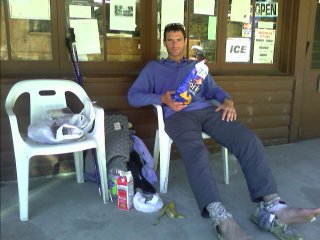 Life is good.

Sit in the shade, eat, drink. This has been the routine as we wait for the strong afternoon heat to dissipate. Like almost any small town, I meet the nicest people. Some are tourists stopping in the small local town store, most are locals grilling us with questions. Where are you from, how far up the trail are you headed? A couple hikers are getting a cabin for the night, and the rest of us are still here all fat and happy. Rain Dog shared his story about some illegal aliens waving at him last night at the campground as they snuck through, which was also occupied by several Marines in to assist with the downed aircraft investigations. It's 3pm, and I look forward to another night hike to who knows where. Water should be easy to find as I pass through or near the many campgrounds in the Mt. Laguna Recreation Area for the next day or so.

Last night, towards the end of the three thousand foot climb out of the valley below, I started to see pine trees. They cast dark shadows on the floor below as the bright moon bathes them in a dim white light. As I leave the town, the trail wraps around peaks, and follows ridgelines that quickly lose their tree cover. As quickly as they appeared yesterday, they are now long gone. I reached the Pioneer Mail picnic area, and struggled to find my headlamp buried deep in my pack to look at the water report. I'll try to do several more miles to the Sunrise Trailhead area where there is a well. I continued on, following an old road bed, complete with concrete retaining walls. At 11:30pm, I called it quits and found a small, flat area to set up camp.

Ok, so water isn't so easy to find anymore. The Sunrise Highway—along with its occasional campground or rest stop with a horse trough or, if I'm lucky, a water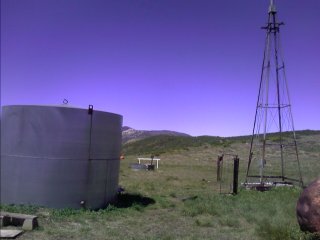 The last reliable water source for??

spigot—is quickly disappearing, and now it's water caches placed along the trail by trail angels, concrete tanks used for firefighting, or... I don't know, I can't wait to find out. The trail winds through the Anza-Borrego Desert State Park, with small bushes providing a little shade here and there. It's 2:30pm, and my watch has been reading between 93 and 99°. Here in the shade, it's only 91°.

I glanced down at my shoe, and something didn't look right; there was gap showing above the sole, and the shoe's insole fell through. Great, these shoes—yes, they're twenty one years old, but they have less than fifty miles of use—looked like they've the end of their life. Ok, I have a razor blade (never carried a knife on a long distance hike), and some parachute cord. Now what do I do? I removed my orthotics and flipped the shoe around several times, looking at the ground through the what's left of the inside of the shoe. I cut some small holes in the plastic heel cup, fed through some cord, and looped it around the sole. It looks like I should make it somewhere before the whole thin explodes.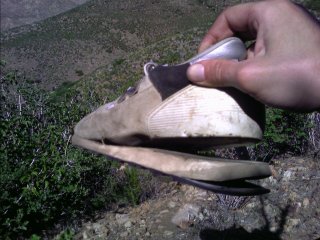 Hmm. This isn't good.
I met Rain Dog yesterday evening at the fire tank near Rodriguez Spur. We treated our water from this concrete tank used by the fire department for wildfire mitigation. At the Kickoff, it was reported to have dead rats and black slime lining the walls. I didn't bother to look inside, and gathered the clear looking water it into my bottles. Rain Dog stayed behind, and I decided to head on. I used my headlamp until 9:30pm, with the moon shrouded behind Granite Mountain.
The sun slowly turned the peak a dull orange as I worked my way out of my sleeping bag. I'm feeling pretty good this morning. I've had the usual abdominal soreness hit me every now and then since I started. I'd either take a break, or slowly work my way along the dusty trail. There is some minor soreness in my posterior tibial tendon in my right foot—the area that caused me so many problems for the last twelve hundred miles on the CDT. I used what's left of my razor blade and cut up a piece of moleskin and adhered it to the bottom of the heel on my orthotic. This should help. I tromped on to Scissors Crossing, where there was a large water cache stocked by trail angels.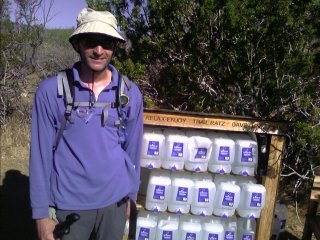 Wow.

There were even some fresh oranges in a cardboard box next to the water, and I grabbed one. It's 10am, and it's over 90°. The trail continues along the crest of the San Felipe Hills with vegetation seemingly getting browner the higher I go. There were cacti down low, and a wide assortment of other plant life up here. The temperature is now between 102 and 106°. Yesterday I hiked throughout the day, and I'm starting to feel more comfortable with the heat. I stopped for a journaling and lunch break behind a small bush providing enough shade for about a quarter of my body.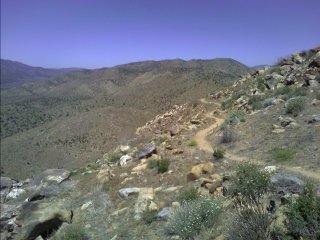 The dry, dusty trail that winds its way in and out of the many small canyons that line the San Felipe Hills

I took out my food bag to see what the contents looked like. The fruit roll ups I grabbed from the hiker box at the General Store in Mt. Laguna yesterday look more like a uniglob of fruit juice at the bottom of the wrapper. The Oreo Cookies have turned into a single, slimy, crushed mass in the zipper lock bag. I wonder what the candy bar looks like? I opened the end of the package and drank it. I'm glad I haven't packed any cheese yet. I'd probably store it in a water bottle if I did. I washed down my lunch with ninety something degree water. The heat is starting to take its toll. I've run out of water, and still have a few miles to go to reach the Third Gate Water Cache in the oven like temperatures. Back when I was at Scout and Frodo's, Just Jack took off for a day long trip to help restock this cache. It's over a mile long hike uphill to restock it, and without it, I'd be in really bad shape. As I peered around the corner and saw dozens of gallons of water available for hikers, I dropped my pack and collapsed next one of the bottles. I downed a half gallon, and filled up my hydration bladder for the ten miles to Barrel Spring. It's 6pm, and as I busily type away, the sun is starting to gently ease its intense death rays on the dry landscape. I'm going to try for another five miles or so and make it into Warner Springs tomorrow afternoon. My shoes are continuing to delaminate, and I blew off the idea of heading into Julian and forking over a hundred bucks for some new shoes that probably won't even fit well from the small, local outfitter. I'm hoping to hit up a golf course employee in Warner Springs for some adhesive for some more shoe surgery. Speaking of surgery, I continue to feel stronger every day, and when I sneeze, I don't feel like my abdomen is going to explode. I hiked into the night again and saw a dark, four legged creature headed towards me. I made some noise and it turned around and disappeared into the darkness. Was it a skunk? I only saw it for an instant, but I thought I saw a white stripe on its bushy body.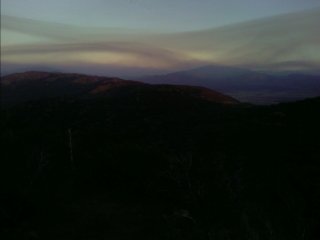 Smoke coming in (maybe from the fires in Sacramento)
I was on the trail a little after six this morning, with the sun already beating down on me. Yesterday I saw my first rattlesnake, which was quite small in size, last night I saw my first tarantula, and today I saw probably close to a dozen other snakes. All different shades of grey, some long, most small.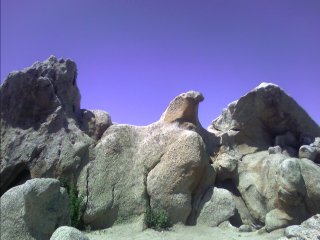 Eagle Rock

I passed Eagle Rock, an outcropping that forms an almost perfect outline of an eagle. I met Jamie, dripping with sweat, and eager to arrive in town. When I reached Barrel Springs, I had hit a milestone—my first hundred miles. I'm still alive, and actually doing quite well. I've already had more adventure in the last week then I had all of last summer. There was a several day hike through the Weminuche (a third of it in a two day storm), and the adventure to the Mt. Hood area in Oregon. The thought of backpacking didn't turn me on. The Weminuche was rough on my PTT tendon, and that scared me off from any other long trips. As I approached San Ysidro Creek I heard a loud, angry buzz coming from nearby. I looked across the creek towards the top of a tree and saw a dark mass of flying insects. I assume that is a swarm of Killer Bees. I picked up my pace to the creek crossing, filled up on water, and headed on. I reached the first highway crossing for Warner Springs, and continued on through the rolling meadows to Agua Caliente Creek. There was a sailplane being towed aloft nearby, and I watched as it silently flew over the trees and returned to the runway.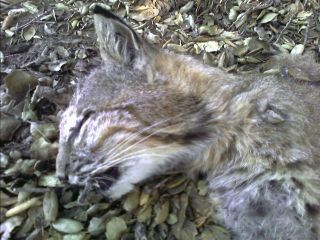 It might be roadkill, but is it still considered my first bobcat sighting?

I climbed up to the highway and spotted a dead bobcat on the side of the road as I hitched into town. Like mountain lions, they're around, but number few, and I doubt I'll see either on the trail.

Warner Springs, CA

I arrived at the small mini mart, where I met up with Jamie again. We gorged on some ice cream bars and relaxed in the shade for a couple hours. Not much later, Blackfoot, Shane, and two hikers randomly hitting different sections of trail and are raising funds to build homes for Disabled Veterans showed up. Shane has a uncle with a timeshare here, and we piled into two different cabins. We headed for the two pools that lie at the edge of the resort. One was 105°, and the other at 80°. Dinner was next, where I scarfed down a couple soups, a salad, two sides, and the half chicken. Where's the half ribs that was supposed to come with that? The waitress, from Thailand, had some difficulty with English and we chuckled frequently with her as she repeated the wrong information. Instead of bringing out the half rack of ribs, I got another dinner. Complete with another half chicken, half rack of ribs, fries, and large sides of rice and spinach.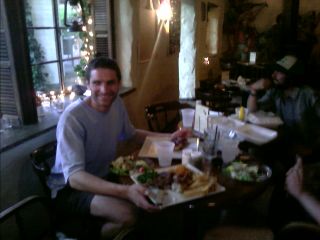 The four thousand calorie dinner

The restaurant wasn't busy, and all the other patrons glanced over at our table of food. Blackfoot, Shane, and Jamie eventually left while I spent three hours slowly gnawing away at the epic sized portion of food. Luigi, who was outside wished me luck and headed out. At 9pm, over three hours later, I gave in and called it quits. I put the two sides and what was left of the chicken into a doggie bag for breakfast. My stomach is not yet stretched out the hiker trash level, and the mere act of standing up was a struggle. Walking a few steps was just as difficult as it was a few hours after my appendectomy. I ever so slowly struggled and crawled my way back to the cabin.

A handful of other hikers are heading in today, including Colorblind, Rain Dog, Julian, and Kelly. I finished the last of my afternoon chores, including heading over to the golf course maintenance shop and drilling some holes in my shoes so I can tie together whatever's next to fall apart. I jumped in the shower next the pool fully clothed, and the temperature instantly dropped thirty degrees. I tromped my way out of the resort to the highway and hitched a ride back to Agua Caliente Creek. As I continued my journey north, I spotted my first deer on the trail, lazily eating the grasses nourished by the small meandering creek. I had a big fat smile on my face as I gleefully made my way past the large trees shading the trail. It was almost a magical experience, after baking in the San Felipe Hills. Unfortunately, I know I'm going to climb out of this cool, pleasant creek sometime soon, returning to the oven like temperatures that will test my soul. Warner Springs Ranch reminds me of Ghost Ranch on the CDT in New Mexico. It's isolated, surrounded by a dry, dusty landscape, and attracts people from all walks of life. I continued along the winding trail and dropped back into the creek drainage. The water is still flowing strong as I veered off into a side canyon. There are piles of wood debris ten feet high tangled above some trees. It is a good reminder of how powerful flash floods can be in such dry areas. I hiked until ten thirty in the crisp air until I was able to find a flat spot comfortable for camping.

The temperatures only reached the low to mid 90s today, refreshing after what I've been through the last several days. I filled up my water from a rainwater catch tank, dubbed a "guzzler", and pulled out five quarts of the yellow stuff teeming with small insects and moss. I managed to build camp near the Palms to Pines highway just before dark, doing my longest day at just over twenty six miles. This is the first time I haven't night hiked, and it feels great to be in camp before 9pm. I have been on the trail for a week now, and I... well, I need to say what's on my mind right now. There's something that just doesn't feel right. I don't know whether I should be concerned or downright scared. I... I feel great! Why in the world am I feeling great hiking in one hundred degree heat, no water for miles on end, enough dirt that's blown around to turn my skin brown, and a relentless sun that has turned me into a six foot tall leathered prune. Did the soles of my shoes finally disintegrate, hurtling me head first into a rock? Did a pack of killer bees get mad at me? Maybe a rattlesnake or scorpion bit an artery. Is my brain in it's last few minutes of existence, organizing all my life experiences into one euphoric thought? I'll see if I'm around tomorrow.

Great, I'm still here! There were coyotes barking and yapping nearby, with their sounds echoing off the nearby hills. I still have a nasty aftertaste in my mouth from that water I pulled from the "Guzzler" tank yesterday. I'm going to hike to the Paradise Cafe, and wash away the aftertaste with a Jose Burger or two. I hiked from near the highway to the Paradise Cafe a couple hours before they opened, and the waitress brought me a couple huge glasses of ice water, a trail register, and menu. I looked at the grainy, black and white maps I printed a month ago, and noticed something very important. For the first time in twenty one days, I'm leaving San Diego County! What a great feeling.

As I wait for the Cafe to open, I'm busy typing away my journals, cleaning my dirty, dusty, blackened socks with the garden hose, and anxiously waiting to calm the growling stomach churning within. Rain dog shows up a little while later, followed by Shane.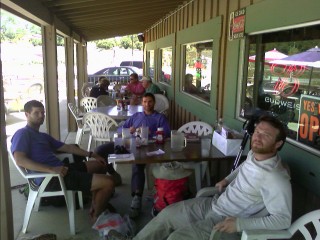 Shane, me, and Rain dog in food coma mode

Several hours later, we get a ride back to the trail from a local singer who plays at the Cafe on a regular basis. I left behind the two at Tunnel Spring and continued on as the sun slowly sank below the smoggy horizon. The lights from Palm Desert and Palm Springs shimmered off to my right, and to my left on the far horizon was maybe Los Angeles, with a dull, milky white skyglow lighting the sky above. I turned my headlamp on at 9:30pm and reached Forbes Saddle a little over an hour later. I hiked the half mile down to the spring, which will likely be my last water source until I reach Idyllwild early tomorrow afternoon.

I don't know why, but I feel sluggish today, and struggle to maintain a two mile per hour pace. The temperature on my watch hasn't even hit eighty degrees yet as I tromp along at 8,000ft in elevation. The trail follows the ridgeline, continuing to head uphill on the mostly treeless route. The sun is relentless, sapping my energy level with every step. It's mid afternoon already, and I've given up on hitting the post office before they close. The trail eventually starts to follow the cooler north slopes, teeming with pine trees and shade, and my spirits are looking better with every step. As I continued on, my heart started pounding from excitement instead of stress. There are small drifts of snow everywhere, and every now and then I grab a handful and plop it under my hat, instantly dropping my body temperature from 212° to something more normal. I followed the Devil's Slide Trail down towards Idyllwild, and got a ride into town from one of the many dayhikers that struggled to make it up to the ridge and back today.

Idyllwild, CA

Ok, the post office is closed, now what do I do? I headed over to the small grocery, and walked out with almost a half gallon of ice cream.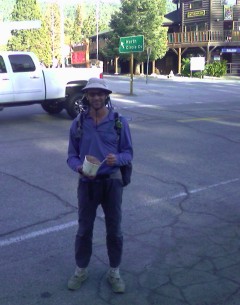 Walking around town with food in hand—hiker trash style

I walked around the small town looking for signs of other hikers to share a motel room with. I don't feel like dropping $60+ for a room, and the campground is a ways out. I come across Skywalker, who has been in town for ten days now, waiting for his badly blistered feet to heal. He's on his second new shoes he's picked up at the post office, waiting for a pair with the right fit. We talk about foot issues, proper shoe fit, and suddenly a pickup truck pulls over and a lady jumps out to see if we need a ride back towards the trailhead near the Paradise Cafe. I quickly checked my voicemail to see if the two tenants moving into my condo for the summer, who are golf pros in Palm Desert twenty miles from here, are available for dinner tonight. Nope, off to basketball game. I tell her my situation, and I decide to head off with her to the Hwy 74 trailhead. We pick up Colorblind and Coyote who did a twenty nine mile slackpack (without full packs) and headed back to the Paradise Cafe. Despite running out of food early today, I still struggled to down the gigantic chicken fajita dinner, which is exactly what I need right now. I've seen several hikers avoiding the climbs up to the ridge by highway walking, missing some of the best parts of the trail for miles around. We headed to Karen's home in Idyllwild, met her husband, and Coyote, Colorblind, and we watched a PCT video while I struggled to catch up on my journals.

Coyote has been dreaming about the CDT for some time now, so I show her my slideshow of my 2007 adventure.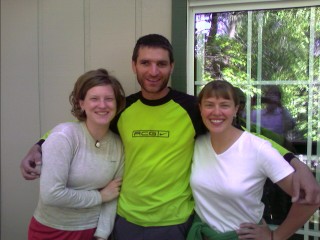 Colorblind, me, and Coyote
After picking up my new shoes at the PO (YES—new shoes!), I got a ride to the trailhead. If I had to walk that several mile climb on hot concrete, I would be completely miserable for the rest of the day. Yesterday, as I descended the Devil's Slide Trail, I dreaded climbing back up to the PCT on that trail. The sun was unremitting, and I was really beat up by the time I reached the trailhead. Today as I head up, I feel great.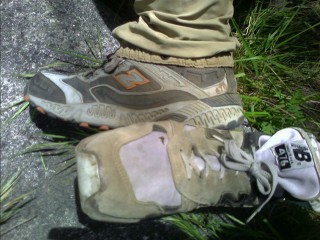 The New Balance 476 shoes; mine 21 years old, Kelly's: 21 days old.

The climb is easy, the shade is plentiful, and just the thought of doing it in new shoes has put a wide smile across my face. It's amazing how the simplest things in life can be so rewarding. Meeting Karen yesterday evening and getting a shower, laundry, breakfast, and a place to stay completely changed my outlook on this miserably hot day. A little trail magic goes a long way. We PCT hikers are among the freeist people on the face of the earth. I choose how I'm going to live every moment of my life—no rules, no dress code, no daily schedules. If I want to quit, I head down the nearest road and find a way home. It constantly amazes me how many people don't appreciate their freedoms. In many third world countries, people have no home, no belongings, and travel long distances out of necessity.

Yesterday was another fine example of a mental game. Like most long distance hikers say, a thru-hike is just a mind game. There are days where I don't feel like heading on, days where I never want to leave town, and days where I just want to sit down and not get up. Ok, I've climbed back into the San Jacinto Wilderness, and continue my way towards Fuller Ridge. Suddenly, the entire ground turned to shades of gray. I panicked, not knowing what to do. I looked up into the sky and saw a small, wispy cloud covering the sun. Oh yeah, a cloud, the first one I've seen. Many locals consider this area the "Mini Sierras", with it's high elevation, forested slopes, and cool temperatures. I've reached 9,000ft elevation, and peer over the edge to the oven like valley floor 7,000 feet below me. The terrain becomes dotted with patches of snow, and eventually starts the long, winding descent to Interstate 10 over a mile below me. I can feel the temperature rise as I drop several thousand feet in elevation. It's time to call it quits at 1030pm as I find a small area of flat terrain on the steep, desert hills.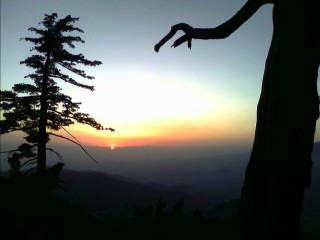 Sunset from the San Jacintos
I'm on the trail by 6:30am, and continue along, with overgrown vegetation constantly grabbing me and pushing me around. I dread the thought of hiking any lower in elevation, with the valley floor still a ways down. By 7am, the temperatures are in the mid 80s, and I feel like the sun is burning a hole into my hat—and head. I continue down to the valley floor, out of water, with temperatures easily into the 90s by now. I see Colorblind curled within a small shadow next a rock, and a water fountain. In the middle of nowhere, there's a water fountain, installed by the Desert Water Agency above their aqueduct for PCT hikers. She was in a semi comatose daze when I arrived, half dead from the wicked sun beating its several septillion watts of energy onto our dehydrated bodies.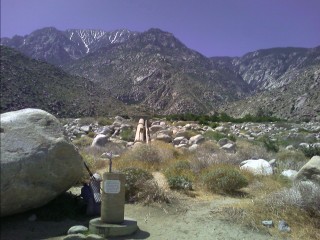 Water, courtesy of the Desert Water Agency!

I filled my half gallon juice container, slammed it, filled it again, and dumped it all over myself. Within several minutes, I was dry again, and repeated the life saving maneuver. She continued on to the bridge under I-10 while I cleaned several layers of mineralized dirt from my seemingly lifeless, brown feet. The next several miles to the Interstate were beyond hellish. The trail followed a soft, sandy wash, reflecting 120+ degree temperatures onto our weakened bodies. The soles of my shoes are almost too hot to touch, and I feel like I have a heat gun placed under my shirt. I walk under Interstate 10 and see some moving object ahead of me; a mirage? I get closer and see it's Colorblind. My vision appears to be blurred, my mind and thoughts distorted as my brain is being melted from the blazing sun. We spend the next several hours resting in the only area of shade we've had for miles. The temperatures are in the high 90s under the busy highway, noisy with the echoes of cars and trucks passing at seventy miles and hour. The adjacent bridge has trains passing overhead, vibrating the ground with its heavy load. The breeze that is blowing in our faces feels like a blast furnace.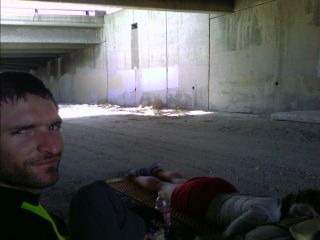 Noisy, dusty, and dirty—But shade. Paradise!

We can see the summit of Mt. Jacinto from here, 9,600 feet above us with its steep couloirs covered in snow. The Sierras are only about five hundred miles or so north of here, and then other than bits and pieces of desert to contend with, that's it. But I'm not going to try and think about that right now. She thru-hiked the PCT with her boyfriend last year, and they ended their hike less than two hundred miles from Canada. Instead of finishing the trail this year, she decided to do it again—without the boyfriend, completely on her own terms, at her own pace. We trudge on a little after 4pm, passing over a Colorado River aqueduct and around the Mesa Wind Park, a sprawling area of wind turbines dotting the ridgelines on both sides of the Interstate. After a drop over a saddle, the sounds of the freeway disappear, and we enter the San Gorgonio Wilderness. During the descent along a nice set of switchbacks, I look down and see a dark colored animal. Is it someone's black lab? No. As my trekking poles clank the loose rocks, it looks up at me and runs away up a canyon. It runs with its front paws bending after each step, the short face, the distinct gait. It's a bear. A bear in Southern California? I don't know what it eats around here, but Colorblind saw one about twenty miles north of here on her thru-hike last year. I'm starting to see more Tamarisk (aka salt cedar) plants, actually more like trees around here), crowding out native plants, and pulling large amounts of precious water out of the ground. Native to China, it's made its way over here like everything else. We don headlamps a couple hours later and camp in a soft, sandy wash near Whitewater Creek.

The trail winds its way over to Mission Creek, with the landscape again devoid of trees and shade. As the trail crosses it for the first time, I take off my shoes and slowly immerse myself in the churning waters. First the feet; ohhh, then the legs, ehhh; then I completely lie down in it; with a loud gasp! Some backpackers nearby head over to see what all the commotion is about. "Oh, the water's a bit cold." They let out a smile, talk about our trail experiences, and we head our opposite directions. I'm completely doused, fully clothed, and it feels great. At 9am, my watch is reading 97° in the sun, and this is just what I need for the long climb ahead. Within fifteen minutes, I'm dry again, sending all my precious water evaporating into the sky, headed to Nevada and beyond—sorry California. I've been following Mission Creek most of the day, and I'm trying to figure out where I am. The Data Book, jokingly called The Book of Lies since the information it contains is several years old, reports old roads in the area. Where? I'm in a Wilderness Area. There was a large fire in the area three years ago, followed by flooding. Maybe that obliterated what was left of the old roads. Not knowing where to tank up on water for the climb ahead, I see a few trees to my left and find the creek flowing in that area. After dropping down to near I-10 yesterday at an elevation of 1,195ft, now I'm back up to over 8,600ft. I kept the ninety plus degree temperatures from frying my brain earlier today by dousing myself with water, and now I hope the simple change in elevation will solve that problem. I tanked up and took a rest at a spring before a fourteen mile dry stretch. On the CDT, finding a water source like this could take hours, using my map and compass to carefully find the location, often bushwhacking through impenetrable brush as the skies overhead angrily darken with an approaching lightning storm. Out here, there's usually a sign, or something well labeled showing the landmark.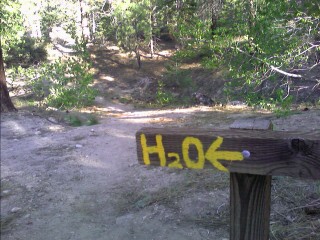 No pulling out the map, or endlessly searching for water. Just follow the signs!

This is great! I hiked into the night, as usual, and stopped when I reached a small parking area at the end of a dirt road.

I was awakened by clouds spitting out the occasional raindrop at 3am. I looked into the sky and saw stars poke through every now and then. I was tired, and decided against setting up my tent. I hope I don't regret this. A little before 6am, the brief light rain started again, and I was on the trail fifteen minutes later. The rain stopped, and I continued a mile or so to what's just described as "Animal Cages" on my map. I spot a lion, tiger, and as I follow around the heavily gated facility, warning of attack dogs and an armed response for would be trespassers, see a black bear and grizzly. Maybe they're used in movies and TV commercials, but it's an interesting way to start my day. I come across Elise, anxious to get into Big Bear to tend to foot problems. We pass a soda cache in the middle of nowhere, and relax in the recliner chair across the trail.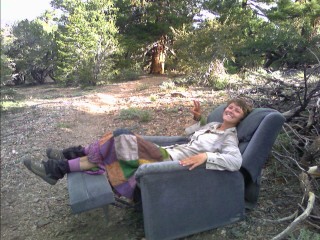 Elise kicking back.

We arrive at the first water source today, and come across Spare Parts, Cjell, Blackfoot, Caiitlin, Peter Pan, and Luigi, who all met up with each other over the last day or two. We continue on, spread out along the trail for a good quarter mile or so. The pace is fast, and breaks few as we reach the highway leading into town. There is another cache near the road stocked by NITRO, with sodas and candy bars for the weary hiker. Most of us find a ride into town soon, and seven of us cram into the back of a pickup truck. A brief shower halfway into town adds to the excitement as we try to keep the cold rain from hitting our faces at fifty miles an hour.

Big Bear Lake, CA

We struggle to climb out way out of the back of the shiny, red pickup truck, with sore feet now numbed and cold. We work our way to the town hostel, and stuff ourselves with donuts on the way to the post office. NITRO, a Triple Crowner offered me a room at her place a while back. She lives in the Apple Valley less than hour away, and instantly spots me in the post office parking lot with shoes and socks off, and my pack contents sprawled across the shady side of the building. I meet Splash, who is also staying with her after suffering a foot injury on her descent from Fuller Ridge. She hiked the Trail southbound in '05, and decided to tackle it again this year from the other direction. The three of us head along the hot desert floor, stock up on groceries, and head home. I'm greeted by her dad Heinz (yes, that's a trailname), and their four dogs teeming for attention. We enjoyed a steak dinner together, which seemed to take me forever after downing a half gallon of orange juice and a pound of broccoli and dip. NITRO and I shared the usual CDT war stories, and like all other CDTers, said the trail ahead was in comparison, easy.

I've decided to take the morning off, and wait for the afternoon heat to subside before trudging northward. I still have my two pair of custom orthotics in my pack, and mail the hard plastic $495 set back home. The others, ComfortFit's, seem to be working well, and it will be nice to shave a half pound from my pack. It's a little before noon as I busily catch up typing my journals in the comfort of the great indoors (did I just say Great Indoors??).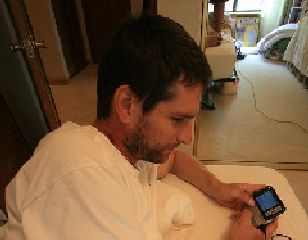 Typing these journals on the old, beat up three year old HTC XV6700

After enjoying a few huge oranges and some bananas for breakfast, I enjoyed a 3,200 calorie lunch by pounding down ten frozen 20 cent burritos from yesterday's grocery run.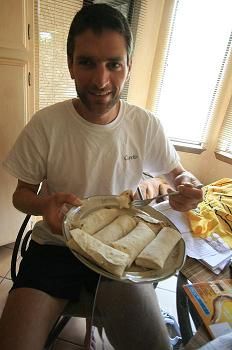 The second plate of the 3200 calorie power lunch

A few hours later, I washed it down with a half gallon container of 1600 calories of juice, and slowly let everything settle. After resting for most of the day, and finishing up chores, Splash took me back to the trail a little after 5pm. As little as I saw her, NITRO will be leading a trail work crew for Colorado Fourteeners Initiative on Mt. Massive this summer, and I hope I'll be able to meet up with her in the area thirty five miles from where I live. There is a strong breeze blowing the treetops wildly about, and I enjoy that, along with the cooler evening temperatures. Nightfall approaches, and I don my headlamp almost an hour later. I've done so much night hiking, I feel comfortable hiking almost three miles an hour or faster with the dark trail underneath me. I can see the faint glow of the light colored rocks, although usually there's not many on the trail. I pass what some consider a confusing trail junction a while later, which will take the weary hiker who is not paying attention back into Big Bear. When I pass it, there is a large road sign with a right turn arrow. This trail can't get any easier, can it? The winds were still blowing at 11:30pm, and I found a sheltered area on a ridge to camp.
---
A 160lb. hiker burns about 500 calories an hour, covering about 2.5-3 miles. Long distance hikers hike about 10-12 hours a day (25-35 miles). A 5000 calorie meal would be like eating 11 KFC chicken breasts, or 7 Macdonald's Big Mac with Cheese, 1 entire large Pizza Hut Meat Lover's® Stuffed Crust Pizza, or drinking 1 1/4 gallons of Baskin Robbins Chocolate Blast w/Whipped Cream. That would be daily consumption. Food is the topic of hikers as the price of gas and fuel economy is to commuters. We need to fuel our bodies as efficiently (calories) and economically (weight) as possible.

—ALDHA West website
---
I passed Square Peg early this afternoon, who is suffering from sore toes from a frostbite injury years ago. She's moving slowly, wincing with every step. She hopes to find a ride at the next town to take her to the nearest outfitter, where she can try hiking in sandals. I work my way into the Deep Creek Valley,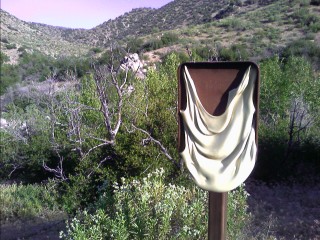 The plastic sign, melted to oblivion.

which is by far the largest creek I've seen on the trail yet, and head twenty five miles to the popular Deep Creek hot springs. I run into the group I traveled into Big Bear with, and they are on their way to travel a few more miles this evening. The hot spring spot is popular with locals, who tend to use the three pools in the nude. Fortunately, the old guys and perverts have gone home for the day, and I have the whole thing to myself as the sun drops behind the dry, barren ridge.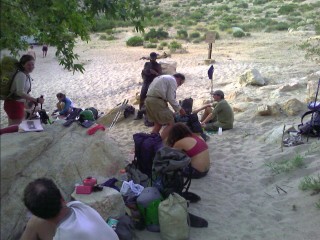 Getting ready to depart after spending the warm afternoon jumping into swimming holes, and relaxing in the hot springs.
As I leave the Deep Creek valley in mid morning, I come across the Mojave River Forks Reservoir Dam. There's no water behind it, which baffles many hikers, and it's used for flood control Marlene tells me every twenty five years or so, a flood will reach the spillway a good hundred feet or so above the valley floor, and slowly dissipate the raging waters, as opposed to obliterating everything in its path. Speaking of Marlene, I come to a small, seldom used highway and notice a minivan, rear doors wide open, and a blanket on the ground with a couple chairs. As I approach, a lady comes out from behind her van. "Hi, I'm Marlene, would you like a root beer float?" Wow, another trail angel.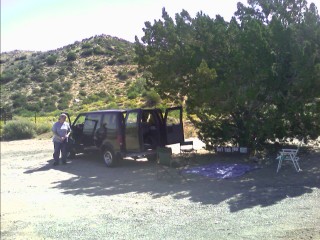 Today's Hiker Trash Headquarters!

Not being a soda drinker, I pass, and she gives me a cup full of ice cream. She's been coming up regularly for about a month now, hearing the many epic stories hikers have to share. With me near the very end of the pack, this weekend will probably be her last. I continue on, back into the blazing sun and follow the world's largest contour line in and out of and endless number of drainages. There is the gobble-gobble of a wild turkey behind me somewhere, and a scurry of a rabbit across the trail in front of me. A bit later I pass Silverwood Lake reservoir, abuzz with boats and jetskis, and arrive at a picnic pavilion complete with running water. I pass Root Canal (she was Caiitlin a few days ago, but had a root canal in Julian over a week ago), who is catching up to several hikers not far ahead. A few minutes later, Peter Pan shows up and throws some dinner on the stove. We enjoy the needed rest after over twenty miles today, and continue on as the cool evening temperatures bring sanity back out souls. As darkness approaches, he stops for he day on a postage stamp sized flat spot. Often, these small areas are the only place for miles available for camping, other than the trail itself. I continue on until dusk approaches and find my small, postage stamp sized camp as the western horizon grows darker with each passing minute. The strong winds that blew me around a few times today have subsided, and the faint sounds of the distant trains will become ever louder tomorrow as I approach Interstate 15 near Cajon Pass.

The morning sliver of moon has disappeared, meaning the New Moon is here, and it will start to fill the night sky again over the next two weeks. Last night I slept really well for probably the first time. I built camp while there was the tiniest bit of light available at dusk. For the second time, I'm not night hiking, and it feels great. No dark tunnel of light to contend with.

It was another ten miles to the Interstate and its busy gas station convenience stores and attached fast food restaurants. I scarf down an 1150 calorie Big Breakfast at McDonald's, and by the time I finish, it's lunch. Peter Pan walks in, as I'm working on my large chocolate shake. We stumble one half mile further to a Subway, and I down a footlong, and get another for later. I head back across the overpass, with the busy seven lanes of I-15 racing in opposite directions below me. I scarf down the second footlong sub as the nice, shady spot I'm enjoying quickly draws attention. Wanka and Ben show up, followed by Ladybug and Grasshopper, No Pain, Snakecharmer, Dirk, and Laura. Poppa Smurf arrives a short while later, struggling with his shin splints.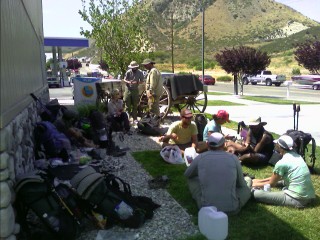 Today's Hiker Trash Central!

We talk about the usual, including feet, showing battle scars from what the last three hundred forty miles of trail has done.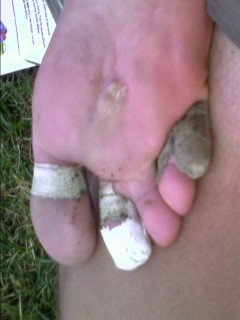 Ouch, that's gotta hurt.

I head back into McDonald's for a second large chocolate shake (no, I don't drink soda), and easily down that. It's after four in the afternoon, and the over six hour break has been long enough. The huge amount of traffic flowing in and out of this area is too much for any of us to handle. The bathrooms have had lines as long as we've been here, and the constant freeway and train noise has us itching to hit the trail. We continue along the winding trail as it passes under the freeway, over and under the railroad tracks, and past rock outcrops towering tall above us. The trail continues into Swarthout Canyon to a water cache in a five foot high weathered wooden box. It's still almost twenty miles to the next reliable water source, and the other six hikers build camp, which happens to be within a couple hundred feet of the inconspicuous San Andreas Fault. For the last 370 miles, the water situation has made me feel like I've had a noose tied around my neck. When I left the Scissors Crossing water cache, it was comfortably loose, and as the 100+ degree heat started to turn me into a dehydrated, walking raisin, it started to get tighter, within a couple miles of Third Gate Cache, I could feel it cinching ever tighter, making it difficult to breathe as I started wildly gasping for air. After downing a quart of water, it was pleasantly loose again. Not wanting to climb almost five thousand vertical feet tomorrow in the bright sun, I continue on until well after 9pm. I see some lights glowing off the trail, and join Snakecharmer, Dirk, and Laura at their camp, which is probably the only flat area for miles to come.

We're on the trail at 7am, and continue the almost two thousand foot climb to the ridge above. As I look towards the dense smog covering the valley below, I can clearly see where I've been over the last several days. I can see part of Silverwood Reservoir, and beyond that a high ridge with Deep Creek behind it. To the right, behind the smog is probably Mt. Jacinto. What's that? another bear? Sure enough, there's a bear, oblivious to the fact that I'm approaching. I yell at it, and it glances at me briefly before continuing to clean up a recently used campsite.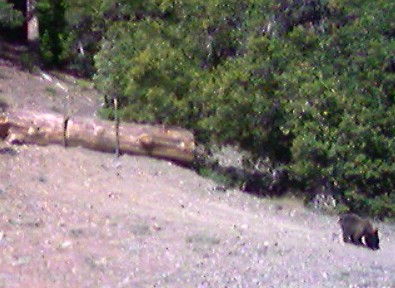 I've seen just as many black bears in the last week as I spotted on the entire CDT.

The trail continues into the Angeles National Forest, past a ski area, and out to the Angeles Crest Highway, which reopened three days ago after being closed for three years due to rockslides. The first person I ask for a ride happily offers the back of his pickup truck, and I head into Wrightwood.

Wrightwood, CA

I get dropped off at the local grocery, and purchase my next four days of food, a large premade salad, half a gallon of apple and orange juice, and large sub sandwich. I sit out at one of the picnic tables out front, shaded by umbrellas, and chat with the tourists as they finish their lunch that is being smoked next to us in the BBQ pit. A while later, five other hikers yell out my name, telling me they have a house to stay in courtesy of a local Trail Angel. We head on over, in the small car, with Blackfoot crammed in the child car seat. I shower, do laundry, and we all stroll over to a local pub for some live blues, and the usual too much dinner, including the gigantic Double Yodeler burger. Not thinking it would be enough, a couple of us shared a large pizza.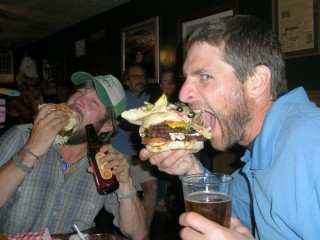 Enjoying the Double Yodeler

When a local saw me finish this thing, he bought me a beer—and offered me a hundred bucks if I could finish another one. Unfortunately, I passed on that idea, not wanting to end up in the hospital with another intestinal surgery. I said my goodbyes to Snakecharmer, Dirk, Laura, and Ingrid, who were also enjoying the pizza and live music in the pub. As the usual food coma set in, and we had the dumb idea of heading to the next establishment in this small town for some karaoke on this pleasant Saturday night.

We all reached the trail again, and started up the trail as Team HardCore Caboose—Caboose as in we're at the back of the pack. The "herd" started about ten days before us after ADZPCTKO. We all have different reasons for starting late, such as appendectomies, graduating school, caring for parents, or saving up money. We wound our way up the twelve hundred foot climb towards the Mt. Williamson Summit Trail, and dropped back down to the Angeles Crest Highway just as quickly. After an exhausting last few miles, we continue along the trail back down to the highway again and are greeted with a trail closure. The endangered Mountain Yellow-Legged Frog has critical habitat along the river ahead, and the trail detours along the highway and through a campground. The others call it for the night near a picnic area, and I trudge on to get the highway walking over with. I finish up my day at the end of the detour with the noisy rush of creeks all around me.

The trail climbs back up to the highway, and I continue on with the loud roar and whine of motorcycles barreling along the road. I stop to work on a foot problem that started bothering me this morning. As I walk, the top rear of my shoe places pressure on my achilles tendon. I carefully cut away the foam on the top of the shoe, and the issue that had bothered me for the last day has pleasantly disappeared. I reach an area on the trail with pinecones laid out below me to read "400 miles". Huh, I've done four hundred miles already. I can't get over how different this from the CDT, or hiking in Colorado in general. The trail is in great shape, I don't need to pull a map and compass out every half hour, and I'm not hiking straight uphill to climb over 12,000ft passes. I see why people on the CDT told me not to worry about the PCT. "The miles will come, don't worry about it."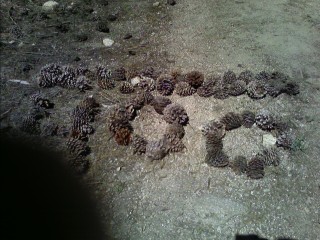 400 miles done!

I was so worried about getting left behind the first several days, eventually hiking through the Sierras solo, not meeting many thru-hikers, and wondering if I'd finish before November. Yeah right, for the first time ever on a thru-hike, I need to slow down. I never in my wildest dreams ever thought I'd say that. I feel strong after a twenty five mile day. On the CDT, that mileage would leave me (and most other hikers) in a physically wrecked and dazed state. I'm passing others left and right, and it's so effortless, so enjoyable. A few minutes later at a water source, Team HCC approaches, and we head to Camp Glenwood to make some lunch. At the end of the day, we find ourselves at the Mill Creek Summit Picnic Area, with several other hikers busily cooking dinner, even offering us some ribs some day users left for them. I headed up to the fire station to fill up my water bottles for the next seventeen dry, hot miles, rinse off my dirty, blackened feet, and find bottled water and Gatorade left for us by the firefighters.

The five of us all leave for the trail at different times, and hike the over seventeen miles by a little after noon to our next water source at the North Fork Ranger Station.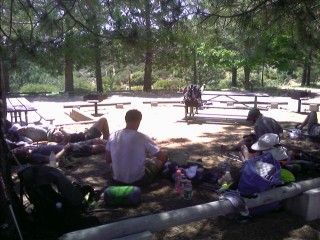 Enjoying the shade and each other's company at the first water source in almost 18 miles

We join another half dozen hikers happily doing nothing under a few shady trees. It's well after 4pm before we depart from out three hour break, waiting for the eighty degree temperatures to subside. We crank out another ten miles by dusk, and end our day with a crescent moon setting behind the power lines serving the big cities to the west.

Continue to South Central California