Back to Northern Washington
CANADA
Tiny—and large—bottles of adult beverages are opened and shared on this 19th of September. Soon, the distant noise of another swarm of hikers closing in is heard, and we let out hoots and hollers. Trekking poles are used to form an arch, and high fives are given as they pass underneath into the foreign country. There's now twenty of us celebrating our 2,655.4 mile (according to the Data Book) adventure... who's that? It's Night Stranger! We repeat the arch, this time without the poles, and push him around a little as we all share high fives. A bit later, Thumbs Up arrives, and we repeat the ceremonial process again.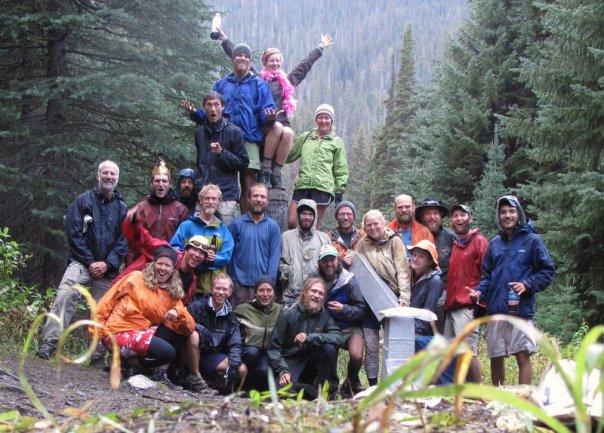 Bottom: Trainwreck, Mystic, Night Stranger, Magic, Vulturedeath, and Blackfoot.
Second Row: Thumbs Up, Me, Luigi, DQ, Einstein, Ido, Bams, E-Blanket, Mike, Naomi, Man Down, Deep, and Scratcher.
Top: Vagisil, Moneyshot, Colorblind, and Bob Dole.
Picures courtesy of Trainwreck

There's twenty three of us here, which is quite an unusually large number—maybe even a record—but also an amazing way to finish our life-changing endeavor. I get the quick Triple Crown 'ceremony' by Magic and Vagisil as he uses his ski poles to unction me, and soon several start to make their way the nine miles into British Columbia to the Manning Provincial Park's lodge. A few turn around, not wanting to spend any more money, or their passports never made it to the post office in time. Many of us had planned on camping less than a mile further, but with the on and off rain, forget it. Einstein, Deep, Scratcher (the 38s) and I are the last to depart, and leave the border at 5:30pm to begin the climb out of the Castle Creek valley. Darkness approaches as we head down from the shoulder of Windy Joe Peak, and we reach the road a few miles later. A brief downpour erupts, and we throw on our rainjackets and walk the pavement until we see the lights of the lodge and surrounding buildings less than a mile up the dark, foggy road. After a 28+ mile day, it feels great to be here.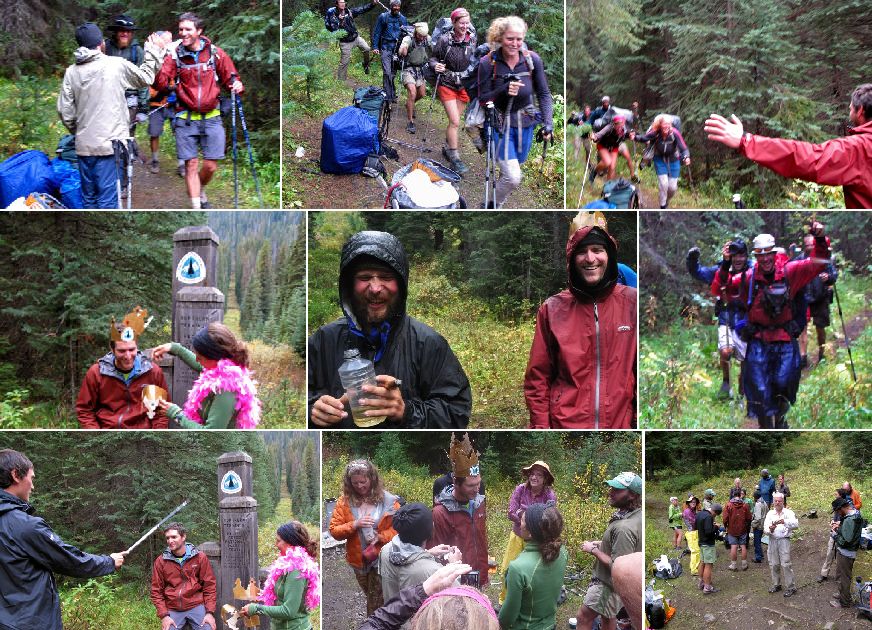 Manning Park, British Columbia
There's a sign for a restaurant, and you can probably imagine where we go. We arrive at the small eatery fashionably late—the 38s are famous for this—a few minutes after they closed at 8pm. There's a contingent of a good fifteen or so ravenous thrus, or should I say 2700 Milers, taking over the place. We sit down and watch the two waitresses running around the shortstaffed establishment like a couple of scared squirrels. They offer us some cold sandwiches and ice cream, and other hikers give us some leftovers. I look into a cabin rental with the other three, but we decide on the hostel instead. There's no bar, no alcohol sales this late in the season, so we lurch our way to the hostel as the night sky spits out light rain, and finish a remarkable day.
Several of us head back across the road for breakfast and enjoy a puny $9 omelet. I head back to my room and collapse into bed. The nagging cold—I never get colds—I've had for the last several days has zapped my energy level, and the twenty five mile days on top of that has left me woebegone, and my body in a pathological state of claudication. I feel like I've been run over by a cement mixer (several of them, actually). My nap lasts well over two hours, and I miss saying my last goodbyes to the dozen or so that boarded the bus for Vancouver. I wake up from the heat that's built up in the room as the sun casts its bright rays through the window. My watch is reading 81°, and I head over to the hostel's kitchen to make a triple Lipton Rice lunch, pack up, say my goodbyes to the 38s, and take off. The decision I made weeks ago to hike southbound has stuck. Some have looked at me, bewildered by the fact I want to continue hiking. The weather's amazing, I don't need to be anywhere for another four days, and I don't care to spend it in Vancouver or some other city. I depart at 1pm and begin writhing my way south as my legs warm up. I climb back up to the shoulder of Windy Joe, and begin the long descent back to the U.S. I see a hiker headed this way, with family tagging along, and it's Shootout. We congratulate each other, share a few stories, and part ways. An hour or so later I run into Hatman & Happy Feet, who also did the A.T. in 1997, where we last saw each other near Irwin, TN. They tell me about their trek this morning, with the soggy rains turning to snow heading over the high passes. A familiar sight soon appears. A grey metal post and wooden monument lie in front of me. I'm at the Border again, and not another soul around. There's no sound of laughter in the air, no popping champagne corks, no tears shed, nothing. Just utter silence. I take a long break, have lunch, and look through the Trail Register. As I sit here for almost an hour, I flip through the pages. I read the words of dozens of hikers that have just completed one of the most fulfilling accomplishments of their lives. I read stories of sadness, many of happiness. There is a dichotomy of emotions that fill this weathered spiral notebook. There are those who dread the return of a normal life; and those ready for the routine, predictability of mainstream society. I can feel the anger, experience the joy, and dread the fright as I read some of the longer entries. Some simply write in the date and sign their trailname. I gaze at the several foot wide border clear-cut darting up the side of the mountain in front of me, straight as an arrow, stretching the entire length of the US/Canadian Border. I reflect on the last four and a half months of my life, actually twelve years, as I sit here by myself. I'm not a thru-hiker anymore, just a Triplecrowner or 2700 Miler. My objective has been completed. It started as an excuse to avoid the rat race for another six months after college twelve years ago. Soon it had turned into a passion. I had no intention, no real desire to do a long distance hike after the Appalachian Trail in 1997. At the ALDHA-East Gathering I attended less than a week later, I saw the Pacific Crest Trail Alliance booth, slowly nodding to myself—no way, no thanks. I joined the Continental Divide Trail Alliance the next spring, spending free weekends volunteering for trail work every summer, and adapting a segment of CDT. Ok, I'm going to Thru-Hike the CDT. Several years later, I did. I gave my six month notice at a company party, and was soon approached by our GM. "If you're back for the winter, I think it will work." blurted Jon, with an amiable smile. My flat feet had never given me problems before, until I started hiking 35 plus mile days in the Great Divide Basin of Wyoming. Now the damage was done. The rest of the hike was a game of survival, not the adventure I had wanted. After thousands of dollars in medical bills, the foot problem was diagnosed. Although permanent, the treatment is a simple, but expensive, orthotic. Alright, I've done two of the three big trails, now the third is calling—and it's not a question of if, but when. I'm doing the PCT. There were some touchy moments with my feet this summer, but I found solutions to all the issues. Compared to what others endured, I felt I had it easy.
I stand up with stiff, raddled legs, and head south from the Border. I guess I'm not a thru-hiker any more, just a section hiker headed back to Harts Pass. I have my passport and Canadian entry papers, but the thought of ending my trip with a bus ride to a big city doesn't agree with me. I finish my big sixteen mile day near Hopkins Lake.
There's no rush to get up today, no haste to do miles, and I take advantage of that. It was cold last night, and I wore my hat and neck gaiter I've been carrying with me since Cascade Locks for the first time. I hear the trot of a deer as I get up, see an onslaught of Camp Robbers (aka Grey Jays or Whiskey Jack birds) look for food a few feet away from me, and start my way to a 7,200ft high point on Lakeview Ridge at the crack of 10am. Two days ago, we were pounded by rain, wind, and dense fog in this lofty stretch, and today the weather is perfect and cool. I feel the soft crunch of frost on the trail as I near the top, and stop for a lengthy break at the summit.


So this is what it looks like when the weather's nice!

I soon hear voices getting ever closer, and see a couple I haven't seen since Belden, CA. Steve and Bethany take a break as we catch up on each others stories. Back in Stehekin a week ago, they witnessed a bear run down the road right in front of the shuttle bus they were riding. We share hugs and handshakes, and continue on our ways. I see Two Pack a while later, who I saw last at the PCTA party in Cascade Locks a while back, and we congratulate each other. Ok, I've gone five miles—time to stop and enjoy another hour long break. Is that... it's Shane, who I last saw in Southern California at the Paradise Cafe on the Pines to Palms Highway. Wow. He's with Chuck, last seen near White Pass. I later have another close encounter with a grouse, see a few marmots jubilantly chasing each other, listen to the heavy knock of a nearby woodpecker, and gaze at a deer curiously looking at me as I go to the bathroom. I look at my watch, and it's a little before 5pm—and I haven't even done ten miles yet! I can ski up a Fourteener faster than this. I resume my thruhiker pace, and finish atop a ridge near Devils Backbone.

There was the usual shooting star last night, and another bright, silent object crossing the sky little after dark; probably a low earth orbit satellite. I gaze out at the valleys in each direction that lie below me, with beetle killed trees dotting the rolling landscape. I get up at 10am, and... okay, I'm taking a nap. A little after noon, I start to head south. I greet a dayhiker who offers to drive me to Seattle this evening as I wind my way over the five passes ambling towards Harts Pass. I've been rationing food since yesterday, and can feel the effects. The ten miles I do today is exhausting. I reach another knob on the side of Slate Peak, only to find another two mile slog to the next false corner. After scowling at several more of these, I reach Harts Pass in the evening as planned, and find several PCTers from last year giving Trail Magic. I meet Icebag, Beautiful, Gorgeous, Steamroller, Milkjug, Professor Party Tent, and Slick B. They're a bit disappointed by how few thrus they've seen, and the fact they just missed the twenty three of us pass through here before they arrived. After rationing food for the past day, this is absolute heaven—Trail Magic at its best. What a way to end my human powered journey.
Trail Magic at its best!

Since they had planned to feed more hikers, there's extra food; lots of extra food, and they demand I help take care of that problem. Not a problem. I gleefully enjoy a healthy amount of chips, some cookies, a couple donuts, and soon devour 3 burgers, 2 hot dogs, 8 bowls of chili, and corn on the cob—stuffing my face Holmer Simpson style. It's washed down with plenty of adult beverages, and I quickly succumb to an all too frequent food overdose. I'm slumped over in a comfy camp chair, with a wide grin on my sun weathered face, well sated. Several of us head up to Slate Peak for sunset—by car—and soon return, ending my day.

After yesterday's ten thousand plus calorie fress, I'm all fat and happy. We all sit around on this first day of Fall waiting for hikers to pass through... were are they? I hiked south so I could meet and congratulate thrus I haven't seen since California. Oh well, guess I'll need to polish off these extra pancakes and other goodies sitting on the picnic table. We head up with a couple coolers full of food and beverages, and stash it on the trail—a little trail magic for those behind. The others have friends headed up here in several days, and can pick up the empty coolers. We caravan our way back to the city, stopping at Diablo Lake for a quick dip. Milkjug gives me a ride to Seattle, and I make some phone calls, now that I have cell service for the first time since Stevens Pass twelve days ago. I glance out the car window, gazing at several rivers I crossed at the source, including the Snoqualmie, Suiattle, and Sauk. We stop near Redmond and meet Linda, who responded to my PCT-L email listserve search for a ride to the ALDHA Gathering. "You're Milkjug?" Asks OneStep (Linda's trailname), with an excited smirk. Yes! he curiously replies. "I'm one of the Pearl Girls you met at the Saufley's [trail angels in southern California] last year! You drove their car and took us to REI!"

After a wonderful stay in Redmond, Linda, Lindy (Blue Butterfly), and I hop in the Rostad's RV and head off across the State of Washington towards Mt. Hood. We stop at Snoqualmie Pass (I was here half a month ago) for a bathroom break, and I dart off to the Summit Lodge to check the trail register. There's about 55 hikers signed in since I came through, with Blue Eyes, who I last saw in the Sierras, signed in today. We continue down I-90, and I sit gazing out the window at the dry rolling plains of Central Washington, lying in the rainshadow of the mighty mountains I passed through only weeks ago. Headed through the Yakima Valley, there's soon a coyote off the side of the highway, busily looking for rodents, an occasional dust devil meandering through a dry farm field, and horses dotting the landscape—maybe wild. We arrive at the small town of Welches, and spend the night at an RV park.

American Long Distance Hiker Association (ALDHA) Gathering at Camp Arrah Wanna - Welches, OR

---
Our intrepid hero, Grizzly, was down at the local hiker saloon. His buddy RestStep comes in and says, "Grizzly old buddy you seem to be sad drinking your brew and eating that pizza. What is wrong?"

Grizzly replies, "Well, my wife and trail partner, TrailDust, we fight all the time. I don't understand it at all. Here is what has happened."

She sat down on the couch next to me as I was flipping through the channels for a football game. She asks what was on TV. I said dust. That is when the fight started.

The next day she was hinting about what she wanted for our upcoming anniversary. She said, 'I want something shiny that goes from 0 to 170 in about 3 seconds.' I said I would get her a scale. That is when the fight started.

When I got home last night, TrailDust demanded that I take her someplace expensive... so, I took her to a gas station. That is when the fight started.

Last week we were sitting at a table at my high school reunion, and I kept staring at a drunken lady swigging her drink as she sat alone at a nearby table. TrailDust asked if I knew her. 'Yes,' I sighed, 'She's my old girlfriend. I understand she took to drinking right after we split up those many years ago, and I hear she hasn't been sober since.' 'My God!' says TrailDust, 'Who would think a person could go on celebrating that long?' That is when the fight started.

The other night she was standing looking in the bedroom mirror. She was not happy with what she sees and says to me, 'I feel horrible; I look old, fat and ugly. I really need you to pay me a compliment.' I said 'Your eyesight's damn near perfect.' That is when the fight started.

She was going out to the store and I tried to talk her into buying a case of Miller Light for $14.95. Instead, she bought some cosmetics for $37.95. She said it makes her look beautiful. I told her that was what the beer was for and it was cheaper. That is when the fight started.

I asked her, "Where do you want to go for our anniversary?" It warmed my heart to see her face melt in sweet appreciation. "Somewhere I haven't been in a long time!" she said. So I suggested, "How about the kitchen?" That is when the fight started.

She asked me if a certain dress made her look too big. I told her not as much as the dress she wore yesterday. That is when the fight started.

Saturday morning I got up early, quietly dressed, made my lunch, grabbed the backpack and slipped quietly into the garage to head to my favorite trailhead for some hiking. As I drove there a torrential downpour started. The wind was blowing 50 mph, so I headed back home. I went back into the house, quietly undressed, and slipped back into bed. I cuddled up to TrailDust and whispered, 'The weather out there is terrible.' She replied, 'Can you believe my stupid husband is out hiking in that?' That is when the fight started.

Best regards,Switchback the Trail Pirate —PCT-L Listserve
---
What a weekend. There was Andrew Skurka's talk about his seven thousand mile walk dubbed the Great Western Loop, I was one of four participants in the Hiker Olympics, including events such as the bear canister and sleeping bag speed packing events, the running-with-a-bucket-of-water through the obstacle course, the tent set up race (with the squirt gun rain simulation), the hanging food in bear country (some contestants scored serious style points for non traditional methods) race, and the Snickers eating competition. There was Doug Scott's talk on the major Public Lands Omnibus Act of 2009 and Jon Knechtal's presentation on the Birth of a National Scenic Trail, specifically the spectacular Pacific Northwest Trail. Of course getting together with all my fellow hikers in the evening was my favorite part of the event. Trying to wake up the next morning for breakfast was not. Walking just a block around the Camp each day made my feet sore from the collapsed heel of my shoe. I have no idea how I finished the trail with these tattered running shoes. I gave my last goodbyes to everyone Sunday morning, and found a ride with Firefly and Me Too for the long ride down to Old Station, CA.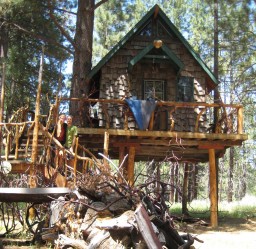 The treehouse at Hiker Hideaway

Not surprisingly, I'm the only one here. Back in mid July, there were thirty of us, enjoying the brief reprieve on our way north. I head over to the treehouse and spend the night.

Ok, now I need to work my way several hundred miles to Yosemite. The two take me through some of the nearby campgrounds to find campers headed south. Georgi points out some of the burn areas hit by the wicked electrical storm and resulting fires (which closed part of the PCT) back on August 1st, two weeks after I was in the area. After a bit of searching, I'm on my way towards Central California. I find a ride to Reno thanks to John, a BLM wildlife biologist, and darkness approaches as we near the casino choked city. "I have an extra bedroom in my place" he responds, as I try to figure out what I'm going to do. Hitchhiking's illegal in Nevada, and regardless, it's not an easy task on this Federal Highway 395.

I'm dropped off at the Reno/Tahoe Airport, and type my journals as I wait for the shuttle to the Yosemite area this afternoon. I arrive at the small town of Lee Vining, with low clouds spitting out light rain. There's been wet snow falling in the Park, and the weather isn't supposed to improve until tomorrow. I take the chance, and put out my thumb. I quickly find a ride into the Park, and hit the trail at Tuolumne Meadows.

Yosemite National Park
I leave the PCT, and follow the John Muir Trail until the dark blanket of night covers the cold landscape. The storm that was supposed to cover the landscape in white last night never happened. At 7am, it's in the mid teens, and I wait for the bright sun to cast its warm glow on my camp. I cross over Cathedral Pass, with the same named peak towering sentinel above me. I take a side trail and climb my way towards the top of Clouds Rest. The Park Ranger I passed a while ago recommended a camp spot, and I find myself perched on a lofty cliff edge gazing at the dizzying, endless sea of granite that lie below me.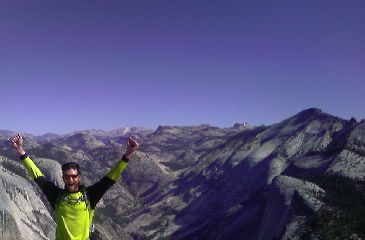 Clouds Rest is the high point to the right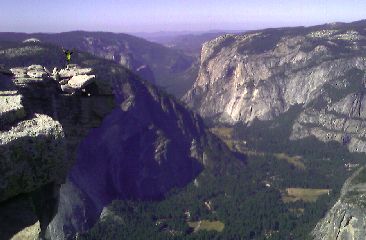 Atop Half Dome, on the Diving Board

I sit here alone, staring at the glacier-rounded peaks bathed in a bright alpenglow as the sun slips behind the jagged horizon. I think back at the last five months of my life. My mind is alive with a constant barrage of vivid thoughts firing within. I can feel the joy of a large town meal with fellow hikers after several days of big miles. I witness a bear running off the trail right in front of me. I hear the laughter at camp of a good hiker story. My 2,704 mile jaunt from Mexico to Canada has taken me through 3 states, 24 or 26 national forests, 7 or 8 national parks, 34 or 47 wilderness areas (I need to research these more), and I've gained and lost over 300,000 feet in elevation. I climbed over 60 passes, descended into 19 major canyons, and trekked past more than 1,000 lakes and tarns. Time has suddenly come to a standstill as I sit here, my mind lost in heavy thought. I'm completely blown away with what I've just accomplished. Like the trail, my feelings and emotions have been a constant barrage of ups and downs, and strange twists and turns. I don't even know how to begin to describe the last four and a half months of my life. The people I've met along the journey are unique individuals determined to live life to the fullest, out to see what this great country has to offer. The Trail has taken me from temperature, terrain, and weather extremes, with worn and abused body parts screaming for a break.

It's January already as I finish this journal. When I arrived back home, I went in to visit everyone at work the next day, receiving congratulations and sharing my epic stories. I'm called into our general manager's office a while later, with a strong look of apprehension spread across his face. After five years, I was laid off. I started with the company when the economy was healthily expanding, and today, that's not the case. The job market up here is quite dismal right now, with longtime locals packing up and moving on. The Great Recession has taken its toll in our Happy Valley. With roommates helping pay expenses, and me being thrifty, it's not a problem. It's time to plan the next grand adventure.

Last, and definitely not least, I want to give a special thanks to my parents George and Dyann, who helped me after my emergency appendectomy less than a week before I headed out to San Diego. Without them, clearing out belongings from my condo for the tenants that moved in would have been impossible. The simplest things were a great challenge for me. Walking was not easy, boxing materials or bending over to pick something up gave me the feeling of a sledgehammer to the abdomen. Picking up the numerous boxes full of my belongings wasn't even an option.

After the 4,700 foot descent from Half Dome, I ascend the 108 steep switchbacks up Snow Creek Falls, working my way towards the highway that winds its way through the park. There are large granite domes standing sentinel on either side of me as I reach the top of the steep valley. My mind again reflects on everything I've endured over the last five months of my life. The people I've met at trailheads and in towns these last four months have gone out of their way to help us weary hikers. My parents pick me up at the road, and a snowstorm shuts us out of the Park for the rest of our stay, and we work our way through Zion National Park on the way home. I guess I'm too quiet for most women, so until that happens, it's time to look at the next chapter in life, the next great adventure. I've put these important things in life off for too long, and am readying for the next challenge. I have a Mountain Rescue Conference in Juneau I plan on attending next summer, but don't feel like getting there in any sort of traditional manner; so I'm going to paddle the Inside Passage to get there. I'll plop the sea kayak in the water at Olympia, WA and meander my way up to Glacier Bay National Park and Skagway. I'll probably even exercise the legs at the end with a trek up the Chilkoot Trail. Who knows, only time will tell.

The incredible amount of volunteer effort that's put into the trail every year is such a great feeling. I'd like to give a big thanks to the Pacific Crest Trail Association for keeping the trail in the amazing condition it's in. It's not an easy task to keep a 2700 mile long corridor free from development, timber and mining interests, and disrepair. I've donated 10 cents a mile to the organization, and encourage you to send them a meager $10 if you enjoyed the experience through this journal.
Every night as I typed my journals, I'd also compile my daily mileage, and here's the stats:
Miles: 2,704
Number of days: 138
Number of Zero (usually town days) mile days: 9
Number of Nero days (hiking less than 5 miles): 4
Number of days I used my Tent: 16
Pair of shoes used on the trail: 4
30+ mile days: 13
Black Bears seen: 4
Rattlesnakes: Way too many to count!

If video doesn't play, right click, and select Play


VIDEO COURTESY OF MYSTIC:
TRAILFLOW: A streaming of short clips I recorded this summer while hiking the PCT. Had music but couldn't download it without infringing I guess. Turn on something moving and ENJOY!!