Back to Southern Washington
Northern Washington - Snoqualmie Pass to Canadian Border
Snoqualmie Pass, WA
Now what do I do? Eat first? Where? Get a room? Who else is here? I upload my website with the free Wi-Fi, and head inside to the lobby on this rainy Labor Day. There's a handful of hikers here, and another dozen or two at the attached restaurant and two small convenience stores waiting out the inclement weather. I contact Abear, and soon find myself at Bonanza Jellybean's party at family friends condo nearby. I haven't eaten anything other than a couple oatmeal packets in the rain this morning, and there's food everywhere. Evening approaches, and the place fills with more hikers and a handful of her friends from nearby Seattle. We stare outside at the deluge of rain falling, and make a toast—"Rain Sucks". I easily down more food, with fresh pizzas being made on the countertop coming out of the oven every half hour, than anyone else. Dessert is passed around, and I have cake stuffed in my face. What should have taken a few seconds to finish takes several minutes. I struggle to complete my yo-yo hike from the couch to kitchen counter and back, and sit here in distress. after my almost 10,000 calorie dinner, I head upstairs to bed way too late, and hope for better weather tomorrow.
---
Trail Grizzly returned from a doctor's visit one day & told his wife and trail
partner, TrailDust, that the doctor said he only had 24 hours to live.

Wiping away her tears, he asked her to make love with him. Of course she agreed
& they made passionate love.

Six hours later, Grizzly went to her again, & said, 'Honey, now I only have 18
hours left to live. Maybe we could make love again?' TrailDust agreed & again
they made love.

Later, Grizzly was getting into bed when he realized he now had only 8 hours of
life left. He touched TrailDust's shoulder & said, 'Honey? Please? Just one more
time before I die.'

She agreed, then afterward she rolled over & fell asleep. Grizzly, however,
heard the clock ticking in his head, & he tossed & turned until he was down to
only four more hours.

He tapped his wife on the shoulder to wake her up. 'Honey, I only have 4 hours
left! Could we...?'

His wife sat up abruptly, turned to him & said, 'Listen Grizzly, I'm not being
funny..............but I have to get up in the morning & you don't.'

Later, Switchback
---
I gaze out the window at the bright sun casting its warm rays on me, and pack up my gear. BJ, Abear, Nightstranger, and I get a ride back to the Lodge, and I sit here in the lobby typing away. I superglued a small crack under the crease of my small toe, born from hiking seventy miles in the rain the last few days. I haven't tried this before, always being able to fix the foot issue before it becomes this troublesome. It's 3pm, and still haven't left yet, as I catch up on emails and journaling, and resting my feet. Despite the heavy, soaking rains that have fallen, there is still a fire closure immediately north of here. The trail passes through old growth forests, and some stumps may still be burning from the inside. Avo, who I last met in South Lake Tahoe, has an alternate to the Forest Service's reroute (supposed to avoid mine tailing tainted water and rough trail), and most of us are taking that. As I gaze at the sunny skies, and my phone/PDA reaches a full charge, I slowly amble my way out of the area. I glance over to the small Forest Service Ranger Station, and see the fire danger has gone from high to low last night; duh. It's been quite dry until the recent rains. I cross under Interstate 90, and climb up to Snow Lake. I pass dozens of dayhikers on the popular trail, and some ask me if I'm "heading out overnight"? I reply with a quick "Yeah, for a couple days", not wanting to get into a conversation with fifty different people. I follow another trail, overgrown and full of well hidden rocks, that dives over fifteen hundred feet to the Middle Fork of the Snoqualmie River. I listen to the occasional chirp of pikas as I cross several talus slopes with sharp, pointy, and slick rocks trying to throw me around. I step on a wet root and dive to the ground, unable to see the trail through the well hidden, camouflaged heavy undergrowth. I end my short day several miles later down near the River, relieved I wasn't headed through here in the rain yesterday.
I'm awaken at 3am by a rustling noise coming from my food bag. I loudly bang on it, and hear the mouse quickly scurry away. I tie the bag to my trekking pole holding up my tent, and try to fall asleep again with a light rain falling. Most of the ground is covered in a thick carpet of moss from the frequent rains that pelt this part of the valley. There are logs and branches piled fifteen feet high in some small creekbeds from the flash floods that ravage the area on occasion. A couple PCT markers are grown into the trees from back when this was the old Trail. I glance up at the new snow dusting the high peaks, and reach Dutch Miller Gap in a brief rainshower and begin the long descent back to the PCT. I stop for a lengthy break and check out the repair job I did to my foot. Is it infected, or turned some funky color? It doesn't hurt, although I have a high threshold for pain. I can't envision this thing healing while I'm hiking twenty five to thirty miles a day, and wonder if I'll need to take a few, or maybe more, days off near Stevens Pass tomorrow. A small, deep cut like this on my finger would take forever to heal. I regain the Trail after the almost twenty seven mile detour, and finish my day after the twenty six hundred foot climb to Cathedral Pass at dark. The clouds have let up some, but the threat of rain—probably snow up here—remains. With 199 miles to go, it's time to figure out a finish date. I take my phone out of flight mode, and... wow, I actually have cellphone service up here. I can see dozens of miles in almost every direction, and not a single light, or road. I send off a quick email from the middle of nowhere to the PCT-L email list to see who from northern Washington is attending the ALDHA Gathering near Mt. Hood—and can give me a ride. I attended last year, and met the Triple Crowners getting their awards I saw on the CDT a year earlier.
I hear the crash of the creek far below me, the quick chirp of pikas, and the click of crickets as I stop for a mid morning break.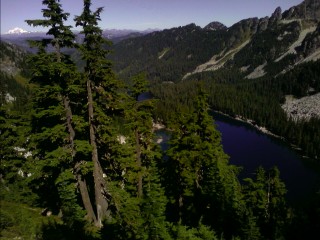 Glacier Peak on the distant horizon

A fighter jet buzzes far below me as I top Trap Pass, and gaze upon the mammoth Glacier Peak for the first time. I continue to munch on blueberries that dot either side of the trail, and suddenly, as I trek along, I hear an explosion of noise right next to me as a large dark colored object darts away. The ruffed or brown grouse are a common sight, and I've adapted to their loud rustling of their wings close by as they suddenly fly away. This one was less than two feet from me, and I let out a loud shriek. I finish my day on a high ridge at the top of the Stevens Pass Ski Area as the sun bathes the surrounding peaks a brilliant orange glow.



Tomorrow's plan is to hike down to the Pass and hitch a ride to the Dinsmore's.

Stevens Pass / Skykomish / Dinsmore's - Baring, WA
Ok, I'm in Baring, at the small store, and... is that trail angel Jerry Dinsmore? I join him for breakfast in the tiny eatery, listen to a State Food Inspector behind me interview the owner on their annual rounds, and watch locals pick up their mail at the tiny post office.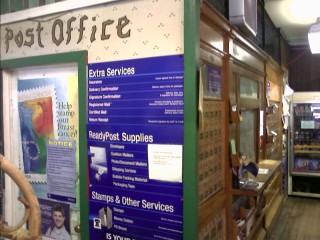 Baring PO

Soon Sugar Moma, traveling up the trail by car as her knee heals, picks me up for a ride to Monroe fifty miles away for some grocery shopping. Vagisil, Blackfoot, and Bams are in the truck, and we do a bit of everything. We terrorize the place, spreading our strong, odorous athletic scents across town. There's grocery shopping to get me to Stehekin, a couple fast food joints, some need ATMs, and Blackfoot needs a sports store for a cheap pair of shoes. "HEY VAGISIL!" screams Blackfoot at the sports store. The cashier blushes, not knowing anything about trailnames, the store manager gives him a funny look, and the store customers bow their heads and smirk. "Vag", as we call him, got his name from another hiker seeing the product in his first aid kit. It apparently works well for chafing issues, which is common when hiking twenty to thirty miles a day. We drive through the small town of Skykomish, where large buildings are jacked up off the ground while oil contaminated soils from the railroad back in the day are removed. Over half the town is literally raised, the soils replaced, and the buildings dropped onto their new foundations. We return to the Dinsmore's for an evening barbeque, I eat my several frozen dinners from the last grocery store I'll see on the trail, and eventually end my day.

E-blanket and I hitch a ride back up to Stevens Pass, and start the long day under blue skies. I catch a quick glimpse of Mt. Baker to the north, barely poking above the horizon as Glacier Peak looms ever closer. We end the day at dusk at Pass Creek, eager to enter the Glacier Peak Wilderness.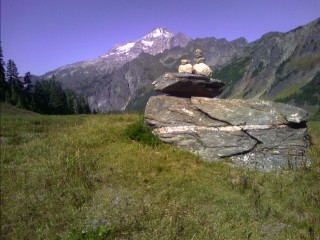 Glacier Peak

There's a long climb we follow this morning that takes us over and along ridgelines, down into deep valleys, and ever closer to Glacier Peak. The open meadows have exploded into a kaleidoscope of fall foliage that dazzles our eyes as we work our way north. Climbing up to a saddle above timberline, Mt. Rainer suddenly pokes above the southern horizon, a distant white object barely discernable through the hazy sky. The trail drops considerably as it ducks back into the trees and follows a creek that quickly drops away into the abyss below. The swift moving creeks in the area are milky white or dirty brown. The color comes from the silt choked glaciers that blanket the colossal peak looming above. The trail takes a sudden turn away from the creek and climbs straight up a ridge to near treeline. I reach camp, which used to be a designated camp complete with privy. The privy's gone, and the camp is littered with blowdowns, a victim of the massive floods that ravaged the area in 2003 and 2005. The bridges crossed this afternoon were rebuilt in the last couple years, and many of the blowdowns strung across the trail have been cleared recently. I'm drenched in sweat from the steep climb that took us from near the valley floor to almost treeline. The six of us change into dry clothes and busily set up camp scattered around the downed trees as sunset comes and goes.

There is heavy fog this morning as we wake up to wet sleeping bags and gear. The campsite, called excellent in the Data Book, was a mess, with a small somewhat flat camping area. Being thrus, we all managed to fit just fine. Few of us slept well, and I'm up this morning with a sore throat. We pack up for what is supposed to be some of the most spectacular part of the PCT, but there's less than fifty yards of visibility.

The morning is spent on a death march through high humidity and dense fog climbing up to Fire Creek Pass. The hulking Glacier Peak, which should be directly above us, is nowhere to be seen. There's a small trail crew building new tread to replace the parts that disappeared in the floods several years ago, while the trail near Milk Creek disappears into overgrown meadows as we continue along the 'closed' trail. There are a few peeks of the sun later in the day as pockets of blue sky emerge from the thick white blanket. There's a long three thousand foot descent to the valley below, which is littered with large, old growth trees the size of busses blown across the trail from the wind and rains that pound the area.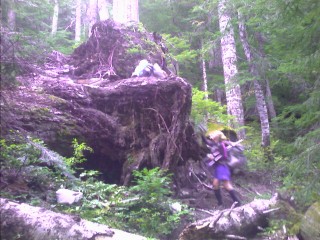 The world's largest jungle gym

We crawl over, under, around, and through the roughly 188 blowdowns (Blackfoot counted all of them) we encounter on our way to the Suiattle River. The going is rough, and our pace slows considerably during the laborious ordeal. The rush of water is heard as we near the Suiattle River, which is the largest body of flowing water we cross without a bridge. The bridge was washed out during the floods several years ago, and will take an engineering feat to rebuild without getting washed away in the next few years. I fill up my water bottles at a small spring (or drink the river's milky grey white glacial meltwater) and head over to a downed log spanning the river that drains much of Glacier Peak. Most have crossed already, and my turn is up. I glance down briefly at the fast moving, churning, bone chilling waters, ready to swallow me at a moments notice.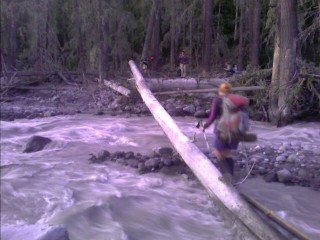 E-Blanket crossing the Suiattle River

I get on the small, narrow log and focus intently at its surface. As I step forward, I hear the roar of the waters just below me, and avoid looking at the splashing waves underneath. There's a bounce in the log as I get halfway, and I briefly stop to cautiously regain my balance. I try not to think about anything but my next step—not the shore, the brown, rushing waters beneath, or the dull sound of the boulders under the water's surface rolling below. As the girth of the downed tree trunk grows, a breathe a sigh of relief and reach the end. We share high fives, and grow wide smiles at our ordeal, very relieved to be on the other side after hearing about this crossing for months. We finish today at a nearby campsite as darkness approaches, ready to reach town after tomorrow.

Two days and two hundred and eighteen blowdowns later, we climb the three thousand feet to Suiattle Pass, take a break, and review notes about Steheiken. I notice a sentence about all-you-can-eat meals at the small lodge near town, and the decision is made to do twenty six miles today to town. The descent takes what seems forever as it follows the valley to the bottom and enters North Cascades National Park. We reach the small gravel road, and patiently wait for the Park Service bus to arrive.

Stehekin, WA
I see Hatman and Happy Feet arrive (I passed them a couple hours ago) as we wait for the bus, and realize we had met each other on our A.T. hike twelve years ago near Irwin, Tennessee! We stop at the Lodge, but the restaurant manager sees over a half dozen hikers ready to terrorize the AYCE buffet, and politely informs us they're not taking any more reservations this evening. We head to the Landing on Lake Chelan, and... wow, there's another dozen hikers here! We put in our reservation for dinner, and the twenty of us gather out on the deck for some adult beverages. An hour later, we're called in, and the ten of us are seated. After twenty five mile days through some of the toughest trail, we are all absolutely ravenous. The other ten, who were seated almost a hour ago, pass over a couple plates with some scraps, and we 'fight' over it like an angry pack of wolves. The restaurant employees stare at us, breaking out in laughter as they express their mirth at our rivetingly obnoxious behavior. After my $26 Hiker Special—a gigantic portion of beef medallions, mashed potatoes, and green beans (I'll post pictures of this evening's great events when we all start sharing photos later this month)—we stumble back outside and gather around a couple picnic tables, and I quickly become tired by today's fun filled activities.

Shower, do laundry, have breakfast, sit on a picnic table and type journals while my mobile device/PDA charges, listening to the laughter of hikers nearby. I do other chores while I wait a hour or so to pick up my maildrop from the post office, which had to be brought in from another building, and get a ride to the bakery. Scratcher picked up his—sent Express—with $93 in postage. There's half a dozen of us here now, relaxing under the bright sunshine, enjoying jalapeno pizzas, chicken pockets, and ice cream. Some don't have a maildrop in town, and end up resupplying from the bakery—at a cost of between $60 and $80.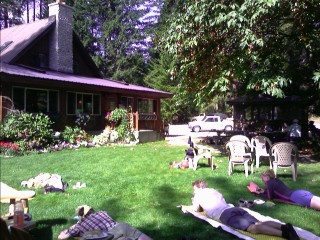 Relaxing at the Stehekin Bakery

The Park Service bus arrives a little after 2pm, and we load up for the five mile ride back to the trail. Usually, us thru-hikers are the healthiest, fittest, and most free individuals to be found anywhere. During a town stop, we're some of the dumbest, laziest, and most uncoordinated people around. We're definitely the latter right now. We hop off the bus and slowly lumber the twenty feet to some benches. There are no smiles, no eagerness, or anxiety to get back on the trail; we're taking a break. Alright, time to get serious—let's get outta here! Almost an hour later, we throw on our heavy packs, complete with too much food and other exciting things for the Border. The eight miles we do today seems to take forever. Camp is reached at the very reasonable hour of seven, and we end our eight mile day.

It's mid September, and I have yet to see any real cold spells—outside of the Sierras at least. There were a couple mornings of frost in Oregon near Mt. Thielsen, and that's all I can think of. This morning is pleasant, and I'm up a little before 7am.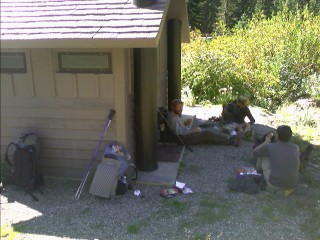 You know you're a thru-hiker when you enjoy resting in the shade next to an outhouse

We all mosey out of camp before 8am, and climb the 4,300 feet to Cutthroat Pass. Almost half the climb is from Rainy Pass, and Man Down leads us on a three plus mile an hour pace dubbed Death March 2000 to the top.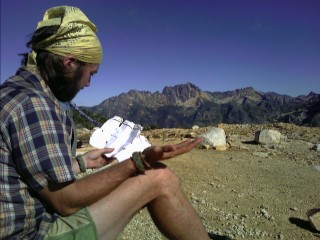 Blackfoot trying to read his tattered Data Book pages atop Cutthroat Pass

We take a break, with sweeping vistas to the north, and descend to camp—and pass the 2,600 mile mark—ten miles later.

So today is the last 25 miler. Wow, it's really hard to believe I've walked here from the Mexican Border. My goal was to hit Canada on the 22nd or 23rd of September, hitch or find a ride to Seattle, and get a ride I have lined up to the ALDHA Gathering a week from today.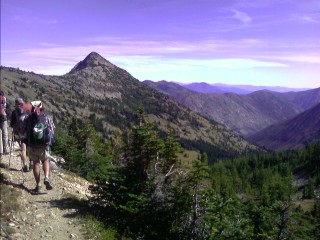 There's a big, mad push to finish by the 19th, and I've gotten sucked in. The twenty five plus mile days with all the ups and downs since the Dinsmore's have sucked much of the life out of me. I was hoping to enjoy this stretch more; watching for wildlife, enjoying the endless vistas, and just—taking my time. Instead it's a three mile an hour pace all day, every day. Leave at sunrise, finish at dusk. It's starting to wear on me, and I can feel my body deteriorating little by little each day. This isn't what I had planned. On the other hand, the thought of finishing my Triple Crown by myself, or with a few hikers I've never met before wouldn't be so much fun. I have some idea of who's behind, but not where they are. Maybe they're in that supposed pack of fifty or more hikers back near Snoqualmie. Oh well, it looks like I'm going to have to suck it up, and stop complaining—to Canada tomorrow! As usual lately, we finish at dusk, passing our last road crossing in the U.S. this afternoon at Harts Pass. Pasta Alfredo and Sailor pass us, who are hiking southbound from the Border back to Harts Pass to see what hikers are behind them. The lush, green forests and peaks have been replaced with drier brown mountains as we traverse the rainshadow on the leeward slopes of the Cascades. The temperatures are starting to feel more fall-like today, and everyone dives into their bags a little before 9pm.

I'm awaken by the pitter patter of rain on my face as the early morning sky adds a dull glow to the forest. What time is it? I glance at my watch, and see it's a little before 6am. As tempted as I am to set up my tent, I busily pack up my camp and yell at everyone else. "6am, time to get up!" I hear rustling inside tents, and someone over there is even setting up his shelter after cowboy camping last night. It's still too dark to see anything other than what's on my white groundcloth, but if we want to reach the Border at a reasonable time, we need to get moving now. I hear section hiker Wings busily getting her belongings together, and soon Luigi and Colorblind arrive. The rain starts to fall a little harder, and soon everyone is packing up. We head out at 7am in some light rain, and climb up to Holman Pass and beyond, soon reaching timberline. Man Down and I reach Mike and Naomi and we top Woody Pass. The fog suddenly lifts, and we can see the nearby peaks across the valley. There is a sudden surge of wind and rain as I top the highest point I've been at in days at 7,100ft. The three thousand foot descent begins, and we soon reach the protection of dense treecover. A few of us stop for a few minutes at Castle Pass waiting for others to arrive, and we continue on the last two miles. Hearts start racing, and wide smiles start to appear. As we descend the last few switchbacks, we hear the cheers and laughter below as Vulturedeath and Magic cross the finish line. It's just before 2pm on September 19th, and we're about to finish our twenty miles. The rest of us tense up and round the last switchback. I see the swarm of 2,600 Milers ahead, and can't believe my eyes. This is it. The crowd cheers as I approach, and I walk through the mass of people. I step across the grey metal post that marks the actual border and break out in the widest smile. I've done it—CANADA!!