Back to Northern Oregon
Southern Washington - Bridge of the Gods to Snoqualmie Pass
I reach the end of the bridge, suffering vertigo from staring at the waters far below me through the steel grated road deck. A vendor at a fresh fruit stand at the corner gives me a couple plums as he packs up at almost 6pm, and I step off the highway and begin the 5,000 feet of climbing over the next two days.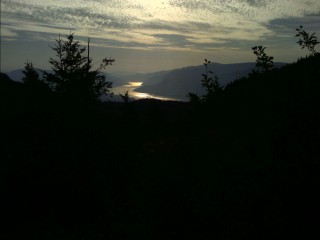 High above the Columbia

There's the distant buzz of a chainsaw somewhere off in the distance as I top a 3,400ft ridge. As dusk comes and goes, I continue on in the dark, with an occasional shimmer of light from the half moon casting its infrequent dull glow through the heavy timber. I come across Peanut Eater at his camp, and soon hear the faint rush of water coming from a spring somewhere below me. There's a tent set up in a small campsite, and I ask who's there. "Hey, it's Disco." I hear coming from behind the thin walled tent. I shuffle around the area, looking for a flat spot, and throw down my groundcloth.

After yesterday's ten mile day, today will be a little more than a measly twenty to get me out to the highway. I packed enough food to get me to Trout Lake if for some reason I don't attend the Pacific Crest Trail Days, and I feel the pain. The extra weight in my pack makes the long climbs in the heat not so pleasant. I also have decent raingear and another layer of clothing if it ever gets cold out, with nights being in the 50s recently. I've never used the raingear I have already, except as an extra sleeping layer in the Sierras a couple times, which crunches down to the size of a sodapop can. I see Disco midday at the first water source since camp. He gave me a half quart of water he was about to discard this morning, so I didn't need to head down the steep, rocky trail to the spring. The small amount was just enough to get me the over ten miles to Rock Creek. After three rides starting from near the Panther Creek Campground, I find myself at the north end of the Bridge of the Gods. The fruitstand guy gives me two pears this time, and I stare again at the waters far below me through the metal grate road deck on my way back to Oregon.

Pacific Crest Trail Day - Cascade Locks, OR
Alright, I'm back in this town again. I head over to the pub to see who's in. I meet Jug and Scarlet, who I last saw at The Kickoff back in late April (I saw them briefly on the CDT heading southbound in 2007 on their separate hikes), and eventually work my way down to the Marine Park campground and Thunder Island under dark skies. There's several hikers gathered around a picnic table, and Buddha, Dash (the two of us (and another hiker) were selected for the Trail Jeopardy game back at The Kickoff), Sugar Moma, and I all toast to getting the #@%& out of Oregon.

There are dull, gray clouds hanging above this morning as I gaze skyward from my sleeping bag after staying up too late. I start to feel the cold drizzle of rain on my face, and quickly break camp. I wander up to town with Sugar Moma, who is off trail with knee issues, and I Spy and Booty (the two were several days ahead of me and came in for the event), and we find some lunch.



Things are starting to happen on the Island when I return. I head across the pedestrian bridge to Thunder Island where the vendor booths are set up, people are starting to congregate and set up tents, and a band is about to play. There is a raffle later on, and I'm the lucky winner of the first two items; a headlamp and a hat. Evening rolls around, and a hilarious movie on thru-hiking is shown. I eventually stumble back to my tent, and end another day.

I'm glad I attended PCTA's Trail Days. I was so close to the event—only two days ahead—and I wanted to see which hikers I haven't seen in months who were behind. Wanka was here, along with Smasher, who I last saw way back in Mt. Laguna on the third day. I wish everyone I was hiking with wasn't in a hurry to push on. Many skipped the event, not wanting to deal with the logistics of hitching back to the event, or taking an extra Zero (day off). Oregon was another spectacular state, with the level trail wrapping around ridgelines, past many ponds, near great towns, and around beautiful peaks. I've taken 6 zeros to enjoy the towns since Ashland, and it's time to move on. After breakfast, Adrian gives Basil and I a ride back to where we each left off, and I'm soon back in Washington again. I'm back near the campground at the crack of noon, and at the end of the day as sunset arrives, I see a note for trail magic. I follow the voices I hear nearby, and wander over to the campground. Man Down and Sugar Moma are sitting around a camp table filled with food.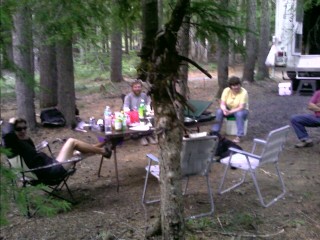 A Trail Magic Dinner!

Our hosts, the Lee's, offer me a couple leftover hot dogs, and cook up an egg burrito. As tempted as I am to spend the night, I've been a bit slow and lazy recently with a zero day and a ten miler. I need to go on. Darkness soon approaches, and I start looking for a place to camp. I see a headlamp ahead, and find Scholar and Chuck settled in and join them.

Hmmm, today... what happened? Well, no views, I had a small yellow bird with a quick chirp and a broken wing hop across the trail in front of me, I wore shorts for the entire day for the first time. Southern and Northern California were too sunny, Central CA was too buggy, and by the time I hit Oregon, it was habit. The climbs and lack of wind are making me sweat like a pig, so I zipped off the legs and threw them in the pack.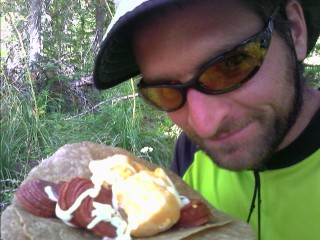 Pepperoni and cheese—a super colon blow burrito

I probably won't put them back on the convertible shorts for a while. I actually saw a rare peek of Mt. Adams, a quick glimpse of Mt. Rainier, but it's mostly heavy treecover. Soon, I know there will be a dramatic change. A change when I reach the heart of the Cascades, with steep climbs, endless views, the famous Northwest rains, and Canada! I leave Old Man (she's twenty nine years old), Man Down, and Munchie behind and finish my thirty mile day at the road to Trout Creek. I have a resupply box I need to pick up tomorrow—which no one else has—and the hitch into town on the seldom traveled road could take some time.

It's seven thirty in the morning on this first day of September when I sit beside the road looking for a ride into Trout Lake. Chuck joins me a little before 9am, and tells me Scholar found a ride yesterday afternoon from some huckleberry pickers after developing a foot injury, and will take some time off. It's 9:30 now, with only one car passing by in the last hour. At a quarter to eleven, I Suburban drives by, and it doesn't look promising. a few minutes later it passes by from the other direction. "You guys need a ride into town?" the driver blurts out, eyeing our packs. "You bet!" After over three hours, I'm finally headed into town for a resupply box—even though I already have three days of food still in my pack.

Trout Lake, WA
We thank the three that gave us the ride, who are out here picking huckleberries and mushrooms, and head to KJ's for lunch. I was in this town briefly once before—last year when I climbed and skied Mt. Adams in the spring. I pick up my resupply box at the post office, and spot Warner Springs Monty on the porch of the small grocery, along with Scholar, icing her ankle. I swap shoes with a lighter and larger pair from my box, and send the Hardrocks ahead in case I have any problems with the other pair I bought in South Lake Tahoe. My pack sits on the front porch, stuffed full with a ridiculous amount of food. After spending almost an entire day trying to get in and out of this place just to pick up a box, I'm going to blow off the idea of hitching to Packwood for resupply when I reach White Pass. If I mail a box there, I'll probably get there first. I add a two pound bag of figs and a rice dinner to the hiker box, and...ok, it's time to get outta here—no more goofing around. I start telling my story to tourists headed in and out of the small store, and in ten minutes, find myself headed up the long, winding road the fourteen miles back to the trail. Mark and Bethany are from Portland, and have always wanted to do some weeklong hikes on the PCT. By the time we get back to the trail, listening to my stories about adventure, grief, pain, and feat, they're psyched to spend half a summer, a chunk of their lives, section hiking the trail I'm so fortunate to be on from end to end. We share handshakes and hugs, and I stomp my way north at the crack of 4pm.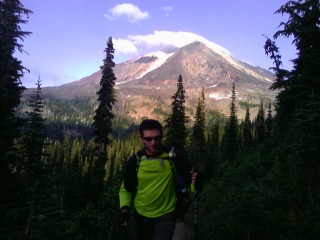 I finish my long climb up to the side of Mt. Adams and reach Kid and AM at the end of their long day. I head on until the sun disappears behind the low clouds clinging to the horizon, and finish my short day.

Last night I listened to the frequent gigantic crash of rockslides plummeting down Mt. Adams as the almost full moon cast its eerie glow on the tall peak above me.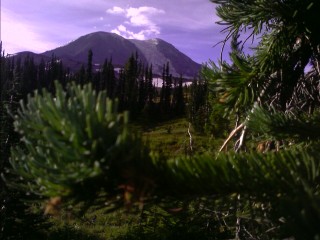 Mt. Adams, and Adams Glacier coming right down the middle

The glaciers and melting snow are busy churning the steep, rocky mountainsides, throwing scraps of rock out of their way. I brush off the frost from my zipper lock bag stuffsacks as I break camp, pull the garbage bag out from under my fleece top layer (makes a great "down" jacket), and soon duck back into the trees today as I head northward along the foot of the peak. There is an elk bugling in Walupt Valley below me (I have yet to see one on the trail) as I work my way up to Sheep Lake. I reach the lake at dusk, and not another soul is here. I've seen Warner Springs Monty, Night Stranger, Chuck, Vagisil, and Kid and AM today, and some are behind, some ahead. I head up to a pass as the moon casts its scattered light into the dark forest. I top the lofty saddle, and gaze at the jagged peaks that lie beyond glowing as the almost full moon shines brightly upon them. I find a flat spot on the open ridge, and throw down my groundcloth. An occasional stray cloud blots the bright moon as I stare at the night sky. There is no wind, just the roar of an eerie silence ringing in my ears. At 11pm, I feel the pitter patter of raindrops pelting my face, and throw up my tent. A few minutes later, the dull rumble of thunder on the distant horizon breaks the dead calm. The cacophonous roar grows in intensity as it moves ever closer with each passing minute. Suddenly, I see my tent flash a bright white as the storm cell nears, and start to count to myself. One one thousand... two one thousand... three—Kaboom! One one thousand—Kaboom! One—Kaboom! I'd hear strong winds loudly crashing through the nearby trees as heavy rain pounds my tent. As one storm moved out, there was ten minutes of silence, maybe even some clearing and a peek of the moon. Soon, I'd hear the distant echo of the next cell barreling straight towards me. My heart would pound as it neared. Is this one going to fry me? Will I end up as a cooked meal for some coyote or mountain lion in the morning? Do I want to try and fall asleep when the cell passes, or be ready to get into the lightning position if my hair stands on end, or my aluminum trekking poles holding up my tent start buzzing? A half dozen or so of these thunderstorm cells pass directly above, and after two strokes of lightning pass within two hundred feet of me, I finally listen to them fade into the darkness for the last time.

Thunderstorms in Washington in September? Definitely not an afternoon or late evening thundershower. Is it a cold front? Am I going to be blasted with frigid nights in the next day or so? Chuck passes me as I break camp, and we're all smiles as we talk about last night's weather. I head over Cispus Pass, and the trees are dripping water like a wet sponge. It's not raining, but the moisture from the fog is being wrung out onto the cold trees. I soon come across Kid, who put the rainfly on the tent as a bolt dove to the ground in front of the moon. They were camped with Warner Springs Monty on a lofty bench with only scattered trees. Their tent almost shook from the close encounters with powerful bolts. I pass over a snowfield, and reach the edge of a cliff. The clouds are racing over the ridge, curling around like a load of laundry as it dives over the turbulent leeward edge.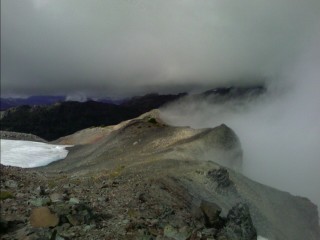 I follow a knife edge ridge, with the narrow, trail twisting around pinnacles as the heavy fog races over the high ridge. I get blown around like a cork in rough seas as I follow the nearly invisible trail. The sky occasionally opens up to reveal glaciers set in deep cirques, and water crashing down the terrain below. I throw my rainjacket on for the next few miles—which I've been carrying since the Mexican Border—for the first time hiking, to protect me from the frigid 37° winds howling by. Despite the weather, the Goat Rocks Wilderness was still spectacular. I reach White Pass at the end of the day, and see the 38s, Munchie, and Abear and Bonanza Jellybean... I haven't seen the two of you in ages! The small gas station convenience store has slim pickings, which is why my stupid pack still has a ton of food in it. Most are opening resupply boxes mailed to the store, and I get several mashed potato meals from others before they end up in the hiker box. I head over to the small freezer, and find a gigantic Costco frozen lasagna dinner. I toss in in the microwave for the next twenty minutes while I plug in my phone, buy a few junk food items, and talk to others. Kid and AM ask me if I have any dirty items, and we throw in a quick load of laundry before the store closes in an hour. The churning water looks more like a thick, dark brown science experiment than a load of laundry. The two tell me about the sixty or so mountain goats they saw soon before the thunderstorms erupted. I head out back to the trail and continue until a bit after dark. The popular section of trail is quite beat up, several feet wide in places as people and pack animals walk around the rocks.

Here we go again—set up the tent at 1am as the rain starts, and go back to sleep; with elk still bugling at this early morning hour. The weather's been perfect the last couple days; mid 60s, no bright sun baking me on the climbs, and the rain stops when I get up in the morning. The rain has kept the small water sources from drying up, and the trail doesn't throw up inordinate amounts of dust with each footstep that turns my feet into hamburger meat. I trek through rolling terrain and plenty of treecover, past many ponds, and over a creek.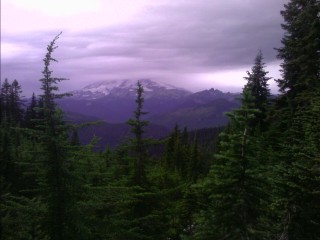 Mt. Rainer

As late afternoon arrives, I reach the Mt. Rainer National Park boundary. I glance at a sign telling me there's a $500 fine or 6 months in jail for injuring any shrub or living thing. A few hours later, I've swatted enough mosquitoes and picked enough huckleberries to put me away for a long time. I skirt the edge of the park for several miles, and fill up my water Bottle at Dewey Lake. Darkness is approaching fast, and I soon reach a saddle, with clouds blotting out the bright moon. I start looking for a place to camp as the trail traverses along the steep mountainside, and I see cars heading along the road far below. I reach Chinook Pass, and the occasional raindrop has become more steady. I set up camp in the dark in a flat, open field, and the rain suddenly grows in intensity as I zip my tent shut. Perfect.

I hear the pitter patter of rain on my tent as I wake up, and slowly break camp. I don raingear for the first time, and trek across the highway on the footbridge. My umbrella works well for the first several hours until the wind picks up as I climb to higher elevations. The rain is moderate at times as I glance across the surrounding valleys, with the low clouds slung across the hillsides far below.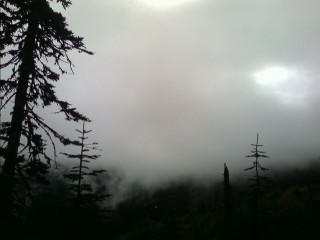 Trees are shrouded in a white veil passing through the fog covered terrain. There's a few hunters out today for bow hunting season, trying to stay dry in the cold weather. I reach Government Meadows Cabin late in the afternoon, after an almost four mile an hour pace with Kid and AM, which was built by a local snowmobile club. There's a woodburning stove, the loft, a couple benches, and plenty of hooks to hang up and dry stuff out. The trail just behind has been shredded by ATVs recently, forming ruts and making it as wide as a road in places. Kid and AM, Vagisil, and I meet Man Down inside, with a wide smile on his face.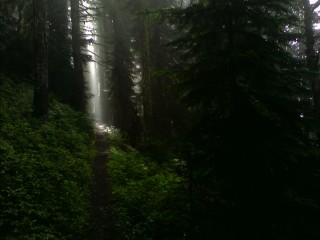 Warm and dry, he throws some more small logs he's gathered in the stove. The sound of rain hitting the roof grows in intensity as we busily set up camp on the floor and make dinner. There are soon tents hanging from the rafters, damp sleeping bags, raingear, and plenty of wet socks vying for space as we struggle to dry out. I peer out the open door across the meadows, and spot several elk lazily grazing a quarter mile away. I see elk all the time at home, and this has been the first time I've seen them on the trail. We had just been talking about them only a few minutes ago, with many anxious to see their first sighting. Night Stranger soon arrives, and we soon dive into our bags as 9pm, or hiker midnight, arrives.

My wet clothing is now dry after a warm, pleasant night. We listen with wide smiles to the loud crash of rain on the metal roof above us early this morning. There are small peeks of blue sky above, and we all peel out at different times from our "hut" trip. A little before 11am, the rain starts again, and I see Man Down and Vagisil having lunch. We pass under the loud roaring hum of powerlines feeding Seattle, and climb up to another ridge. There are huckleberries everywhere, both sides of the trail, neck high, full of the small dark blue fruits. Despite the rain, we busily munch on them for several miles. We finish our thirty mile day in a meadow with the faint whine of Interstate 90 off in the distance somewhere. The rains briefly let up as we set up camp, and my hands are pruned and numb from the day long wet assault. I have a pair of fleece gloves, and a rubber pair of dishwashing gloves I picked up in Cascade locks. I never really need to deal with rain on my frequent backcountry excursions in Colorado, and the last few days have been different. My gear is doing the job, and other than my pruned, worn feet, I could do this for days.

Ok, maybe not for days. I struggle to throw everything together before it gains weight from the constant attack of being pelted by the moderate rains falling on me. I get moving a bit before 8am and trek the fifteen miles to the Pass, where Bonanza Jellybean is celebrating her birthday this evening. Now I'm motivated. I reach Snoqualmie Pass, and head over to Summit Lodge.

Continue to Northern Washington