Back to Washington
Canadian Border to Bella Bella, British Columbia
I gaze out across the sea to a golden landscape bathed in morning sun on this thirteenth of May. There's a harbor seal's head poked just above the water's surface, it's beady eyes curiously staring at me. I glance down at where there was once water, and look at the intertidal zone I need to get across. There's nothing but sharp, pointy rocks between my boat and the water. I try tying some line between the bow and stern carry handles, and slinging it over my shoulder. I almost kill myself walking over the uneven, slippery rocks—worthless. I try inching the boat towards the water, cringing as I listen to the squeal and screech of the gelcoat bottom as it scrapes against the jagged rocks. Low tides in the morning are the norm right now, and getting the boat down to the water will be a daily struggle. My wrist is sore again from the ordeal, but after a game of tug-o-war, I eventually get it into the water. I make an early morning crossing of Boundary Pass (elev:0ft MSL) to South Pender Island, BC. Unlike past days, there is very little noise out here—no buzz of boats, no noisy waves crashing over my bow, and no dull hum of passing ships quietly roaring through the channel. I enter Bedwell Harbor, with a small hotel and cafe behind the manicured lawn, and a Canadian Customs Station. I pick up one of the phones mounted to the side of the unmanned station and speak to an Officer. I'm asked the usual questions, and he pauses a few times—a bit stunned with my entry into the Country via kayak. Am I carrying over $100,000? I wish I was; I'd have much nicer gear. Drugs, weapons, fresh fruit? Alcohol or tobacco? I'm given an entry and boat registration number, and head out to the morning's calm water. I round the island, dotted with homes, a sea cave lined with crabs, and a brightly colored kaleidoscope of red, white, and purple starfish.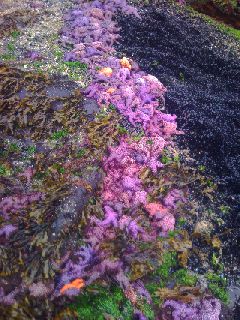 starfish

I finish my day on Prevost Island at the end of James Bay. I set up camp near waters edge at the end of a cow pasture and listen to the noisy chatter of Canada Geese as dusk sets in. It's half past nine, with enough ambient light to walk around without a headlamp. In a little over a month, during the longest days of the year, I'll be in Alaska, where the sun will set later, and light will disappear after 11pm.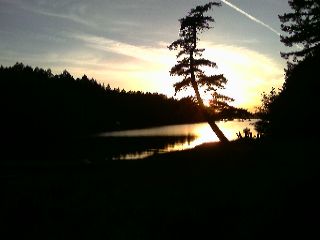 Sunset from Prevost Island
I head out and hug the rocky shore as I paddle against the current. I reach the tip of Prevost Island and watch water pour around a partially exposed rock like it's a class II river. I ferry into the eddy, and cross Captain Passage. There is no wind, and the water is calm. I gaze at the reflection of the land clearly visible off the smooth, cool waters. A raccoon keeps a close eye on me as I paddle close to the shore. Soon a sea otter disappears from sight as I near. Wallace Island comes into view this afternoon, and I stop at the Provincial Park for water. There's a few sailboats tied up on the small dock, and several individuals gathered around a picnic table. There's food and beer, and everyone's wearing short sleeved shirts. Shirts? Gee, wish I could do that. I'm stuck in this godawful drysuit, wet gloves and socks on a sunny day in the 60s. It's not comfortable, but one has to dress for the water temperature, which is in the 40s or 50s. If a sudden storm hits, or something happens and my boat goes upside down, I could be I trouble pretty quick. Even if I was wearing modern synthetics, I'd gain twenty pounds if I went into the drink. What happens if my eskimo roll fails, and it takes longer than it should to get back in the boat? Odds of survival in these waters without the drysuit for more than a half hour aren't good. I hike out to the hand pump along the island and dump a few gallons on me to cool off and rinse the salt clung to my clothing like saran wrap stuck to a wet window. I pass a few of the old remaining homestead cabins, with one standing out in particular. Sailors have left the names of their boats behind—ornately carved on old wooden paddles or driftwood.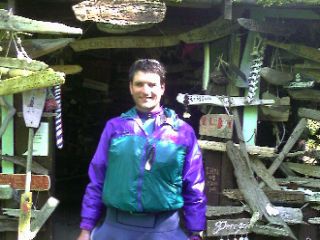 A bald eagle flies low over my head and tries unsuccessfully to grab prey from the sea with its sharp talons. I finish the day near Valdes Island and haul my gear up to a flat spot.

At mid morning I pass through False Narrows, a thin ribbon of water squeezed between two islands on the east side of Vancouver Island. I arrive a little after slack tide and ride the current running at four knots out towards Nanaimo. I wasn't able to find any tide and chart tables in either Port Townsend or Friday Harbor. They were almost all for Puget Sound, or were the size of a coffee table atlas. No thanks. I glance at the bull kelp wavering back and fourth just under the surface to tell me current speed and direction. Tides? They'll be high when I get to camp, and low when I take off in the morning. If I paddle against the current, I'll hug the shore. The Ctide program on my PDA will show me tide data at dozens of points along my route, but the complex number crunching drains precious battery life. The channels don't constrict until I reach the northern end of the Strait of Georgia near Powell River. I'll find current tables there. Ahead of me, rocketing out of Dodd Narrows, is a tugboat. As it leaves the narrows, it wildly rolls back and fourth, comes to a complete stop, and slowly heads towards the wood mill in Nanaimo. I look at the churning waters just ahead that sent the tug into a tailspin. The currents scream close to ten miles an hour, and drain into the open waters. At the line of convergence are the swirling, bubbling whirlpools. I decide to paddle through the exciting waters and let the currents toss me toward Nanaimo. I look at the city looming to my left, with it's high rise condos, and sunlight sparkling off the thousands of homes that dot the horizon. Ok, I'm not stopping; I'm intimidated. It's a mile to the harbor, then I need to figure out what to do with the boat. How far is the grocery for resupply? Am I going to try and find a shower and laundry too? The skies have grown cloudy, and the air has cooled to something better for paddling. The Gulf Islands have come and gone, and I head for Newcastle Island for resupply. Tide is flooding in, but still low as I enter the long, shallow bay. There's a long walk on the slick granite to the beach if I tie the boat off somewhere, and it will bang against the rocks as the waters rise. Forget it. Going through my mental checklist of needed or not needed gear items, I've decided against a boat mounted compass; my hiking compass does the trick. If I'm not going to need it after this trip, and I don't absolutely need it, I'll do without. I have the declination/variance for each town as I head north in my PDA's spreadsheet, and so far has worked better than expected. It's off to Maude Island, and... is that a person? I meet a father and son camped on the small island near Schooner Cove. They've sailed their nine foot boat in from their home a couple miles away. I'm get the tour of the island, we watch some Canada geese and chicks gather near the water's edge off in the distance, and sit around a small campfire as the evening sky silently grows darker. It's still early season, and this is the first time I've seen other campers.

We depart our own ways late in the morning, and the wind has grown in intensity. I arrive in Schooner Cove and wait out the day until the headwinds settle for the five mile crossing of the Strait of Georgia. I pause to tell several inquisitive locals my story, and head into the tiny store for a sandwich. The cafe's Wi-Fi isn't working, and to keep my data plan from reaching seventy bucks this month, I'll wait until Powell River until I update my website. Today happens to be the once-a-year Boater Safety Sunday, and I find myself firing off an emergency flare, and my picture is taken for a local publication. Even though I'll be paddling around half of Vancouver Island, this will likely be the only time I set foot on it, with my route slipping me through the many narrow, snaking channels that wrap around the landmass. I depart late in the day as the winds calm, soon sneaking past a few other islands. I check the latest weather forecast on my VHF radio before the five mile crossing, and head towards Lasqueti Island. I'm startled by a loud whoosh to my right, and eye a couple sets of two whales coming up for air. Wow, the closest I've come to this was Shamu—quite a few days ago. With the dull, cloudy skies above, it's not easy to distinguish what type of whale I'm spotting. I look over as they slowly swim away, spotting the narrow profile of their dorsal fins slowly rise from the sea like a knife from its protected case. Miles from nowhere, the far shore gets ever so closer with each paddle stroke. An hour later, I see a small splash of white ahead of me. Soon, another one. A distant plume if spray jets upward. Semicircular shapes dive in and out of the dark waters. A black and white mass leaps out of the sea, and splashes down with great force. I'm not sure how many orcas I'm looking at, but the pod slowly splash their way to the north. I reach the east end of the Strait of Georgia and set up camp.

There is the dull crackle of thunder on the horizon this afternoon as I sit in the rainshadow of the seven thousand foot peaks thrusting skyward on Vancouver Island. There are patches of black sky to my west, as areas get pounded with rain. I gaze at the brightly colored starfish that dot the rocks and the dozens of harbor seals and sea lions I pass each day. A few bald eagles are playfully flying around and one gets tossed into the sea. It struggles to get in the air, heads for shore, and perches itself high on a rock to dry its wings.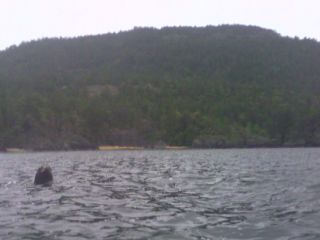 Harbor seal

The sky starts to drizzle out some light rain, and the temperature quickly drops as 8pm approaches. I hear another whoosh just off to my side—it's just a sea lion. My paddle strokes get longer and stronger. The cooler weather makes it easier to avoid working up a sweat, and I slide through the water faster. I reach the northwest end of Texada Island, beach the boat, and search for a level campsite. I tie the boat off to some large driftwood and carry my gear up the small hill. Mosquitoes quickly swarm me and attack the little bare skin I have exposed as I throw up my tent.

There is light rain, and wind throwing around the treetops on this dreary morning. I reach the tip of Texada Island and ask myself, do I want to make the five mile crossing? The waves are tolerable, the wind is within reason, and I check the marine forecast on my VHF radio one last time. There's a car and passenger ferry passing me every so often, and the occasional fishing boat motoring along. It's time to go. I throw on my fifty cent blaze orange PVC jacket from the thrift store in Port Townsend as the rain grows in intensity. Waves smash over the starboard side as I aim for what I hope is the marina entrance. The land gets closer with each passing hour. I reach the shore and struggle to round the corner into the protected harbor as the wind funnels around the point. I holler up to the harbormaster, not eager to come out into the foul conditions. "You can put it under the ramp" he shouts. Perfect. I unload what seems like an infinite amount of clothing, camping gear, food, water containers, repair kits, batteries and electric/solar chargers, maps, and a variety of other things from the bowels of the boat. I carry everything in two backpacks, with one slung over my chest. My hands are full with two more drybags, extra food, and a paddle. I crawl my way up to the ferry waiting room as the rain grows in intensity. Vehicles, mostly commercial, are lined up ready to board the incoming ferry. No one dares leave the comfort of their car to make the mad dash to the empty waiting room. Is this going to be another town stop where I'm worried about answering every email, updating Facebook status or my group page? Will I plunk down ten bucks for roaming charges to listen to all my voicemail messages. No. I'm done with all of that. It ruined my town stops. What should have been fun, was instead an inordinate amount of time spent on a computer. I'm not out here for that, and that's what this online journal is for. I already spend a good chunk of my free time during the day keeping it up to date—well, trying to. I still need to deal with the epic problem of battery issues. It's a constant struggle to have enough power to type journals and take photos each day, make and receive text messages and emails for couchsurfing contacts in towns along the way, and everything else these devices are capable of. I haven't even bothered to look at the Coast Pilots or Sailing Directions I have on here. They give me a mile-by-mile description of my travels—underwater obstacles, tide rips, water hazards, onshore information and the like. If I brought the books instead, I'd need a second kayak to carry it all. There's the other ten gigabytes of digital maps, descriptions of edible plants and seaweeds, wildlife identification, backups of printed maps, you name it. When I do have the chance to recharge, it takes at least four hours a battery. Quick stops suddenly become a problem. When I'm on the water for two weeks at a time in a few places, with nothing more than a tiny generator-run marine store in between, things could take a while. I have a dry bag dedicated to a Brunton solar panel, DC and AC plugs for the PDAs and VHF marine radio, and a cheap universal Li-ion battery charger I found on Ebay—needed because of the solar charger's (actually the sun's) uneven voltage.

Powell River, BC
I receive one last text message from Jamie, a Couchsurfing contact, on her way back from Texada Island with one of her three sons, Jade. She works at a local Starbucks, so we head up the hill and stop in. I'm introduced to several of her friends, and a few of us grab some lunch. I meet her other two kids, Alex and Desmond. The grim weather eases, and we all hike up the short climb to Valentine Hill. The Powell River pulp mill—once the world's largest—stares at us from below. I patch a hole in my UV weathered and well worn, still damp sprayskirt this evening, and I'm bruised and beat up by seven and four year old Desmond and Jade as they treat me like a punching bag or buckin' bronco.

After breakfast, Alex and Desmond are off to school, and as early afternoon sets in, we head downtown. I find the tide table I was looking for, resupply with ten days of groceries, and take the two out for lunch. We head down to the water, and I begin the lengthy task of repacking. I place my camping gear in the stern hatch, emergency supplies and repair kits in the bow, food fore and aft of the cockpit, and put a couple gallons of water wherever there's room. There's the spare paddle, bulky Croc boots I squish back into place, the still soaked wetsuit booties, a vinyl rainjacket I keep close by, and more odds and ends. As I wrestle with and don the still damp drysuit it starts to rain. I'm reminded about this evenings gale warning by some fishermen, push off, and say my last goodbyes to Jamie and Jade. The rain steadily increases in intensity, and the moderate winds hit me from every direction. A dark cloud envelops me as the sky grows angry. There is a steady downpour and I throw on the vinyl rainjacket. My watch reads 53 degrees as the wind heaves and howls at me, and I find a nearby beach in Hurtado Bay to camp. The sky opens up and the world turns dark. The waves that were hitting the nearby rocks are now hurling at them with great force. The violent crash of waves drowns out all the other sounds. I set up my tent on a not-so-even surface as the downpour stops and the winds subside. Carrying the boat up to the supratidal zone isn't an option. I just dragged it this time. If I tried to carry it, the sharp, slick rocks would have eaten me, and I'd probably mess up my wrist again. As camp is built, and I empty my drybags of clothing, the weather changes; the rain falls harder than before, and the wind blows even harder. As I begin to head around the north end of Vancouver Island, I'm going to see a lot more weather—more rain, more wind, more of everything but calm, clear conditions. This is only the beginning.

It's a little after six in the morning, and the violent roar of the wind drowns out everything. I have trouble hearing the weather forecast on my marine radio, and the crash of the fierce sea onto the rocky shore is barely discernible. It's early afternoon as I write this, and the weather is still the same. There's no hiking nearby, just a wall of impenetrable brambles standing guard, keeping me from poaching their domain. I gaze at list of places I've camped over the last three weeks, and this is the first time I haven't stayed on an island, other than a couple town stops. I walk along the rocky shore and notice a small, overgrown trail leading uphill. Oh, so there is a hiking trail, clearly signed a quarter mile up at a junction - Hurtado Bay. I fly my kite I found at the thrift store, and as 6pm rolls around, the winds hush a bit, and I launch into the bouncy surf. There is a mishmash of waves coming in from every direction as they rebound off the rocky coastline. I bob around like a cork until I take shelter behind Savary Island. It's in the 50s today, very comfortable as I head through a small marine park dotted with several islands.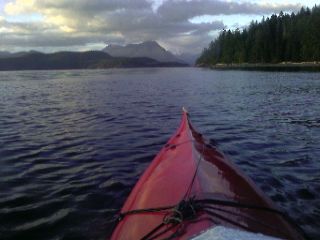 I reach Desolation Sound and camp on Kinghorn Island.

There is a distinct change in the landscape I follow from here north. The main highway abruptly terminates, and the waters narrow considerably into ribbonlike channels. Yuculta Rapids is approaching, and towns are few and far between. I stop at the small village of Squirrel Cove on Cortes Island, almost due west of the popular ski resort Whistler, to fill up on water and see if I can reach Couchsurfing contact Debbie to inform her I'm going to paddle on this morning. I leave a message and buy a few items. The store owner tells me there's the annual Seafood Festival tomorrow—it's all-you-can-eat (AYCE). Great, it's early in the day, and now I'm actually debating whether to stick around. Debbie calls back the store a bit later, and I'm convinced to stay.

Squirrel Cove / Whaletown, BC
I secure my boat on a wooden rack and hitch a ride across Cortes Island to Whaletown, and the BC Ferry. Deb looks at me from a distance, with my sixty plus pounds of gear and nine days of food hanging off of me. I'm offered a trailer in her backyard this afternoon, or make a few laps on the ferry to Quadra Island and back.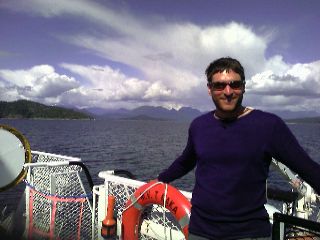 The Whaletown to Herriot Bay ferry

Ferry? Sure, why not. The bowels of the ferry fill with a few commercial trucks, loaded with empty food and fuel, several passenger vehicles, and foot travelers. There are kids coming back from school, and tourists flocking to the unique island. I get a wave from Debbie, as she stares at the sixty some pounds of gear I'm struggling to carry. I load the ferry as she secures the vehicle loading ramp, and we head up to meet the crew that's already found out about me. I get a mini tour of the ship, and meet the captain in the wheelhouse. As Deb pilots the craft, Conrad, familiar with the terrain I follow for the next few hundred miles, eyes my maps closely, poring over those that cover the northern terminus of Vancouver Island. I show him what I have for tide information, important for the waters ahead, and he shows me some alternate routes that wrap around islands, hug cliffs, and offer shelter from the wind. In the US, ferry operators refer to kayakers as Speed Bumps, up here, we're known affectionately as Sea Lice. We all get a good laugh, and approach Quadra Island. I ride the ferry for another five laps, watching the sun sink lower into the wide open sky with each trip, and head back with Deb to her place. There's a trailer she has in the back yard for guests, and we stay up late sharing stories.

I see Deb off for the last time as she heads down the hill to work, and quickly find a ride from cars coming in from the ferry. There is drizzle spitting on the windshield as we reach Squirrel Cove. I buy my event ticket in the general store and watch people busily set up tents and tables for the Seafood Festival later this morning. I see someone running around the small, grassy area and see if I can help. I wash large boxes of salad, and soon find myself cooking up oysters.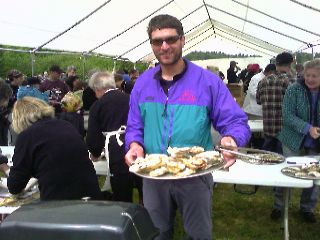 I've had more seafood today than ever before

People arrive by the dozens, and a waiting line quickly wraps around the large tent. There's a prawn station, one serving steamed mussels, clams, and of course oysters. There's oysters breaded, fried, sautéed, glazed, a few different varieties of raw, and the bacon-wrapped oysters. Ours are grilled and topped with a horseradish, chopped cucumber, and chili sauce. As evening lazily approaches, I start to think about heading out. I'm offered help carrying the boat down to the dock, and slowly fill the empty space with gear and food. I say my last goodbyes to all the wonderful people I've met over the last two days, and push off. I paddle almost seven miles up Lewis Channel and call it a day a little before dusk.

I risked it all and slept under stars last night for only the second time this month. It's nearly impossible to know whether the sky will turn bleak at an odd hour out here. The skies always look threatening in one way or another, and I just need to be ready to throw the tent up at a moments notice. As I wait for slack tide at the head of Yuculta Rapids, a powerboater asks me my story, and offers me some just-caught cod. I look at my tide tables and hope I have it right: slack is at 1316, max is at 1602, and it runs at -5.4 knots. Flood runs at an obvious 180 degrees, flood is +025, ebb is listed as +005, maximum rate is 10.0 at flood and 8.0 at ebb. Adjusting for daylight savings, I should have slack tide at 2:21pm. The motor yachts start up their engines every several minutes to escape the current sucking them into the rapids. If we're all drifting north, that should mean the tide is headed out, or already ebbing north. Why does my table show ebb two hours from now? As I talk to the fisherman, we seem to stop drifting. I stick to what the tide table reports and hug the shore through the most technical waters I'll pass on the entire trip. I head through a half hour early to make it through Dent Rapids before the tide flows in. I listen to the eerie loud roar of waves coming from the center of the channel, and paddle up the strong current rushing around Whirlpool Point. The area is popular with tourists for salmon fishing, and I spot the village of Big Bay on my right, and a large, new lodge on my left. Wide open swaths of clearcuts dot the mountainous terrain that thrusts out of the sea.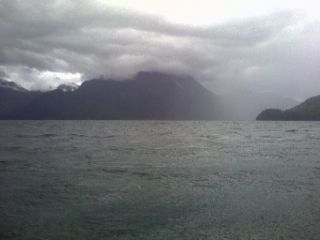 I finish at the Cordero Islands after a little more than forty miles today, with Greene Point Rapids a stone's throw away. There's a sprinkling of bear tracks above the low tide I gaze at as I carry my gear to a flat spot.



I set out in light rain this morning as the winds slowly start to huff and puff. I decide against heading to Johnstone Strait yet, where the winds can blow strong all afternoon long. The gusts howl and scream ever stronger with each mile I go, and I skirt north of Hardwicke Island past D'Arcy Point. The unrelenting skies calm, and I ease through Whirlpool Rapids with snowcapped peaks in the Franklyn Range standing sentinel to my right. A pair of fighter jets scream overhead as I head past one of several large salmon farms lining the many bays dotting the channel. To my north are the mighty mountains of the Halifax Range forming the peaks of Vancouver Island. They rise thousands of feet from the frothing seas through the low clouds. Yorke Island sits to my east, getting closer with every paddle stroke. I cross the narrow channel to reach the Island, and am pushed south from the large, steep waves formed from the wind blowing against the now flooding tide; a tide that sucks me north. After fighting the current and six foot waves eager to throw me upside down, I round the corner and paddle to a stone beach. I look for a place to land and—who is that? There's a person walking above the beach through the alders. We curiously gaze at each other, and he helps me pull the boat up above the high tide line. "'Name's Ross," he shouts with a smile on his face, as the nearby tide rips noisily splash ashore. Ross has been to this island countless times, volunteering to clean up and research the historic landmark. It's a WWII gun emplacement, an unassailable fortress built to keep the Japanese out. There's large, underground bunkers still in immaculate condition. As we headed up to the top of the 250 foot summit, he pointed out the fifty thousand gallon water tank, now just a lonely concrete structure camouflaged with trees and salmonberries. Despite being early season, we still managed to enjoy some salmonberries and licorice root. We headed up and I was introduced to his son Tre, and friend Dave. Several whales have been spotted in the last couple days traversing the Johnstone Strait far below. Standing watch over the sea were the remnants of the six inch gun turrets, with the heavy steel roof still in excellent shape, amazing for a saltwater environment. The control room for the searchlights was nearby, as well as the clinometer room, with the pedestal still intact.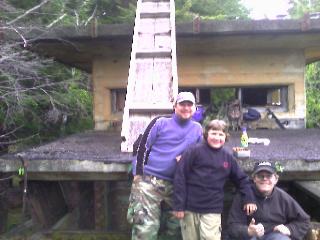 Ross, Tre, & Dave in front of the watchtower

Now just a series of empty rooms, the island was stationed between 1939 and 1945. With dark skies spitting out light rain, we headed to the underground bunker. Dry and dark, Ross and Dave pulled out an MP3 player, and we listened in the "concert hall" as the rain continued to fall outside.

I reach the four hundred mile mark today, ending at a flat logging camp at Naka Creek; about the only place campable for miles. The land today is dotted with cliffs, lots of trees, and few flat areas. I fill up my old boxed wine bladders from a creek for the first time. Until now, I've filled up from spigots, wells, and taps. For only the second time, I find myself on Vancouver Island, the island I've been headed around since the Canadian Border.

Other than the four days of rain I've been dealing with now, the sameness of Johnstone Strait is becoming a bit dismal. Robson Bight, an orca whale rubbing beach, is like the rest of the channel—wet, stagnant, and windless (windless in this area is a rarity). Nothing special this morning, still too early in the season for the salmon runs. Paddling in the all day rain again on this twenty sixth of May has just started to get to me. My wet, waddled hands are soggy and pruned. Using my fingernails to untie knots or set up camp is worthless; they're as flexible as the dishwashing gloves stretched over my neoprene gloves that now look like swiss cheese. There's water falling from the Halifax Range above me everywhere. Every few hundred feet there's another creek, and near one of them is a small bear slowly shuffling toward the waters edge. There's a pair of dolphins nearby, and I cross Johnstone Strait for the last time, and leave Vancouver Island for good. The churning waters spit out eddylines stretching for a good mile as I near the Pearse Islands. The pitter patter of rain coming from thousands of feet above me continues to splash onto my sun hat as I build camp.

The clouds hang low, and there is only drizzle in the air. The descent down to the shore is the usual in wet conditions. I heard someone say this recently—slicker than snot on a doorknob. I'm in Alert Bay soon, and head over to the grocery store's deli. They're out of pizza dough, so the large pie for breakfast will have to wait. moseyed on over to the Visitor's Center, finding out I can clean up at the campground a good distance away, but laundry will have to wait. I head back to the grocery, and wolf down several TV dinners as I catch up on journaling and download emails. There's a message from Conrad—Stewart, a local Inside Passage legend wants to meet me. The paddle to Sointula is all against the current and upwind. I get past a point on Cormorant Island and look at my map. I'm back where I started from five minutes ago. the current pushes me back towards the rocky point, where water is pouring over a rock like a class II river rapid. I hug the shore and had over to Malcom Island. It's a long haul towards Rough Bay, then there's the stiff headwind I fight as I follow the shore to Stewart's home. I see a flag he left up for me, and a friendly wave

Sointula, BC
We exchange handshakes, and share stories. for the first time today, the wind feels great, now that I'm on land—and the sun's even shining brightly on occasion. I meet his wife Gail, and daughter Sahara. The sun and stiff breeze starts to slowly dry out my stuff I have draped all over my tent. Like every other town, there's busy work to do. This time I need to figure out how I'm going to get to the Mountain Rescue Conference in Juneau in a few weeks. I use their daughter's old computer and make phone calls; and soon have my $245 worth of ferry tickets to Juneau from Bella Bella. I head into Stewart's shop and get a raise of the eyebrow and a smirk as he shows me the granddaddy of sea kayaks. I stare at the homemade boat, with the intricate seams, welded rudder, the sail, wishbone mast and boom, spinnaker, running lights, solar charger for the GPS, and plenty of room to sleep in. The ultimate dream for any kayaker. Unfortunately the pictures I took in the dark barn didn't turn out, but I'll get some from him one of these days. The following day I ride his bicycle to the local grocery store down the block, and use his recommendations for fishing gear purchased from the small hardware store as light rain falls. Late afternoon quickly approaches, and we all exchange goodbyes; and I head off for the crossing of Queen Charlotte Strait. I check the weather forecast as I begin the four mile crossing to the Broughton Islands, and all looks good. The sea is smooth, winds calm, and skies gloomy. I hear the hiss of a whale surfacing for air. Glancing over, I see the dorsal fin arch back into the dark, cold waters. There are dozens of small islands dotting the Broughton Islands, and not knowing exactly which one I'm at, I just pick one. Two sea lions eye me closely, and I shriek as I look off to my side and have one splash loudly out of sight a foot away. I spot a tiny island covered heavily with dense vegetation (like everything else around here) and find a old campsite with a small clearing barely large enough. I use my stove for the first time in probably a week, and my eyes browse the dozens of islands that stretch to the horizon.

Not knowing exactly where I am on this foggy morning, I aim my compass north and go for it. I stay a quarter mile from shore and let the ebbing tide sweep me northward as the waters rush out from the many inlets at over five knots. For the first time on the water in days, I see something unusual, something different. A bright glow stares at me from above, it casts its warmth on me as look on with amazement. Oh, yeah, it's the sun—forgot all about that thing. I start looking for a place to camp, and struggle to spot something not smothered in vegetation. Late afternoon soon becomes evening, and before I know it, I'm paddling after 10pm. There's still plenty of light, but I don't care to do thirty seven mile days. I stop at the Raynor Islands on a small tip snaking it's way out into the water with a steep climb on wet, slimy rocks. There's a rough, rocky spot, with impenetrable salal behind. Dozens—many dozens of black flies are all over my hands, and fiercely attacking my face as I build camp with tiniest ribbons of twilight still struggling to stick around. The tent is set up on a crooked slope, slanted like a gingerbread house gone wrong. I throw extra clothing underneath my thermarest and manage to create a relatively flat enough spot to avoid rolling down into the sea. I spotted another site or two, but with full exposure to the power of the ocean, and the forecast calling for a strong wind warning, maybe not.

It's one of those rare mornings where it doesn't start raining at five or six in the morning. After the last couple weeks, it feels good to be able to put away damp gear. I listen to the trees gently sway back and fourth as the earth deeply inhales and exhales. Like the rest of the trip—except for the 'tropical' Gulf Islands—it's in the low to mid 50s today, and the rains soon blow in. The noisy roar of the wind is steadily growing, and the I keep close to shore as the Millar Islands shelter me from the angry, breaking waves growing eerily larger with each passing hour. As I lose my protection from the boiling seas, I follow a narrow, passage around an island into Shelter Bay. The strong wind warning has vanished, and the sea has softened its blow. I approach a large, sandy beach (It's been rocky shores for as long as I can remember) and—two kayaks? I see a grey and white object dart from the trees. A wolf is finishing the remains of a skeleton buried in the sand.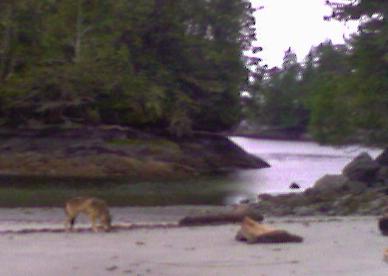 The anorectic wolf looking for food

I see someone in the distance as I beach the boat and look at the fresh tracks surrounding the skeleton. Did you see the wolf? I blurt out. "No" with a disappointing frown. Jo, from Queen Charlotte Island, is out here with John on their way down from Prince Rupert. None of us have seen any other kayak campers, which we find surprising. we build a small fire, and—there's the wolf, oblivious to the fact there's three of us fifty feet away. It darts back into the trees, and we enjoy some dinner, with rockweed as our fresh vegetable. The wolf makes one more appearance, and I run madly towards it with large sticks in hand, screaming at the top of my lungs.

Jo and John take off early this morning, destined for their final stop of Port Hardy. In no hurry, I hike some logging roads to give my weary legs a stretch on this drizzly morning. I launch a bit later and look over towards Vancouver Island, still shrouded in inky black clouds. A sea otter stares at me with interest as I leave Knight Island and mosey towards Miles Inlet. I give Slingsby Channel a wide berth as water gushes out from its narrow confines at eight miles an hour. There are shoals covered with mussels as the feel of the water suddenly changes. The sea breathes loudly as the constant crash of ocean swell heaves against the rocky landscape. Barely noticeable as they slip silently underneath me, the shallow foreshore thrusts the swells skyward that have traveled in from thousands of miles away and end their existence in Burnett Bay. Twenty foot high surf hurl themselves onto the sandy beach with great force. The trees behind the beach look like a krummholz zone, small twisted and contorted trees shaped by the forces of the sea. The weather forecast calls for strong winds tomorrow afternoon as a cold front howls through, and I paddle through the still air as the Storm Islands off to my left quietly disappear behind a veil of low clouds. I turn in at Wilkie Point as light rain continues to fall from the evening sky.

Today's the big day past Cape Caution—the ten mile stretch that bears the full brunt of open ocean. I've been warned about this many times before. It's the Mahoosic Notch of the Appalachian Trail, or the Sierras of the Pacific Crest Trail; it's the crux. A seagull narrowly misses me as I emerge from behind a large swell. A cruise ship and barge briefly disappear behind the horizon as I slowly bob up and down with each passing wave. There's the blast of a horn as a boat passes by with a friendly wave, and a Coast Guard helicopter passing overhead. Everything is suddenly silent again. The crashing surf is like the hum of background noise. I feel a strong thud on the bottom of my boat, and I struggle to brace myself from going over. I'm overwhelmed by the strong force and roll upside down. I snap my hip and sweep my paddle, but it's unsuccessful. I try again with the same frightening result. I pull the sprayskirt off the cockpit cowling and swim out of the boat. The current and swell drifts me right towards a reef, churning with heavy surf and sharp, dangerous rocks. I fumble to put my paddle float on but a fierce gust of wind blows it away. I right the boat, hop on the stern, and shimmy my way back into the seat. I grab the bilge pump and wildly begin pumping out the water that's filled the cockpit. Another gust of wind grabs hold of my paddle and hurls it into the inky blackness. I struggle to put together my spare paddle and another wave throws me upside down. I don't even try to roll up this time. I repeat the unnerving process as I get swept further out to sea. The weather turns for the worse, and the skies open up with anger. Fortunately, none of this happened. The crossing is uneventful; no wind, no turbulent waters, no heavy rains. I leave the full exposure of open ocean behind for the one and only time, and enter Smith Sound. I spot a stream on my chart and pull onto a sandy beach. I set up my tent in the trees as the heavens spit out an on and off light rain. Tomorrow could be blown out, and I could be here a while. My camp is surrounded my old growth stumps dressed in a carpet of soft moss as I reach the five hundred mile mark today.

With my arrival into Bella Bella for the ferry ride set for the 13th, I have over ten days to cover less than ninety miles. I'm happy with that. I can do some fishing, explore old salmon canneries, or simply gaze at the endless, open sea. I feel lazy this morning as I sit in my sleeping bag at ten in the morning with a steady rain pelting my tent, and the raspy crash of water singing like a song as it breaks onto the nearby beach. The indomitable force of nature surrounds me as I cross Smith Sound. There are still giant swells that slide underneath me, and I squint at white surf crashing ashore on the distant horizon. The sea holds secrets we cannot even begin to understand; indescribable forces that have turned granite into dust and sand, and given our planet the gift of life. The sun comes out as I near Brown Island, throwing bright ribbons of light onto the rough, confused sea. As quickly as it came out, it disappears behind dull, cumulonimbus clouds struggling to build into thunderheads. I land on the noisy island, pelted with angry masses of water climbing up its shore from every direction. I set up camp on the sandy spit and have some tortillas and sardines in the intertidal zone. I stare at a pool of water teeming with dozens of creatures within its granite walls. There are anemones that move when touched, spiders and crabs combing the shallow depths, and small fish circling the confines. There's a leather starfish, and mottled sea starfish clinging to the vertical rock. A distant beam of light slowly streaks across the snowcapped Coast Range on the horizon, emerging from a thick blanket of fog. I walk through the bright, white sand as the western sky swirls red as the earth spins away from the sun at a thousand miles an hour.

The winds pick up early this morning as I break camp on the sandy beach. There is a mishmash of waves coming in from every direction, along with some large swell and those building from the strong breeze. I pass Extended Point and reach a break in the southwest winds. The weather station at nearby Egg Island is reporting twenty five knots, which I manage to mostly avoid. I round Kelp Head Point and cross Rivers Inlet. A whale comes up for a quick breath of fresh air twenty five feet away from me, and I get excited about the protected waters I soon enter. Klaquaek Channel is part of a small Provincial Marine Park teeming with calm waters. After dealing with four days of open ocean, large swells, and persistent winds, I can leave that all behind, at least for a while. I circle Big Frypan Bay and start looking for a possible campsite. The shore is vertical, with rocks jetting from the waters covered in dense rainforest and trees. I look at a few of the islands in the area and settle in. The on and off rain sprouts a rainbow, and just as I start to throw up my tent, a downpour soaks it. I'm dressed for any kind of weather that can hit me out here, so I walk around the island. The sound of the rain is deafening, and the sea turns a dull white as raindrops travel from thousands of feet to meet their demise.

I glance outside my tent a little after six o'clock to... fair skies. It's quite a surprise to see pockets of sun this morning. Since I only have to do seven or so miles today, I go back to sleep. It's eleven in the morning by the time I leave the small island I called home last night. A small powerboat pulls alongside, and asks me the usual questions. His eyes light up when I tell him I'm only about a third of the way through the adventure. He asks if I've seen any grizzlies, common in this area with numerous creeks, and of course salmon. Soon after, another powerboat pulls up, a caretaker for one of the small fishing lodges that dot the area. We have a good talk, share stories, and wish each other a great summer. Everyone has a tale about why they chose to live out here, and it's quite interesting to hear their unique story. I head out towards Fitz Hugh Sound and an endless line of short, steep waves crash over my bow. The headwind is strong, but this is what I deserve for getting on the water at the crack of 11am today. When the outgoing ebb tide starts to flood in soon after one o'clock, things should get better. Sure enough, the wind takes a break at slack tide, and the seas calm a bit as they flow with the wind. I take a short break near my entry into Fitz Hugh Sound and stare at Cape Caution on the distant horizon. The peninsula thrusts out into the ocean with an eerie, stark appearance. I round the corner into the Sound with bright, partly cloudy weather I haven't seen since the Gulf Islands near the US Border. I don some wet glove liners, eager to dry them out after a week. Airing out wet gear doesn't work. It either has to be worn, or baked under a bright sun. The waters slowly calm as I make my way to the Corvette Islands, and I look for something even remotely campable.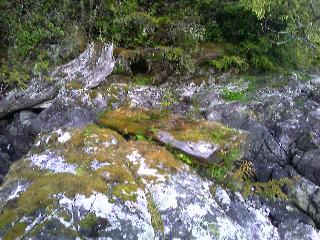 Tonight's exciting campsite

I find a not-so-flat camp, but decide it will do. A sky full of shimmering clouds build above, and spit out rain as I journal after ten o'clock. It's still bright enough to read without a headlamp, and I look at my topographic charts and read a list of hiking trails in the area.

I pack up camp between rain squalls, cautiously placing each step, with the slightest mistake sending me stumbling into the sea. The weather slowly clears this morning, and I head into some small lagoons that dot the shore. I cruise up Illahie Inlet and gaze at the bottom of the calm waters. There's sea urchins securely anchored to the rock, a couple seventeen-armed sunflower starfish, and a good peppering of small rockfish scurrying away from me. I finish the short day on a beach shimmering with brilliant white sand, outstretched like a pale hand, barely touching a small island. My face is grinning with a wide smile ear to ear as I look out to the endless horizon stretched out in front of me like a stunning piece of fine artwork. It's hard to believe I'm really out here. It was a dream for so long, and the planning seemed to go on forever. Now I find myself on some small beach jetting out into the wide open sea. There's the plume of mist coming from a whale in the distance, and the cry of passing birds sing above. The windward side of the beach screams as wave crash ashore, and on the leeward side is just a quiet hush as the waters move gently up and down. There's the bright sun beaming my camp, which has showed itself quite infrequently this wet spring. I don't really know how to describe how I feel, I get a lump in my throat just thinking about it. After dealing with working nine to five for the last decade, this is something I need. Today is one of those days I'll never forget; although with all my recent adventures, I've had a few of those lately.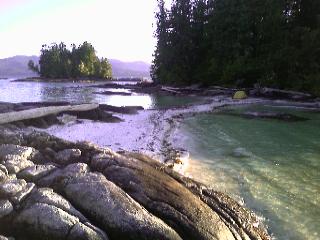 High tide creeping to within a few feet of my tent

I watch a marten inquisitely stare at me as I study my tide table carefully, and pick a spot that should keep me dry when the high tide floods in tonight.

The morning is sunny and quite warm behind the dark shadows of the trees protecting me from the wind. I stare out at a passing barge and spot a whale's blowhole spewing out exhaled air. Dressing for the cold waters has made me quite warm. There's a sailboat nearby, and I swim the boat out several yards and easily crawl back in. Even if I do go upside down at some point and my roll fails, the bright yellow self-rescue float sitting behind me will probably never see any use. I paddle another big five miles today, with the seas growing in intensity with each paddle stroke. I seek shelter in a small cove and fill up a few of my old gallon sized wine-in-the-box containers. The open sea oozes ocean swells through Hakai Passage, and bounces them off the nearby rocky shore, making for some rough waters. I battle the conditions as a whale slowly appears and vanishes ten yards off my bow. I wish I could take a picture, but I'm not ready to take the risk of fiddling with pockets, zippers, and drybags as the sea hurls itself all over my boat. I head up the Koeye River estuary as waves crash over the shallow, sandy bottom. I set up camp on a sandy beach and hike up an old trail towards a cannery, its remnants long gone.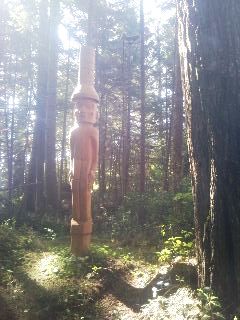 A totem pole near the old lodge

There's wolf tracks snaking in every direction, and water slowly creeping ever higher as the tide floods the broad plain. Wave clouds linger over the Coast Range and a light rain drifts in and out of the area.

With plenty of time in my schedule, I paddle up the wide estuary of the Koeye River towards a large, lush green meadow. A light rain is falling, and the Coast Range is draped in a veil of wispy clouds dancing around the high peaks. This is grizzly bear country, and my senses are on high alert. I reach a point where my boat scrapes against the shallow, rocky bottom and I tie it off to a tree stump firmly planted in the middle of the river. I jump in and lie down in the clear, fresh waters. Every outer layer I'm wearing is coated in salt, and I'm warm from paddling upstream, despite the temperatures in the low 50s and rain. I follow the river back to the sea and continue my journey north.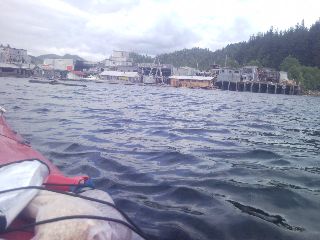 Namu

The town of Namu, which has been continuously inhabited for ten thousand years, comes into view as I reach the protected waters. The dilapidated remains of the town is built on piers stretching over the water. The remnants of the old cannery are in ruins, and I follow an old, deteriorating boardwalk snaking its way to Namu Lake and the old hydropower building.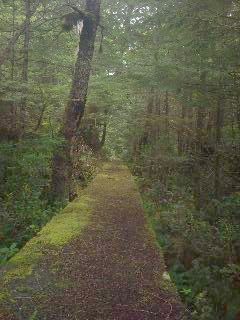 The old Namu boardwalk leading to the lake

There's three caretakers for the property, and each is eager to see visitors. I talk to each of them as I tour the old complex. There's the old cafe, which last saw customers in the early 90s. The old menu and dinner specials are still perfectly legible as if they were scribbled in chalk this morning. Two cabin cruisers dock as I head down to my boat. Two retired couples dismount, surprised to see a dinky, red kayak tied up. "Where'd you come from?" one curiously asks. "Olympia" I respond. Faces turn white, and I have explaining to do. They're also following the Inside Passage to Glacier Bay, from Anacortes, WA, in style of course. We talk about our travels past Cape Caution, the weather, and whale and wildlife sightings. I decide to head on a bit farther, and finish on a small island perched on the edge of Fovgner Bay.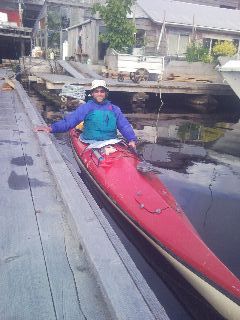 Docked in Namu, the oldest continuously occupied outpost (~10,000 years) along the Inside Passage

The views go forever in every direction. The snowcapped Namu range stares down at me to my south, and mile wide Burke Channel is literally at my front door. The weather is calm and inviting as I cook up a large serving of long, pasta-like bull kelp to add to my dinner.

I wake up to the buzz of a hummingbird outside my tent. The eastern horizon is glowing orange as the sun slowly pokes its way into the sky. Late this morning I paddle into Kisameet Bay to follow a short hiking trail I discovered when planning for the trek. The trail winds its way up to Kisameet Lake, marked with old, weathered surveyors tape and difficult to find in places. I make plenty of noise yelling and clapping to make any large game up here aware of my presence. The lake is calm, and the sun is beating down on the thick moss covered rainforest as I have lunch. If I was up here with someone else, I'd be swimming right now. It seemed to take forever to get ready for the short hike: taking the drysuit off, storing all my food in bear resistant bags and securing them to some large, immoveable rock or log, removing the VHF radio well secured to my lifejacket, emptying part of the heavily loaded boat and pulling it up on shore, repacking it... anyway, it felt good to give the legs a good stretch. I get back down to the Bay and head out to Fisher Channel to look at a potential campsite. There's a rock outcrop emerging from the cold waters. It's surrounded by open waters, and teeming with views in every direction. With this kind of exposure, I check the marine forecast on my VHF radio. I wait patiently as it cycles through forecasts for several other areas, forecasts of wave heights, present conditions, and everything else I don't want to hear about. Ok, chance of showers after midnight and a gale warning. We'll see if that ever happens. I turn around and head the short distance back to a grassy island. I unload the boat and wrestle it ashore as the protected bay teems with life. There's a whoosh of a whale exhaling behind me, and in the small bay next to my camp, the frequent thwunk of a bird as it divebombs the water for fish. There are ravens stirring the calm air, and the distant, dull roar of Kisameet Creek plunging into the sea. I try some fishing for the first time, which seems worthless considering the minimalist gear I'm using. I see the current in the narrow passage around the island abruptly change direction, with over an hour to go until slack tide. I add a different seaweed to my dinner this time: rockweed; and watch high cirrus clouds blot out the blue skies.

I've resorted to using the five megapixel camera on my other old phone I've brought to life. The XV6700 phone I journal with has three dead batteries, the half used one in it now, and one fresh battery left. I need to stop using it as a camera, and keep it safe in a drybag. I haven't toyed with the old Samsung Omnia much, but the camera is vastly better. Shrinking the images, and copying them to my website will take more effort. I have a DC powered universal lithium-ion battery charger, but that takes a cigarette lighter, or my solar charger. I use neither of these out here, so charging that battery will also pose a challenge. The winds pick up, and the seas grow larger with each minute as I duck into Codville Lagoon. There's an old landslide on Codville Hill that rises fifteen hundred feet from the sea. I take a closer look at the slide path and decide to investigate further. I tie up my boat and mosey my way up through the Volkswagen sized rocks scattered about. Eight hundred feet up, the chute narrows considerably into a waterfall, and I decide this is a good place to end the climb.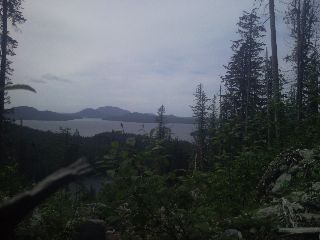 The distant Lama Passage I'll follow tomorrow.

The building whitecaps on the horizon are barely visible as scan the distant peaks and waters stretching out as far as the eye can see. It is spectacular from up here. I descend to my boat, and continue the paddle around the lagoon, soon reaching the trail that snakes its way up to Sagar Lake. The old boardwalks are rotted away, and it's quite slow trudging through the mud and roots that want to grab hold of footwear. I reach the lake, with its strawberry colored sand and high peaks dotting the distant horizon.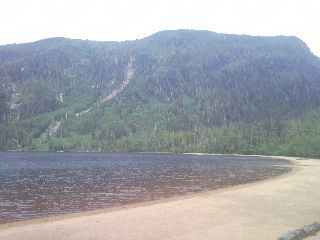 Sagar Lake

I return to my kayak and spot two large boats anchored in the middle of the small bay. I start my way around the rest of the lagoon and search for a campsite. A steady rain starts to pelt me as I unload gear and set up camp.

As I write this during the early evening hours, the sun peeks from behind the low, grey clouds for the only time today. I've gotta say it feels great. The warmth on my body, the sparkle of the cool, blue waters, and—I feel really alive. After sixty seconds or so, it's gone. When I'm on the water, I don't care what the weather does. I almost prefer the cloudy, cool weather. When it's sunny and warm with light winds, it's tough to paddle hard in those conditions when I'm dressed for the water temperature. The morning was cloudy as I packed up the usual bedraggled rainfly and left Codville Lagoon. I crossed Fisher Channel and watched cloudbase slowly sink like a feather from the sky. Fog coated the surrounding landscape as a light rain blew in from above. Llama Passage was busy with a small handful of fishing boats, motor yachts, and sprinkled with the occasional ferry or cruise ship as I rounded the corner and saw a town just up ahead. I haven't seen a town in two weeks.

I camp at Alarm cove last night, with an almost fifteen foot rise of the tides at midnight. Restless, I climb out of the tent and look at acres and acres of land that has vanished under the sea. Much of the soft grass around my tent is submerged, and I head back to bed on this new moon night.

Bella Bella, BC
I peer into McLoughlin Bay at the ferry terminal I'll depart from in a few days and paddle to a nearby dock to start my search for a place to store my boat. I meet Jim, a businessman eagerly looking for new plans for the now closed fish processing plant, and after a good talk, kindly offers a spot in the large yard adjacent to the plant. What could have taken two days to figure out is solved. What a relief. I arrive at the government dock and head up to the grocery store for some fresh fixin's. I don't know whether to laugh out loud when I see the poster for a Tina Turner impersonator playing at the community hall this evening. I sit on a 15x15" beam lying alongside the exterior of the store and down some of my just purchased victuals. A local runs up to me with an excited look on his face, asking me if I'd seen the humpback whale breaching just past the dock. No, I disappointingly reply. I finish my spinach dip, pita, lunchmeat, and cheese concoction and walk the streets in the small town looking for the Heiltsuk Cultural Centre. I walk into the Bella Bella Community School and ask the librarian. I spend a while talking to Bunny and she asks me if I'd like to check email. For the first time in a fortnight, actually fifteen days, I've been in communication with the outside world, this time on a turn-of-the-century Windows Millenium Edition computer, often getting upset with me trying to use newer Javascript based websites. The two of us talk and she offers me a room in her basement. I don't really care at this point, knowing I'll be whisked up towards Juneau soon. She tells me the stories about other kayakers or long distance bikers she's hosted over the last several years, and answers a call. I overhear a sentence she mumbles into the phone. I'll have a kayaker over tonight. She gives me a driving tour of the town with her daughter Brittany in the back seat. There's the plane sitting at the airport in the same exact spot for the last decade after being seized for carrying drugs. The small town hospital is brightly lit up, across from the new fire station under construction,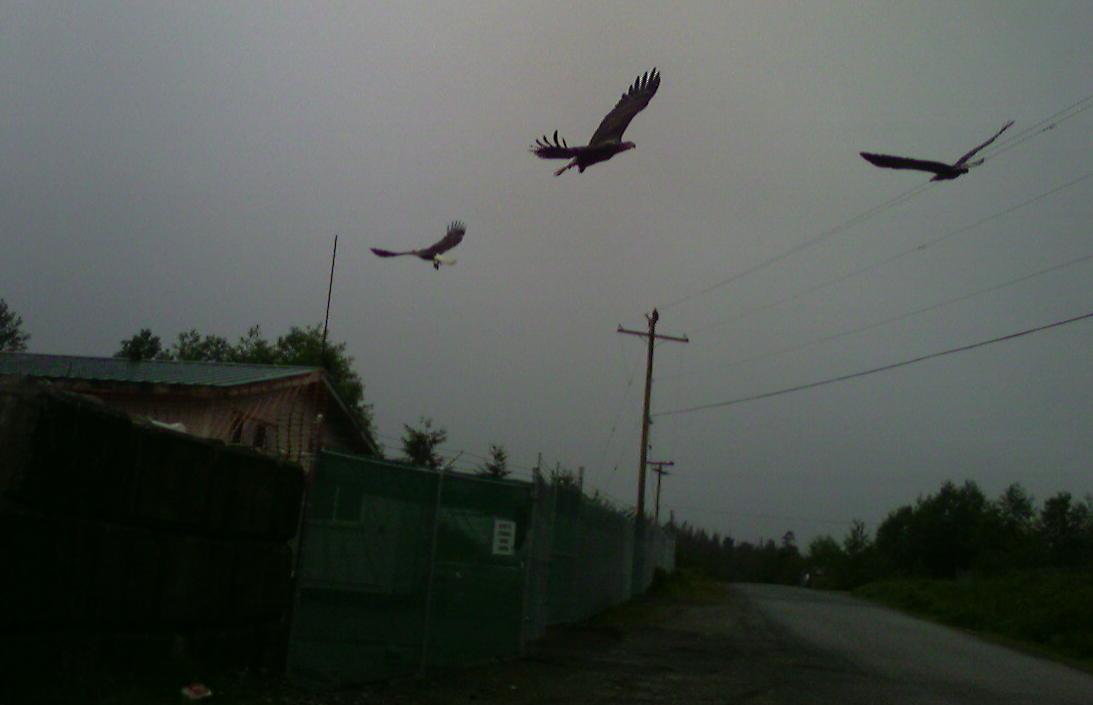 Bald Eagles guarding the local landfill

and well over fifty golden and bald eagles stand guard in several trees above the town dump looking for a meal. After learning a bit about the town, I head down to the water to paddle out to Shearwater Resort a couple miles away. As the floating dock creaks underneath me, a steady rain pelts the damp ground. I gather under the seabus shelter, which provides passenger service to Shearwater, and decide if I really want to head over. I wasn't going to do much other than look for a Wi-Fi spot to upload my journals, hike the Eddie Lake Trail, and find a backup plan for storing my boat if the other locale falls through. A band of fog rolls in, and—I'm staying put. I unload my belongings from the boat and head to Bunny's home. I enjoy dinner with the family, and show my Pacific Crest Trail slideshow stored on my phone.

Well, I guessed I missed the Tina Turner impersonator last night; what a bummer. I glance out the window to strong wind and heavy rain loudly spattering the side of the house. I have an old Gossamer Gear backpack I purchased for twenty bucks at the Kickoff Party in late April. It's a used, beat up prototype, and scrunches down to the size of a softball. It's perfect for hauling gear around towns, and tomorrow I'll use it to take my damp, worn, saltwater encrusted gear onto the ferry. I carefully sculpt repair tape to fix blown seams and torn fabric. I pull the sewing kit from a drybag and tie up several loose ends here and there. The heavy rain shows no signs of mercy as I glimpse out the window while I attempt to pack a half dozen drybags into two backpacks. Vince and I head down to the pier and take the kayak over to the old fish processing plant. We meet Jim, and tuck it away for the next two or so weeks.

It's eleven o'clock at night as I check in to the small waiting area at the sleepy ferry terminal. The air is still and light rain tumbles from the sky as the distant purr of the Northern Adventure ferry approaches the dock.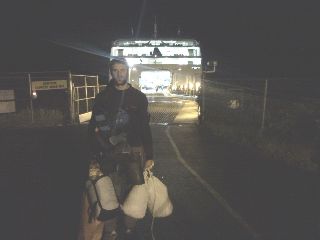 Off to Juneau!

I eventually board the ship, and depart under inky black skies at 2am for the next chapter of this incredible journey.

Continue to Mountain Rescue Association (MRA) Conference in Juneau, AK and Northern British Columbia