To Northern Colorado
To Northern New Mexico
Southern Colorado - Colorado border to Avon
Not wanting to waste most of another day in town, I hitched a ride back to Cumbres Pass as the sun slowly slid its way below the horizon. I started up the trail with my headlamp and within five minutes, lost the trail in the dense pine trees. I set up camp, and turned in for the night.
Up until now, I've been a little lazy in the morning. I generally get up around 8am or so, once the sun has had a chance to bring a little warmth to my cold sleeping bag. Today was different. Despite the chill this morning, I was on the trail a little after 6am. For the next week or so, I'll need to be on the snow early, before the sun transforms the firm surface to a gigantic slushie. Post holing through knee deep snow in shorts and tennis shoes is not the most pleasant way to enjoy the trail. The first couple miles today were through dense forest and open meadows, and as I reached higher into the hills and crossed Wolf Creek, there was an abrupt change. Whale shaped snowdrifts were everywhere. Some were easy to stay on top of, others sucked me in, covering my bare legs with snow and funneling it into my shoes. As I climbed higher, another trail first happened today—I climbed above timberline on my first full day in Colorado, and a pika announced its presence with its distinct chirp. (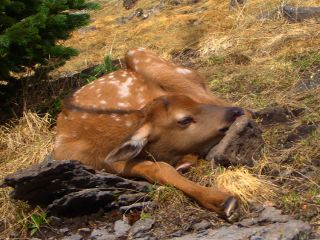 Inset: Elk fawn waiting for mom to bring food.) The climb up to here was a bit of a challenge, as trail disappeared many times under the snow. In some places I was able to follow the edge of the ridge, usually free of snow, but blasting me with 20-25mph winds. The sound was like a freight train barreling down on me, and I wish I had ear plugs to silence the wicked sounds that pulverized my ears.
As I slowly worked my way through knee deep snow, ankle deep water, and strong winds, the view of the surrounding valleys within the South San Juan Wilderness was stunning. (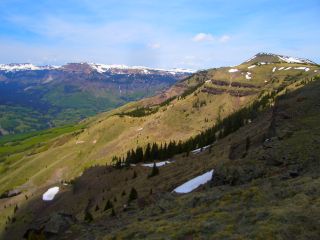 Right Inset: Headwaters of the East Fork of the Chama River.) Snow was everywhere. When I was protected from the wind, I was surrounded by the roar of waterfalls tumbling down the vertical walls of rock all around me. The going was slow and wet all afternoon, traveling from waterlogged tundra that constantly filled my shoes with ice cold water, to deep, wet snow that instantly soaked everything it touched. I stopped for a break behind a small spruce tree near the top of a vertical cliff, which plunged over a thousand feet down to the East Fork of the Chama River. The twenty mile an hour winds that blew across my face made sucking in air almost as difficult as traveling across the challenging terrain. When I sat down below the howling winds, I could feel some of the sun's warmth shining through the milky white sky hanging above me. As the afternoon sun started its slow dive towards the horizon, I descended to Dipping Lakes. The snow clung to the ground several feet thick in the trees. (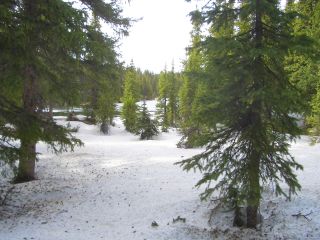 Inset: Now where do I go?) Finding the trail wasn't on my to do list today—it was either buried, or covered in several inches of water. I just spent most of the day following a compass bearing, which was easy above treeline, and a bit more of a challenge below. There was an old footprint or two in some places, even a snowshoe track from previous thru-hikers hell bent on following the trail, and not roads. The terrain I follow for the next week or so is some of the most spectacular on the entire trail. I'll be damned if I'm going to roadwalk around it.
Today was physically exhausting. I traverse though terrain and spring conditions like this every year, heading out with some friends for a day or two to ski the perfect springtime corn snow. However, I'm not wearing skis, or gaiters to keep the snow out of my boots, not even water resistant ski pants. I'm wearing shorts and tennis shoes! It's amazing what one will endure on a thru-hike.
As darkness came upon me, I went from one small island of dry land to another, looking for a flat place to camp sheltered from the strong winds. I eventually found one a little below treeline. The sky still has its dim grey hue, and I've set up my tent stakes in case the weather takes a turn for the worse tonight. I typed up journals for the last couple days, with the lights of Alamosa casting a dim glow off to my east.
Around dawn, I noticed the spruce tree next to me, with its branches dancing all around in the wind, whistling louder, with the increasing winds howling through the branches. I was up at six and hiking on top of frozen snow in open areas, and sinking through rotten snow in others. (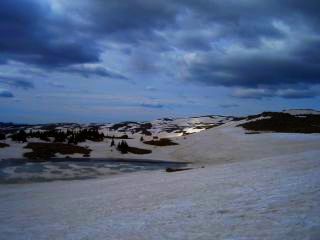 Right Inset: Life above 12,000 feet.) The winds continued to blast me in the face, occasionally throwing shards of snow at me. As I hiked above Green Lake, the winds started to blow me around like a cork in open water. I came close to being knocked down a couple times, and knew things weren't going to get any better. The trail is above timberline for the next twenty-five miles or so, and I headed down to Green Lake to seek shelter. Snow clung to the cirque walls in most places, and I did some standing glissades on the moderate slopes to the lake below. The stunningly powerful winds continued to grow in intensity, churning up the waters and blowing them all over me. (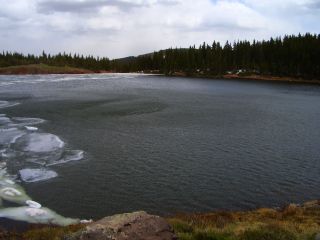 Inset: The icy, wind whipped waters of Green Lake.) As I traveled around the lake to the dense tree cover that lie beyond, I had to get on my hands and knees several times as the winds tried to knock me over. I'd use my trekking poles to brace myself, and eventually lose my fight and duck for cover. Hundred pound chunks of ice were tossed into the creek that emptied the lake as the wind blew waves of water over its banks. I took a break behind a tree, and watched pine cones and broken tree branches blow over the several foot high snowdrifts that covered most of the ground. Occasionally, a gust was strong enough to scour concrete like snow away from the drifts and sandblast it onto the tree trunks that lie beyond. It's 10am, and it doesn't look like I'm going anywhere anytime soon, so I spent some time looking for a sheltered place to wait out the winds. Despite the dense tree cover, finding a place to escape the thirty mile an hour winds was a challenge. Most places are covered with snow, others are wet, and the higher areas of dry ground are pummeled with wind. I eventually found a good spot and set up my tent as I saw snow falling on some nearby peaks. The winds that surround me are deafening. I can hear the frequent gust start out in the distance, and hear it howl through the nearby trees before it violently shook my tent.
This morning the winds were still strong, blowing my tent around often, showering it with pine cones. As the sun struck my camp a little after 6am, I slowly worked my way out of my bag and was on my way soon after. As I passed Green Lake I noticed something strange. All the ice is gone, and the grassy areas that were wet yesterday are now frozen solid. The several inch thick sheet of ice that was covering half the lake is gone. (

Inset: Ice before the storm, and no ice after the storm.) Apparently it was blown downwind to the creek that drains the lake, tossed over its banks, and melted from the running water. Wow, I've never seen ice disappear from a lake so quickly, and the temperatures last night were in the 20s. I continued my way up to the twelve thousand foot ridge above, and while breezy, it was certainly manageable. Snow was everywhere, but the dull, overcast skies and 40 degree weather kept the snow firm. Routefinding below treeline with no visible trail has been straightforward. Any time the terrain takes a twist, turn, or climb I need to pull out the map and make sure I'm where I should be. The sun finally poked its way through the clouds at 6pm, and I felt warm enough to unzip my jacket and toss my neck gaiter into my pocket. The winds finally subsided to almost nothing, and the sky turned crystal blue. (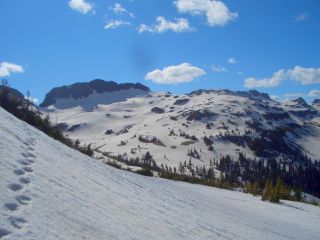 Right Inset: Heading up towards Gunsight Pass.) What a change from the last few days. As I write my journal tonight camped just below twelve thousand feet a little after 11pm, I can feel cold air seeping into my bag. I grabbed my watch resting on my pack strap; 18 degrees. At least I should have the sun striking me first thing tomorrow.
Last night was a little chilly to say the least. The sun stared brightly onto my camp and I was soon on the trail again. It snaked its way along the 30-40° slopes, many still covered with snow. Sometimes the snow was soft enough to cross, other times I had an arduous climb or descent to get around it. I climbed to a high saddle surrounded by nothing but towering peaks, snow, and tundra, with views a hundred miles into the distance. (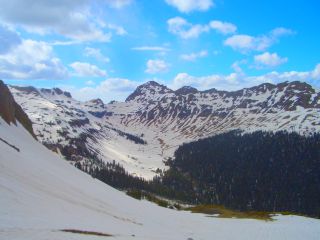 Inset: This is going to take a while.) Mt. Blanca is visible every now and then, thrusting above the San Louis Valley. One of the long glacial valleys had the trail buried many feet below, so I climbed two thousand feet straight down to the valley floor, and three thousand feet straight back up the other side to begin my crooked path around some thirteen thousand foot peaks. It's amazing to look back at the trail I traversed a couple hours ago and ask myself "Wow, did I really do that?"
The trail eventually dropped below timberline for the first time in three days. At Elwood Pass, snow was everywhere, but melting quickly in the large meadows that surround the area. As I passed through in the late afternoon, with the bright sun flashing its 380 septillion watts into my face, my feet were turning into prunes. I was postholing through everything today, as the all day sun warmed the snows into slush. As I plunged to my waist with almost every step I took, my feet sunk into the ice cold ankle deep water that lay underneath. From here to Wolf Creek Pass, the tread stays mostly below timberline. Sheltered from the wind, it is a welcome relief from the terrain and weather that has tested my nerves at times, and the endless snow and sun that has stained my face mahogany.
Unfortunately, the worst trail conditions lie ahead. The trail is under the snow most of the time, hidden from view from the sun by the dense tree cover and undulating terrain. (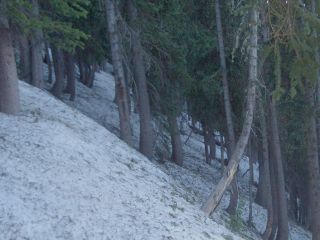 Inset: Will the snow ever melt?) As I worked my way towards Bonito Pass, from a fenced spring, something didn't look right. The traverse through the snow had taken me to near the top of the ridge. I took a bearing off an adjacent ridgeline and realized I was headed up the wrong side of the pass. I bushwhacked my way down through some interesting rock formations, and up the other side of the valley as darkness fell upon the white landscape. I proceeded to a small valley, with the only bare ground in sight and used some old logs to create a flat campsite under the night sky so luminous, it splashed starlight into my eyes like a fine rain.
Although cold this morning, I was on the trail before 6am to win the war with the afternoon sun softened snows that are waiting to eat me alive. The trail was more south facing today, leaving the snow for the areas that snaked around creek drainages or over saddles. One such saddle—Silver Pass—had steep hillsides that were cloaked in snow. I traveled straight down the steep, talus filled slope to the saddle below and worked my way through the dense trees and snow to the top of the ridge. The trail this time was free from snows, but buried with another problem—downed trees. I felt like the trail was a military grade obstacle course, complete with every size tree trunk, some without branches, and most with. (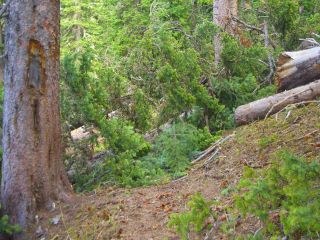 Right Inset: If it's not the snow to contend with, then it's the downed trees from the 80mph winds three days ago.) The downed trees varied from ground level, to six feet high—and everything in between. Some trees were simply blown down, and others were snapped in half, blown many feet away from their dismembered trunks. There were large piles of sow displaced as the downed trees exposed their roots—making it obvious these were killed from the wind event three days ago.
My shoes haven't been dry for four days. The constant step-step-posthole-up-to-my-waist-dig myself-out-repeat-the-process-sometimes-land-in-ankle-deep-water has started to wear on me. The first few days it was tolerable, sometimes even fun, but now it's really starting to wear me out.
I looked towards Alberta Peak above Wolf Creek Ski Area with storm clouds building above, and the strong winds pummeling the peak. No thanks, I won't climb that if my life depended on it. I dropped down to Alberta Park Reservoir, and don't even want to know how many times I postholed through the snow. I made it down, waded across the outlet creek, and changed from my newly soaked socks, to my very damp socks attached to the outside of my pack. As I passed through the base of the ski area (along the open meadows which could soon become a small city known as Wolf Creek Village) I saw a bear waddling its way through the edge of the trees. (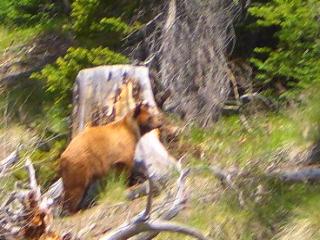 Inset: Black bear near Alberta Reservoir.) I made my way up the dirt road to Wolf Creek Pass and hitched into town. I got a ride into town from a local who returning from a trail run up to Lobo Peak. He told me if I enjoyed the wet snow and soaked shoes, I was going to have the time of my life on the trail to the north; maybe it's time to take a few days off. He also told me about the wind. It made headlines on all the Denver news stations, with reports of 60-100mph winds on many of the mountain passes.(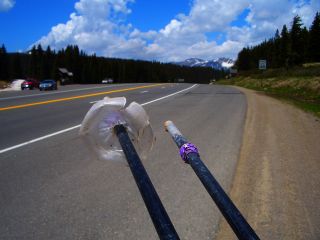 Right Inset: The remnants of my Gatorade bottle pole baskets.)
Pagosa Springs
I gave Nean (a triple Triple Crowner: he's hiked the AT, PCT, CDT each three times, for a total of at about 22,500 miles) a call, who works at the Pagosa Springs Resort. I soaked in several of their terraced hot spring pools that lie beside the snowmelt swollen San Juan River, and shared my trail stories with several interested families in town for a few days. Nean and I headed over to the Squirrels Pub across the street for their happy hour, and met up with Sly, Apteryx, and Jim and Mark (his wife and sister are the ones that gave me the sunglasses on the approach to the southern terminus of the trail). A few of us stayed at his "hostel", a cozy bunkhouse adjacent to their home several miles out of town. Most hikers are taking some time off to wait for the snow to melt, or bypassing the Weminuche and roadwalking to Spring Creek Pass.
After receiving reports from locals who have ski toured or hiked over the last few days (the Snotel site on the Pass is reading 22 inches of snow), I've come to a decision. I want to wait several days before heading into the Weminuche Wilderness, and I hitched a ride to Avon. During the seven hours it took to traverse the 250 miles or so, it took four rides, and they all had a keen interest in my hike. It feels good not having to worry about 115 miles or so of wet feet or postholing—at least not yet. My parents are arriving into Avon today after a family birthday party in Denver. Perfect. One of the first things I did was to hop on the scale; I lost two pounds. Early one morning, I looked through an old book at my parent's place; Guide to the Colorado Mountains published in 1955. Interestingly, I did find one reference to the CDT; a fourteen mile trail that just happens to start at Wolf Creek Pass, twenty-three years before it was designated by Congress. Not wanting to carry my digital camera and my PDA phone that has a camera, I left my digital camera behind. I originally planned on taking many high quality images, but with the daily mileage requirements and limited free time, that won't happen. I hopped on the scale again; I've gained ten pounds in the last five days.
It feels good to be back on the trail again after five days of waiting. It was nice being able to meet up with friends, get water by simply turning on a faucet, or heating food by pushing a button. The hitch back to the trail was effortless. My first ride was from a retired military chopper pilot and father of seven. The kids are all grown up, living all over the country. Now he's battling cancer, and he's on his way back from the Shaw Regional Cancer Center (about ten minutes from my place). He showed me areas along the way he guides hunters every season, and the stories that go with them; the report of cattle killed by UFOs near Greene Peak, the french gold hunters and their hardships after the Louisiana Purchase. If Ron ever ever met my uncle—who knows the San Louis Valley like the back of his hand—they would probably share stories for days, if not longer. He dropped me off in Del Norte a few miles from his hundred or so acre horse ranch, and I was ready for the final stretch up to the top of Wolf Creek Pass.
About five minutes later, a minivan pulled over. Mom, grandma, and the two kids waved me over. What if I still had my beard (yes, I finally got rid of that thing this morning). Would they have driven straight by me? Originally from Alaska, they were excited to hear about my adventures on Denali several years ago. They were also surprised to hear I haven't been back to the Last Frontier State since. As we left town, their car thermometer was reading seventy-one. It climbed a couple degrees, and as we got closer, following the winding road through a new tunnel and under a snow shed, it started its dramatic drop. At the top of the pass, it was fifty-two. The sun slowly slipped its way below the horizon, and I was dropped off at the pass as the family headed to their destination of Pagosa Springs, eager to share their story from the warmth and comfort of a hot spring pool of some guy dumb enough to hike here from the Mexican border and posthole through snow in shorts, t-shirt, and tennis shoes. I followed the trail for a mile or so, and ditched it as it wound through the trees with several feet of snow still piled on the ground. I followed a south facing snowless slope, and reached a radio tower facility as darkness approached. Finding a place to camp that was free of snow and dry was a little challenging. I looked around a little with my only source of light being the faint glow coming from the sun behind the horizon now shining brightly over China.
For the first time in six days, I'm camping again. I heard absolutely nothing last night, except for the beat of my heart as I settled into my bag, or the errant chirp of a bird nearby. Despite the snow, it's nice to be out here again.
The first day back on the trail was brutal. Absolutely freakin' brutal. Within twenty feet of my camp, I was back in the snow. The clouds were in early, the distant echo of thunder rang in my ears before noon like the dreadful sound of a freight train twenty feet from me, and everything out here is a dull grey, black, or white. There is no color anywhere to dazzle the eyes. The tundra is brown, the lakes are covered with grey ice, and the wildflowers are still asleep for the next two weeks.(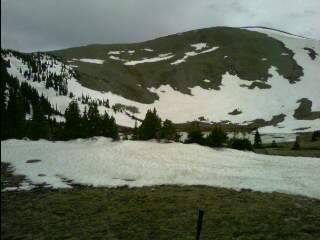 Inset: Taking pictures with my PDA phone from now on - Spotted Lake, with a thunderstorm brewing overhead.) The only thing the five days I took off accomplished was turn the deep, strong snows into thin mush. I postholed through everything. Finding the trail below treeline where it traversed around peaks on steep slopes was not an easy task. There are no cut logs visible to give a hint, not even a trail corridor whispering its hidden location to me. The snow was maybe firm enough for the first hour or so on the open Divide, but when I dipped into the trees, the thin snow and rocks poking through the surface made the snow rotten. For most of the day, I was postholing up to my knees, sometimes up to my waist, every now and then a large rock or downed log sucked me in up to my chest.
I finally reached Spotted Lake, only to have thunderstorms billowing above me. With the trail heading above treeline in less than a mile, I set up my tent and waited. My feet have been wet for eleven hours today, and I'm wondering if I will ever make it above treeline. Up there, at least I can see where I'm going, and plan a route around the snow. Down here, it's been the usual step, sink into the snow, pull my leg out, step again, pull my other leg out, step, sink up to my knees routine.(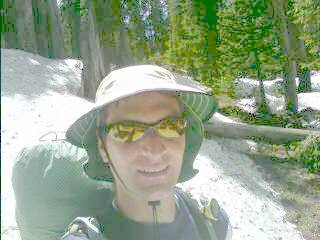 Right Inset: Other than the snow, did I mention I finally shaved?.) A couple hours later, I was on my way. I approached the icy waters of Archuleta Lake, and saw the trail snake its way up the ridge ahead of me. As a headed around the ice covered lake, I saw a haze ahead of me. Is it from the sunscreen and sweat coated on my sunglasses? Is it a campfire? A campfire? Who else in their right mind would be up here? As I got closer, I saw two tents, but too big to belong to a thru-hiker. I said "hello" to the three huddled next to the fire. They jumped back, surprised to see anyone coming from the my direction. We introduced ourselves, and they talked about their adventure through the snow for the last mile or so up the creek. I decided to stay put. The sky was still cloudy, and the climb above treeline was just ahead. I averaged about a mile an hour today, and was glad to know I was leaving the trees behind.(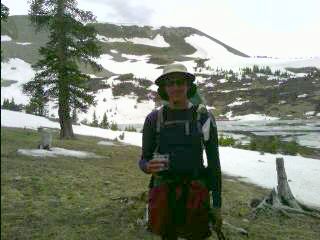 Inset: Enjoying a glass of wine at camp.) It was only seven o'clock or so, but it felt good to have my wet feet dried by the warmth of the fire while I watched the three pull their burning socks off the flames (I've never seen anyone successfully dry socks next to a fire—they always end up cooked well done, Cajun blackened style, or grilled).
I was off a little after seven this morning, and snaked my way up the switchbacks to the Divide. There was a steady breeze, and snow is clung to the high cliffs and all the north facing slopes. I postholed through the thin snow in many places, and reached the flank of Sawtooth Mountain. I haven't considered anything but the Weminuche route, but I'm starting to wonder. Over the last ten years, I've wanted to hike the entire Weminuche. The Colorado Trail follows a small portion, which I did in 2002. I have a pullout from Backpacker Magazine on the area from many years ago, a recently rerouted trail section; I was prepared—I guess I won't need that. I even took the five days off last week to let some more snow melt. Well, it looks like that will be another two or three weeks before that happens. The Wolf Creek Pass area is the wettest in the state, averaging between 400-500 inches of snowfall each year. Maybe this isn't the right time to be up here. In the afternoon, cornice collapses can occur, wet avalanches, a lot can happen with all the snow up here this time of year. I came to the decision to take the Creede Route. I'm disappointed, but I only live three hours from here. If I can find a way to take off six months from the daily hassle of life, I can find a week or so next summer to do the Weminuche Wilderness / San Juan Route. I'll probably even write about it and add it to this journal (see below). I hadn't done any planning for the Creede Route, but the route seems straightforward. Going downhill will get me somewhere, and I have over fifteen pounds of food left if I make a wrong turn. San Louis Pass will probably have some snow, but then it's all downhill to the Cochetopas.
After three hours of postholing, walking through ankle deep water, and bushwhacking, I found the trail. The snow slowly disappeared as I descended along Goose Creek. It feels good to have traded the wind for the gurgle of running water, to leave the grey and white landscape above treeline and green monotony of pine and spruce behind.(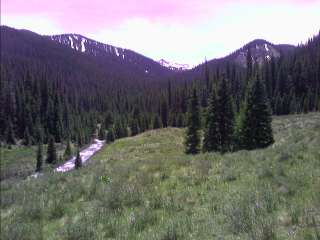 Inset: The lush, green valley below the Weminuche.) I met three horsemen headed up for the weekend—another big surprise! They offered to put me up at their camp, ride to the trailhead, and drive me to Creede. I'm sure it would have been nice, but I politely declined. I arrived at the trailhead in the evening, saw a moose in the meadow off the side of the road, and roadwalked seven miles until 9pm. A local drove by and I asked him how far it was to Creede. "About ten miles" he replied. Well, I guess I took the wrong route, and I'm not roadwalking this. He took me to "Windy Corner" right on the edge of town where many CDT and CT hikers can camp. After knee deep water crossing Goose Creek, and an exciting crossing of another swift moving creek with a couple small diameter logs that bounced around as I crossed them today, it feels good to be in town—and hopefully done with the snow.

August 29 - September 6, 2008
Wolf Creek Pass to Stony Pass to the Ghost town of Sherman - The Weminuche Wilderness route


Last year I was turned away from the Weminuche, taking the Creede route instead. Turned away from the deep snow, the steep snow choked couloirs, and turned away from the avalanche danger.
After volunteering last weekend for a new trail reroute on the CDT near Mt. Elbert, I Stopped at Tennessee Pass and hiked a few miles to the top of Mitchell Creek. On the long, straight trail that follows an old road, I met a Colorado Trail hiker working his way to Durango. He dropped everything in California to experience freedom. Summer is suffering its yearly demise, and I need an exciting conclusion to this chapter. That's it, I'm going hiking. I'm going to take the scenic route this time and enjoy the highlight of the CDT through Colorado. However, there's a catch. Thanks to the warm, rising air over the Sierra Madres in Mexico (and the coriolis effect), the moisture streaming up from the Gulf of Mexico—dubbed The Monsoons—will continue to make the weather unsettled. I ditched my palm sized rainjacket for my Helly Hansen rainsuit I haven't worn since the Appalachian Trail (and only wore it twice on that trek, thanks to the umbrella I carried). My pack base weight has ballooned from 11.5 pounds to 17 plus another 13 for food for the next seven days. I even fired up my old Pentax 35mm SLR that's been sitting in a closet for well over a decade. With the thunderstorms rolling through at night, maybe I'll get some good time-exposure shots.

It's Friday, 5pm, and our general manager Jon has given me a ride to Dowd Junction after work. I've decided to hitch a ride to Wolf Creek Pass. It's in my blood after last summer, and with gas at $4.20 a gallon, why not. Within ten minutes, I had a ride to Leadville. From there, it was a fifteen minute wait for a ride to Granite.
Soon after, I was in Buena Vista. With my thumb out, I waited, and waited, and waited. I saw the sun set above Cottonwood Pass, and darkness soon followed. My luck has run out. I walked a block to a well lit gas station and tried again. Thunderstorms were firing up just to the east, and more over Poncha Pass. After turning down a couple offers for a ride down the road to the dimly lit intersection of 285 and 24, with traffic going 65mph, I decided to accept the next offer. There's nowhere to camp for miles around here, and out there, well, maybe I'll get lucky with someone coming up from the Front Range. A local asked where I was going, and she offered to take me to the that intersection just out of town. The area has been improved since I was through here last, with a stoplight and turn lane. Great, how long is this going to take? I probably don't look like anything other than a dark shadow on the side of the road. No one can read my "Salida" destination scribbled onto a piece of cardboard. Do I look like an escaped inmate from the federal prison down the road a few miles? It's now 9:30pm, and and I throw my thumb out to see what happens. I'm next to a stoplight, and when the light turns red, some timid motorists avoid pulling up to the light with some crazy hitchhiker at the corner. The light turns green, and traffic buzzes past me at thirty miles a hour. I don't really have many options right now, with much of the valley being wide open. The Arkansas River is somewhere ahead of me, and I'd be camping on private land. Behind me is the municipal airport, and hopping the fence and camping on airport property might not be a good idea. A red pickup truck pulls up to the red light, and I just expect a blank stare. "Where ya going?" asks a voice in the truck. "Salida; Poncha Pass." I blurt out. As the light is about to turn green, He yells "get in, hurry!" I throw my pack in the bed of his truck that's teeming with water. "You're lucky you aren't a few miles east of here, it's coming down an inch every half hour." I told him I saw the storm build all evening, with the cumulonimbus tops still glowing orange well after sunset. A local of Poncha Springs, he takes me up to the base of the Pass and turns off onto a seldom used county road. The bright stars above are shrouded in clouds to the south. Those black clouds I saw grow into thunderstorms over Poncha Pass from thirty miles away are now nearby. I hope they weaken, because I'm not setting up my tent.
The camping along the creek on the only level ground around was pleasant, but now it's time to move on. I walked up to the highway and did the routine. Standing on the side of the road, I watched the cars and trucks recklessly pass each other on the way up and down Poncha Pass. The sun slowly painted the hillside behind me a bright orange glow as the early morning progressed. A truck pulled over up the road from me and I charged up the hill. "I noticed your sign at the last minute while I was on the phone. I'm headed to Pagosa." Wow, now I have a ride right to my destination. This is going to be good. Steve has a construction company, specializing in shotcrete walls and earthen structures. His family settled in the San Luis Valley over a century and a half ago, and we shared stories about the migration of people and cultures back in the day.
I was at the top of Wolf Creek Pass in the late morning. Clouds were building over the high ridges and peaks, and I could feel the humidity in the air. I climbed up towards the Lobo Overlook and worked my way up the trail—this time without any snow to contend with. What a change, this is great. No postholing for miles on end, no wet feet for twelve hours a day. This is going to be good, except for those building clouds overhead. I passed several dayhikers, a horse outfitter, and a couple finishing their week long trek on the Trail. Last year I had my map out every half hour or so as I blindly trekked through the snow, trying to find my way along the CDT buried several feet under me. Today, I have yet to use it. As the sun slowly bumped its way into the western sky, the dull roar of thunder attacked me from all sides. I reached Archuleta Lake in the late afternoon and knew I couldn't go any farther. Last year I was here with the lake encased in ice, and an overcast sky blowing frigid winds onto the frozen ground. This is more like it. The trail winds its way above treeline, and stays there for the next twenty miles. With the electricity in the air, I left the trail and meandered around looking for a flat spot. I set up my shelter as the sky spit out an occasional burst of rain. Thunder danced everywhere as the echo wrapped around the rocky peaks that surrounded me. I repackaged my food bag, leaving the bulk of the fourteen pounds on the bottom of the pack. As late evening approached, I was getting an itch to head back out. I'd only done ten miles, and I needed more. I threw on my rainjacket and slowly packed up camp as the last of the noisy skies slowly subsided. My shoes were back on, my pack half loaded up, and... the rain came back, and the thunder. Okay, that's it. I'm not going anywhere. I pulled out my sleeping bag and started typing away. As I write this, there is a lone elk making a bunch of noise just up from the hill from me. It's busy barking and mewing, with the occasional crack from breaking a tree limb as it meanders around. The rain has stopped its several thousand foot fall from the sky, and I look out to a star studded sky blankly staring at me from millions of miles away.
The crack of dawn is still hours away, and it's raining again. I fall back to sleep only to awake hours later to—rain. Despite the conditions, I pack up camp and go for it. I knew rain was in the forecast, and I'm getting antsy. As I climb up to the twelve thousand foot ridge, the steady rain is now blowing sideways. Through the fog I can make out the trail, but not much else. The trail bends to the west, and I pass the Sawtooth Mountain Trail. Last year I took this route and beelined it to Creede. The Divide swings west fifty miles forming a long semicircle to Spring Creek Pass and back to the north of Creede. The deep snow, spring avalanche cycles, and snow choked couloirs made this route dangerous, and now I'm going to conquer it—rain or no rain. As early afternoon came and went, the rain only let up briefly here and there. I approached the last stand of trees I'd see for several miles, and was torn between setting up camp and trudging on. I've only done a little more than five miles today, but I don't feel like continuing on in a horizontal driving rain at twelve thousand feet. I have yet to hear the signs of electricity in the air, but that could change in an heartbeat. (
Inset: Camp at 11,500ft during a break in the storm.) The garbage bag raincover I made yesterday worked well, but my hydration bladder decided to blow up on me. The "waterproof" stuff sack my down sleeping bag was stored in wasn't so waterproof this time. The bag is damp, and I wrung water out of the hood. Despite being in the middle of a ten mile stretch of no water, it's everywhere. I waited for I lull and head out to fill up on water. It's now 6pm, and the rain is still relentless. Yesterday a dayhiker told me the latest on Hurricane Gustav barreling towards the US Coast, and I feel like I'm in its remnants up here.
At 5am or so, the constant pitter patter of rain onto my shelter suddenly stopped. After 23 1/2 hours, the constant assault of rain had ended. The skies were still grey, with low clouds clinging to the valleys far below. The trek on the ridge above twelve thousand feet took on a magical quality as the heavy cloud cover buried the surrounding peaks in an ever changing curtain of grey and white. As I mounted the ridge near South River Peak, a wall of white raced towards me, burying me in the dense clouds as they slammed into the ridge.
A Red Tail hawk screamed above me as I began my climb up from Piedra Pass through the dense timber. As the night sky wringed the last of the light from the land, I climbed a small knob above Cherokee Lake and called it a night.
Yesterday was Labor Day, and Fall is definitely in the air. There is a layer of ice in my water bottles, and frost on my bag. As the sun drenched my camp with warm, inviting light, I packed up my gear and traversed around the Knife Edge with Trout Lake ahead. I feel like the whole world is below me as a traverse from one twelve thousand foot ridge to another. I've spent a bit of time the last couple days getting my boots to fit properly. The back of the shoe is rubbing my skin raw, and the moleskin is getting torn to bits from the constant chafing. The Prominent Navicular that developed in my right foot last summer is starting to rear its ugly head. I'm trying some heel wedges to see what works. As I tinker with my boots, I hear the crunch of footsteps, and see a couple hikers approach. Other than two others I saw this morning, I haven't seen anyone since the first few hours into the trip on this Labor Day Weekend. As they get closer, something looks familiar; the shirt, the hat. Wait a minute... no way, it can't be. "Mark, Janice?" I see large grins appear on their faces. We all stare blankly for a moment. Yes siree, Mark started the Trail the same day I did, and Janice gave me the sunglasses after dropping him and Jim off at the Mexican border—and the three of us finished at the Canadian border together. We're staring at each other in total disbelief. We talk for a good hour or so, looking back at all that happened last summer, and enjoying the alternate route that was buried in snow. With large grins on our faces, we parted ways and continued our adventures. I climb over the saddle with plenty more hundred mile views and begin the long descent into Squaw Creek. Like most tread in the Weminuche, it is badly eroded. It's several feet deep in places, with waterbars smashed to bits or kicked out of place from the very heavy commercial outfitter use that frequents the area with pack trains of twenty or more horses. The ascent from the creek passes several lakes dotting the landscape and I continue up to the Divide. I gaze down at Squaw Lake thousands of feet below me and I decide to camp here above twelve thousand feet. I can see thunderstorms rage over the Sangre de Cristos a hundred miles away, and gaze at the Milky Way staring at me from the heavens.
I unzip my tent this morning, as it gets tossed about from the winds scouring the tundra. As I gaze out expecting to see crystal clear skies, I'm instead treated to dense fog. I'm slowly coated with water as I pack up camp and work my way down towards Weminuche Pass over the next ten miles. The fog slowly lifts as I descend down into the Abyss below, with a white wall of clouds casting its glow on the surrounding terrain. Ahead of me I see a couple hikers slowly working their way up from the pass. Judging by their clothing and appearance, they definitely aren't your typical Ralph Loren day hikers, or the get-out-of-the-city weekend warriors. Gail and Alistair are a couple from Calgary, Alberta on their way from Steamboat to Grants, NM. They're finishing their thru-hike after skipping the section waiting for the spring snowpack to melt out. Like everyone else that's done the PCT (they did it years ago), they gave me words of encouragement after I told them about my foot problem. I keep wondering if I'll be able to do twenty mile daysówhich is essentially needed to finish in one seasonówith my Posterior Tibial Tendon Dysfunction (PTTD) a.k.a. adult aquired flatfoot issue in the right foot. The podiatrist was speechless when I told him I wanted to go on another long distance trek next summer. I'm hoping an orthotic will help do the trick. Where were we? Oh yeah; there was a sprinkle of rain as I ascended above treeline, and then I approached the gaping hole in the rock. The large notch in the ridge adjacent to Rio Grande Pyramid is known as The Window. I saw it as a small dot on the horizon a few days ago, but now its standing sentinel above me. I saw some beautiful places to camp nearby, but ten mile days ain't going to cut it.
I perched my camp above twelve thousand feet above Ute Lake. The usual bugling elk were heard echoing off the terrain below me, and the sunset and sunrise were the usual spectacular spectacle. The next ten miles throws me over passes, skirts me around high alpine lakes, and darts me through small stands of forest before thrusting be back to the lofty heights I'm accustomed to. My eyes catch the elk slowly disappearing over the horizon as they sense my presence from far away, and my ears hear the constant song of the wind dancing across the endless valleys that stretch across the horizon. Stony Pass is still a good dozen miles away, and now that I'm down to a Pop Tart, pouch of instant mashed potatoes, and one tortilla, I don't want to have my feet complain one bit today. I pass a group of four hikers doing a two day loop through the Needles, with what looks like 80 pound packs, and watch them as they grimace in pain as they struggle to don their packs. Their shirts are drenched in sweat, and their boots look perfect for climbing Mt. Everest in the middle of winter. After a few minutes, I struggle to hold a straight face and work my way over Hunchback Pass. I approach the second set of hikers today (it's getting to be busy out here!), and I see a different story. Doobie and a friend are out on a section hike from Battle Pass in Wyoming to Chama, NM. We share the usual thruhiker stories, along with the twenty four hours of rain that wasn't supposed to happen last weekend. I climb up to the Divide from Kite Lake, and see a familiar scene from over half a decade ago.
The wicked drop into Elk Creek I took on the Colorado Trail, and the vertical cliffs of White Dome that tower over the the creek. The road to Stony Pass appears as nothing more than a small snaking line from here as I wind my way between lakes dotting the top of the broad ridge that separates the two greatest watersheds in North America. I approach a small saddle and I hear the "bahhh" as a sheepherder rounds up his collection of animals. The broad ridge abruptly disappears, and in front of me are a series of large hillsides sculpted into a jumble of drainages. The Colorado Trail Foundation and Continental Divide Trail Alliance just completed a several mile reroute in the area, and its rewarding knowing I don't need to inch my way through torn up tread or loose rocky trail. Speaking of torn up, I feel like I have a limp in my walk as I travel the last half mile to the road. I never did see a vehicle head up the road, but I peer down to see a trail of dust rising in the distance. It's 6pm, and if this doesn't work. I think I'll be stuck camping by the road tonight. The truck approaches, and I hear a "hop in" come from inside. A big sigh of relief fills me. I only have four days left, almost sixty miles to go, and one of these will be for hitching a ride home. They're hunters headed into town to pick up a cell signal. One of their horses has suffered injury trying to jump over a barbed wire fence. The rough dirt road takes a torturous drop to the valley below. The mining history of the area is all too apparent: the boarding house at the top of a cliff a thousand feet above us, and abandoned tramways used to bring ore to the valley floor, with lift towers and cable still in place. The four of us shake hands as I head into the small grocery in town, and I walk out with my forty five dollar bill for two to three days of food. I sit on the porch and devour a deli sandwich, half gallon of juice and a few bananas as the sky washes away to darkness. A restaurant worker flags me down as I pass through the center of town, and guides me to a camping spot across the river.
After a fifteen minute wait, I had my ride straight to the top of the pass. In his 80s, Earl was on his way to go fishing on the other side of the pass. We stopped a few times to gaze at the abandoned mining tram towers perched high on the cliffs above. It amazes me what people went through over a hundred years ago to send their precious metals to market. From the mines, the ore went to the carts, to the mules, onto the wagons, and then the trains. Building the infrastructure to move the metals from twelve thousand feet down to the towns was back breaking work for miners—and here I am spending my vacation hiking fifteen to twenty miles a day for fun. Isn't life great? The trail starts above treeline, and stays that way. Earl kept talking, and I hesitated to get out of his car with the strong, cold winds blowing. With the car thermometer reading 41&deg, I threw my pack on and darted up the trail to warm me up. The broad ridge that forms the Divide is dotted with small lakes and snowdrifts that make finding water easy. There has been a reroute in the area, and a new sign points me to stay on the Divide instead of descending Pole Creek. I work my way over a small knob, and I stop in my tracks as I hear a loud thumping noise. Over a dozen ptarmigan taking shelter from the wind dart off away from me, with their white bellies hiding their camouflage. My maps don't show my route any more as I continue to follow the large cairns on the ridge. I can easily see a hundred miles in every direction, with Silverton clearly visible to the west. The cairns have continued to spread out farther and become smaller. The Divide heads over several large peaks looming in front of me, but something tells me the trail doesn't. I pause for a moment, have a snack, and try to figure out where to go. I climb what's probably a thirteen thousand foot peak and scan the horizon for a trail—nothing.
Only a precipitously steep drop into Silverton, or towards what's maybe Cataract Creek to the east. I spot a very faint animal trail or peakbagger route that takes me from one peak to the next. I descend onto a saddle with wild winds blowing me around like a rag doll. There is a still snow covered lake far below me in the hanging valley that drops to the mines above Silverton. I bushwhack my way to the the bottom of the cornices and make the long trek to the other side of the valley. Several deer sense my presence and quickly scurry away. There's an old mining road I spotted from afar, and I reach the top of it with the mine swept away from rockslides. I'm still at twelve thousand feet, and the old road swings me around the steep terrain as it slowly descends to treeline. I pass an old miners cabin, and then the road seems to drop off the face of the earth. It looks like there's over a dozen switchbacks below me taking me from the steep mountainside to the valley floor. A coyote howls and yips in the distance as I continue my dizzying descent zipping back and fourth on the talus slopes.
How people built these over a hundred years ago with no heavy equipment just amazes me—I can't even imagine what they went through to build these things. I passed a trailhead sign for Cuba Gulch, which isn't on my maps, and looked for a nice place to camp as dusk approached. I threw down my groundcloth and slept under the stars as my ears rang from the winds that pulverized my eardrums for most of the day.

I continued down the road for most the morning, passing a couple vehicles as I reached the Cataract Creek Trailhead. When I stuck out my thumb a few hours later, I got a ride—all the way to Buena Vista. The couple spent the last several days in the area, climbing a 14er and several other peaks. They are climbing the high points of all fifty states, and the high points in each county in Colorado. After a couple more rides, I found myself back at home. Total daily expenses: about five bucks. Total gas expense at $4.20 a gallon: nothing.

Creede
I was up until midnight typing journals last night, and feel a little groggy this morning. (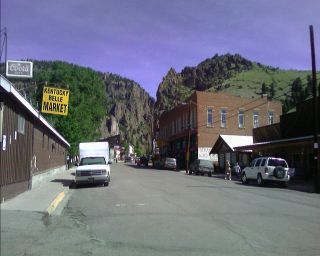 Right Inset: The town of Creede.) First thing on my list: food. I headed to the grocery, charged my PDA battery, and bought a bag of Chex Mix and half gallon of juice which I immediately pounded down. With over fifteen pounds of food in my pack, I have plenty for the next 95 miles to Monarch Pass. While I was in there, I even met two Colorado Trail (CT) thru-hikers traveling from Denver to Durango, and they're trying to decide whether to head into the Weminuche or not. On the way out of town, I decided at the last minute to do lunch, and stopped at the Firehouse Restaurant. From the corner table I heard someone blurt out "CDT hiker?" I looked over and saw their two backpacks behind their chairs; it was Nemo and Pouch. They started with several other hikers, loosely known as team "F-Yeah". They were in contact with Nean yesterday at Pagosa Springs, and found out there are thru-hikers everywhere. Some have jumped to the Great Divide Basin, central Wyoming, Northern Colorado to hike south, or just taking some time off. I guess my plan of hiking up to the Pass at 6am before the midday heat turns on won't happen. It's 3pm, and I'm sitting here at the Wi-Fi lounge above the restaurant typing my journals.

In the last twenty-four hours, I've been offered quite a bit already—food at camps, a five or so mile horseback ride to the trailhead, and a ride to Creede, a few rides eight miles to near the top of San Louis Pass, a beer (and more food), even an overnight stay when I reach Steamboat Springs. I said no to all the offers—except for maybe the stay in Steamboat, that might come in handy. Why am I trying to finish this hike in one summer? Maybe I should have done it state by state, giving me the time to take a couple months for each. Then I could take advantage of all these kind offers of trail magic. Then again, I don't need them to enjoy the trail. I'm out here to hike my own hike. If I'm going to finish at the Canadian border, I need to push on.

The climb up to San Louis Pass was well over three thousand feet up, and a long ten miles to the top. I passed mines, out buildings perched precariously on the side of cliffs, and the underground Creede fire department. (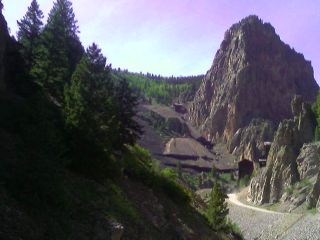 Inset: The mines above Creede.) After three or four hours of climbing, I finally reached the Skyline trail. At the top of a rise, I can see a tent set up. Nemo and Pouch are wondering what took me so long, and we watched the sunset bathe the Fourteener San Louis Peak in a golden orange.(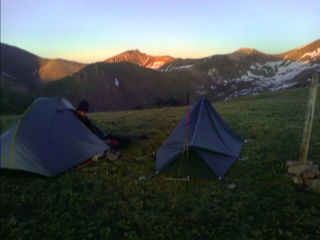 Right Inset: It's not San Louis Peak, but a great sunset.)
The sun was beating down on our camp at 12,300 feet early this morning and we postholed for the last time (I hope so) before following down Cochetopa Creek, full of beaver ponds and willows, but no moose sightings. It was pleasant hiking; no snow to bust through, no routefinding, and the road hiking in the area is seldom used jeep roads. The only downside was the bugs, prevalent for the first time on the trail today, but I'll take mosquitoes any day over several miles of postholing. A few ranchers were herding their couple hundred head of cattle through the area, using motorbikes to move them along. How the times have changed.
We stopped for a couple breaks this morning to get water, eat, and rinse out dirty socks. Nemo's in the outdoor retail industry (her sister is in a bike race in Gunnison this weekend they'll attend), and Pouch is a computer programmer for IBM in Cheshire, England. They did the PCT last year, and are now finishing their last long distance trail for their Triple Crown. After another break, I cut it short and headed on. I crossed the highway that heads over North Pass and climbed my way through the heavy timber back up to the Divide. The bugs were out in droves, and I stopped at a high point with a small breeze and had some food. I figured this would be a good place to see if I can get a cell signal from Gunnison. It did, and I gave Brooke a call to see about spending a half day kayaking in Salida. A student of my winter roommate John (a ski race coach), I took her snowcave camping last winter to help her get ready for five day winter outdoor skills class. I reached her, and she was excited about me arriving in town, and Thursday evening was perfect. Okay, that means I'll need to hike over sixty miles in two days. Let me see how this goes. I reached Upper Razor Creek Park and noticed a small brown cloud of mosquitoes quickly surrounding me as I stopped for water. It was getting really bad really fast. They were flying into my eyes and ears, I inhaled several into my nose, and swallowed who knows how many. Every time I swatted my leg, at least a dozen would fall to the ground. This is my last water source for some time, and I need to fill up with a half gallon of water. I had to make sure I was constantly moving, dancing around the open meadow as I downed a bag of cereal, and ran over to my pack to grab my water bottles. As I continued swatting the bugs all over me, I felt like something out of a Friday the 13th movie. I had blood all over me and my hands were stained red as I ran frantically from my assailants. I darted back from the creek with my half gallon of water, threw on my pack, and continued on. A dark brown cloud of mosquitoes were swarming all around me. I tried to move a little faster and reach the higher meadow where a breeze might blow the bugs away from me. Nope, I continued on for about a mile crazily swatting at them every few seconds. A good half hour later, I finally killed the entire pack of bugs that followed me from the creek. As I passed near Middle Baldy Peak, I saw the sunset striking the mountains to the west, and headed on before the bugs had a chance to devour me. (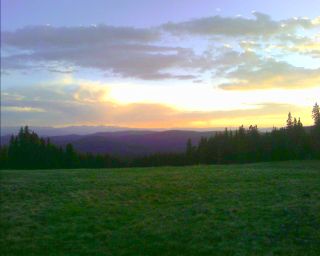 Inset: San Louis Peak is back there somewhere.) At 9:30pm, I put on my headlamp and continued on. What a great place for a night hike! The trail is obvious, the temperature is comfortable, and I feel great. The trail snakes its way along the Divide, going up and down like a roller coaster. I worked my way to Sargents Mesa at 11:30pm and called it a night after dumping out dozens of dead mosquitoes from my pack. Lightning flashed in the sky to the north as the crescent moon slipped below the trees behind my camp.
Wow, I did over thirty-six miles yesterday, my biggest day ever. No blisters, I don't feel sore, and I'm ready for the next twenty-five miles to Monarch Pass. (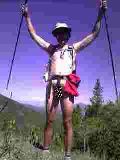 Right Inset: The summer solstice celebration.) On another note, today is June 21, the longest day of the year. This morning, I got up, took off my extra sleeping layers, and keep going. I kept taking stuff off until there was nothing left. The first day of summer is officially thru-hiker hike naked day. Yep, it was great—going to the bathroom was a snap, and drying wet clothes wasn't an issue. I was in dense tree cover, so most of my critical parts were safe from the intense sun that's shining brightly today. I could see Blanca Peak towering over the San Louis Valley to the south shrouded in haze and clouds. As I reached Windy Peak, some light rain and snow started to fall, and the fun was over. As I neared Monarch Pass, I met a couple CT trail maintainers out on their spring visit, excited to see a thru-hiker on their journey. As I wound my way around to the Pass in the evening hours, the bugs were out again as I waited for almost an hour for a ride into Salida.
Salida
(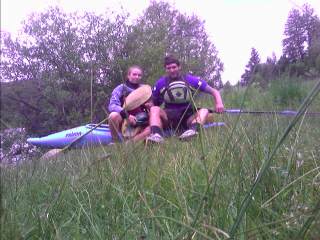 Inset: Getting ready to paddle the Arkansas.) Brooke and I headed out around noon to the river after running several errands and going to lunch while the skies unleashed their fury, blowing over sidewalk vendor signs and dropping branches all over the street at Riverside Park. We ran The Narrows as the weather cleared, a nice class II/III stretch of river near Buena Vista, and finished it off by jumping off a cliff into the river. Instead of heading back to the trail this afternoon, I was sucked into town for another day, and we enjoyed some live music and a late dinner to end the day.
Brooke insisted she take me to the Pass, and my vacation was over. I started my full time unpaid job around 10am and started the climb away from the highway and towards the Monarch Pass ski area. Past the ski area, there's the Monarch Pass Game Drive area, with two interpretive signs explaining how the ancient peoples hunted in the area using rock walls and pits. I descended towards Waterdog Lakes and heard the echoing rumble of a rockslide barreling off of Bald Mountain to the abyss below. I saw close to a dozen people today, up here for some fishing or a little hiking. The summer solstice has passed, and I'm a little disappointed at the thought of the days getting shorter. What a cruel joke played on us by Mother Nature. I traveled along the old Alpine Tunnel railroad bed with some rumbles of thunder off in the distance. I climbed back up to timberline as the weather started to clear and stopped for the day after the sun had disappeared and the quarter moon was overhead.
The warm, soft morning sun lit up the Continental divide with a splash of bright colors. (
Inset: Sunrise above Wildcat Gulch.) Elk were lazily grazing in the wet meadows flowing with calm snowmelt waters. A deer is nearby, looking at me every now and then with a cautious eye as it grazes in the willows. I hiked over Tincup Pass this morning and descended down to Mirror Lake, busy with weekend adventurers fishing, jeeping, ATVing and motor biking all over the place. I climbed back up to timberline to the multi-use trail deeply rutted in places with standing water. I crossed Cottonwood Pass Road and snaked my way down to Texas Creek, full of rushing waters—and mosquitoes—coming from the 14ers in the Collegiate Peaks. (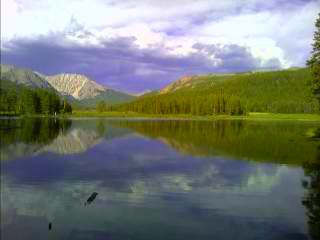 Right Inset: Looking up Texas Creek.) I continued on until dusk, and found a small patch of ground flat enough surrounded by steep terrain. I could see the headlights of cars heading over the top of Cottonwood Pass returning to the Front Range from their weekend getaways.
I started the steep climb up towards the saddle west of The Three Apostles, spotting a porcupine before the climb out of the trees. I started to see some really familiar terrain as I reached the top, with Lake Ann below, and the 14er Mt. Huron towering ahead. I adopted this section of trail for the CDTA several years ago, and come out twice a year to do some minor trail work—clearing clogged waterbars, removing small downfall, reporting major issues, etc. It feels good to give back this way, and every time I'm up here, I read the trailhead register with envy seeing the names of the current year of thru hikers working their way north or south to the border. I crested Hope Pass (better known by locals as hope-I-don't-ever-have-to-climb-this-again-pass), descended down to Twin Lakes, forded thigh deep Lake Creek, and hitched a ride to the Leadville Hostel. My ride was from a mountain guide on his way back from leading some clients to the summit of Mt. Wilson. They saw the remnants of an avalanche, with a 7 to 8 foot deep fracture line, taking it all the way down to the ground and running thousands of feet to the bottom of the valley . I'm glad I'm not near Wolf Creek Pass anymore!
Leadville
Last time I was at the hostel was back in February for the Rockies Ruck. A thru-hiker reunion of sorts, we shared stories of thru-hikes on different long distance trails, saw home videos of hikes and epic trips to Nepal, and took a half day to do some ski touring. Today there is a Colorado Trail Foundation crew staying here, rerouting trail for several miles, and installing a $60,000 bridge next week.
I stuck around a little the next day to let the torn up red skin on my heels heal up a little. Trail running shoes are very breathable, but there's a downside. The dirt gets in from everywhere. When I remove my shoes at the end of the day, my toes are covered in dirt, and the rest of my feet are stained brown or red. My homemade sock gaiters keep out the big stuff, like pine needles and pebbles, but the fine dirt is another story. I've thought about cutting up one of those neoprene beercan coolers and wrapping it around the back of my socks. I'll see if that works. It's 1pm, and I'm still here (actually I'm writing this from near Fall Creek Pass). I think it's time to go.
Scott is one of the CTF trail crew, and offered to give me a ride to the trailhead. As we neared Twin Lakes, bolts of lightning zipped across the landscape ahead of us, and large hail slammed against the windshield with a great thud. Great, my timing back to the trail is just perfect. (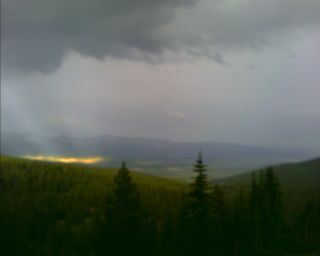 Inset: Rain over the valley, and sun on Leadville.) As I got back on the trail, the dull roar of thunder echoed throughout the Arkansas Valley. Across the valley, the Mosquito Range was shrouded in a white blanket of clouds, but I had nothing more than a sprinkle every now and then. The trail that winds through here is as smooth as a baby's butt and wide enough for a car in some places—thanks to the fact there is new tread in places, and bombproof construction from the heavy use the fourteeners receive in the area. There is flagging everywhere, marking potential reroutes and new trail. I ran into another trail crew—Colorado Fourteeners Initiative, doing some training over the next few days. I passed in the shadows of Mt. Elbert (the highest peak in Colorado) and Mt. Massive as I worked my way to the southern flank of Galena Peak. I set up camp at 10pm after a late start from Twin Lakes with heavy cloud cover still filling the sky.
Today I'm leaving the "official" route and hiking right into Avon. North of here, there's a route that goes over Uneva Pass, another one that heads over Grays and Torreys peaks, Independence Pass, the Tenmile Range. I told myself from the start I'm hiking home—straight to Avon. That's the neat thing about this trail. There is no one route, and in many places, no route! It requires a little planning, flexibility, and a little routefinding. At 6:30 this morning, I started my slow slog up to the top of Galena Peak. The views were amazing; I could see everything—the Buffalo Peaks, Sangre de Cristos, Mts. Elbert and Massive, Greys and Torreys, Pyramid Peak, the Maroon Bells, Snowmass Peak, Mt Sopris, Mt. Holy Cross, and Mt. Powell to name a few. I descended down to the East Fork of Homestake Creek to the large water project known as Homestake I that feeds the thirsty Colorado Front Range. After a good hour or so traveling down the dusty dirt road, I turned off and headed towards the ghost town of Holy Cross City. (

Inset: Waiting for the weather to clear with Mt Whitney looming in the background.) As I headed up towards Fall Creek Pass, the clouds were billowing above me, and Mt. Massive was shrouded in black rain clouds. Venturing above treeline and becoming a lightning rod or a human wind sock is not usually a good idea. The storm clouds continued to get closer, and the winds started to roar against the thirteen thousand foot ridges looming above me. I set up my tent and had the occasional pitter patter of rain noisily splashing onto the nylon surface. As I wait for the clouds to slowly melt away, I'm enjoying a 2000 calorie bag of chips for a snack, and a marmot checking me out nearby (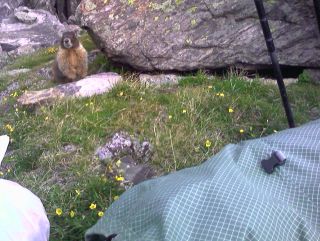 Right Inset: A braver than usual marmot.).
Around 9pm, the sky transitioned from a dark, black frightful mass to wispy gray clouds. I packed up my camp and started the climb up to Holy Cross Ridge at dusk. The skies continued to darken, and eventually the near full moon popped out of the clouds and lit up my route. I reached the 13,000ft ridge, and continued on slowly to the high point above Seven Sisters Lakes. I found a small patch of tundra and built camp at this lofty location overlooking the entire Holy Cross Wilderness.
I woke up a little before 6am to no wind, clear skies, and a beautiful sunrise. I packed up camp and started the hike along the rocky spine towards Mt. Holy Cross. There's no trail, and the going is slow over the endless rocks that range in size from my fist to SUV size beasts that can swallow a person in the large caverns that lie between some of them. (

Inset: Camping at 13,450ft on Holy Cross Ridge.) Off to my right thousands of feet below lie Tuhare Lake, still frozen over with the 4th of July less than a week away. (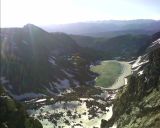 Right Inset: The still frozen Tuhare Lake.) As I look ahead, I can see the summit of Holy Cross looming above. I reach the top, and find a family of four that were up at 5am to make the early morning summit. We snap a few photos of each other, and they start their long descent to East Cross Creek. I stayed on the summit for another fifteen minutes, staring down the Cross Couloir (I'm going to ski that one of these days) and taking in the views from near Crested Butte to Steamboat Springs. The last time I was up here was ten years ago. (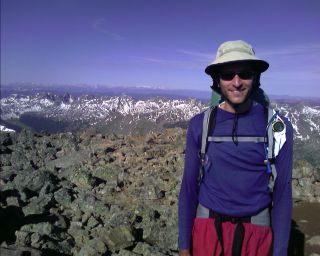 Right Inset: On the summit of Mt. of the Holy Cross.) After the long steep and rocky descent to treeline, I soon headed down to Cross Creek to the bottom of the valley. I bushwhacked across the wide, heavily treed expanse and started the long climb up to the north flank of Grouse Mountain. There was still a bit of snow on the north facing slopes, and keeping the feet dry was a challenge, which took a little longer, but worked. I headed up the back side of the Bald Spot, found my ski pole I lent a friend that was buried while snowcave camping back in March, and headed down Beaver Creek Ski Area. My feet are not in the best of shape right now. The 4,000ft drop to Cross Creek from the summit was steep and tiring with a full backpack on, and there was water everywhere from the spring snowmelt. They feel like they've been a vice for the last ten hours. As I reached Spruce Saddle after 5pm, I noticed the place was still busy, with workers setting up tents and seating for a private party tonight. I also noticed something else. (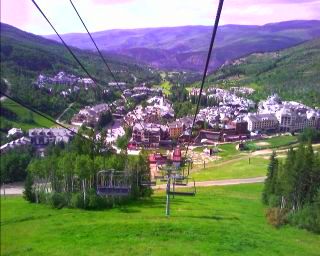 Inset: Taking the easy route off the mountain.) The chairlift was running, which usually closes an hour earlier. I asked the lift operator if I could download this late, and got the ok. Wow, what an unbelievable feeling to lose 2,000 feet of vertical so effortlessly. Then there's the "connect your steps" strongly ringing in the back of my mind. You know what, I've hiked, biked, and skied up and down this mountain a thousand times. If I want to skip hiking down this road for the next two hours, I'm gonna do it! I'm downloading!! You know what else I'm going to do? I'm not taking the stairs when I reach the Village either. Nope. I'm taking the escalator down. (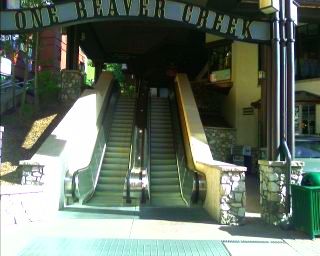 Right Inset: escalators to and from the slopes.) Then there's the 700 foot descent from Beaver Creek Village to Avon. Screw that too! I'm taking the bus. After a long, arduous day of ups and downs, I feel great! Now all I'm left with is a one mile walk around Nottingham Lake to my parent's place.
Avon
I'm done with the Sawatch Range I've been following since Monarch Pass, and when I continue on, I'll be heading into the Gore Range for my route to Silverthorne. I did some number crunching today; I have traveled 1,002.4 miles to Avon, with about 1,604 to 2,000 to go, depending on the routes I take. If I average 20 miles a day, I should reach the Canadian border in mid to late September, depending on how many zero days I take. I can handle that; it's been a question that's been in the back of my mind for a while now.
It felt good to take a few days off. (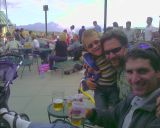 Right Inset: At Eagles Nest, with Mt. Holy Cross looming in the background.) On Friday, I finished the day with the FAC (Friday Afternoon Club) atop Vail Mountain, pointing out the route I took through the Holy Cross Wilderness. Over the weekend, the days were spent looking at maps of Montana, choosing routes, getting estimates of mileage, clothing, what supplies I can expect to find in some of the small towns I pass through, and a hundred other little things that I need to plan for on the 1,800 miles I have left.