To Northern Montana
To Northern Wyoming
Southern Montana/Idaho Border - Montana border to Helena
Idaho
(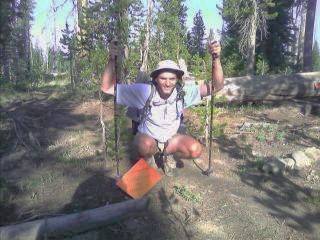 Inset: Welcome to Idaho.) There were the usual routefinding issues to deal with today. There's two different CDT routes to choose from, and I took the one towards Macks Inn and Sawtelle. After a lengthy roadwalk, I spotted a nice campsite near a creek with Apteryx three miles from the highway and called it a night.
Macks Inn, ID
After a few miles of hiking this morning, I was in Macks Inn. Nothing more than an intersection on a busy highway, I checked out the tiny convenience store for resupply, and decided to continue on to Sawtelle Resort. A sub shop at a gas station was the only thing open for breakfast in the tiny resort on the highway. As I let my stomach settle after the footlong sub with everything on it, I crossed the street and shopped for my food items at the little gas station Convenience store. The climb out of the valley towards Sawtell Mountain was on a dirt road full of ATVs and tourists driving to the top. I followed a trail for a ways, and as usual, pulled out my map a little while later. Ok, my bearing off Sawtell Mtn. shows me headed into the wrong drainage. After a few more bearings to nearby points, I realized I missed the cross country bushwhack into the creekbed, turned around and bushwhacked into Hell Roaring Canyon. On my way, I spotted three moose, gazing at me with a cautious eye every so often as they passed less than thirty feet away. (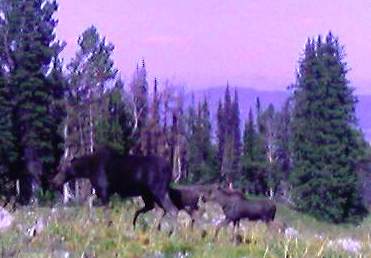 Right Inset: A cow and her two calves.) Also on my way, I crossed into my last new state, Montana! (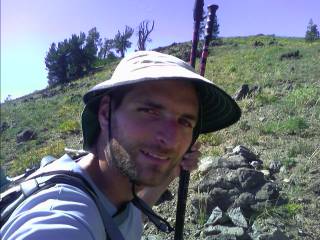 Inset: The last new state - Montana.)
Montana
Wow, I'm in my last state, and I feel great. According to my notes, right after the border crossing on the Continental Divide, I passed the most remote source of the entire Mississippi and Missouri River systems. The route was cross country through Hell Roaring Canyon, and slow going. At times, the canyon was no wider than a car, and I had to bushwhack my way onto the hillside above. Other times the willows were so thick on both sides of the creek—with cliffs on either side—I just had to charge through the mess. But then again, this is the CDT, and nothing surprises me out here. My socks are covered in burrs, and trying to remove them each day would take forever. I guess I'll leave them until I start to follow good tread—if that ever happens. I arrived at Blair Lake at dark, happy to be done with the day.
I entered the US Sheep Experiment Station—no, I didn't see any sheep—and followed the Centennial Mountains with a long climb up to near the top of Taylor Mtn, passing old open pit mines slowly being reclaimed by nature. I can see the Tetons to the southeast, shrouded in smoke and haze from the fires burning in the central part of Montana. It seems each new state brings new terrain and a new landscape with it. New Mexico had the desert, Colorado started out with climbing onto the snow covered 13,000ft San Juan peaks, Wyoming had the Red Desert, Idaho had... well, I haven't been in the state for very long yet, and now Montana has the Centennials after the relatively flat hiking through Yellowstone. I continued along the rolling hills and passed Aldous Lake, meeting two more SouthBounders, Wildflower and Scarlet, which has brought the SB total up to about eighteen now. My feet started to develop a sore spot or two, not bad, but I surrounded the spots with moleskin and headed a couple more miles.
Today was the usual hike along the Divide on the ID/MT border. Like yesterday, there are many meadows the trail follows, and since they don't receive much use, they are overgrown quickly and difficult to follow. Several Southbounders warned me about them, but again, this is the CDT, and that meant zigzagging across the wide divide in places looking for the trail, being careful not to follow the wrong ridgeline in the dense trees. My energy level dropped quickly today, I felt sluggish, and my feet started to bother me before noon. What is it? I've been doing 25 mile days from Macks inn so I can reach the Post Office Saturday morning. Twenty five miles isn't anything special any more. Is it my diet? The tiny towns I'm going through don't have any fresh fruits or vegetables, so eating anything other than junk food isn't an option. The routefinding for several miles on the ridge was really starting to get to me a few times. It was time consuming, and building camp at dark sucks. No time to journal (I'm now typing four day's worth in Lima), send email to anyone, or do anything but set up camp and sleep by 11pm. My feet are getting progressively getting worse by the hour. I'm stopping every thirty minutes to rearrange moleskin padding and bandages around my chafed toes and soles. The twenty five mile days are definitely taking a toll on my feet. Why this time? I don't know, but dirt goes right through my breathable shoes, and sandblasts my feet to shreds. I change socks when needed, but there's not a lot of water up here, and rinsing off the dirt is difficult to do. The last five miles were agonizing. Every step brought pain to my bright red sore spots all over my heels, toes, and soles. I dealt with it by... well, hiking a little farther—I need to be at the Post Office tomorrow (Saturday) morning. The hike over and beyond Little Table Mountain really brightened my day. (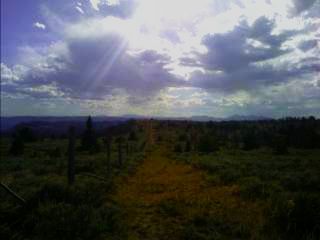 Inset: The view from Little Table Mountain.) It took my mind off my feet, and the late afternoon sun made everything around me erupt in a fiery red glow. I could hear the whine of I-15 below me as I hiked the road towards the valley below, and found a relatively flat area to camp.
It's less than two miles from the highway on this crisp Saturday morning, and other than my feet, I feel great. But my feet feel like ground beef. I let out half stilled cries of pain as I changed from my clean sleeping socks to my hiking socks. One red spot looks like it's about to ooze blood, and the rest just scare me. I spent a good half hour arranging moleskin padding, bandaging, and tape to take pressure off these places. The mile and a half to the Interstate on the dirt road felt like a bed of nails. I couldn't put pressure on the heel of my left foot, so I tiptoed on it. The joints on the toes of my right foot were painful, but there was nothing I could do. I don't know whether to call my trekking poles hiking poles or crutches at this point. Before the sun struck me at the freeway, it was in the mid 30s. My hands were numb, and I was shivering as I crawled down the road. Although the trail passes another few miles along the I-15 frontage road, I'll probably end up losing a foot if I try to do that right now. My only option is to hitch from the Interstate, and almost two hours later, I got the ride from John, on his way from Rifle, CO to Homer, AK.
Lima, MT
I limped my way off the highway ramp and towards the Mtn View Motel across the street. I shelled out ten bucks for a campsite and shower, bought a bunch of junk food at the only gas station/convenience store in town, ran into Apteryx, who I've been hiking with on and off the last several days (he's up at 5am every morning—I couldn't do that if my life depended on it), and Southbounder Flat Feet and flip flopper (hiked north to Creede, CO from Mexico, and flipflopped up to Canada and headed south to Creede) Hawkeye, who I last saw in Chama, NM. After an hour or so, I decided a tentsite wasn't enough, and I got a room instead—my first motel room since Steamboat Springs, CO. On this bright, sunny day, the town is having a special event. The local historical society is showing off clothing worn one hundred years ago, and a cookout will round out the day in the city park, complete with buffalo meat, chicken, ham, and plenty of fixings. As the organizers announced we could go up for seconds, they gazed sternly towards us four thru-hikers. They didn't want any leftovers, and wanted us to take care of the job. No Problem. The evening concluded with a performance by Jack Gladstone—Blackfeet Indian Songwriter, singer, storyteller, and lecturer. This is a great example of one of those unexpected CDT memorable experiences; a classic festival in a small western town. Owners Connie and Mike of the Mountain View Motel and RV Park were very accommodating, and enjoy the hikers and bikers that stop by on their adventures across the country. They gave me a foot massager and epsom salts to soak my feet and see how they look tomorrow.
Well, my right ankle is still swollen, and my soles are still wrinkled and red. As the day progressed, they didn't get much better, and the swelling had me concerned. I sat in the lobby near the front desk and iced the ankle while I typed journals. As evening approached, it didn't look like I was going anywhere. I looked out the window and saw Mike pull up with a hiker. There's a pay phone fifteen miles down I-15 in Monida, which consists of a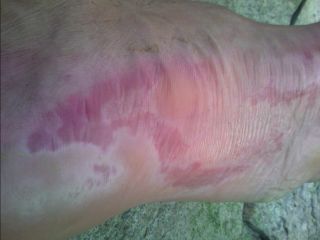 junkyard, a few buildings, and a permanent population of about five. It's a few miles from the trail, and if a hiker calls the motel, Mike will come pick them up. Not a bad deal. The hiker jumped out of the truck and introduced himself to Flat Feet and I—it was Southbounder Li. We headed over to Peats for dinner, the cook-your-own-steak place down the street, and I ordered a 19 ounce steak, threw it on the grill, and enjoyed a couple micro brews made in some small town somewhere in Montana. Li is hiking the CDT in sandals, since boots and shoes don't offer the breathability he needs. To "warm up" for the trail, he thru-hiked the Appalachian Trail from Georgia to Maine from mid March to early June of this year. Tonight I decided to save a few bucks and camped under the stars, actually it was under the Perseids Meteor Shower. The event occurs in august of every year, and I've seen several of them. I didn't stay up very long watching it, but still witnessed several streak across the sky as the sand grain to pebble size chunks disintegrated and ionized in the upper atmosphere.
As the sun started to poke above the horizon, I had one thing on my mind—my feet. They don't feel perfect, but I can wiggle my toes without too much discomfort. The soles aren't perfect either, but they don't erupt in pain when I slide my feet past each other. I got out of my sleeping bag, and pulled off my socks. Ok, maybe I'll actually get out of here today. The swollen ankle is now just a stiff knot, and everything else looks completely manageable. I cut up several pieces of moleskin and applied them around the knot below my ankle. I also cut out some of the foam in the same area in my shoes. My foot has been giving me problems in the same location for some time now. I've tried different socks, with and without liners, different insole combinations, and my feet decided to give out on my a couple days ago. The terrain to the north is quite a bit more difficult than what I've been accustomed to for the last several weeks. Sticking with twenty mile days—and no more—might make all the difference I need. The three of us headed across the street to the only other restaurant in town—Jan's. I had the gigantic plate size western omelet, stuffed with everything. Mike gave us a ride back to the trail, and by 10am, I was on the road again. I'm going to limit myself to twenty mile days to Leadore and see if that helps my foot issues.
I started my way up the road and listened to the hum of the highway slowly fade away. (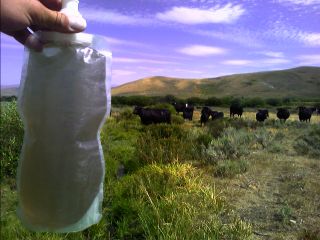 Inset: First water stop out of town; Horse Creek.) I gained the Divide and started my day long roller coaster ride. I could see forever as it snakes along the Idaho/Montana border. (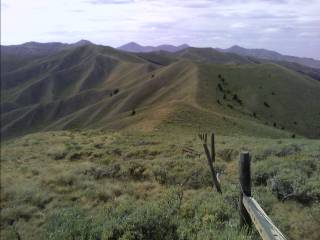 Right Inset: The ID/MT roller coaster ride.) The area is dry, and the mountains don't have many trees covering the landscape. The wind was blowing steady, occasionally throwing me and my pack full of five days of food around like a cork in the ocean. Towards the end of the day, I filled up at my first water source since this morning, and camped in a meadow above Beaver Creek. There are cows everywhere across the valley, and I watched them slowly move downhill as the sun slipped below the horizon. As I type up my journals, I can see a few bright shooting stars gleam across the sky out of the corner of my eye.
At 4am I was awakened by an intestinal disorder that required me to don my headlamp and tromp into the woods. It happened two more times today, and then I just felt sluggish, stopping often and forcing myself to eat and drink. I've never had this happen on a hike before, and I've been treating all my water for the last several days as I pass through cattle country. As the sun lit up the clouds to the east, I woke up again a few hours later to smoke blanketing the valley as I peered across the horizon, which hung around all day long. The day was just totally miserable. I felt like I was going nowhere—zero energy, I had to stop often, and eating and drinking was a chore. Every step took considerable effort, and I felt like I was using my trekking poles as crutches again, leaning over them as I took frequent rest breaks. Am I going to have to deal with this for the next sixty five miles? Do I have Giardia, or some other serious intestinal disorder? Is it from yesterday's nasty brown water out of Horse Creek? If I need to bail out somewhere, where do I go? I eventually made it a smallish fifteen miles and finished my arduous day. I dread the thought of a repeat tomorrow.
Today I feel great. Hiking is enjoyable again, and the scenery is outstanding. But my intestinal issue is still with me. My routine to deal with it is down to a science now. I get up two or three times each night—and hope it isn't raining. Looking at my map, a side note describes a unique feature I pass nearby. I stopped as I neared an old limestone quarry along a cliff above Bannack Pass. There are several large rocks that form a vertical shaft, somewhat hard to find, but I noticed a large black hole to my left and investigated it a little further. I climbed part way down and saw old animal bones scattered all over the bottom. The story is that the winters bring enough snow to cover the shaft, and a few unlucky bison met their demise as they walked over the trap. Here I am face to face with hundred year old bison bones; cool.
Well, now I've run out of toilet paper. Great. Yeah, this section of trail just keeps getting better—ugh. Fortunately, the woods out here are full of the stuff. There are pine needle branches (I just need to make sure I go with the grain), leafy weeds, sage, and lupine leaves to use. So far so good. (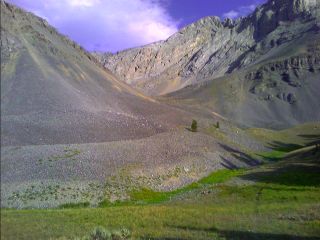 Inset: The headwaters of Nicholla Creek.) I saw several dozen elk this evening as I traversed through the short but magnificent Italian Peaks/Deadman and Nicholla Creek area, with towering mountains all around me. They saw me from a distance and made a dull thunderous roar as they ran up the creek valley, dislodging loose rocks and sending a cloud of dust into the air. I continued on a few more miles and finished my day in a nice meadow—with plenty of leafy plants, of course.
From the Divide just beyond Cottonwood Peak, I could see the Lost River Range—which includes Borah Peak, the highest point in the state. During my trek along the divide for the next several miles, clouds started to quickly build behind me. Being the highest object for miles around, I picked up my pace a little and watched the clouds grow larger and close in around me. I stopped at a low point near some trees as it started to spit out light rain which soon ended. As quickly as it arrived, the sun soon came out, but I could hear the rumble of thunder on the peaks I'll be crossing soon. That soon passed, and I crossed the Divide for the last time today through the narrow Coyote Canyon. The scenery was so beautiful and different than what I've seen over the last few days. On the descent, I had one of those what-in-the-world-were-they-thinking-when-they-put-these-CDT-signs-up moments. Every now and then, there's one sign pointing one direction, and then another that points in two others. It reminds me, on some places on the trail, it looks like the signs are attached to posts in a shop, and don't necessarily face the right direction. Town stops usually bring a story or two about places like this, and the routefinding issues that go with it. Around here, the trail is well marked—for CDT standards. If it only takes a few minutes to find the next marker, I'm happy. After building camp, I actually found time to journal for the first time in two days. As soon as I was done and about to close my eyes, I noticed the frequent flash of lightning erupting behind the nearby peaks. Not more than fifteen minutes later, I heard a thumping sound off in the distance, and it was coming directly at me. Is it going to run me over? What is it? I could hear it noisily panting as it approached, and before I knew it, it was gone—maybe a spooked elk?
As of 10am, there is rain falling and thunder booming on the Divide. I'm camped in a valley beyond Simpson Creek near a lone tree—which has come in handy when I need to go when it's raining out. I was up five times since building camp at 8pm last night, and my problem isn't getting any better. Three miles from here, the trail follows the top of the Divide for the next twenty three miles, which is devoid of trees most of the way. Now it's 11am already, and I'm starting to wonder if I'll ever make it to Leadore.
The skies started to clear just before noon, and I started to break camp. "Hey, are you ok?" I looked up and noticed Mark and Jim, who I last saw in Yellowstone. We congratulated each other on making it this far, and hiked on. We reached the Divide and took a couple hour lunch break waiting for the dark skies ahead to clear out. (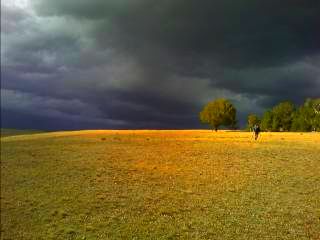 Right Inset: The dark skies above the Divide.) After telling them I needed to get up five times last night, Jim pulled out the drug he wished he had for his intestinal disorder in New Mexico (Mark had the same thing on the PCT years ago). I asked several questions about their signs and symptoms and everything else I could think of. He gave me five of the Flagyl, and I took one. No alcohol for the next ten days either. We were surrounded by sheep, and saw someone slowly shuffling towards us with a rifle in hand. He was the Peruvian sheepherder, up here for a little less than two weeks. We talked for awhile, with the dull roar of thunder all around us, just able to understand his limited English. As the sky became less threatening to our north, we continued along the Idaho/Montana border up and down the ridgeline for several more miles. As evening approached, there was a long, dark cloud starting to form ahead of us. It had virga hanging below, and we cautiously continued on. A little before dusk, it grew black, and approaching a saddle, we headed into the trees to wait it out. (

Inset: This isn't looking good.) Just as we reached the line of trees, it unleashed its fury. We were hunkered down, with warm clothing and raingear on, and my umbrella above me. It started pelting us with the deafening sound of hail falling, and continued with heavy rain. As darkness fell, it dwindled down to a light rain, and we turned on our headlamps and bushwhacked down the valley looking for a place to camp. The terrain was steep, and the going slow. We had no options available to us, and just trudged ahead. The loud, frequent crack of thunder became louder as it loomed closer. The rains returned, but this time as a drenching downpour. The thunder was nonstop and deafening, and the lightning now continuous. It lit up the dense tree cover enough every now and then to see we had nothing but steep terrain ahead in the narrow gully. We stopped at one point, and just blankly stared at each other. We had water gushing all over us, and were desperate to find a place to camp. Now what do we do? We didn't have an answer. The constant electrical activity and thunder that surrounded us let up, and the downpour soon became just heavy rain. We stopped—with our blank looks again—and then the lighting lit up the inky black skies again, worse than before; and the rain was falling harder than ever. We slowly waddled our way down the gully spotting an animal trail heading off to the left. We stopped again, none of us quite sure what we wanted to do. We stumbled our way up the muddy trail and watched everything around us flashing with the intense, bright white light. The lightning was now striking with less intensity, and the rain now only moderate. We flashed our headlamps up the slope into a meadow. A meadow! This could be a good sign. Tromping up into the sage covered treeless area, there was a relatively flat spot here, and a couple more up there. We were relieved—very relieved. I hurriedly set up camp and pulled everything out of my soaked pack. The weather let up after 10pm, and I could see the storm engulf the eastern horizon.
My down sleeping bag had some wet spots, and everything else seemed wet or damp, but I survived! I looked out at the pink sunrise above the valley below, and was relieved to see some blue sky. As I snuggled back into my sleeping bag with a small grin on my tired face, I heard a dull roar. Ah, that's just a plane. Then I heard it again to the south. Oh sh#@! My thoughts of a great day of hiking on the Divide disappeared like an elk slipping into the woods. At least that pill may have helped—I didn't need to get up at all to go to the bathroom last night. I can't even begin to imagine how I'd feel today if I did. The three of us started the climb back to the Divide and saw clouds forming everywhere. Mark and Jim have a Forest Service map of the area which shows jeep roads and trails. As usual, we're on the corner of the map, and don't know what's beyond. When we reached the Divide, we left the CDT and headed down the other side. It was cross country down the steep sage covered slopes, and reached an old jeep road a while later. We followed the two track through a gate and out to Hawley Creek. (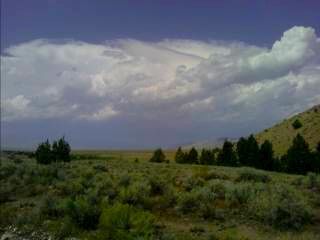 Inset: Storms building on the Divide.) We passed a couple campgrounds, full of ATVs and motorbikes, eventually reaching the valley floor and hiking towards Leadore. There were billowing cumulonimbus clouds everywhere—especially on the Divide. The road turned to pavement, a pickup truck passed by, and we happily took advantage of riding the last few miles into town.
Leadore, ID(Bannock Pass)
Yes, everyone in town saw the amazing lightning show last night—the one that was directly above us. We saw Larry in town, and even though it's a weekend, Mark and Jim still found a room at the Leadore Inn (only four are available in town), and I stayed in the two bedroom with Larry. We had lunch at the Velvet Elk next door, and purchased groceries from the two ultra tiny stores. Most of our food came from the Sorta Store—with its generous selection of... nothing more than some chips, Pop Tarts, one type of tortilla (they had a few loaves of white bread), and two blocks of cheese left. It might not be a great selection, but if a thru-hiker can make it here from the border, I think we can figure out a way to survive the next six days until the next town stop.
The owners of the Inn, Mike and Aletha, gave us a ride up to Bannock Pass, and we started the trek north. It might not be raining today—but it's windy. We were glad to get into the trees and watch them dance around from the twenty to thirty mile an hour winds blasting the area. The terrain was less exposed than before, with most ridgelines covered in dense treecover. When we did go out onto exposed ridges, we were blasted with forty to fifty mile an hour gusts. Our trekking poles were used as braces, and we anxiously watched as we got closer and closer to the protection of the trees. I felt like I was getting bounced around like a balloon on the end of a string. We found camp near a spring, and listened to the howl of the wind in the trees above us that sounded like the roar of Niagara Falls.
The morning was crisp, and the thought of fall approaching is in all of our minds. If it wasn't for the light breeze dancing through the air, I'm sure there would be frost coating our gear. As afternoon approached, we reached the Sacajawea Memorial Camp at Lemhi Pass, where Lewis and Clark first crossed the Continental Divide. There were several interpretive signs scattered around the Pass, and we had lunch while learning a little history of the area. Most of the day was overcast, with some sun striking some warmth into us every now and then. As evening approached, the looming clouds turned darker, and started spitting out rain the rest of the evening and most of the night. We made camp in the storm, and I listened to the pitter patter of the rain as the drops made their several thousand foot descent onto my tent.
The morning was mostly cloudy, with billowing clouds rolling over the high peaks. As we approached Goldstone Pass, there was fog that raced over the ridgeline and a bone chilling wind that numbed my hands. (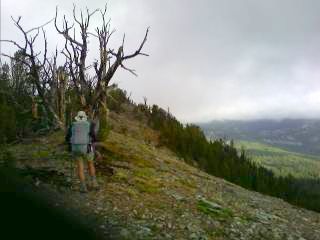 Inset: The cold, foggy air near Goldstone Pass.) The trail headed downhill, where it will stay for the next few days. It felt really good to get off the Divide. It's been up there for many days now, and has thrown everything it can at us—some 50mph winds here, a wicked lightning storm there, and of course the ubiquitous rainstorm often spiced up with a little hail. As we descended from Cowbone Lake (sixty cows were killed as they fell through the thin ice on a drive to the meadows below in 1906) to Skinner Meadows, the winds stopped blowing in our faces, the temperatures warmed into the sixties, and the orographic clouds were replaced by warm, blue skies. My feet are healthy and problem free, my mind is clear, and my body feels strong. I feel like I move with the relaxed smoothness of a wild animal. Once again, it feels great to be out here. The section from Lima to Leadore was torturous. My intestinal illness—which is just a distant memory now—and bad weather turned that into a miserable several day jaunt. After crossing Berry Creek, we found a campsite and slept under the stars—something else we haven't been able to do for several days.
It was another cool, crisp morning. Before Leadore, the temperatures were in the 70s and 80s. Now they're in the 50s and 60s. The mornings are in the thirties, making it difficult to get on the trail before 8am. We passed a couple Forest Service employees, and they reported snow falling north of Chief Joseph Pass—we'll be there in a few days. There is currently a trail closure a few days from here—along with the entire Bob Marshall Wilderness—but the cool, wet weather has helped calm the fires burning to the north. It will be interesting to see what I'll need to do to get around the closures.
The climb into the Western Big Hole area of the Beaverhead Mountains was quite a change from the last several weeks. I feel like I'm back in the Wind River Range. The trail stays below the looming peaks on the Divide and winds its way around several lakes dotting the area. (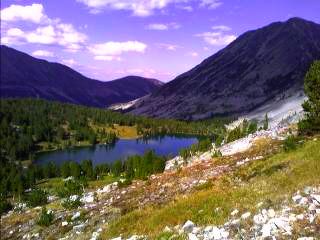 Inset: An unnamed lake near Homer Youngs Peak.) We found an open meadow sheltered by trees and spent the night.
Another great day. Period. The last week has followed the Divide with some areas open and many others heavily treed. Today the well built and relatively new trail traverses many high peaks with endless views towards the Divide (and smoke from the burning fires) and Homer Youngs Peak, which stands sentinel over the rest of the range. It darts around lakes, and tops over several saddles. We took a break on a rocky knob with views in all directions. Our last descent of the day was down the South Fork of Sheep Creek. We stopped for the day at an old rickety miner's cabin, complete with piped spring and a table and chairs out back to make dinner. We fell asleep to the bugle of a nearby elk, and the hoot of an owl.
The famous Montana/Idaho border ups and downs continue with a cruel frequency today. The spine of the Divide is followed closely, climbing up and down steep slopes several hundred feet at a time. As I look into Montana, I can see smoke billowing into the air from the Rat Creek Fire. We reached Chief Joseph Pass—where the CDT leaves the Idaho border for good—and followed the paved road to Lost Trail Pass. The CDT trailhead had trail closure information, which extends from here north about twenty or thirty miles or so. The alternate route starts in the middle of nowhere, and I need to figure out what to do. Mark and Jim have family coming into town, spending their time off at the hot springs resort nearby. We said our goodbyes, and I stuck out my thumb. Less than an hour later, a trucker on his way home for the weekend pulled over and I jumped in. He's hauled logs in Steamboat Springs, Colorado years ago, and now does it near Darby. On the way into town, we passed what was a large operations center and camp for those fighting the fires to the north, complete with a satellite uplink truck and mobile kitchen. There were a few people left, packing up and putting things away, readying for next summer's fires. He gave me the local run down on the town, and I hit the Silver Spoon for dinner, and camped at the Wilderness Motel & RV Park.
Darby, MT(Lost Trail Pass/Chief Joseph Pass)
The soles of my feet are reddened like the sun again, wrinkled like the weathered face of an old Indian Chief. Today looks like a zero day. I headed over to the town library this morning to read emails, and get trail reroute information from the fires just to the north... wow, I'm reading an email from a resident of Lima, MT I met. She reports one of the hikers I was with in town broke his ankle—not recognizing it as a broken bone for a couple miles—requiring a metal plate and screws. This isn't the first time I've heard of this out here; the terrain is difficult, steep, and rocky—and every now and then something like this happens. I'm just glad he was near a road, and able to quickly get a ride into town. Here in Darby, there is a steady breeze blowing, the electronic sign near the grocery store reads 95°, and the air is shrouded in smoke.
I spent the evening sitting on a picnic table at the RV park looking at my printout of information on the fires, planning my route out of here tomorrow. I also sorted out my $79 in groceries I purchased this morning while ash occasionally dotted my gear.
The alternate route around the CDT fire closure starts above Sula at the East Fork Trailhead. I hitched a ride to Sula from the motel, and wondered if I'd ever get one to the trailhead from this seldom traveled road I'm standing on. Within half an hour, I got a ride fifteen miles up the road from a retired couple living in the area. They've been on some of the local trails on horseback, and pulled out their local map. I reviewed the map carefully, figuring out which trails I follow, and seeing where I join the CDT again. It was a long trek up to the Divide, passing through large burn areas with views of the distant peaks obscured by smoke. I met a couple who rode their horses several miles up the trail. They were sitting on a log, enjoying some snacks, and he shared some stories about his adventures living in Vail, CO in the early sixties, working as a carpenter, peeling the labels off of beer bottles and fiberglassing them into the bar as they built one of the popular local hangouts. It's a small world, isn't it? I saw my ninth moose today as I climbed towards Hidden Lake, and entered the Anaconda-Pintler Wilderness, characterized by its plentiful ups and downs.
The trail climbs up to high mountain saddles, and then drops down into the valleys below dotted with lakes. This was the routine today. There's some beautiful country out here, but it's all covered in smoke. (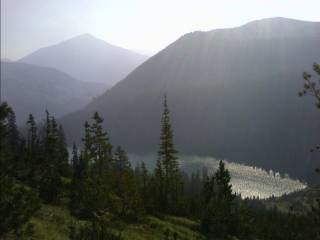 Inset: The mountains blanketed by smoke.)
I have two options today. I can take a route to Butte, or one to Anaconda. The Butte route is longer, with plenty of trail still incomplete. I read some of Jonathan Ley's remarks from his hike, and that of other past thruhikers printed on the map, and figured I'd share some of the Butte Route comments:
"If you go this way, you'll have to wing it."
"You may consider whipping out your compass and bushwhacking through the terrain here, it would make it a lot more interesting."
"This is really disgusting water, but you may have little choice but to drink it. Either direction, it's a long way to more water."
"...don't bother looking for the road, just go up."
"This is very steep here, but negotiable if you take your time."
"The ATV tracks make trail navigation impossible..."
"Once you hit Delmoe lake road, it... well, it sucks. It's long. It's boring"
I made my route decision a while ago, but found some of the comments amusing enough to include here. You probably realize by now the CDT isn't all well manicured trail, or nice switchbacks going up the side of the hill. This is the CDT—and that can mean anything. Every day I'm surprised at what the trail does. It can be brand new tread one minute, and the next has it completely disappear into a meadow. There's been days of faint unmarked trail that requires careful routefinding. It can also be nothing at all—get out the map and compass and just start bushwhacking your way cross country. As much as I enjoy the adventure of this kind of hiking, it's getting late in the season. Snow is starting to fall in places, and I still have over four hundred miles to go. Twenty miles a day is starting to feel like thirty, and at times my body is feeling worn. To keep the dirt off my feet, I'm starting to trudge right through the creeks instead of hopping over them. It may mean wet feet, but it seems to keep my soles from turning blood red—rinsing my feet and socks daily doesn't seem to be enough. I'm not on the trail at 6:30am any more either. The mornings are cold and dark, and I don't feel like shivering while I hike for the first two hours each morning.
I woke up this morning, pulled my hat up from over my eyes, and looked at the smoky skies... but where's the smoke? I don't see any smoke! It's my last day in the Anaconda Pintlers, and I can actually see the surrounding terrain. (

Inset: So this is what the Anaconda Pintlers look like!) Wow, this is great. I climbed up past Goat Flat to a narrow shelf trail I followed to Storm Lake Pass, with smoke off on the horizon to the north, and blanketing the valley to the south—but nothing in my direction of travel. I eventually made my way down the faint trail marked with cairns towards Twin Lakes. A dog came running up to me, and eventually the owner. Do I really want to talk to this person right now? I feel like a broken record telling people what I'm doing out here. I could just tell them I'm out for a day or two. Well, I did end up talking about my hike, telling the whole story. We started sharing stories about ski touring in the winter, and skiing high peaks in the spring. As I was about to head on, Linda mentioned she had an extra room in her home. I stopped in my tracks. She wanted to hear more stories, see some pictures, and I wasn't about to turn down a comfortable bed. She continued her way up a couple more miles to scout out the trail to the pass, and I worked my way down below the lakes for some lunch, and to dry my feet and socks I had rinsed off. As I was getting ready to head on, she approached and we hiked down to her car. I can feel those sore spots on my feet again, and had no qualms about getting a ride into town. From here to town the trail follows nothing but hardened dirt road, and then highway. If I tried to hike towards the highway right now, I'd be stuck in town for a number of days, tending to my injured feet—provided I ever made it to town.
Anaconda, MT
Linda used to work for the State of Montana until she spent several months traveling internationally last year. Now she finds it difficult to even get a part time job. She hikes or skis every day—never more than a half hour drive from home—or helps take care of her aunt. We
arrived at her home at the edge of town, and I took a shower and did laundry. I could see Mt. Hogan from her driveway, one of the highest peaks in the area, one she likes to ski in the springtime when the weather is warm and sunny, and the snow is perfect. We headed over to her mother's home a few doors down where they had dinner spread out on the table. I'm walking with a limp again, and as usual, the soles of my feet are blood red in a few places. While not as bad as they were in Lima, this time one is oozing pus, which is a first. The good news is I have a new pair of shoes waiting for me at the Post Office in town; the old ones are definitely ready for retirement. New shoes mean new insoles. For most of the trail, I've had two or three different pair of insoles in my pack if I developed issues. I'd try different combinations until something works—put the custom insole on the bottom and the one that came with the shoe on the top, or just use the custom. I've tried some shock absorbing types from the store underneath another insole, and some from other hikers when they throw out the ones that come with their new shoes. Right now I'm down to the custom insoles I've used since central Wyoming; the others have worn out. The custom insoles often work the best, but sometimes they don't. It all depends on what I'm hiking on. Is it a lot of pavement? Is it hardened dirt road, gravel road, rocky trail? I hope this, along with a pair of tight fitting socks to reduce chafing, should help solve the foot problem. This is the first town I've been to in a while that has a decent store, and I'm sure I'll be able to find what I need this time.
The trail magic I've had today has been a wonderful experience. My feet won't allow me to go very far today, and the stories we've shared has been quite fascinating, especially with their ties to Vail and Colorado. Did I mention the dinner and breakfast they served up? Her mother—Georgia "SkiMom" Lodders—along with the late Denny Lodders, who was in the Tenth Mountain Division, started Diamond Mountain ski area outside of Missoula in the late 40s while they were attending the University of Montana in Missoula. They built the lodge and sold lift tickets out of a cigar box for $1 a day or 50¢ a half day. She worked for Colorado Ski Country USA for twenty one years until retiring in 1990, and continued to stay involved in the ski industry for several more years. Georgia also has a place for her in the Colorado Ski Hall of Fame in Vail, CO. She moved back to Montana in the late 1990s, and her home has a wall decorated with plaques commemorating their involvement in the ski industry.
I've crunched numbers again, and these four zero days I've taken since Lima are starting to add up. Now I need to do twenty five mile days to reach the border by mid September, or less than fifteen to finish by the end of September. These numbers are dependent on the fire detour I take around the Bob Marshall Wilderness, snow, and my feet—if they bother me again. I also reached the two thousand mile mark a few days ago! Linda took me to the Post Office today and I picked up my new shoes, warm weather gear (I'll probably send this ahead to Helena or Lincoln—it's going to be in the 80s and 90s for the next week or so) and several items for my feet—a small tube of Aquaphor petrolatum, blister bandages I'll put on my sore spots to prevent chafing, and a couple more pieces of moleskin. Linda was on her way to Butte to pick up the RV that's in the shop for repairs. She asked me if I could help her with a shuttle. Sure, now I can see Butte! Everything is shrouded in smoke again. The historic brick smokestack on the edge of Anaconda disappeared quickly as we got on I-15/I-90 and headed to Butte. I could see the historic downtown up the hill from the Interstate, along with the University. As I drove her car back into Anaconda, the smoke seemed to be getting worse. The Pintlers that usually greet one arriving into town are nowhere to be seen.
This evening it was a great salad and pizza for dinner, followed by the movie "Hairspray" at the Washoe Theater as this week's offering. There were a few kids dancing in the aisles to the music, and it felt good to finally see a movie on the CDT (on the AT I saw "Contact").
Linda was going on a hike with a friend today to Twin Lakes—whose husband is building new CDT tread near Butte—and I provided a shuttle up to Storm Lake. When I was up there a couple days ago, the skies were a crisp, bright blue and the mountains provided a spectacular backdrop to the alpine lakes. Today everything is a dull gray—including the sky, the peaks, and the monotone colored lakes. I returned "home", and had Georgia offer me a ride. With my feet still in recovery mode, I decided against the paved roadwalk to Warm Springs. I started my trek at the I-90 underpass, working my way up to the barren slopes and beyond to the forested ridges. (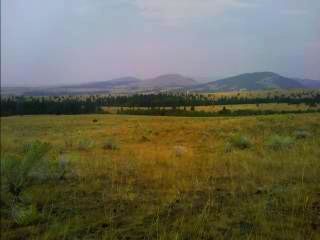 .) There were several miles of cross country hiking, passing through several dry creekbeds dotted with aspen trees. The whine of the Interstate highway slowly faded away, and the high, forested ridges covered in smoke were just ahead. The route turned to dirt road and ATV track, snaking in and out of drainages as it climbed to the Divide. Despite the ho-hum trail, it still feels good to be hiking. As I type today's entry, the moon—a dull red glow above the eastern horizon—is rising through the clouds, casting an eerie glow on the dark ground.
My sleeping bag has a dusting of ash, and as I break camp I can see the occasional ash particle land on me and my gear. Most of the terrain today was covered in heavy timber, and what wasn't was shrouded in smoke. There are cobwebs and spider webs all along the trail, and every quarter mile or so, I'd get nailed with one. The spider webs were a little easier to see, and occasionally I would spot one at eye level when I was only a few inches away. Otherwise I'd walk right into the nearly invisible web, stopping to clear the annoying mess off me and my gear. I stopped for lunch in the old mining town of Leadville, nothing more than a couple ruined cabins and old mining prospects dotting the area. The evening brought some cloud cover, and eventually some light rain. On my map, it looks like there's no water for several miles, so I set up my tent near a creek and called it a night.
I filled up on water for the next several mile dry stretch and climbed through dense lodgepole forest. Every now and then I hear the stomp or crunch of an animal off in the distance as it forages for food. I continued through the thick forest and saw several elk run across the trail ahead of me. I could hear their hooves pounding onto the ground and the crunch of breaking branches as dozens of them darted away from me.
The morning was warmer than I expected, and actually quite comfortable. As afternoon approached, I reached an improved dirt road, following it for several miles. There was the occasional ATV and a hunter or two on this first day of the hunting season. I ran into a couple of them this morning at their camp next to Ontario Creek, washing pans and dishes they used for breakfast directly in the creek. I'm glad I didn't get water from around there. The bowhunting season starts today, and the busy rifle season is right around the corner. The air out here is crisp and clear today—no hiking through a brown cloud, and the sun casts a bright glow onto the ground. The last several days has brought a reddish tint to everything as the sun shines through the smoky air. I reached an intersection in the road and decided to leave the dusty, well traveled corridor. As I filled up on water, I heard a crack, and looked over to a medium sized tree starting to crash to the ground; with a small cloud of dust flying into the air. I've heard several crash to the ground, but never seen one from this close. The old road climbs up to the divide, passing several cabin ruins in an area littered with old mines and old, rusty equipment. I finished my day near MacDonald Pass, camping near a couple of radio towers.
Since I was headed into town this morning, I saw no reason to be up early. As the sun started to beat down on my sleeping bag, I slowly broke camp and worked my way to the highway on this Sunday of the Labor Day weekend. After waiting a good half hour, I found a ride from a Canadian. He's traveling around the entire U.S. for five months, heading to New York, Miami, L.A., Denver, Seattle, and everywhere in between. Wow, sounds like the trip of a lifetime, but I like the idea of hiking better—not to mention I'll have a $0 fuel bill at the end of the trek.