To Southern Montana
To Southern Wyoming
Northern Wyoming - Lander to Montana border
Lander
I had my ride take me to the Holiday Lodge in town, and I inquired about their campground—they told me it was closed. The lights and water are off, the road heading down to the river is being paved, and it's primitive camping. Being a thruhiker, they made an exception. Lander is another oil boom town, so all the motel rooms are full with tourists and workers. With the thirty mile days I've done for the last several days, and the intense sun that shines seemingly forever, I haven't typed any journals since Rawlins. It's too bright out when the sun's up to read the color screen, and staying up until 11pm and getting less then seven hours of sleep is not a good idea. I took a zero day in town. My feet are quite beat up from the endless thirty to thirty five mile roadwalks, and I haven't eaten well in four days. The zero day is going to feel great. As I write, it is pouring out, and the winds are fierce. This is one of the biggest storms of the summer, which is badly needed. I'm in the lobby, with people flowing in and out talking about the flooded roads and waterfalls flowing off nearby cliffs. What a great day to be inside. I also crunched some numbers using Pocket Excel on this PDA. I hit the halfway point at Bull Spring on the 21st! That leaves me with 18.2mi a day if I want to finish Sep 15, and 14.8mi a day if I want to end Sep 31. Of course these numbers are all rough estimates.
What a great stay in town. I enjoyed three heaping plates of Chinese food at the only AYCE in town, waited out a day of heavy rains, rested my body, and enjoyed Rick and Barbera's company in the lobby as they run their motel business. Yesterday morning I was woken up at 6am by rain, and this morning is luckily only just cloudy. The news on the radio is reporting several new fires in the area from all the lightning, more rain, and temps 30 degrees cooler than the past week.
Today is Rick's day off, and he offered to take me back to South Pass City as he heads out to do some hiking in the nearby hills. The thick clouds were hanging over many of the nearby peaks as we headed up towards the pass. We turned off the highway, and headed to south Pass City. I have eight days of food for the next 155 miles or so of trail. I've never carried this much before, but if I could carry four days of food and two gallons of water through the desert, I don't think this will be a problem. With the plentiful assortment of lakes and streams in the Winds, I don't plan on carrying more than a quart of water at a time. Soon after I started my trek, I saw a juvenile pronghorn tangled in a barbed wire fence. I've noticed they don't tend to jump over fences. Because they crawl under, it is easy for them to get stuck on the barbs. This one looks like its been here for a good day or so. Its body is thin, and the rear legs are covered in blood from trying to get out. As I approached, it jumped around furiously, crying as I got closer. It was stuck on a removable gate across the road, so I lowered it down to the ground, and watched it desperately try to squirm out of the mess. In a few seconds, it rolled out, limped several steps, and was out of sight in just minutes. Will it survive the ordeal, or become a tasty meal for a coyote or mountain lion? On the hike to Teton reservoir several days ago, I saw the skeleton of a pronghorn or deer wrapped around the lower wire on the fence as I walked by. I never saw much of the sun at all today. No 100° heat today, no relentless sun. Perfect hiking weather. The morning was spent traveling through more open but rolling terrain, with most peaks in the Winds looming out on the horizon, and covered in clouds. There was a light rain in the air, and it felt great. As I passed a BLM campground along the Sweetwater River, the refreshing sprinkle quickly gave way to an intense downpour for the next few miles through the open terrain. I grabbed my umbrella, and continued on. despite getting soaked, it felt good after four days in the the Red Desert. The lofty peaks of the Winds in front of me were rapidly growing in size as I closed in with every step.
The Wind River Range
I started my climb through aspens and sage for the first several miles, and then into an old burn area covering much of the terrain ahead. In some places, the newly fallen snags are several feet high over the trail. Getting around this stuff is not easy. I feel like I'm tightrope walking several feet off the ground on a impenetrable sea of wet logs. (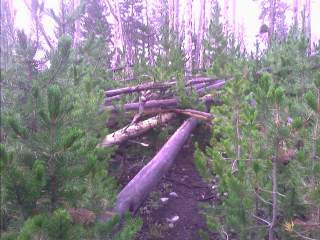 Inset: The world's largest jungle gym.) There is some light rain falling at almost seven o'clock, which continued for several hours. As I neared the Divide, I set up camp and called it a night, with the pitter patter of rain striking my tent.
Today started with several miles of trail in tight trees. Where's the famous views I keep hearing about? I'm sure I'll see them soon. As I approached Temple Pass, I started my climb above treeline. The skies had dark, billowing clouds hanging over the high peaks, and I kept a close eye out for possible overdevelopment. (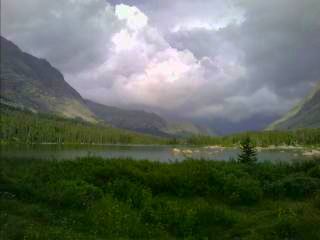 Right Inset: The dark, grim clouds over Temple Pass.) At the top of the long climb, the surrounding peaks were shrouded in bright, white clouds swirling over the tops. The descent for the first half mile was steep. Rain started to fall, and the rocks quickly became slick, and the slightest misstep could have meant trouble. I reached Big Sandy Lake and started my way up to Jackass Pass, where The Cirque of the Towers looms over everything else, and makes me feel like an insignificant speck of dust. The Cirque is a large bowl surrounded by a wall of jagged rocks and spires thrusting up into the heavens. (

Inset: The jagged peaks of the Cirque of the Towers.) I continued down to Lonesome Lake and back up to Texas Pass. At the top, I saw dark clouds forming and made my way to the lakes below. On the steep, rocky descent, a brief storm enveloped me and spit out pea size hail. It was brief, but just enough to add a little extra excitement to an already long and challenging day. Several miles later, I camped in a meadow above the creek and watched the full moon light up the dark valley as it grew over me. Between Temple and Texas Passes, I spotted over forty people. There were climbers, day hikers, horse riders, campers—you name it.
I am still feeling the effects of the desert roadwalking in my right foot. My ankle is sore from thirty plus mile days, and the pounding-on-the-pavement 35 miler into Rawlins. I took a day off in each town since, but it wasn't enough. I never suffer any kind of daily aches or pains, even on the trail—until the last few days. The consequences of the heat and roadwalking of the desert is rearing its ugly head. The hiking was along meadows for most of the day, and I was slow. I was careful with each step I took with my right leg. If I hit uneven terrain, I could feel the sharp, dull pain in my ankle. It's gotten progressively better as the day wore on, but I've had the problem since Rawlins. With 155 miles and eight days of food, I need to keep moving. There is a resupply option in Pinedale, but that would add thirty miles of hiking, and I don't want a town stop to detract from my experience in the Winds. As the evening wore on, I descended from Hat Pass and camped in the trees with a stiff breeze blowing.
Thanks to the breeze that blew through camp last night, I was finally able to dry things out. The previous night coated everything with heavy dew, and the two before that brought more rain. Wow, what a day; from near Hat Pass I traveled over several saddles leading to more lakes. On the horizon to my left, I can see the valley floor, and to my right the lofty Continental Divide. I have never in my life seen so many lakes before. Today I passed maybe two dozen or so, with most likely being glacial kettle lakes, formed as debris from atop glaciers fell, leaving depressions behind that filled with water. As I near Island Lake, I see a llama train of at least fifteen, a couple horsemen, and another two or thee dozen people throughout the afternoon. I took an alternate route that took me over Knapsack Col, a high pass some consider the highlight of the CDT. (

Inset: Sunset below Knapsack Col.) I started following the blue green waters of Tilcomb Lake valley, full of thousands of years of glacial silt giving it its unique color. There were towering peaks on either side, gushing with water from the melting glaciers. As I approached the top, I headed left and climbed my way up to the lofty col, with the roar of the grey, silty, glacial water rushing past me. As I neared the top in the evening, some dark clouds started to form above Winfred Peak. Today was the first day it hasn't rained on me since I reached the Winds four days ago. The clouds soon waned, and I reached the top. I started the long, steep descent towards Peak Lake as sunset bathed the high peaks with alpenglow. I eventually reached the lake as the sun slowly disappeared and set camp on a rocky shelf overlooking the valley. (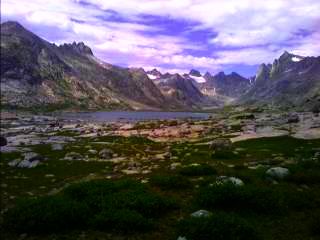 Inset:The top of the valley, with The Sphynx standing sentinel above the surrounding landscape.)
As I write this, I'm sitting on a rock atop a ridge overlooking the towering Granite and Squaretop Peaks. As I work my way to Gunsight Pass, I glance over my shoulder every now and then to see the evening sun cast a calm glow over the Wind River Range I'm now leaving. (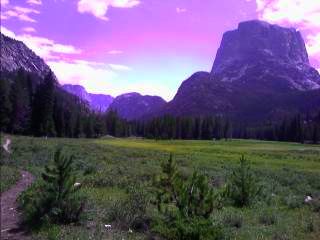 Right Inset: Granite Peak and Squaretop Mountain towering over the Winds.) I passed another fifty or sixty people today; scouting groups, a church group of twenty five or so, and many others escaping the city for a few days. I started out this morning at the lake below Cube Rock Pass, and followed the long descent down the Green River, now just a small creek, soon to be a large meandering glacial silt filled river. I passed Gannet Peak, the highest point in Wyoming, and stared at the near vertical walls of Granite Peak as I hiked by. Soon thereafter, I saw a moose dart up one of the creekbed as a noisy church group of twenty five approached. It was nice not to have the threat of thunderstorms today, instead just a refreshing light sprinkle here and there. After I passed Green Lake, I started my climb out of the valley and into the Gros Ventre. For the first time since a few miles north of South Pass City, I saw a CDT marker. The only signs in the Winds were at some trail junctions, and there are side trails everywhere. They lead to many of the lakes, some of the summits, other points of interest, or their just animal trails. My map was out quite a bit over the last several days, making sure I'm on the right trail headed in the right direction. As the sun started to dip below the horizon, I threw my ground cloth down atop Gunsight Pass and slept under the bright glow of the nearly full moon.
Today was a long, but beautiful day. Other than a canoe at the far end of Lake of the Woods, I saw no one. Bright sunshine warmed things up early this morning, and some clouds kept things cool in the afternoon. I used my umbrella a couple times, but not for more than fifteen or twenty minutes. As I followed the Lake of the Woods Trail (it's a road, but that's what it's called on the map) towards Fish Lake Mountain, I could see the Tetons thrusting into the skies off to the northwest, and the Winds out to the southeast. I descended from the divide to a creek, only to regain it again a few miles later in a burn area. The fire was in the last year or so, the ground still black with ash and soot. The trunks are charred and the dead needles still cling to the branches. It was probably a quick fire, with some trees untouched near the burn area, and some still green with blackened trunks. I saw the usual deer, elk, pronghorn, and sandhill cranes today, and finished my day in a small valley after following the divide for several miles.
As I started my ascent of the Fish Creek Valley, a was passed by a Forest Service and WY Fish and Game truck. They were checking on a couple grizzly bear traps set up not too far away, looking at the general health of the animals. About halfway out to the highway, a single engine prop plane flew near my location, and started circling above me, only a hundred or two feet above the ground. Was there a report of a lost hiker in here, or is there a convict loose in the area? Were they surveying for wildlife? I don't know, but if I was able to see the FAA call numbers on the wing, I could have gotten a better idea of what it was doing up there by looking it up online and seen who the plane belonged to. A few hours later, I reached the highway, and hitched into Dubois.
Dubois
Rain, rain, and more rain. The last two weeks have seen record amounts fall from the skies. There is still fresh mud on the streets from last weeks storm that flooded some of the town. I looked around at some motel options, but didn't feel like dropping $65. I ended up staying at the local KOA, and spent only $20 for a basic grassy tent site.
My plan to sleep in were dashed when I was awakened at 6am to the splashing of rain in my face. I quickly broke camp and headed for the warm, dry laundromat a few hundred feet away. I spent most of the morning resting my feet, drying out my damp gear, reading emails, and typing journals. After heading to a nearby restaurant for lunch and an 18" pizza with the works, I crossed the street and waited for a ride. Around 2pm, the skies were dark with angry storm clouds hanging around above the pass, but I wasn't going to stay much drier camping around here. After a good forty five minutes or so waiting for a ride, I was picked up, and on my way. The ride was from Rigg, who thruhiked the PCT last year. He knew several of the hikers I mentioned to him that were probably back on the trail as of yesterday or this morning, and a little disappointed that he didn't get to see them. After a good twenty minutes on the trail, it started to rain on and off again. As I worked my way around Brooks Lake, a hiker heading towards me asked "Are you Andy?" It was Janice, who's husband is Mark—Mark and Jim! Janice is the one who gave me the sunglasses on April 23 near the Mexican Border after dropping the two off. Wow, I wondered when I'd see them again. The last time was at the Squirrels Pub in Pagosa Springs for ten minutes. They both worked in Yellowstone National Park for several years, and have friends who live in the area they're spending some time with. They're a few hours ahead, and I'll probably run into them today or tomorrow. I finished my day near the rain swollen Buffalo River after fording the cold, rushing waters a little before dark.
Like yesterday afternoon, it was raining again. As I gathered up my gear a little after 6am, the rain started, and only grew in intensity. It was coming down quite hard at times, and my umbrella kept me dry for most the morning, but I put on the rainjacket as the winds picked up. My shoes (and sleeping bag and tent) haven't been dry for days, and doesn't look like it will happen today either. Around mid morning, I came across a couple hikers taking shelter from the relentless rains. As I got closer, they started to look a little familiar. It was Mark and Jim! We shared stories about the last three months of our lives, and slowly worked our way along the trail. The rain started to slowly subside, the fog burned off, and we were struck in awe at the sight of some blue patches growing in size above us. It turned out to be a great afternoon as we worked our way in and out of valleys towards the Parting of the Waters. The trail around here sees heavy outfitter use, with lots of horses. The trail is ten or fifteen feet wide in places, and in some of the meadows, the trail contains fifteen "lanes". (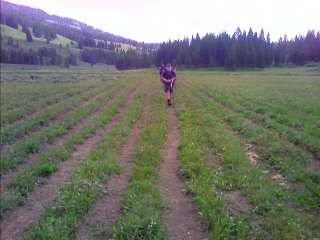 Inset: Do you want the HOV lane, or one of the express lanes?.) I saw two hikers coming towards me and figured they were just out for a few days. Nope, make that several months. It's German Tourist and One Gallon, the first Southbound thru-hikers I've seen. We talked for a while, Mark and Jim showed up, and we spent a good half hour or so sharing stories. Including us, they've seen twelve Northbounders just today. This includes Larry, and Team F-Yeah. Before today, they've only seen three others—Puff and Snappy, and Francis. After talking to a dozen hikers today, their goal of twenty miles will be more like ten—if that. A few minutes later we crossed the flat, marshy, wide valley and headed up Two Ocean Creek. (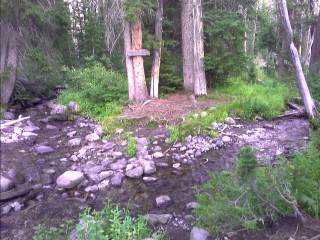 Right Inset: Parting of the waters - half goes to the Pacific Ocean, the other to the Atlantic.) There was the creek crossing and a sign marking the point where it splits into two around a small knoll, and half the creek flows down Atlantic Creek, and the other into Pacific Creek. After a brief photo op, we climbed away from the valley and found a place to spend the night.
There was a sign ahead marking the Park boundary. The boundary for Yellowstone National Park. It feels good to be here, and see what the fires of 1988 did to the area. The twenty two miles I did today that followed the Snake River seemed to take forever. When I reached camp 8C5 (the designated campsite) I felt miserable. I stopped several times and consumed quite a bit of food, but I was tired, and felt like I did twice the miles I actually did. Am I staying up too late typing journals? At one point just ahead of me, Jim and Mark spotted a black bear running through the meadow near the river. I missed it, but didn't care at that point. I just wanted to stop hiking for the day. I eventually reached camp a little before seven o'clock, and met some of Jim and Mark's friends who are meeting them tonight. They all worked in Yellowstone together back in the day, and were looking forward to tonight's reunion. As soon as I arrived, Dave handed me a Moose Drool Ale, and we waited for the two to show up. As I enjoyed my fine malted beverage, I noticed some dirt being thrown around on the ground below me. A mole came out, grabbed a leaf, and quickly returned to its hole. The last time I saw a mole like creature was in New Mexico. Something similar started crawling around underneath my ground cloth, oblivious to the fact I was right above it. They eventually arrived, and told us the story of their two mile "detour" to retrieve a camera left back on a log where the three of us took a break together. The evening continued with 5 liters of Heineken, homemade cookies, and pizza from their nearby hometown of Gardiner. When I called the Park Service to arrange for my camping permits from Dubois, the ranger told me there's grizzly bear activity around this site. Maybe she really meant to say was beer activity.
Today felt better, much better. I started out around Heart Lake and proceeded up Witch Creek—and Witch Creek is no ordinary creek. The temperature of the water is somewhere between 100° and 120°. There are boiling pools of water bubbling up to the surface, and rocks stained a rainbow of different colors with mineral deposits and cyanobacteria. What a sight to see. (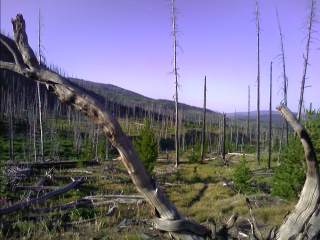 Inset: The dead trees still stand from the 1988 fire.) I soon left the creekbed, crossed the busy highway through the park, and—it started to rain again. It was on and off this afternoon, and stopped briefly while I talked to a group of Southbounders on their way to the Mexican Border. Around 5pm, I reached my designated campsite under bright blue skies, and marveled at how enjoyable today was. The day flew by, I don't feel tired, my feet are soaked from the several river fords, wet grasses, and rain, but aren't at all sore or worn. I needed a day like today! The menacing, distant sound of thunder continued; so after dinner, I hung my food on the bear pole, and set up my tent. Soon thereafter, the clouds grew darker, the thunder roared louder, and the rains were back. As I type away, the skies cleared again, and twenty minutes later it was raining again. The process continued several times, and eventually gave way to cool, crisp, clear skies.
The terrain this morning was cloaked in clouds as I started my trek around Shoshone Lake, and towards the Shoshone Geyser Basin. As I peered through the dense fog, I saw the eerie glow of steam rising from the valley ahead. Getting closer, the silent stillness of the air was disrupted by the gurgle of boiling water and the nimble hiss of steam. I could feel the ground tremble with energy as I passed through the small basin, with water boiling to the surface all around me. (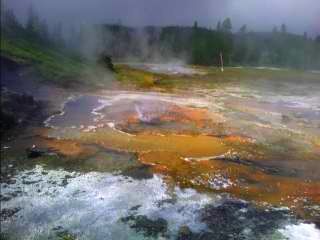 Inset: Shoshone Geyser Basin.) I've been to hot springs, large and small, but never seen anything like this. It was as frightening as it was beautiful, as I peered down into the depths of some of the pools, with their 200° temperatures bubbling just below me.
Old Faithful Village
A few hours later, I approached Old Faithful Village, with cars busily racing up and down the highway. I was in a definite food mood. My stomach was growling, and I am completely depleted of energy. I headed straight for the Western Buffett at the Inn, and after three hours and three heaping plates of salad, trout, rice, bison chili, and chopped chicken, I'm still here—fat and happy.
Before I leave, there's obviously one thing I need to do—See Old Faithful go off. Around 5pm, it gave off a couple sucker eruptions, and then it started to rain. (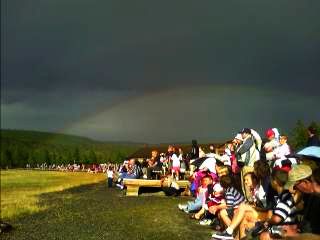 Right Inset: Everyone's patiently waiting, with the rainbow in the background.) The benches that were lined with probably a hundred people were starting to clear out, and the rest of the hearty souls saw its glory several minutes later. (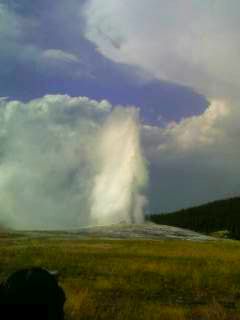 Inset: Old Faithful.) After it was over, I continued on the boardwalk for a few more miles towards Biscuit Basin. The area was full of bubbling, boiling springs, and smaller geysers. It was quite amazing. I passed the Geyser Basin and headed towards my designated campsite at Summit Lake. I saw an owl perched atop a dead tree. It was right beside the trail, patiently looking for a meal, and as I approached, it flew deep into the forest. It was 7pm already, and I still had several miles to go. I ended up night hiking until around 10:30pm, clanking my poles together and making noise every now and then to let the grizzlies know of my presence. I set up camp under the clear skies with two Southbound CDT hikers finishing dinner. At 2am—rudely awakened by the raindrops landing on my face, I set up my tent.
I was up a little before 6am today, with a trail crew also here getting ready to start their day. Their part of the Youth Conservation Corps; out here for ten days, cleaning up the trail by removing blowdowns and overgrowth. I gazed towards the trail, and saw someone who looked familiar. Who is that? Hey, it's Apteryx—who I haven't seen since Chama, New Mexico. He spent a couple days with his wife at Old Faithful, and got back on the trail today. This morning we reached the Idaho border.
Idaho
Wow, I've never been to Idaho before, and tomorrow, I'll be in Montana. We congratulated each other, took some pictures, and left the Park boundary a little while later.