To Northern Wyoming
To Northern Colorado
Southern Wyoming - Colorado border to Lander
Wyoming
Two states down, three to go. (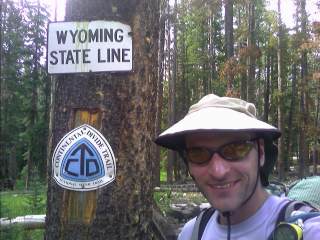 Right Inset: Welcome to Wyoming.) Wow, I've never been north of I-80 in the state, and I'll be there in a few days. As I left the road the CDT had been following, the trail suddenly turned into a cairned cross country route. It was a bit slower, and a little uncomfortable on the feet as it cut across the sides of slopes, but it was different. I found a place to camp at dusk, and set up my tent as some rain fell from the dark skies. The last several days has brought threatening afternoon clouds, with the boom of thunder, and a curtain of rain falling somewhere out on the horizon. Thanks to my umbrella, I never had to use my raingear in Colorado other than for the wind in the South San Juans, and I wouldn't mind if I didn't any time soon.
I was on the trail at 6:15am, anxious to put some miles in before the intense heat of the day sets in. It was the usual walking on the Divide around here, with it's plentiful but mellow ups and downs. Around 11am, I reached Battle Pass. For the first half an hour, I saw no traffic whatsoever. I took my shoes and socks off and let my feet air out while I waited. Great, this hitch into town will probably take me all day, if not more. I gazed out on the horizon ten miles down the road, and saw a car head up the highway. I threw my shoes back on, but noticed it never reached the pass. I headed over to the other pullout area and flagged down the car. They were headed to Encampment! That was really lucky, and they dropped me off at the Mountain Market Grocery, a little store a bit smaller than your average gas station covenience store.
Encampment
As I was busy picking up supplies for the hike into Rawlins, I heard a knock on the window. It was Haiku. In the next few minutes, I saw Shaggy, Bethany, and Star. We talked briefly about our trail adventures, and their adventure of trying to get a ride into town. They spent over two hours sitting on the side of the highway with thumbs out, doing a dance, or even trying the Moonwalk to entice drivers for a ride—which probably achieved the exact opposite. They eventually resorted to a taxi ride. A few days later—and after whooping it up at the Wyoming border—they reached Battle Pass, watching a car pass them every twenty minutes. As evening approached, they pulled out their cooksets and warm clothing. Dinner started cooking until they watched in amazement as a car pulled over around 9pm and took them into town.
"We found a ride back to the pass, it will be in about fifteen minutes" blurted Shaggy, with a bright grin on his face. No thanks, I responded. I was going to hang out a bit; go to the tiny library in town and check email, take a shower, do laundry, and eat. That was my plan, but then I started thinking about it. They told me the laundromat didn't exist any more, so the only thing I would miss would be dinner and a shower. A shower would be nice after hiking in the intense heat since Steamboat, but I'll stink again on the climb to Bridger Peak. Dinner? The AYCE (all-you-can-eat) salad buffet at the restaurant across the street doesn't start for a few more hours. They have a small deli here, maybe I can get a few sandwiches.
I thought about my options, and told the deli clerk my sandwich requirements. Over the next twenty minutes, he was busy cutting up every type of meat they had, several cheeses, and every topping they could find. The entire counter was taken over by my lunch special. There were three different loaves of bread out on the counter, with a bag of lettuce, a tomato or two, and all the condiments. As he finished the large fifteen dollar creation, he had the look of a proud accomplishment on his face, with a wide smile as he handed it to me. After thanking one of the store owners for the three largest sandwiches he's ever made, I ran next door and got a ride back to the trail after my less than hour long town stop. (

Inset: The storms over Battle Pass.) After stopping several times to eat my sandwiches that are weighing me down, I continued my northward trek with occasional light rain falling. As the evening progressed, I reached an open ridge, with Haiku, Shaggy, Bethany, and Star camped under the darkening skies.
Today was just brutal. Probably my most difficult roadwalk I've ever had. There was trail to begin with, passing through lodgepole forest, quickly turning into a cross country route, and as we emerged from the trees, we followed the gravel road, which turned into pavement about ten miles later, for the rest of the day. There were pronghorn everywhere, running away from us at 40mph. The temperatures were in the upper 80s, with the powerful sun beating directly on us. (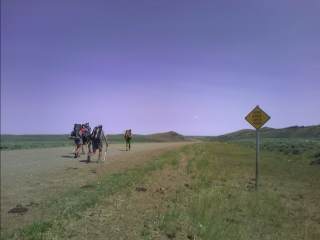 Inset: It feels like 120° with no shade in sight.) A car was heading towards us, which slowed down and stopped right in front of us. It was Koop! He's seventy years old, and hiked with the group in southern New Mexico, until suffering from heart and heat exhaustion problems. He offered to slackpack us—take our gear and food from our packs—which we happily accepted, and headed on. Somewhere around here, we officially enter the Great Divide Basin, where the Divide splits near Bridger Pass. The road turned to pavement, and after over thirty five miles today, we reached Teton Reservoir. Koop had some beer waiting for us at a campsite, and we all collapsed onto our ground cloths.
Around 11pm, I felt a few raindrops and heard the frantic swooshing of gear as everyone struggled to set up their tents—except for me. I could barely stand up; my feet were full of red, sore soles and I was wondering if I'd even be able to walk tomorrow. I even lost a toenail for the first time ever, and probably should have taken some time off in Encampment. But the lure of a ride back to the trail on a seldom traveled highway was too much.
I struggled to stand up this morning as I went to the nearby privy. The feet felt better than yesterday, but walking was still a chore. Bethany, Shaggy, and I started our trek over the ridge to Coal Creek Draw and into Rawlins. I felt miserable after a few miles. Every step I took caused a considerable amount of pain in my feet. I could have easily gotten a ride into town, but it was much more important for me with my stubborn thru-hiker attitude to hike every step of the way. If I still have trouble walking tomorrow, I'll take a zero day in Rawlins. I limped my way into town with the other two, and we headed to the Anongs Thai Restaurant for their AYCE lunch buffet.
Rawlins
Wow, it's a thru-hiker party! Star is here, along with her brother d=rt, who hiked the Colorado Trail as a side trip to his thru-hike. Koop and Haiku are also sitting at the table. I was the last one out, after three and a half heaping plates of food. I sat there for another hour or so typing my journals for the last several days. Shaggy gave me a call, and I headed over to some dumpy, run down motel in the middle of town charging $90 for a two bed studio. Thanks to the recent oil boom in Wyoming, and the rest of the west, virtually every motel room in town is full from employees working the fields. Almost all the store fronts in town have help wanted ads in their windows as their employees leave for the twenty dollar or so an hour drilling jobs. Everyone eventually convened at the motel room—where some were interviewed by the local paper that ran on the front page of Friday's edition—and we all went our separate ways. Nemo and Pouch just arrived into town, after Nemo was treated for the waterborne bug Giardia she's been fighting for the last few weeks. Several of us headed to the Western Hills Campground where we ran into Trey and Larry—wow, everyone's at the same place at the same time. They each had a "cabin" rented, and the five of us stayed in the last two of the reasonably priced accomodations on the edge of the gravel lot.
Everyone was slowly gathering camping gear together on this bright, sunny morning; doing last minute laundry, and getting ready to head out late this morning. The instep on my right foot was still sore, with a red, crumpled streak running along the bruise. I said my goodbyes to everyone, wished Trey good luck as he headed to the Wind River Range with a friend that picked him up, and took the rest of the day off. After a good day of rest, I want to be up early, very early tomorrow. That night I didn't bother to set up my tent at the campground under the clear skies. I listened to the whine of traffic on Interstste 80, and the roar and rumble of the Union Pacific rail cars heading through town every hour.
I was up at 5:30, and found a ride into town fifteen minutes later. My ride was from "Tiny", a oil rig worker specializing in set up and tear down of equipment. He even bought me breakfast, after discussing my adventures over the last three months, which I enjoyed on a picnic table outside the Wyoming State Penitentiary (now a historic site). Just ahead, there's a new route on the edge of town that avoids over fifteen miles of dangerous roadwalking on a busy two lane highway with a two foot shoulder. I contacted the local BLM office yesterday to find out about the new route and water source information. The only two that could help me were in the field, so I'll try back later. Well, I was never able to reach them, and doing a search on the Web at the campground's public computer didn't help either. If I can survive New Mexico's Chihuahuan Desert, I think I can survive this too.
The Great Divide Basin.
Although the official start was back near Bridger Pass about thirty miles ago, I see today as the real start of desolate lands, dirt roads stretching across the horizon, a lot of hot weather, and the 70,000 pronghorn that live out here. How will I feel when I reach the end? Will I have small smirk on my face when I think back to this part of the trail? Like most other aspects of a CDT thru-hike, this is just one of those many unknowns.
I skipped the first water source today, which was an old, collapsed well with some sulfurous smelling water several feet down. I still had plenty, and didn't want to take the time to fish around the hole trying to fill my bottles with the insect infested brown water. Several hours later, after leaving the dirt road that's been paralleling the highway since Rawlins, I reached Mineral X Road. Short for Mineral eXploration, the road seemingly goes on forever into the hills out on the horizon. (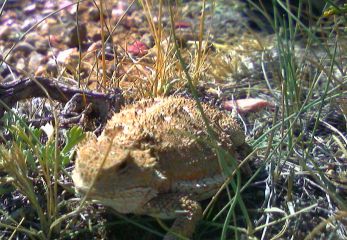 Inset: The horny toad.) Several miles later, I left the paved road and reached a dirt jeep track. Now, I'm in the Red Desert. the very heart of it. I stopped for a food break atop a low rise overlooking mile upon endless mile of road I'll be following for the next several days. As I approached, a jackrabbit darted out from underneath a pile of rocks, and dissapeared from sight in a few seconds. As I sit on these rocks I hear absolutely nothing. No whine of traffic, or hum of industrial equipment; no incessant noise at all, not even a wisp of wind. The silence is deafening. I can hear my heart beat, and feel the blood pulsing through my body. Other than the ninety degree heat, It's so amazing. The horizon is so bleak, so empty, and yet so inspiring. (

Inset: Sunset near Bull Spring.) In the near future, I'm sure this area will be full of drill rigs and exploration equipment. It's disappointing to think about, but we Americans are energy hungry. (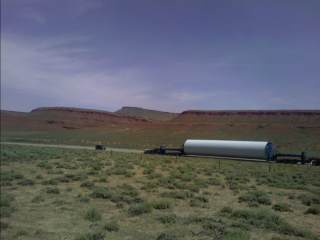 Right Inset: I'm sure this is something that has to do with the oil industry around here.) Speaking of energy, I'm going to down this bag of cereal. Almost thirty miles later, I stopped for the day near a solar well at Bull Spring.
Today is another lonely, but beautiful day. The pronghorn are everywhere—they sense me from nearly a quarter mile away, and dart away at forty miles and hour. My watch is reading 125° in the sun, and wild horses dot the landscape all around me. I'm sure I'll hear the coyotes call each other as usual this evening. My life out here is so simple, predictable—like the rise and fall of the sun and the moon.
At A&M Reservoir, a project to provide water for wildlife, there are cattle, pronghorn, and wild horses all vying for a spot along the creek below the lake. I stopped to get some water, and enjoy the oasis on an otherwise intensely hot and dry day. As my two gallons of water started to slowly disapper, I saw a well off to my right, but don't see a solar panel attached, and instead of investigating, I'm just going to skip it. (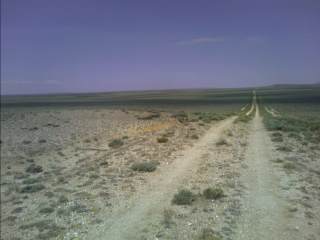 Inset: The long walk ahead.) Thanks to the fact I started in New Mexico, I've been trained well. Carrying enough water for twenty miles at a time is no sweat—no pun intended.
I camped near Brenton Springs last night, and started my short climb into the Crooks Mountain Range. For the frst time, I could see the Wind River Range looming to the west. What a great sight to see. Although obscured by the haze from fires in several western states, I could see a couple patches of snow, and a rough outline of the distant peaks. It'll be here before I know it. There is a tree here and there, but mostly barren terrain with a few oil rigs on one of the ridges. There is very little wind this afternoon, and the 100° temperatures and zero shade have been pretty intense. Most of the springs on the map are bone dry, with a few damp areas—mostly contaminated by cattle. My plan is to avoid some of the heat tomorrow and hike along the Sweetwater River for a change of pace. (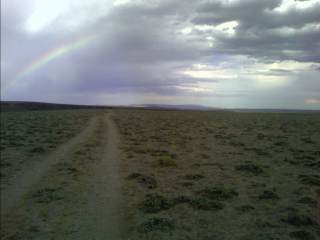 Inset: Rainbow above Coyote Gulch.) I turned off at the Oregon Trail, and night hiked down the canyon to near the river. I didn't see a single soul yesterday, but today I saw one person—a BLM Range Technician driving by in the middle of nowhere. She asked if I wanted to come into the air conditioned cab for a few minutes, but I knew I might never come back out if I did. She was looking at conditions for livestock grazing, vegetation conditions, and water resources.
The first half mile of hiking along the river this morning was beautiful. The sparkling water was cool and crisp, and I didn't have to carry gallons of the stuff! After the first half mile, I got completely sick of the bushwacking, climbing over downed trees and rocks, and traversing through endless sage. That's it, when I hit the road heading up a canyon ahead, I'm taking it. My legs are cut up from the underbrush, and I don't feel like I'm making any headway. I found the old road that headed up, and followed it to a fenceline and towards the other road I would have taken. When I neared the bridge across the Sweetwater River, I startled a field full of pheasants. Dozens, if not a hundred or more flew away from me as I neared their resting area. The drumlike noise from their flapping wings was loud and I watched them noisily fly away. I crossed the old Pony Express Route, and headed to South Pass City—an old gold mining town purchased by the state years ago and preserved, complete with a small mercantile and interpretive signs (the town's population: about 7). I found a ride from a local, who took me to the bar in the small hamlet of Atlantic City to celebrate my desert jaunt with an ice cold Guinness. After asking around for a ride into Lander, I was told by a local who heads into the Wind River Range on horseback every year that it can't be traversed in less than ten days. I tried to tell him what thru-hiking is, but he told me I'll never make it through in eight days—we'll see about that! After a ride out to the highway, I soon hitched into Lander.